Christmastime offers us an opportunity to give to everyone who has touched our lives or our children's lives throughout the year. But when you start making your list, it gets a bit overwhelming and costly.
Enter mason jar gifts.
The mason jar is the hardest working, most versatile piece of glassware in the South-and these 27 creative mason jar gifts prove it!
But look, mason jar gifts are so much more than a budget-friendly DIY!
These thoughtful homemade gifts offer endless opportunities to customize, personalize, and craftily serve up your favorite recipes in an adorable jar that can be reused!
You can take a dollar store mason jar and turn it into a craft activity with your child (Hello, quality time!) and then flip that craft into a fantastic teacher's gift! For around $10.
Need a DIY gift for your boyfriend-fast?
Grab a mason jar and fill it with his favorite candy, snacks, a gift card, and if he's into sports-boom-theme it out!
If you're channeling your inner Santa Claus and want to DIY a gift for everyone in the office or neighborhood, mason jar gifts with food are a fabulous way to go. They're easy to assemble and dare I say, cheap (without looking janky).
Oh, need a gift for a friend that says I'm thankful for our friendship, but I'm close to over drafting & super low on cash? Check out some of the gifts listed below. You're welcome:)
Alright, you can probably tell I'm in full out Christmas mode. So today I'm giving you a variety of 27 mason jar gifts that you'll be proud to put your name on! Most of these come with the cutest printable tags-so you'll look extra crafty! I've covered the bases. From presents for teachers and grandparents to gifts for teens, boys and girls, neighbors, colleagues, hostesses, and even that one friend who likes to booze it up occasionally you can consider your DIY Christmas list covered!
Teachers gifts can add up-especially if you have more than one child and multiple teachers you'd like to recognize & thank. These simple Mint Mason Jars are easy and affordable. This one is filled with Andes Mints (comes with cute gift tag) but you can customize these easily & fill them with anything your child's teacher prefers. Find the details & printable on Simple As That Blog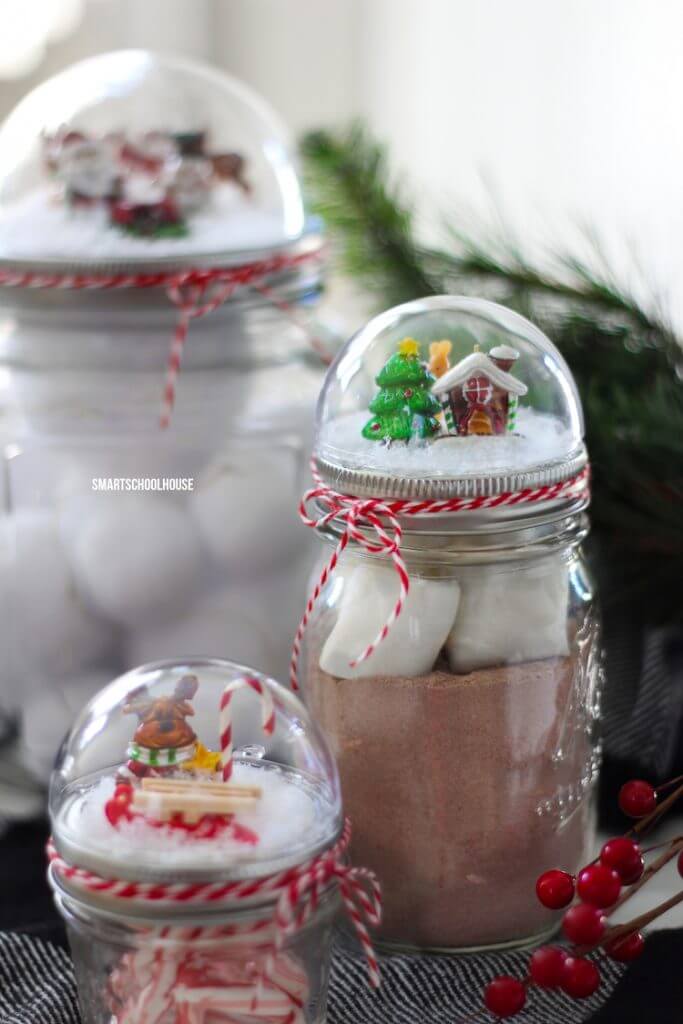 Snow globes are a Christmas favorite so why not combine the festive powers of the globe with a mason jar? This may be one of the cutest crafts, and it's surprisingly easy to do! Get the details on Smart School House
Do you have a tea enthusiast in your life? If you're nodding your head, then this idea is perfect! Like all mason jar gifts you get the final say on what fills the jar, but to give you some ideas Tonia used a sample pack of tea, mini jar of honey, shortbread cookies, and a small mesh tea infuser. Note that she spray painted the lid of the jar metallic gold to add a little style-love that! You can find more about this project & download the cute Tea Time Mason Jar tags on The Gunny Sack
Christmas memories in a jar. Meet your new, easy to assemble; everybody is going to love it, DIY Christmas gift! If you have the supplies, it only takes minutes to put these mason jar gifts together. Find out how from Kellie on Nest of Posies
If you're looking for a DIY gift for your boyfriend or husband this idea from The Gunny Sack via 504 Main for the man who loves golf is perfect!
I love this darling spa DIY gift in a jar from Classy Clutter. Everything inside was purchased at Walmart for around $15! This would be a fabulous gift for friends, stressed out moms, teachers, stressed out moms (Did I already say that? Sorry, this jar is calling my name!)
A homemade sugar scrub that is superior to any store bought variety with a divine scent that is so relaxing! Bonus: Easy to make & they come with free printable labels that add so much to the presentation! Get the scrub recipe & the link to the labels on Mom 4 Real
I love this because it comes with free printables and easy instructions on how to make your jar look like the one in the picture! Presentation is everything! Once you've got that behind you all you need is a bunch of movie style snacks and depending on how much you like the person-possibly a gift card to the theater:) Find all the details on Yesterday On Tuesday
My grandmother made playdough for me when I was little, so this is one of my favorite mason jar gifts for kids! It's ridiculously easy to put together the ingredients & the presentation is too cute-I'm loving the Mickey Mouse cookie cutter a little too much! You can snag the recipe & instructions on The Frugal Girls
This jar is for the person that loves to…bake! It's filled with mini cookie cutters, measuring spoons, cupcake liners, a mini whisk, and a mini cheese grater. It also comes with free printable gift tags so you'll really look like you've got it all together when you give this DIY gift. Find the 411 on The Gunny Sack
This is the cutest reindeer mason jar gift ever from Polka Dot Chair! And it's easy to make and customize!
Finally a solution to the dilemma of finding a cute way of giving a gift card! I loathe the festive envelopes & I always feel bad about giving a card in the first place. This puts some thought into the gift so if you're anything like me-you'll rest a little easier gifting $ this way! Get the details on Something Turquoise
Gifts in a jar are the perfect DIY Christmas present for friends, neighbors, and teachers! This Peppermint Pampering Jar from The Gunny Sack is filled with items like body butter, foot soak, and sugar scrub.
This fabulous idea from Simply Kierste Design is perfect for the holiday season. She also includes super cute printable gift tags that any hostess, teacher, or college on your Christmas list will love!
Satisfy the sweet tooth of any foodie on your list with this adorable and delicious DIY Christmas gift from Room for Tuesday!
This mason jar gift is filled with pre-measured dry ingredients for delicious M & M cookies! Assembling these jars is easy too. All you do is layer & you're done! Get the recipe on Celebrating Sweets
This DIY Christmas gift in a jar screams Perfect Teacher Gift! It's also a craft so your kids can be involved in putting it together which makes it 100 Times better!
This adorable gift from Southern State of Mind includes a little bit of everything & makes a fabulous Christmas gift for friends!
Another delicious and cute DIY Christmas gift idea with an adorable printable gift tag from A Night Owl Blog!
Last minute or not this DIY Christmas gift idea from Skip to My Lou is perfect for anyone on your gift list! Right down to the adorable printable labels!
Here's a genius homemade gift idea for anyone on your list! All you have to do is combine Betty Crocker cake mix & some Andes peppermint crunch baking chips! Boom! You will be getting a little crafty with your mason jar, but nothing too intense! This is the perfect last-minute DIY gift idea! Get all of the details on The Frugal Girls
What could be better than a handmade scented peppermint candle for Christmas? Find out everything you need to know for this DIY gift in a jar on A Pumpkin and A Princess.
These super cute mason jars & gift tags are from Amanda's Parties To Go! The idea couldn't be easier-it's Chex Mix! But it still counts as DIY!
The perfect gift in a jar for the friend who loves an adult beverage. It's cute; it's crafty, it's spicy-and easy to put together!
Here's a cute idea that's easy to put together! You know where to find the airplane size liquor bottles & you can find the Open Bar graphic on The Shabby Creek Cottage
Switching things up a little bit with an edible mason jar gift with a comforting curried lentil soup recipe. These are easy to prepare, budget friendly, and all you have to do is add water, and you've got a full meal! Get the details, and the free printable gift tag on She Uncovered
A simple mason jar adorned with black buttons and a scrap of red polar fleece filled with chocolate covered pretzels or your favorite holiday candy makes a fabulous DIY gift idea! Get this tutorial on Polka Dot Chair
Hopefully, I've given you some inspiration for giving this Christmas! I hope you enjoy creating and crafting for everyone on your list! Don't worry if you have a small budget-it's the thought that counts!
"It's not how much we give but how much we put into giving."
-Mother Teresa
If you enjoyed this collection of mason jar gifts, please share it on Pinterest!

And for more gift ideas, please follow my board on Pinterest!