Raise your hand if you've ever cooked a fabulous dinner only to be semi-insulted by a loved one with what we all want to hear after serving dinner: you know what would make this a real meal? (Insert keto & low carb side dishes suggestion here.)
Sigh.
Why is everyone so full of ideas after dinner yet before it's like pulling teeth to get a suggestion?
Still, I get it. My family is still hungry. Sometimes I am too. We've all been there.
When you're sticking to a low carb keto diet finding the main course for dinner is relatively easy. Thinking up a keto side recipe? Not so much. (Especially if you're just starting on the keto diet!)
But I have good news! There are many low carb ingredients to make fabulous keto side dish recipes come together quickly and without a lot of prep work. Cauliflower, spaghetti squash, green beans, broccoli, and Brussels sprouts are all keto-friendly, low carb vegetables and keto side dish faves.
And guess what?
I've found the best keto side dish recipes for all of them. From cauliflower mac & cheese, broccoli gratin and zucchini fries to green bean casserole, Balsamic Brussels Sprouts, lemon garlic spaghetti squash, and easy bacon wrapped asparagus these keto side dish recipes will take your dinner to a new level. And definitely make it a meal!!!
46 Keto & Low Carb Side Dishes That Take Dinner To A New Level
This post may contain affiliate links at no extra cost to you. Please visit my disclosure page here for more information.
Healthy, low carb cauliflower mac & cheese is a perfect keto side dish recipe for busy nights from Wholesome Yum! Only 5 ingredients and 5 minutes of prep! Get the recipe here
Cauliflower rice baked in a creamy cheese sauce topped with green chiles and cheese! Ready in 20 minutes! Find the recipe on Joy Filled Eats
Roasted Cauliflower with Cheese & Bacon – Savory Tooth
Keto Mashed Cauliflower with Cream Cheese & Asiago – Joy Filled Eats
Perfect for holiday gatherings or everyday meals! This mock potato salad from Kalyn's Kitchen is fabulous & a little addicting! You may have seen other mock potato salads with cauliflower, but Kalyn did it right! Get the full recipe here
This recipe from Primavera Kitchen is an easy side dish for any occasion! Cauliflower seasoned with garlic, black pepper, paprika, and parmesan tastes amazing and comes together in 10 minutes! (Bakes for 20!) Find the full recipe here
Keto Side Dish Recipes with Spaghetti Squash
A delicious and cheesy Spaghetti Squash Au Gratin from Crafty Morning's Michelle who suggests pairing this keto side dish with steak! Get the recipe here
Lemon Garlic Butter Spaghetti Squash – Eatwell 101
Broccoli & Cheese Stuffed Spaghetti Squash – Domestic Superhero
Keto Side Dish Recipes with Green Beans
Only 4 ingredients in these Easy Sautéed Green Beans with crispy Prosciutto! Even better? This one's ready in 20 minutes from start to finish! Get the recipe here
If you're looking for a keto-friendly version of this holiday favorite this is a fantastic version by Briana Thomas! Her recipe uses almond milk, Greek yogurt, cheddar and parmesan cheese, and crushed Rye Wasa crackers on top! The full recipe is here
Garlic & Bacon Green Beans –

Julia's Album
Sweet & Sour German Green Beans with Bacon & Onions – Low Carb Maven
Crockpot Green Beans with Bacon – Lil Luna
Easy keto side dish from Tastaholic's! These green bean fries are ready in 20 minutes & have only 2.5 net grams of carbs per serving! Get the recipe here
Keto Side Dishes with Broccoli
Finally! A keto side dish that takes practically no effort, but tastes like you did a ton of work! All you have to do to create this Lemon Roasted Spicy Broccoli is pre-heat the oven, toss some Olive Oil & seasonings on the broccoli, and stick it in the oven for 20 minutes! Only 5 net carbs per serving! Get all the details here
Here's a keto side dish recipe that everyone will eat and it's ready in 20 minutes! Get the details on how to make broccoli & cheese casserole low carb style right here
This Broccoli Gratin with Swiss & Parmesan would be a great keto side dish for Thanksgiving, Christmas, or any holiday meal. It's healthy, keto, low carb, gluten-free, low-glycemic, and South Beach friendly. Get the details here
Low Carb Broccoli Salad with Bacon & Cheese – Low Carb Yum
If you've never tried fritters this recipe from Low Carb Maven is where to start! These easy low carb broccoli fritters are a great side dish or snack!
Keto Side Dish Recipes with Asparagus
This is the easiest low carb asparagus with Hollandaise Sauce-ever! Only 15 minutes of prep & a 10 minute cook time makes this a perfect weeknight keto side dish recipe or a holiday side you can easily make last minute! Get the recipe from Tastaholics
The perfect side for any occasion! Asparagus spears in lightly seasoned lemon butter and parmesan cheese. Only 10 minutes of prep time & 15 minutes in the oven & you're done! Get the recipe details here
Cheesy Baked Asparagus with Bacon – Savory Tooth
Roasted Garlic Asparagus & Mushrooms – Ahead of Thyme
Bake this keto side dish in the oven & it's ready in 30 minutes! Easy & delicious low carb recipe from Wholesome Yum
This keto side dish recipe for the grill pairs healthy asparagus with parmesan cheese to make a flavorful side that's low carb, gluten-free, and South Beach friendly. Get the details here
Keto Side Dish Recipes with Zucchini
Delicious zucchini casserole from All Day I Dream About Food's Carolyn is cheesy and easy-a fantastic combination! Low carb and keto-friendly, this makes a keto side dish recipe everyone (even kid's & picky eaters) love. Get the full recipe here
Fresh Italian cheese with garlic and zucchini spirals is a fun keto side dish that will pop on your dinner plate & make everyone come back for seconds! Find the full recipe here
Oven baked zucchini fries that everyone loves! Made with only 5 ingredients, this low carb keto side dish recipe may become one of your family favorites! Get the recipe details here
Zucchini Bake with Tomatoes, Garlic and Parmesan – iFoodreal
Low Carb/Keto Garlic Parmesan Zucchini
Tender slices of zucchini topped with a creamy, garlic & cheese topping that is divine! With only 5 ingredients and a 5 minute prep time this one from Joy Filled Eats is perfect for busy weeknights!
Gluten Free Low Carb Zucchini Fritters – Low Carb Yum
Keto Side Dish Recipes with Brussels Sprouts
Sweet and spicy Brussels Sprouts recipe from Tastaholics! This is a unique spin on an old classic and one of my favorite keto side dish recipes! Get all the details here
Low Carb Cheesy Brussels Sprouts Gratin – Sugar-Free Mom
Low Carb Parmesan Crusted Brussels Sprouts – Ketogasm
One-Pan Pepper Jack Brussels Sprouts – Ruled.Me
Up your sprout game with this easy keto side dish recipe that comes together in minutes! All you need is a little coconut oil, garlic, sour cream, heavy whipping cream, shredded pepper jack cheese, and sun dried tomatoes. And a pound of Brussels sprouts-you can't leave those out! Get the step by step instructions here. You can thank me later:)
Keto-Friendly Baked Brussels Sprouts Casserole – i Save A to Z
This is not your average Brussels Sprouts recipe! First, there's bacon involved-and we know bacon makes everything better. But the fun doesn't stop there. Peace, Love and Low Carb includes onion, garlic, Balsamic vinegar, Olive oil, salt, and pepper to make this keto side dish straight up addicting! Get the full recipe here
Sugar-Free Mom's Brenda has created one of the easiest and kid-friendly keto side dish recipes ever with this Low Carb Cheesy Brussels Sprouts Gratin. Only 10 minutes of prep time & 20 minutes in the oven you'll see what I mean! Get the full recipe here
Ok! Now it's time to get real.
Are these 46 keto side dish recipes enough to end your struggle with the side?
Do you need more keto recipes that will make your life and your diet easier?
Well, I have exactly what you need!
I use these recipes every week. They help save time, money, and sanity!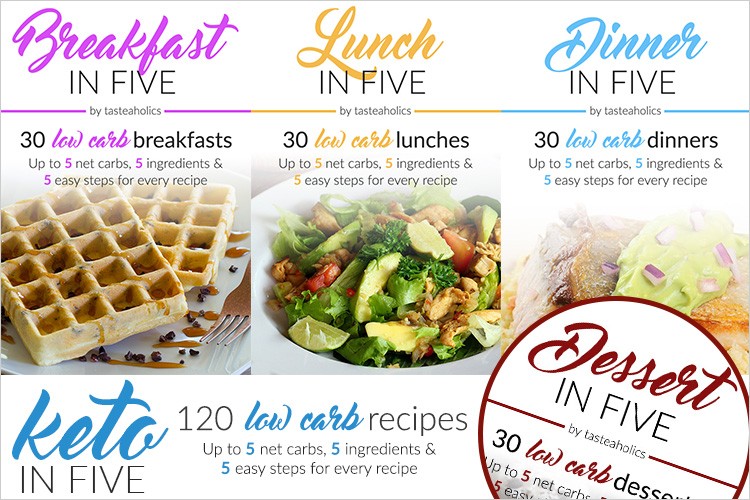 120 Delicious Recipes
Up to 5 Net Carbs Per Meal: Caloric & macros are calculated for you making it easy to track your meals.
Only 5 Steps Per Recipe: Say bye too complicated recipes & hello to helpful tips & easy steps!
Accessible from Any Device: Mac, Windows, Android, iPhone. Forgot your grocery list? Pull up the recipe on your phone!
***SALE UPDATE As of 10/11/18***
Keto in Five is 42% Off! For a limited time you can buy Keto in Five for $34.97! (Reg. Price is $59.96.) Take advantage of this offer before the holidays! It will help you so much! Seriously, I usually don't recommend products but this e-cookbook is a game changer!
And that concludes my sales pitch for today:))
Alrighty! Do you have a favorite keto side dish I missed, or you'd like to share? Link it up in the comments!
And you may also enjoy these keto recipes!
Oh, I almost forgot!
If you loved these keto side dish recipes, please share them on Pinterest!

For more low carb & ketogenic recipes, follow my board, Keto Recipes!