Easy Keto Carnitas
Tender, juicy, and crispy keto crockpot carnitas make an easy keto dinner recipe with only 4.5 net carbs! If you've ever wanted to know how to make low carb carnitas in the slow-cooker, Instant Pot, or the oven this easy keto recipe has all the bases covered!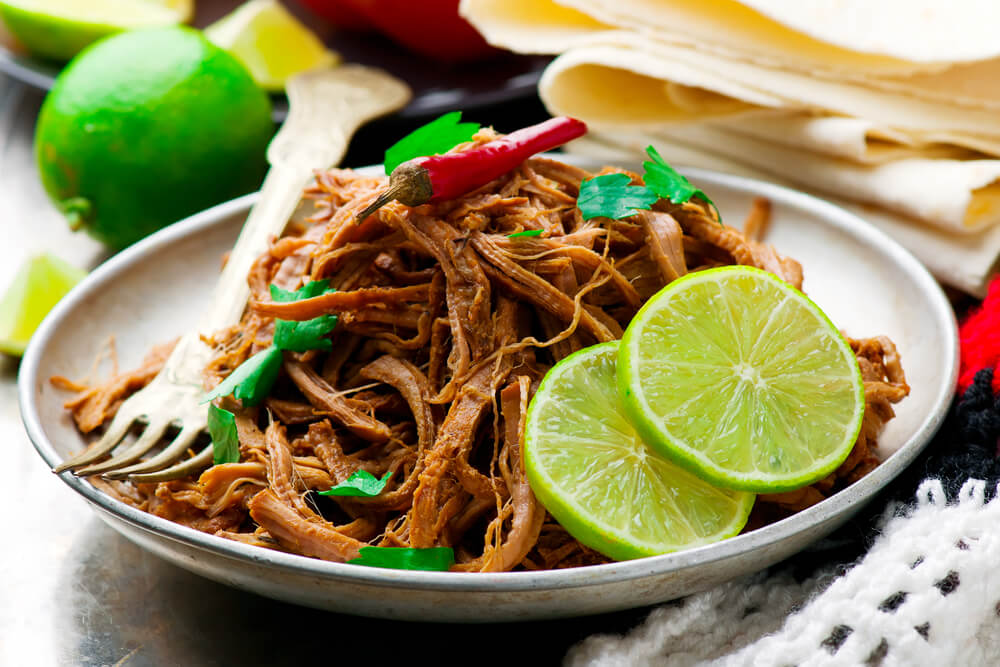 This post may contain affiliate links. Please visit my disclosure page for more information!
car-ni-tas: noun
Known in Mexican cooking as braised or roasted pork served shredded in small pieces, often as the filling in burritos, tacos, etc. Typically cooked in a copper pot.

Here's the thing: I Love Taco Night, but it gets old fast-especially when you're trying to abide by a low carb diet.
So in the spirit of Cinco de Mayo, I've gone keto crazy & created a few low carb versions of the best traditional Mexican recipes. Starting with this carnitas recipe that covers all the bases without using lard or copper pots!
About These Keto Carnitas
When I decided to go forth & create low carb carnitas I had a few features in mind. Pretty sure I nailed it:)
Authentic: Flavorful with a hint of spice
Easy: The prep time is around 15 minutes (depending on if you cut the pork)
Crockpot – Slow Cooker – Instant Pot – Oven: Instructions Included for each method!
Budget Friendly: This one makes enough to cook once, eat twice (maybe more)
Perfect for Meal Prep: Add this one to your meal prep rotation & use for multiple meals (Tacos, Burritos, Quesadillas, Lettuce Wraps, Salads, Soups, Casseroles) or freeze for later
Keto/Low Carb = 4.5 Net Carbs Per Serving
Best Cut of Pork for Carnitas
Ever suffer from Too Many Choices syndrome at the grocery store?
Symptoms range from frantically googling "best cut of meat for xyz recipe" on your iPhone to asking random strangers for advice to ultimately saying screw it & going to Taco Bell.
In case that's you, I've listed the cuts of pork that are your best bets!
Look for pork shoulder or pork butt-which are the same thing: cuts of pork from the shoulder that have enough fat to keep things moist & tough enough to withstand any high-temperature slow cooking method!
Boston butt, Boston butt roast, Boston shoulder, fresh pork butt & shoulder roast = All cut from the shoulder & work just fine:)
Bone-In or Out?
Some recipes adamantly call for using bone-in because the word is they have more flavor. I'm not on board with this line of thinking-I usually get boneless. They're easier to find!
THE Extra Step You Don't Want To Skip
The key to making carnitas as close to the OG Mexican recipe is your oven. After you've cooked the pork to perfection in the crockpot or Instant Pot, place the shredded pork on a baking tray & broil it for around 5 minutes to give it the addictively crisp edges.
Are you hungry yet? Whether the crockpot is your jam or you prefer Instant Pot gratification OR you're an old school oven fan these low carb carnitas are right up your alley! Instructions for each method are listed below!
Enjoy!
Print
Easy Keto Crockpot Carnitas: Low Carb Pulled Pork [Slow Cooker-Instant Pot]
---
Author:

Prep Time:

15 Minutes

Total Time:

15 Minutes

Yield:

8

1

x
Description
Tender, juicy, and crispy keto carnitas make an easy keto dinner recipe with only 4.5 net carbs! Perfect for meal prep or busy weeknight meals! Slow-Cooker – Crockpot – Instant Pot – or Oven!
---
Scale
Ingredients
3 lbs pork shoulder or butt, cut into cubes (about 2 inches)
1 diced onion (medium-chopped)
5 garlic cloves, peeled & smashed
1/4 cup lime juice
1 tablespoon chili powder
1 tablespoon cumin
2 teaspoons of dried oregano
2 teaspoons of salt
1 teaspoon chipotle powder
1/4 TSP Cinnamon
2–3 Bay Leaves
1 Cup Beef Bone Broth
2 tablespoons of avocado oil
2 Tablespoons Liquid Smoke (Oven Recipe)
---
Instructions
Crockpot or Slow Cooker
If you prefer cutting the pork to fit into your crockpot go ahead & do that first. (Not Mandatory – You Can put the entire shoulder into the crockpot!)
In a medium sized bowl, combine chili powder, cumin, oregano, chipotle powder, cinnamon & salt. Mix & set aside.
Chop onion & combine with minced garlic cloves. *Optional Time-Saving Step: Use a food processor to chop onion – then add garlic to the onion & mix well.
*Optional: If you have time, saute onions & garlic in 2 Tablespoons of Olive Oil
Season your pork with the dry ingredients & place in the crockpot.
Add bone broth, then the onion garlic combo. & bay leaves
Add the lime juice-then set the slow cooker to low for 8-10 hours or high for 5
When pork is ready, you will be able to shred it quickly with a fork.
Set Oven to Broil
Transfer shredded pork to baking pan & evenly distribute about 1/4-1/2 of the juice from the crockpot
Broil for 5 Minutes to get the crispy edges
Serve & Enjoy!
Instant Pot
First, cut the pork into the 2-3 inch cubes and set aside. Dice onion and peel/smash garlic.
In a bowl, combine the lime juice, cumin, chili powder, oregano, salt, and chipotle powder. Mix well.
On your Instant Pot, press the "Sauté" button and add cooking oil. Once it's heated up, add 1/2 the pork and brown it on all sides. Transfer it to a plate & repeat with the remaining other 1/2. One the pork is browned press cancel.
Next, pour the juice/seasoning mixture all over the pork cubes and add in the diced onion and garlic.
Close and secure the lid on the Instant Pot. Press "Meat" then "Pressure." When the light on "High Pressure" turns on set the time to cook for 30 Minutes.
Let pressure release on its on-about 15 minutes
Then carefully turn the vent to "Venting" to allow any extra pressure to release.
Remove the lid. Set Oven to Broil
Shred the pork & place it on a baking sheet. Spoon leftover juice evenly over shredded pork (Use 1/4 of the liquid)
Broil for 5 minutes until edges are crisp
Remove from oven & transfer to a large bowl toss with tongs & serve
Oven
Preheat Oven to 350
Cut pork into 2-inch cubes -do not remove all of the fat.
Combine chili powder, cumin, oregano, salt & chipotle powder & sprinkle over the pork
Pour around 1 cup of water + 2 TSP liquid smoke into the bottom of a roasting grate.
Place pork on the grate. Top with onions & garlic
Cover with aluminum foil & bake covered for 2 hours. Uncover & bake another hour
Broil for 5 more minutes until edges are crisp.
Last step: Move pork into a large bowl & shred with a fork. Stir in the juices from the pan
Serve & Enjoy!
---
Notes
Freezer Friendly: Store in an airtight container in the freezer for up to 2 months!
Category:

Keto – Low Carb

Method:

Crockpot – Instant Pot – Oven

Cuisine:

Mexican
Keywords: keto carnitas, low carb carnitas, keto Mexican recipes, crockpot, Instant Pot, meal prep
Don't Miss These Recipes!
Save This Keto Recipe!
And For More Low Carb Food Inspiration, Follow My Keto Recipes Board!