Are you having a moment because you forgot to plan the perfect keto dinner recipe? Look we've all been there! Sure, meal planning will make your life easier & lead to weight loss & diet success, but don't give up on keto because you didn't have time to meal prep Sunday! All of these low-carb chicken, beef, and pork keto dinner recipes are simple and can be sitting on your dinner table in a matter of minutes!
This post may contain affiliate links. Please visit my disclosure page for more information.
Caprese Hasselback Chicken | Low Carb Maven
Don't you love a good sheet pan dinner? This Caprese Hasselback Chicken recipe is perfect for busy weeknights because it involves little prep time and calls for only a few ingredients. Plus, this is one recipe kids & non-low carbers love! 10 minutes is all you need to prep the parts: chicken breasts, fresh mozzarella, Roma tomatoes, basil, Olive oil, Balsamic vinegar, and salt & pepper. Here's the nutritional information per serving.
Calories: 365
Fat: 21
Net Carbs: 3
Protein: 39
Perfect if you need to feed a family and you don't have much time on your hands! There are only 5 minutes of prep work for this easy keto dinner recipe & it's ready to serve in 20! Serve with cauliflower rice or let it stand alone! Here's the nutritional 411 per serving.
Calories: 533
Fat: 40
Net Carbs: 7
Protein: 32
Buffalo Chicken Jalapeno Popper Casserole | Ruled.Me
Here's the deal-you'll save time on the prep if you use boneless chicken. FYI: I'd go ahead & buy boneless chicken when you can. Yes, the price tag is a little higher, but after you shave off the fat & take away the bone, you are paying more for less chicken. Ok, where was I? Bacon! You'll need to fry some bacon to prep this recipe. Try not to eat more than 3 pieces, or you'll have to go back to the grocery store. This casserole cooks for 15-20 minutes. If you're counting macros here's the info you need per serving.
Calories: 782
Fat: 66.97
Net Carbs: 4.5
Protein: 38
Ground Beef And Cabbage Stir Fry | Savory Tooth
5 Minutes of easy prep + 15 Minute Cook Time = Easy Keto Dinner! You could describe this stir-fry as a healthy meat lovers cole slaw or an exposed egg roll. No matter what you call it, you'll love it-especially the fact that it allows for shortcuts like buying prepackaged shredded cabbage coleslaw mix! My family loves eating this for dinner-like a lot of keto recipes; it does not taste like diet food! If you are counting macros per serving here's what you need to know!
Calories: 410
Fat: 15
Net Carbs: 9
Protein: 42
Pork Chops With Creamy Mushroom Sauce | Cafe Delites
Here's a low carb dinner that you can have on the table in under 20 minutes! All you need is pork chops (boneless or bone-in) olive oil, butter, mushrooms, garlic, and heavy cream! Here's what you need to know about this keto dinner recipe per serving.
Calories: 326
Fat: 18
Total Carbs: 3
Protein: 31
Keto Bacon Cheeseburger Casserole | Ditch The Carbs
Also known as Heaven on a plate, this quick and easy keto dinner recipe is ready to serve in 25 minutes! You're going to adore this family-friendly keto bacon cheeseburger casserole that layers ground beef, onion, cheddar & cream cheeses with pickles and seasonings. Here's the nutrition info per serving!
Calories: 613
Fat: 51
Total Carbs: 3
Protein: 33
Easy Broccoli Cheese Soup Recipe | Wholesome Yum
5 ingredients is all it takes to make this Easy Broccoli Cheese Soup that's ready to serve in 20 minutes! All you need is broccoli, garlic, broth, heavy cream, and cheddar cheese! How does it add up nutrition wise? Here's that info, per serving.
Calories: 291
Fat: 25
Net Carbs: 4
Protein: 13
Ever tried a keto lasagna recipe without zucchini? Tonight is the night! This delicious cheesy keto lasagna is pure bliss. This one takes a little more behind the scenes work, but please hear me when I say IT IS WORTH IT!!! (Shortcuts are available if you're low on time or love a good hack!) You'll be grating cauliflower, browning ground beef, and wilting spinach for around 40 minutes. Cook time is only 25. If you're counting calories & macros per serving here's what you need to know!
Calories: 333
Fat: 26
Net Carbs: 4
Protein: 27
This 5 ingredient 5-minute prep meal from Joy Filled Eats may save dinner tonight! Seriously, the hardest part of this process is shredding the cheese & you can fix that by buying shredded! We love this simple ketogenic dinner recipe here at my house since we usually have all the ingredients on hand. Chicken breasts, bacon, cheddar cheese, and seasonings. Want to know the macro count per serving? Here ya go!
Calories: 345
Fat: 23
Net Carbs: 1
Protein: 29
One Pan Sausage Skillet | Tastaholics
From the meat to the onions and the mushrooms this one pan keto dinner has it all! And it's easy to prep in 10 & ready to serve in 25 minutes! Here's what you need to know about this keto dinner recipe per serving.
Calories: 500
Fat: 38
Net Carbs: 4.5
Protein: 30
A little prep work is required since you have to chop the vegetables-unless you choose to buy pre-cut bell peppers and onions. Otherwise, you'll be all set & dinner will be on the table in 25 minutes! Unless you forget to turn on the oven. That'll set you back a little. If you're keeping up with macros here's all the nutritional 411 per serving for this recipe!
Calories: 196
Fat: 13
Net Carbs: 3.6
Protein: 22
Easy Keto Low Carb Pizza Casserole Recipe | Wholesome Yum
You can put this piece of pizza perfection together in 10 minutes, and it can be prepped ahead of time-even days ahead! You'll only need 5 ingredients: Cauliflower, Marinara Sauce, Mozzarella Cheese, Pepperoni Slices, and Olive Oil! Bonus-you can freeze it! Maya from Wholesome Yum says this keto dinner recipe will last months in a freezer safe container so go ahead & make two now! The recipe is so easy it won't take you 5 extra minutes to prep & you'll have another meal in the freezer! Ok, rant over! Total cook time in the oven is 40 minutes! Macros?
Calories: 238
Fat: 16
Net Carbs: 7
Protein: 14
Easy Crock Pot Roasted Chicken With Lemon Parsley Butter | I Breathe I'm Hungry
This is a super simple recipe using one whole chicken, salt & pepper, lemon, butter or ghee, and parsley. Depending on the size of your chicken & crockpot dinner will be served within three to four hours! Of course, that's if you don't forget to turn on the slow cooker. Yes, I have a problem. Anyway, here's how this recipe shakes down nutrition wise.
Calories: 300
Fat: 18
Net Carbs: 1
Protein: 29
Do you need more EASY KETO RECIPES in your life???
Yes, you do!
Let me introduce you to Tastaholic's Keto in 5 Cookbook "Bundle" First, this isn't your Grandmother's cookbook. You can access Keto in 5 from any device anywhere. Now, what is it? Keto in 5 serves up 120 low-carb keto recipes with only 5 simple ingredients, 5 steps, and 5 Macros.
Boom! Your life & your diet just got easier! For $34. 97. Seriously.
Go ahead & grab your "copy" now!:)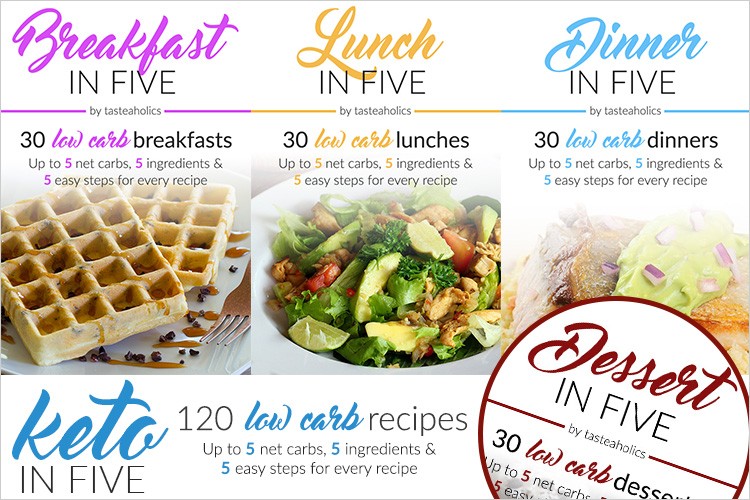 If you're not satisfied they have a 365-day Money Back Guarantee. I doubt anyone has used it, but, hey, some folks like to know it's there!
What is your favorite last minute keto dinner recipe? I really want to know!! Tell me in the comment section! Please & Thank You!
Thank You for Reading & Visiting Today! I hope you leave with a little inspiration & a lot of recipes to use!:)
You May Also Like…
If you enjoyed these keto dinner recipes, please share them on Pinterest!

For more low carb keto diet recipes & tips, please follow my board Keto Recipes!