If you're thinking of starting a low carb or keto diet, but you're not sure where to start, this free guide has all of your beginner bases covered! From keto food lists, meal plans, rules, and delicious low carb and keto recipes, you'll find everything you need to begin living a healthier lifestyle.
Welcome! If this is your first time visiting Word To Your Mother Blog, or your first time looking into starting a low carb or keto diet, you are in the right place. I'm Heather, and I've been following a low carb diet for eight years. To date, I have lost over 100 pounds and kept it off by following the simple steps and recipes outlined in this guide. Today I'm sharing everything you need to know to start a low carb diet or a keto diet along with some valuable links to easy low-carb recipes for every meal of the day. Let's dive in!
What Is A Keto Diet Plan?
The ketogenic (keto) diet is a low carbohydrate, high-fat diet that reduces the number of carbs you eat per day to 30 grams or less per day. Keep in mind that 30 net carbs are an average amount of carbohydrates per day. Your amount will depend on your body, weight, gender, and age. When you reduce the carbs while increasing the number of healthy fats you eat, your body enters a natural fat-fueled metabolic state known as ketosis.
Total Keto Diet For Beginners: How To Meal Plan Your Weight Loss On The Keto Diet + Keto Tips & Food Lists
What is a Low Carb Diet?
Like the keto diet, on a low carb diet, you eat a moderate amount of protein, a high amount of fat, and a minimal number of carbs. The number of daily net carbs on a low carb diet varies per person – depending on variables like your activity level, gender, and goals.
The Ultimate Low Carb Diet Meal Plan for Women: 40 Low Carb Recipes for Serious Weight Loss
Low Carb Diet Vs. Keto Diet: What's The Difference?
Is there a difference between a low carb and a keto diet? While the two share the same general rules of thumb, both call for a moderate amount of protein, a higher daily intake of fats, and minimal carbs, there is a difference in the two eating plans—specifically, ketosis.
To get into ketosis and reap the benefits of this fat-fueled state, you'll need to drastically cut the number of net carbs you eat per day. Again, your amount will depend on your age, gender, body composition, and weight.
How Many Carbs Do I Eat Per Day?
To give you a general idea of the number of carbohydrates you will be eating, here's a breakdown of three different types of low carb diets: keto, low carb, and a liberal low carb diet.
Keto Diet – Typically 20-30 grams net carbs per day
Low Carb Diet – 20-50 grams net carbs per day
Liberal Low Carb Diet – 50-100 grams net carbs per day
What Are Macros?
Short for macronutrients, "macros" refers to the nutritional components that every diet requires: protein, carbohydrates, fat, and macro minerals like calcium, iron, phosphorus, magnesium, potassium, and zinc.
Our body needs these nutrients to grow, develop, and repair itself. Macros contain calories, and every macronutrient contains a certain number of calories per gram.
When people are talking about macros (on keto), they are referring to the number of fats, protein, and carbs you need in your diet to hit ketosis.
The primary macros you need to focus on to go keto are:
Fat
Protein
Carbohydrates
Macros for a Low Carb Diet
Fat: 40% to 70%
Protein: 15 to 30%
Net carbs: 15% to 30%
Macros for a Keto Diet
Fat: 60% to 75%
Protein: 20% to 25%
Net carbs: 5% to 10%
What Are Net Carbs?
Net carbs are the number of carbohydrates in foods after subtracting dietary fiber and non-digestible sugar alcohols. These numbers do not count towards our daily carb allowance since fiber, and most sugars are not fully digested or absorbed by our bodies.
Net Carbs = Total Carbs – Fiber – Sugar Alcohols
What is Ketosis?

When you are on the keto diet, your body switches from using carbohydrates to fat as its energy source. As a result, your insulin levels decrease, and fat burning increases.
Ketones are produced in the liver from fat when you eat very few carbs and moderate amounts of protein. Your body and your brain then use these ketones for fuel.
When your body is producing ketones, you have entered ketosis, which is a natural metabolic state associated with mental clarity, increased energy, and weight loss.
Once you're in ketosis, your body has started to work for you and burn fat for fuel.
What Can You Eat on a Keto Diet Plan?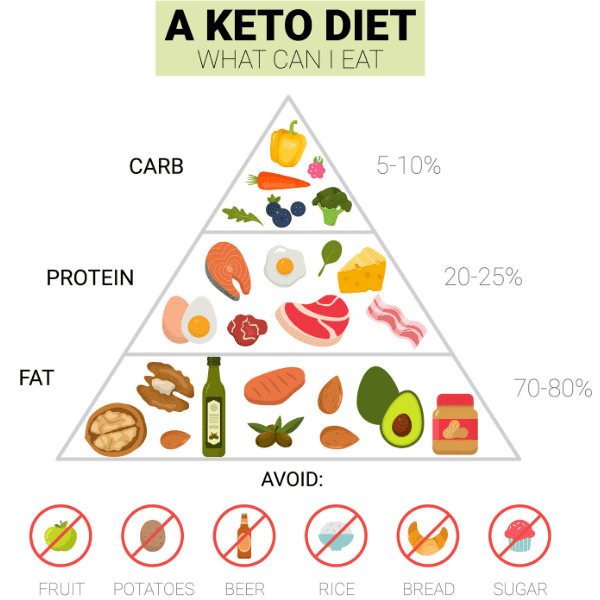 The list of foods to enjoy and avoid is the same for both low carb and keto diets. For the Ultimate Keto Shopping List with a printable PDF click here.
Healthy Fats from avocado oil, butter, and coconut oil
Low Carb Vegetables: Choose vegetables that grow above ground like cauliflower, broccoli, and zucchini.
Leafy Greens: Arugula lettuce, iceberg, spinach, and kale.
Meat: Beef and pork
Poultry: Chicken, duck, and turkey.
Seafood: Fish and shellfish.
Eggs
Full Fat Dairy: Cheeses, cream cheese, and heavy cream.
Nuts & Seeds: Almonds, macadamia nuts, sunflower, and pumpkin seeds.
Berries: Blueberries, blackberries, and strawberries.
Foods To Avoid On A Low Carb & Keto Diet
Sugar: Avoid table sugar as well as honey, maple syrup, candy, chocolate, pastries, ice cream, soda, and fruits not otherwise specified as keto-friendly – including fruit juice.
Grains: Avoid grains like wheat, bread, pasta, rice, oats, and corn.
Vegetables: Avoid starchy vegetables like potatoes and sweet potatoes.
Milk: Avoid cow's milk, including low fat and full-fat versions, as well as low-fat cheeses.
Legumes – This includes beans, chickpeas, and lentils. Peanuts are an exception, but in moderation.)
Vegetable Oils: Margarine, canola oil, corn oil, grapeseed oil, and soybean oil.
Full detailed keto diet food list >
What's OK To Drink On A Low Carb Diet?

What can you drink on a keto diet? The best way to hydrate is always water – but you can also drink your favorite coffee and tea as long as there is no added sugar.
A bit of cream or almond milk is fine in coffee or tea but beware of drinking multiple cups per day – because the carbs add up. As far as alcohol, beer, and wine? Well, most spirits are zero carb – the place it gets tricky is the mixers! And there are low carb wine and beer options as well.
Check out the guide to alcohol on a keto diet here.
Keto Diet Recipes
I have over 200 fabulous keto recipes for every occasion here, and I am continually adding new ones each day.
Keto Diet Meal Plans
I also offer free keto diet meal plans, including two 30 day meal plans – one is plant-based keto, and the other is carnivore friendly. There are two seven day plans – one is perfect for beginners, and the other is more strict. Additionally, if you're interested in combining Intermittent Fasting with the keto diet, check out this guide: Intermittent Fasting with The Keto Diet.
7-Day Keto Meal Plan For Beginners >
Strict Keto Meal & Menu Plan For Week One >
Low Carb Keto Diet Meal Plan for Vegetarians >
Intermittent Fasting + Keto 7 Day Meal Plan >
Keto Diet Benefits
If you've ever wondered why so many folks rave about starting a keto diet, I'll break it down for you. All low carb diets are beneficial to your health, but the keto diet comes with extra ketosis-style benefits from weight loss to clear skin.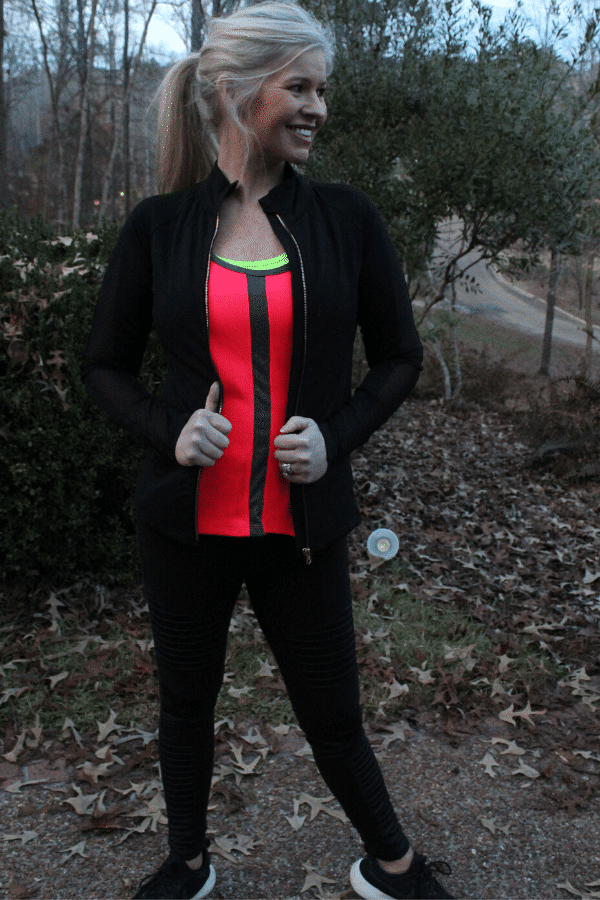 Reduced Appetite

I tried more than a few diets before landing on keto, and I can report that I felt like I was starving myself. It's impossible to stick to a diet when you're hungry all of the time. This is not the case on a low carb diet. Low carb diets have appetite-suppressing effects – and if my personal experience isn't enough, there's research behind it.
Cutting sugar out of your diet and replacing it with healthy fats from avocados and salmon gets you off of the blood sugar roller coaster of sugar highs and lows, helps you control cravings and big bonus – helps your mood!
Improved Health

The keto diet helps improve blood pressure, cholesterol levels and helps manage type 2 diabetes. Your energy levels increase, you may have fewer migraines, and acne-prone skin clears up. Another bonus? Following a low-carb diet plan may be your answer to digestive issues like bloat, gas, cramping, and other Irritable Bowel Syndrome symptoms.
Keto Diet Plan Results
There is no shortage of keto diet weight loss success stories – and I'm living proof a low carb keto diet plan works; for losing weight and keeping it off.
I have been following a keto diet for over seven years. I lost over 100 pounds and am in better health and shape now than I was ten years ago.
How To Get Into Ketosis
So, how do you get into ketosis? First, you'll need to cut your net carbohydrates per day to 30 grams. Warning: if you have been following the Standard American Diet for a lifetime, this is going to be dramatic, and you may experience keto flu symptoms. Some people prefer to ease into keto if their keto flu symptoms are severe, and there is absolutely nothing wrong with starting with a low carb diet and working your way up to keto!
Make sure you are eating enough healthy fats so that you never feel starved or deprived. There is no need to suffer to lose weight or reclaim your health. There are a few ways to add healthy fats to every meal, like adding grass-fed butter, or avocado oil. You may want to snack on nuts or seeds, a fat bomb, or a enjoy healthy keto smoothie. Remember, diets do not have to mean hungry.
For the first week or two while your body is adjusting to a low carb diet, you may need to take a break from heavy exercising, but don't miss out on moving your body! Exercising – even light exercise will increase ketone levels, lose weight, and boost your mood.
How to Know If You're In Ketosis
No, you won't get a google alert, but your body will give you a few signs you're entering the fat-burning nirvana.
Decreased Appetite
This fabulous benefit comes along with low carb diets. You aren't eating sugar and carbs, so you don't experience the blood sugar roller coaster's peaks and crashes like you used to. Also, factor in that the foods you are eating are full of healthy fats and energy-sustaining protein. Or it may be the ketones working on the hunger hormones.
Bad Breath
This is the most common sign your body is in ketosis. You may experience a metal-ish taste or even a fruity taste. However you describe it, bad breath is a good thing because it means your body has started to feed off of its fat stores. Chewing sugar-free gum will help until your body gets used to the diet, and then your breath will go back to normal. You won't have chronic halitosis forever!
Who Should Not Try A Keto Diet Plan?
The keto diet is considered safe and effective, but it is not for everyone. Special consideration needs for the following people is advised.
If you take medication for type 2 diabetes,
Low carb diets are effective at lowering blood sugar. The keto diet is so effective at reducing insulin levels that if you're taking insulin or metformin, your doctor needs to know – you may not need as much medication – or any meds at all.
If you are taking medication for hypertension (blood pressure)
Low carb diets are very effective at lowering blood pressure – so if you're taking medication on top of sticking to a keto diet, your doctor needs to know so that your levels can be monitored. He or she may choose to lower the dosage; otherwise, you run the risk of going too low.
If you are pregnant or breastfeeding – Do not try a low carb diet if you are pregnant or breastfeeding.
About Supplements & A Keto Diet

I get this question all of the time – almost every day. No, I did not take supplements or shakes to lose weight and get into ketosis. Not to say that supplements are harmful, there are some fabulous options available, but you do not need expensive kits or pills to make this lifestyle work!
Keto Diet Side Effects
Going from eating over 200 carbs per day to 20 is going to be tough on your body. Knowing the potential side effects upfront will help you prepare and plan for them. Most of the possible side effects of a low carb diet are minimal, but some can be severe.
Side effects range from feeling sluggish or tired to muscle cramping and heart palpitations. There's usually an easy solution for most of these – which I cover in this guide to the keto flu.
Keto Flu Symptoms
Difficulty Sleeping/Insomnia
Fatigue
Headache
Digestive Upset
Lack of Focus
Irritability
Sugar Cravings
Nausea
Mental Fog
Heart Palpitations/Arrhythmia
Constipation
Cramps (Leg & Muscle)
Dizziness
High or Low Blood Pressure
Keto Flu Symptoms Causes & Remedies
Electrolytes (sodium, magnesium, potassium) are must-have minerals your body needs to function correctly. They play a significant role in the overall functioning of your heart, muscles, and brain. When you start a keto diet, you flush out a lot of electrolytes, so it makes sense to replenish them.
Low Sodium
If you're having headaches, dizziness, muscle cramps, difficulty concentrating (brain fog) or you have little to no energy, you may need more sodium.
Up your salt intake by adding 1/2 teaspoon Pink Himalayan salt to a glass of water- a tall glass of water.
Or, consider sipping on nutrient-rich bone broth.
Low Magnesium
Having muscle and leg cramps?
Dizziness?
Fatigue?
You may need magnesium.
Take a 300-500 mg supplement or add more magnesium-rich foods to your diet like almonds, chia seeds, chicken, beef, spinach, and beef.
Low Potassium
Symptoms of low potassium are muscle cramps and pains, weakness, and increased heartbeat.
To increase potassium levels, you could take a supplement or add more potassium-rich foods like avocado, fish, meat, mushrooms, Brussels sprouts, and broccoli.
Drink Water
Dehydration leads to all kinds of nasty keto flu-like symptoms like headaches, dizziness, weakness.
Stay on top of your water game by drinking plenty of H20! Tea and coffee count too, but nothing is better than water.
Drink even more if you are suffering from diarrhea – which can also cause dehydration.
Keto Diet 101: Low Carb Tips & Guides
After a life of the SAD (Standard American Diet) diet and avoiding fats, you may need a little guidance on how to incorporate the right amounts of fats and proteins into your daily meals. Or you may need a few low carb swaps to help you out in the kitchen. The following tips and guides have your back every step of the way.
Low Carb Keto Diet Commonly Asked Questions
How Much Weight Can I Lose On Keto In 2 Weeks?
Of course, this will vary per person, but to give you a general idea of what to expect, most people average a weight loss of 2-4 pounds in the first week, then around a pound a week after. Men tend to lose more rapidly than women, and women over forty (such as myself) tend to lose weight at a slower rate than men.
Is Keto Sustainable? Will I Ever Eat Carbs Again?
This is another question I get all of the time. After seven years on the keto diet and a 100-pound weight loss, I can tell you my experience. Here's the thing, nobody kicks you out of the keto club if you accidentally or on purpose eat carbs. It's going to happen – I mean, do you want to live a life full of deprivation and I Can't Eat That declarations?
No. You don't.
Here's my best tip. You can slowly cycle healthier carbs (like the ones from sweet potatoes) back into your life after you have reached your weight loss goals. Pay attention to how you and your body feels after.
What I wouldn't recommend is going back to the SAD diet. Look, no matter who you are, what your body type is, or what your health concerns are, there is no right place for sugar or processed junk food.
Once you cut eliminate processed foods and sugar, you will see how much better your body feels on and off of the scale. You will notice that when you do allow yourself a "cheat meal" at McDonald's or indulge in a piece of pecan pie during the holidays that your body does not function at 100%.
In other words, you won't want to return to "normal" once you experience yourself at peak performance.
Want More?
Browse all of the keto diet articles, meal ideas, and tips
Kickstart Keto Without Giving Up Your Favorite Foods!
Need more easy low carb recipes? I understand! I've lost 148 pounds on the keto diet and maintained that weight loss for six years!
In my new book, Rebel Keto, I walk you through every detail of how I lost the weight on keto – without doing macro math at every meal. If you are a woman who is tired of trendy diet B.S. and you need a real-world roadmap to help you navigate the keto diet and drop the weight like a bad habit, get your copy of Rebel Keto today – right here.