These Keto Food Swaps will make starting and sticking to a low carb, ketogenic diet easier especially if you're a beginner.
This post may contain affiliate links that help keep this content free. [Full Disclosure]
After I tell people I lost 100 pounds on the keto diet – they usually want to know HOW I did it. How long it took & what on earth did I eat??? (I live in Mississippi – it's hard for folks to wrap their head around a diet without bread:)
But the thing is – you CAN have bread on the keto diet – and pizza – and a ton of other fabulous foods. With a few adjustments, of course.
Keeping carbs under 20-30 net per day (for keto) and 50 (for a low carb diet) can be a major challenge. Many throw in the towel and give up too soon out of frustration after countless google searches for the right low carb swap or a massive craving for oh, I don't know – chocolate?
Do Not Give Up!
It takes a little time to figure out – but You Can Do It!
If you're a regular here, then you've already printed the low carb keto food list, and I'm sure you have it memorized:) If not you can get it right here.
But that's a list of foods and ingredients. Today I'm sharing the best keto food swaps & the recipes – that will seriously make life on a low carb diet so much easier!
Keto Food Swaps – Breakfast
Swap This With This
Blueberry Muffin (61 Carbs) with Keto Blueberry Muffin (5.4 Carbs)
Breakfast Cereal (55 Carbs) with Low Carb Cereal (6 Carbs)
Granola (61 Carbs) with Low Carb Granola (6 Carbs Per Cup)
Egg McMuffin (31 Carbs) with Keto Breakfast Sandwich (4)
Oatmeal (54 Carbs Per Cup) with Low Carb Oatmeal (4 Carbs)
Overnight Oats (54 Carbs Per Cup) with Keto Overnight Oatmeal (1 Carb)
Pancakes (22 Carbs) with Cream Cheese Pancakes (1.5)
French Toast (16 Carbs Per Slice) with Keto French Toast (3 Carbs)
Waffles (25 Carbs Per Waffle) with Keto Waffles (2.5 Carbs)
Hash Browns (46 Carbs Per Cup) with Cauliflower Hash Browns (3)
Keto Food Swaps – Snacks
Here's the thing. Low carb diets have appetite suppressing effects – meaning once you start eating more healthy fats & protein you won't be hungry all the time and theoretically, snacks won't be an issue. BUT we are keeping it real here & sometimes you just need a snack:)
Swap This With This
Potato Chips (37 Carbs) with Low Carb Tortilla Chips (2.6)
Crackers (10 Carbs) with Fathead Crackers (2.4 Carbs)
French Fries (48 Carbs) with Green Bean Fries (2.5 Net Carbs)
Fries with Avocado Fries (8 Net Carbs)
Keto Food Swaps – Bread
One slice of bread contains 10-20 carbs per slice – AKA: Too Many!
The good news? You can make low carb bread even if you're not Martha Stewart & even if you need GPS assistance to navigate your kitchen!
Keto Bread: Life Made Sweeter's light & fluffy keto bread contains 2 net carbs & 4 grams of protein. Bonus: It's ready in 90 seconds & you make it in the microwave!
The Keto Bread: Maria Emmerich's recipe uses almond flour as a substitute for all-purpose. Maria's Keto Bread contains 2 net carbs and 7 grams of protein. You can find it on Diet Doctor here.
Bulletproof Bread: Made with 3 ingredients, this low carb bread is pure fat & protein so you'll stay in ketosis while enjoying a near-perfect replacement for traditional bread.
Swap This With This
Flour Tortilla (27 Carbs) with Lettuce Wrap (1 Carb)
Bagel (48 Carbs) with Low Carb Bagel (6 Carbs)
Pizza Crust (36 Carbs) with Cauliflower Pizza Crust (3 Carbs)
Bun with Portobello Mushroom Cap (2.3 Carbs)
Keto Food Swaps: Pasta & Rice
Swap This With This
Pasta (37 Carbs) with Zucchini "Noodles" (2 Carbs)
Spaghetti (43 Carbs) with Spaghetti Squash (8 Carbs)
Lasagna (26 Carbs) with Sliced Zucchini (6 Carbs)
White Rice (45 Carbs) with Cauliflower Rice (7 Carbs)
Rice with Loaded Cauliflower Rice (2 Net Carbs)
Keto Drinks
It doesn't matter how carefully you track your macros & count carbs if you're throwing down cans of soda, juice or energy drinks. They're full of sugar (which turns into carbs once it hits your bloodstream) and contain no nutrients. Avoid drinking these at all costs. They're not worth it! Here's a few low carb, healthy alternatives.
Swap This With This
Soda (35 Carbs Per Can) with Water or Infused Water (0 Carbs)
Latte (21 Carbs) with Bulletproof Coffee (0 Net Carbs)
Mocha Frappuccino (65 Carbs) with Low Carb Mocha Frappe (3 Net Carbs)
Small McCafe Strawberry Banana Smoothie (39 Carbs) with McKeto Strawberry Milkshake (2.4 Net Carbs)
Love Smoothies & Protein Shakes? Check out these Keto Smoothies!
Keto Food Swaps – Desserts
I have a weakness for chocolate & think life is too short to live without a little something sweet every now & then. Ok, fine. Every night. If you're also a chocoholic or dessert aficionado, you'll be pumped about these keto desserts!
Swap This With This
Chocolate Cake (34 Carbs-1 Slice) with Keto Lava Cake (4 Net Carbs)
Brownies (39 Carbs) with Low Carb Skillet Brownies (3 Net Carbs)
Ice Cream (16 Carbs Per 1/2 Cup) with Keto Ice Cream (2.6 Net Carbs)
Chocolate Chip Cookie (29 Carbs) with Keto Chewy Chocolate Chip Cookie (0.99 Net Carbs)
Peanut Butter Cookie (12 Carbs) with Low Carb Peanut Butter Cookie (2 Net Carbs)
Chocolate Chip Cookie Dough (29 Carbs) Chocolate Chip Cookie Dough Fat Bombs ( 3.3 Net Carbs)
Ok! Now, use these keto food swap tips & recipes to go forth & dominate the low carb (or keto) diet! And hey, thanks for stopping by! If you have any questions, comments or want to say Hey – please don't hesitate to reach out!
Need More Fabulous Keto Recipes?
I get it! Like I mentioned earlier – I lost over 100 pounds on the keto diet & maintained that weight loss for six years & these meal plans & recipes helped me tremendously!
Shout Out To Tastaholics Weekly Meal Plans & Keto In Five cookbooks!

About the weekly meal plans – Tastaholics will send you pre-calculated, low carb meal plans and recipes right into your inbox – no more hunting down recipes on the internet and trying to fit them together perfectly every day.
They make the keto diet easy – for real. And you can try it totally free right here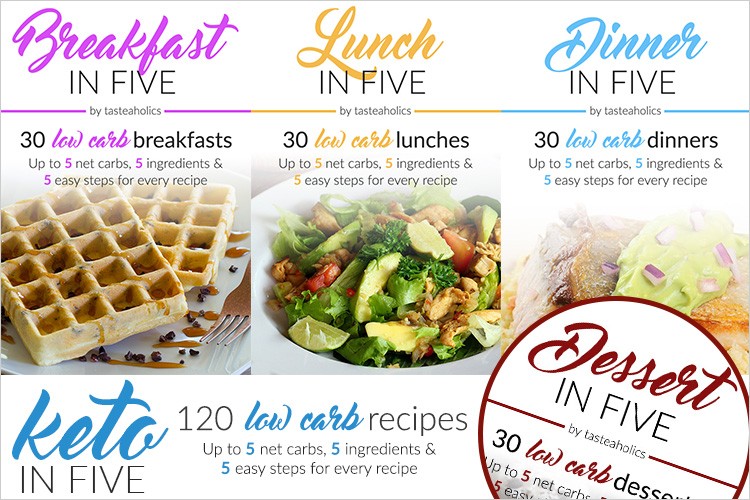 Or – opt for the Keto In Five – (These Are Not your Grandmother's Cookbooks-You Can download Them To Any device!)
Each collection offers 30 breakfasts, 30 lunches, 30 dinners & 30 desserts with only five ingredients & 5 net carbs! They provide all the macro info for you – which makes life so much easier!
Go ahead & try the meal plans or grab the Keto In Five Bundle! You've got nothing to lose, but weight. They offer a 365 Day money-back guarantee, but you won't need it:) Ok – sales pitch over:)
Download The Food Swap List Below
Add Your Name to our List and we will send you the Printable!
For More Fabulous Low Carb Recipes Check These Out!
Don't Forget To Save!
And For More Low Carb Tips & Recipes, Follow My Board on Pinterest!