Valentine's Day is just around the corner and if you're trying to keep carbs low and spirits high then these keto holiday dessert recipes and low carb treats are just what you need to celebrate.
This post may contain affiliate links that help keep this content free. [Full Disclosure]
Whether you've been on a low carb keto diet for years or just a few weeks, there's no denying the inevitable temptation that Valentine's Day chocolates and treats bring.
Every. Single. Year.
Now I've made no secret about my passion for all things sweet.
One of the reasons I get along so well with the keto diet is the absurdly long dessert menu-but every now and then– I get tempted.
So today I'm serving up my favorite keto & low carb versions of a few classic Valentine's Day treats.
You know, chocolate covered anything, Red Velvet cupcakes, and yes, candy.
Hopefully having these keto holiday dessert recipes on standby will help you and me stick to our guns and let Cupid hit someone else with his carb-loaded arrows!
Enjoy & Happy Valentine's Day!
This healthy sugar-free recipe from Simply So Healthy is also incredibly easy to prepare. With a 10 minute prep time & only 4 net carbs per serving you can indulge in a classic Valentine's Day treat.
Not only does this recipe look adorable it also tastes fabulous! Plus, you have the option to make it as a cupcake or a mug cake-in the microwave or the oven! With only 4 net carbs for the mug cake version & 2 net carbs for the cupcake you really can't go wrong! Get the recipe on I Breathe I'm Hungry
If decadent chocolate, coffee, and rum sounds too good to be true then a taste test is in order! But there's no need to worry about going over your limit here-these Keto Truffles are made with unsweetened cocoa powder and keto-friendly cream cheese. Only 1.67 net carbs per serving! Find out more on Ruled.Me
Looking for a showstopper dessert to celebrate? This Strawberry Trifle is divine. Layers of sugar-free sponge cake, sweet cream and strawberries with only 4 net carbs per serving! Want to know more? Check out all the details on Wholesome Yum
I became obsessed with this (keto) shortbread cookies recipe during the Christmas season. It's easy, low carb, gluten-free, and it tastes like legit old school classic buttery shortbread with 2.3 net carbs per cookie.
The most decadent chocolate bark with almonds and bacon. A match made in heaven! And only 5.2 carbs per serving! Get the recipe on Low Carb with Jennifer
It isn't Valentine's Day without Red Velvet Cake and this grain-free, low carb version of the classic cupcake is a perfect match-topped with a sugar-free cream cheese frosting! Only 5.4 net grams of carbs per cupcake! Get the recipe on All Day I Dream About Food
Heart-shaped chocolate treats with no gluten and no guilt with only 1 carb per serving! Find the details on Ketogasm
If you love chocolate and peanut butter candy, but you're following a low carb diet, then this easy dairy-free fat bomb recipe is what you need to kick your cravings to the curb – with 4 simple ingredients.
Creamy and full of chocolatey goodness, this low carb chocolate mousse is better shared with someone you love. Just kidding-double the recipe! Only 4 net carbs per delicious serving! Get the details on Fat For Weight Loss
This quick and easy keto treat combines your favorite freeze-dried berry powder, creamed coconut, and dark chocolate. With only 2.9 net carbs these low carb treats are the perfect stand-in for traditional Valentine's Day candy! Get the recipe on Keto Diet App
Layers of crunchy crust, sweet mousse, and fresh strawberries topped with a sugar-free vanilla whipped cream make a low carb Valentine's Day dessert to remember! And only 5 net grams of carbs per slice! Get the details on Sugar-Free Mom
For a flourless option that only calls for 5 (simple) ingredients this low carb recipe is hard to beat! Only 3 net carbs per serving! Get the recipe on Low Carb Yum
Melt in your mouth ganache filled candies made with Organic chocolate, Coconut Cream, and ghee make a sweet low carb indulgence! Get the details on Health Starts in The Kitchen
Only 5 carbs per serving in this tasty & tart buttermilk strawberry ice cream! Get the recipe on Low Carb Maven
If you haven't tried Skillet Brownies the time is now! Not only are they easy to prepare, but making brownies in a cast iron skillet offers the best of both worlds-crispy edges & a delicious soft center! Bonus? Only 3 grams of carbs per serving! Get the recipe on Tastaholics
Did I Miss Anything?
Which recipe from today's line-up are you going to try first?
Or maybe I didn't mention one of your favorite keto holiday desserts?
Either way, please let me know by leaving a comment below!

Need More Help Sticking To Keto?
I get it! Whether you're trying to get control of your health or lose weight or both – you need dependable easy recipes. These meal plans and e-cookbooks helped me a TON.

Here's the low-down on the weekly meal plans – Tastaholics will send you pre-calculated, low carb meal plans and recipes right into your inbox – no more hunting down recipes on the internet and trying to fit them together perfectly every day.
Doesn't that sound easy? It is. And you can try it totally free right here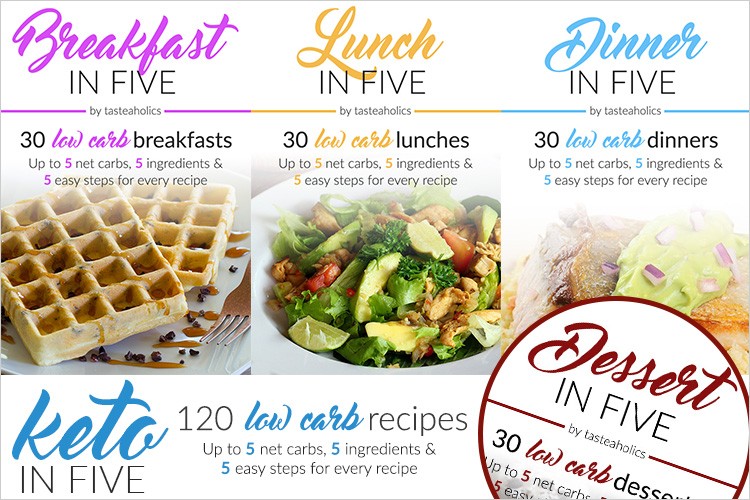 Or – opt for the Keto In Five e-cookbooks! These Are Not your Grandmother's Cookbooks -You can download them to any device!
Each collection offers 30 breakfasts, 30 lunches, 30 dinners & 30 desserts with only 5 ingredients & 5 net carbs! They provide all the macro info for you – which makes life so much easier! Go ahead & try the meal plans or grab the Keto In Five Bundle! You've got nothing to lose – They offer a 365 Day money-back guarantee, but you won't need it:) Ok – sales pitch over:)
If You Liked These Keto Holiday Desserts, You'll Love These Recipes!
Save these keto dessert recipes & low carb treats!