21 Keto Lunch Ideas you'll be stoked to take to work! Whether you're a meal prepper or a leftover enthusiast you'll love these easy ketogenic lunch recipes that are easy, packable, and low carb!
When I started the keto diet, I never had a hard time finding good keto recipes or ten for dinner or dessert, but keto lunch ideas? That was always a challenge for me. If you've been thinking that finding a fabulous packable, on the go, low carb lunch for work or school or even home is next to impossible; you're not alone.
Keto Lunch Meal Prep
I've said this before, and I'll say it again-meal prep is the best & easiest way to stay on top of your keto diet game. Not only does it save you a ton of money, but it's also a sanity-saving time and energy saver. Meal prepping your lunches on Saturday or Sunday means more free time during the week and always means more money in your pocket because you cut back on last-minute grocery store runs & restaurant meals.
Meal prepping doesn't mean you'll spend all day in the kitchen! You may choose three crockpot meals for the week that make enough for dinner and lunch.
Boom. How's that for easy?
Ok, I'll jump off the meal prep soapbox now. You can read more about meal prepping for weight loss on the keto diet right here.
Whether you're planning or prepping these Keto lunch ideas will inspire you to stick to your diet!
If you're looking for keto salads for lunch or dinner – be sure to check out these 17 Keto Salad Recipes That Make Lettuce Less Boring
I've collected these recipes to help make your life easier and your lunch hour a little less boring. Now, let's do lunch!
This post may contain affiliate links. For more information please visit my disclosure page here.
Starting things off with this keto lunch idea from Yummy Healthy Easy! I know tuna salad is nothing new, but this recipe has a secret ingredient that adds a crunch and takes lunch to a new level of fabulous. Ok, so it's pickles. I can't keep a secret to save my life. Try the recipe-you'll love it! Get it on Yummy Healthy Easy
Here's an easy keto lunch idea to meal prep ahead! Get the details on Megan Seelinger
If your idea of a packable keto lunch is more wrap than salad then you'll enjoy this low carb recipe from Tastaholic's that comes together in less than 15 minutes.
Get the recipe here
Let me start by saying this takes a tiny bit of effort, but I would never suggest work that did not pay off.
From The Iron You

A super simple meal prep idea-mason jar salads! This simple Caprese salad is the traditional lineup of mozzarella, tomatoes, and basil seasoned with Olive Oil, salt and pepper.
The genius is in the prep-do it a day or two in advance & stick it in the fridge & be ready for lunch in minutes!
Get the recipe on Skinny Ms

No bun? No problem! Here's a high protein low carb alternative to sandwiches for lunch using fresh tomato as a vehicle for tuna salad topped with melted cheese.
Get the recipe on Beauty and The Foodie
If you like chicken salad, then you'll ADORE this super low carb recipe for lunch. We are talking 1 net carb per serving!
So much better and cleaner than any store bought variety and way more delicious!
Get the recipe on Peace, Love and Low Carb

It's OK to unapologetically crave a salad for lunch-especially one that features bacon, avocado, and Caesar dressing!
Check it out on Savory Tooth
These mason jar ideas are the easiest packable keto lunch ideas-ever. You can prep them ahead of time, they won't spoil in the refrigerator, they travel well, and all you have to do for lunch at work is add water! Surely, Kim in Accounting won't have any problems with that.
Get this lunch idea on KetoDiet App
Here's a keto summer salad recipe featuring shrimp and cauliflower that's beautiful and delicious from Melissa over at I Breathe I'm Hungry.
Get all the details & full recipe here
If a keto lunch recipe that comes together in less than 2 minutes sounds good, then check out this cheesy pizza combination from My Montana Kitchen! It's a muffin with pepperoni, cheese, and Italian spices. And it's amazing.
Get all of the details right here
Get the 411 on all things Unwich & find out once & for all how to make a lettuce wrap you'll be confident enough to eat wearing a white t-shirt. A good white t-shirt.
Get the recipe on Ketogasm
Take basic egg salad & your lunch hour to another level with this Cobb Egg Salad recipe from Cathy at Lemon Tree Dwelling
Leftover Alert: Ordinarily leftovers for lunch are not my jam, but there are exceptions for every rule. Here's one of them.
It takes around five minutes to put this low carb Mexican crockpot soup recipe together, but it tastes like you put in hours of work!
Get the recipe on Low Carb Yum
Featuring ham, pork, Swiss cheese, and mustard this almond flour combination will give you all of the flavors of the traditional Cuban recipe with none of the guilt!
Get the full recipe on Mince Republic
A simple pizza inside a portobello mushroom! Find the full recipe on The Wholesome Dish
Another vegetarian option for lunch! Chopped cauliflower combined with finely chopped leeks, walnuts, full-fat sour cream, and a pinch of sea salt creates a nice texture and a creamy, healthy keto lunch for work or school.
Get the full recipe on Low Carb, So Simple
Miss pasta? Enter the zoodle! Enjoy for dinner & save the leftovers for lunch!
Recipe on Jo Cooks

If you aren't already an almond four fan, you will be after you try this recipe for keto, yes, keto buffalo chicken tenders! Get the recipe on Lexi's Clean Kitchen
I'm sneaking in one more dinner for lunch recipe here, but there's solid logic behind my decision. It's easy – budget-friendly & tastes better the next day!
Get the full recipe on Hey Keto Mama
Chilli
Delicious chili that tastes even better the second day! Via That Low Carb Life
Ok, so technically it's cauliflower & cheese, but this recipe is so creamy you'll forget. No, seriously. You will.
Get all the details on Gluten Free Daddy
Hopefully these keto lunch ideas will help bring a little happiness into your day & a lot health into your diet! Please share your favorites in the comments!
Need More Keto Recipes?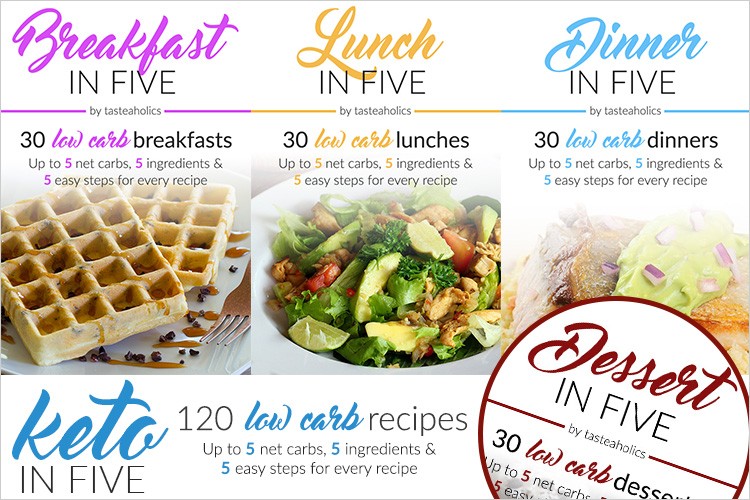 The key to success on the Keto Diet? Simplicity & Satisfaction! I've lost over 90 pounds on the keto diet & maintained my weight loss for over six years. Thanks in large part to Tasteaholics Keto in 5 Cookbooks! Each collection offers 30 breakfasts, 30 lunches, 30 dinners & 30 desserts with only 5 ingredients & 5 net carbs! They provide all the calorie & macronutrient info for you making it easier to track your meals along with helpful cooking tips & images – so you'll know what you're cooking!
Make life on the Keto diet easier & grab the Keto In Five Bundle! Satisfaction Guaranteed: Tastaholics offers a 365 Day Money Back Guarantee!
What to Read Next:
If you enjoyed these keto lunch ideas, don't forget to save them!
For more low carb inspiration, please follow my board Keto Recipes!