Think you have to choose between abs and pizza? Think again! If you've been missing pizza on your low carb diet or skipped keto altogether because pizza = happiness these easy keto pizza recipes are about to rock your world!
This post may contain affiliate links that help keep this content free. [Full Disclosure]
Here's the thing, life is too short to diet another day without a good low carb pizza recipe. Or twenty-one! Today I'm going to walk you through the greatest of all time game-changing keto pizza recipes and bring pizza night back with a vengeance and extra cheese!
Let's start by addressing the elephant in the room-crust. A traditional thin crust pizza contains around 36 grams of carbs. Per slice. So yeah, that's not going to work. The good news? You've got options.
Low Carb Crust Swaps
Portobello Mushrooms
Zucchini
Meat or Chicken
Pepperoni Cups
Spaghetti Squash
3 Easy Keto Pizza Crust Recipes
Most keto pizza crust recipes only take 10-15 minutes to put together plus baking time. Bonus? You can make them on meal prep day and freeze for later! So yeah, frozen keto pizza? It's a thing! Here are the two most popular low carb pizza crusts plus a little extra info.
1. Easy Fathead Dough Recipe
So, Fathead dough was introduced via the Fathead Movie – forever changing the lives of everyone on the ketogenic diet.
You make it with mozzarella, cream cheese, egg, finely ground blanched almond flour & a tiny bit of garlic salt. The result is a fabulous, gluten-free, low carb keto dough that only takes 15 minutes to prep & 15 min to bake in the oven. 2.4 net carbs, 11 g protein
Original Fathead Dough Recipe – Fathead
2. Cauliflower Crust
Another easy prep crust option is using cauliflower. You can use fresh cauliflower and stean and rice it, or you can go the easy route and use frozen pre-riced cauliflower. Then you combine the cauliflower with egg & cheese (goat cheese works best), salt & oregano. It'll take you around 20 minutes to prep and 45 to bake.
2 net carbs, 6 g protein
The Perfect Cauliflower Pizza Crust Recipe – Detoxinista
3. All-Cheese Crust
Combine mozzarella, parmesan, cheddar, eggs, and Italian seasoning to create a low carb crust in 15 minutes that bakes to perfection in 30!
7.6 net carbs, 21 g protein
Flourless Cheese Crust Pizza – Kirbie's Cravings
Suggested Keto Pizza Sauce
Rao's Homemade Vodka Sauce: Italian sauce that combines Parmesan, Romano and vodka to create a creamy & flavorful sauce with only 4 grams of carbs & 3 grams of sugar. You can buy it on Amazon here.
Keto Pizza Recipes
Chicago-style deep dish pizza recipe that's low carb & gluten-free! Carolyn of All Day I Dream About Food puts a unique & delicious spin on the traditional Fathead dough crust to make this one of my favorites with only 6.68 net carbs per serving. Get the recipe here.
Make a low carb supreme pizza faster than delivery! Italian sausage, green bell pepper, onion, mushrooms and cheese-only 6 net carbs per serving. Get the recipe on Low Carb Maven
A cream cheese crust topped with marinara, more cheese and your favorite toppings this Almost No Carb pizza takes only 10 minutes to prep, 30 minutes to bake and contains only 2 grams of carbs per serving. Get the recipe on 730 Sage Street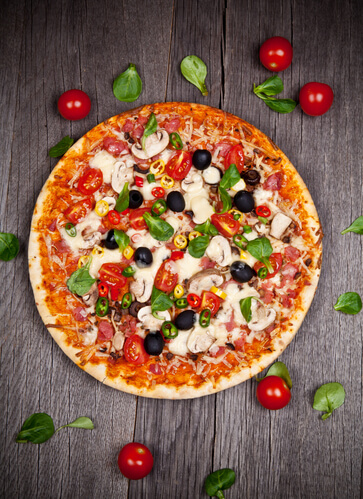 A fully loaded & customizable keto meat lovers pizza on a Fathead dough crust. Only 10 minutes to prep & 15 more to bake with only 2.4 net carbs per serving. Get the recipe on Ditch The Carbs
Prepare to be amazed. These low carb pizza rolls are not only healthier, but WAY more delicious than any frozen variety! Bonus: Prep these in 5 minutes & cook for 15! Only 2 carbs per serving. Get the recipe on Ketogasm
Everything you love about pizza-minus the carbs! Get the recipe on Kalyn's Kitchen
Ground beef, Mexican spices, tomatoes, bell peppers, avocado and cheese on top of a zucchini crust flavored with garlic & chili powder. Only 6 minutes to prep, 24 to bake & 3 net carbs per serving. Get the recipe on Beauty And The Foodie
5-ingredient low carb snack that bypasses the crust altogether & uses pepperoni as a vehicle for cheesy goodness! Get the recipe on A Spicy Perspective
Fresh mozzarella cheese, sliced basil leaves and tomato sauce on top of a crispy cauliflower crust with only 2 carbs per slice! Get the recipe on Savory Tooth
Only 2.5 net carbs per slice of this delicious white keto pizza recipe with spinach, grilled chicken and cheese on a crust made with Fathead dough. Get the recipe on How To This And That
Need a pizza-fast? Try this easy recipe that uses Psyllium Husk in the crust that you put together quick & easy in a blender! Only 3.5 net carbs for the entire pizza! Get the recipe on Ruled.Me
Dress up slices of zucchini with mozzarella cheese, parmesan cheese, pepperoni – all your favorite pizza toppings! This recipe is technically an appetizer, but it makes a fabulous quick ready-in-10 minutes lunch, too! Only 3 net carbs per serving. Get the recipe on Easy Low Carb
This 3-ingredient pizza uses ground chicken for the crust – contains 1 carb – AND is ready to eat in 30 minutes! Get the recipe on Low Carb With Jennifer
Stuff healthy portobello mushrooms with mozzarella, marinara and pepperoni to create a family dinner with only 4 net carbs per serving. Get the recipe on Wholesome Yum
Super easy to customize with your favorite veggies this low carb pizza doubles as an appetizer & a lunch with only 2.5 net carbs! Remember this one on meal prep day & go ahead & get the veggies washed, chopped & ready! Get the recipe on Low Carb Delish
This is the BEST low carb lunch that you can easily put together on meal prep day for the week ahead! Get the recipe on Food Faith Fitness
A fabulous way to take chicken to the next level! Using a few simple ingredients and only 15 minutes this keto recipe is ready to eat in 30 minutes & contains 4 net carbs. Get it on The Girl On Bloor
Keto comfort food at it's best AND easiest! This slow cooking keto recipe is easy to put together & contains only 2 carbs per serving. Get it on Eating On A Dime
Moment of Truth! Which one is your favorite?
Don't Miss These Low Carb Recipes & Tips
Don't Forget To Save!