Thinking of trying the ketogenic diet?
Fabulous! I can help you with that! I've lost a TON of weight (over 90 pounds) on the ketogenic diet so I know it works. I also know it can be stressful AF to start a new diet. Keto comes with a whole new vocabulary so a lot of times you're left a little dazed and confused.
Don't worry. Nobody else knew what a macro was before they started going low carb either! Here are a few things to catch you up to speed on all things Keto from Word to Your Mother!
The Hungry Girl's Guide to Keto: Ketogenic Diet For Beginners + 7 Day Meal Plan covers all of the basics & ins & outs of the diet. You'll learn exactly how to figure out how many carbs YOU need (not a guesstimate) & all the foods recommended on the Keto Diet as well as the ones you need to toss directly into the trash. (Or donate if that makes you feel better.)
There's also a Keto Shopping List you can download & print or save. (I didn't use a lot of color so it won't take up all of your printer's ink!)
You'd think one Keto Meal Plan would be enough, but I tend to go a little overboard sometimes. I thought it's be cool to offer a 30 Day Keto Meal Plan. For Free. No strings attached-no email required. Sure, it may not be great for my blog, but I figure if you want to read my words you're going to come back & read. You don't need to be bribed. Right?
90 Keto Diet Recipes For Breakfast, Lunch, & Dinner: Ketogenic 30 Day Meal Plan has even more keto 411, tips, & the best variety of low carb recipes to choose from. Because you do not have to stick with boiled eggs & bacon when you're starting this diet!
Ok, so now you've got the plan(s) & recipes, but what if you have no idea how to put it all together?That's right, I'm talking meal prep & plan. The recipes won't do you any good if you don't plan a day to shop for them & prep them so you'll be ready when hunger hits. If meal prep sounds intimidating, time consuming, & you'd rather rip your toenails out than spend all day chopping & dicing I know how you feel. I'm not a kitchen kind of gal. I'd rather be watching Orange is the New Black or pinning DIY stuff I'll never do than boil chicken and sort my meats into ziplocks. But it's something we have to do. My solution? Meal prep hacks!
10 Keto Meal Prep Hacks You've Never Seen Before + 21 Keto Recipes 
Mic drop.
But what if you dropped the meal prep ball & you need a low carb dinner STAT? Ever searched frantically for your dinner menu in the grocery store parking lot? You typed Fast & Easy into the search but ended up with an 8 hour crockpot meal that requires 2 hours of marinade & a secret sauce recipe? Damn it!!! Well, I came up with a solution for that scenario.
12 Quick Keto Dinner Recipes For Those Nights When You Have Zero Time  
And for the nights when you do plan ahead I have this collection of 40 Keto Crockpot Recipes 
When you're starting out on the keto diet it's best to keep things as simple as possible. Meal planning helps, but choosing the right (easy) recipes is a game changer. Do not start with Martha Stewart-esque meals. No disrespect to Martha, but complicated ingredients & extra steps easily become obstacles that stand in your way.
I've found these fabulous Keto In 5 Cookbooks to be a lifesaver! 120 low carb Keto recipes all under 5 net carbs, using 5 ingredients & 5 simple steps.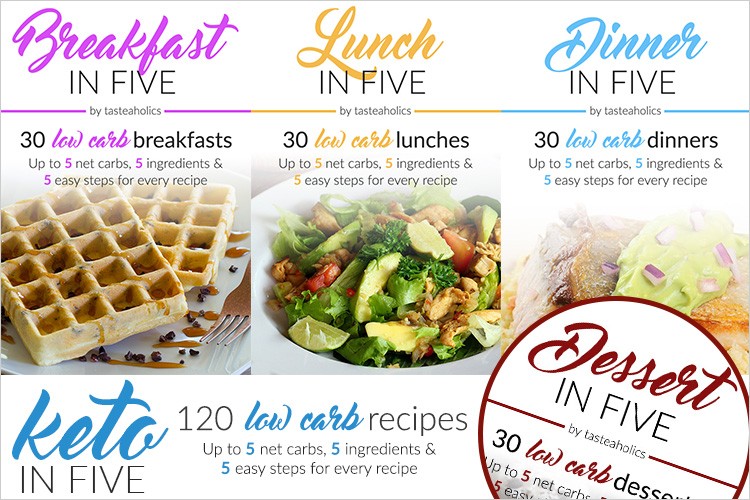 Keto In Five also makes it easy to keep track of your macros since the nutrition info is plainly listed with each recipe. And did I say they're delicious? Because they are insanely good!
Finally, there's Pinterest! You can follow my board Keto Diet for all the latest weight loss tips & Keto recipes!