25 No-Bake Keto Desserts that prove you don't have to give up your favorite treats to lose weight on the ketogenic diet! Or use the oven! These easy keto dessert recipes come in especially handy in the summer – when its too hot to bake & the holidays – when you run out of oven space – but make no mistake – these low carb treats are phenomenal any time of year!:)
This post may contain affiliate links that help keep this content free. [Full Disclosure]
I could go on & on (& I have before) about all of the various merits & benefits of the keto diet. You know, like how low carb diets reduce your appetite, increases energy, focus & improves your skin & physical endurance – But you know what else I love about keto? Dessert!
In fact, I'm not sure I would have committed to the keto diet for six years (& lost over 90 pounds) if the diet required me to give up on chocolate! Sure, adjustments must be made – & – switching to almond flour & sugar-free chocolate chips takes some getting used to – but yeah, I think these keto desserts saved me!:)
So here's what I've done – I've collected the best no bake keto desserts from brilliantly talented food bloggers + a few of my own & all the bases are covered: cheesecake, mug cakes, fudge, peanut butter pies, cookies, fat bombs & truffles – all no bake – sugar-free & of course, low carb & delicious!
Chocolate Chip Cookie Dough Fat Bombs
Cream cheese, peanut butter, butter, and sugar-free chocolate chips create the ultimate keto treat via WTYM Blog
No-Bake Chocolate Peanut Butter Cookies
Coconut Cookies
3-ingredient, keto cookies that taste like a candy bar with 2 net carbs via The Big Man's World
Peanut Butter Chocolate Truffles
4-ingredients & 5 net carbs via Tastaholics
Peanut Butter Chocolate Bars
One of my oven-free favorites with 2 net carbs per square via Kasey Trenum
Chocolate Cheesecake
5-ingredient, low carb chocolate treat (perfect for the holidays) with 5 net carbs per slice via Wholesome Yum
Coconut Strawberry Mousse
Light & fluffy with only 4 ingredients via Sugar Free Londoner
Fudge
Easy & delicious – no oven required style fudge with 2.92 net carbs via Hey Keto Mama
Cookie Dough Bars
5-ingredient, super easy cookie bars via Sweet As Honey
Lemon Coconut Balls
Lemon coconut fat bombs with 1.4 net carbs via Mouthwatering Motivation
Strawberry Cream Pie
A guilt-free low carb recipe perfect for a crowd via Better Than Bread Keto
No Bake Brownie Cookies
Soft & fudgey with 2 net carbs each via The Big Man's World
Cheesecake For One
The perfect treat for one with 2.5 net carbs via gnom-gnom
Mocha Mousse
Combine the delicious flavors of chocolate & coffee for a fabulously rich mousse with 6.57 net carbs via Ruled.Me
Blueberry Cheesecake
No-bake blueberry cheesecake with 7 net carbs via Low Carb Maven
Carbless Chocolate Bark
Perfect treat for those of us with a late night sweet tooth via simply taralynn
Pumpkin Pie
Perfect easy recipe for the holidays when your oven is full via Ruled.Me
Peanut Butter Cheesecake Bites
No oven or much time required – ready in 30 minutes via Hey Keto Mama
Peanut Butter Mug Cake
Fabulous single-serve 3 ingredient peanut butter mug cake via Kirbie's Cravings
Chocolate Peanut Butter Cups
A guilt-free favorite with 4.72 net carbs via All Day I Dream About Food
Chocolate Truffles
Whether you call them fat bombs or truffles you'll love this keto treat with less than 1 net carb via The Nourished Caveman
Peanut Butter Fat Bombs
3-ingredient fat bombs that taste like mini peanut butter cheesecakes via Savory Tooth
Cookies & Cream
Fabulous fat bombs that will curb any Oreo or chocolate kind-of craving via The Health Creative
Coconut Bars
Mounds Bar copycat recipe with 3 net carbs via Hungry For Inspiration
Want More Easy Keto Recipes?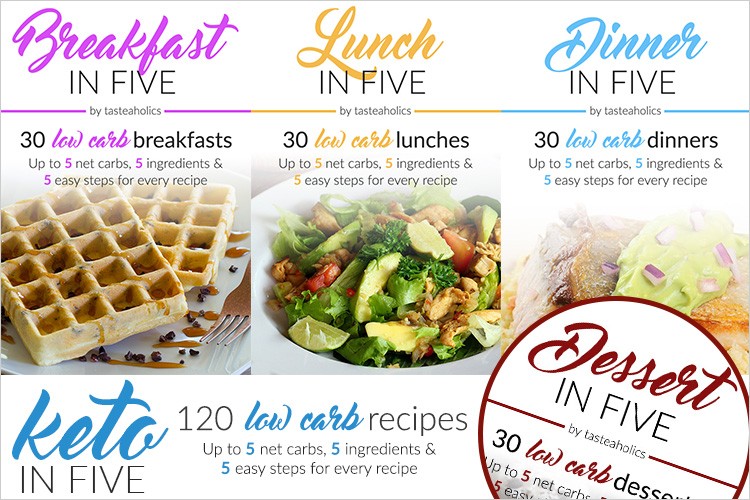 The key to success on the Keto Diet? Simplicity & Satisfaction! I've lost over 90 pounds on the keto diet & maintained my weight loss for over six years. Thanks in large part to Tasteaholics Keto in 5 Cookbooks! Each collection offers 30 breakfasts, 30 lunches, 30 dinners & 30 desserts with only 5 ingredients & 5 net carbs! They provide all the calorie & macronutrient info for you making it easier to track your meals along with helpful cooking tips & images – so you'll know what you're cooking!
Make life on the Keto diet easier & grab the Keto In Five Bundle! Satisfaction Guaranteed: Tastaholics offers a 365 Day Money Back Guarantee!
You May Also Like:
Don't Forget To Save These Desserts!
And For More Delicious Low Carb Inspiration, Please Follow My Keto Recipes Board On Pinterest!