Is there anything better than a good keto smoothie recipe or 23 on a low carb diet? No – especially when that high-protein meal replacement tastes like a milkshake & helps you lose weight! If you're down for a good keto smoothie or milkshake that not only brings all the boys to the yard, but gets them to mow the grass while they're there – stay with me.
This post may contain affiliate links.
First the bad news: Your standard smoothie staples like bananas, pineapple, milk, and honey are far too loaded with sugary carbs to even think about being healthy.
The Good News? There's tons of low carb, much better for you swaps you can use – easily – to whip up an equally delicious low carb meal replacement or snack that will help you drop a few pounds!
And the recipes are all right HERE!
Today's lineup includes the best flavor line-up of low carb smoothies like strawberry, chocolate, peanut butter, green, coffee, raspberry, pumpkin, berry, cheesecake, blueberry, & key lime pie! Click the image to go directly to the recipe!
Breakfast Shake
An eggless breakfast on the go with almond milk, almond butter, & cacao powder via I Eat Keto
Chocolate + Peanut Butter
Almond milk, peanut butter & cocoa powder combine to make an amazing low carb treat with 6 net carbs via Wholesome Yum
Strawberry Basil Smoothie
This creamy smoothie from KetoDiet Blog makes a perfect sugar-free keto breakfast!
Vanilla
Treat yourself to this sugar-free, 4-ingredient vanilla shake via Wholesome Yum
Green
Avocado, spinach, protein powder + your choice of low carb milk makes a fabulous keto smoothie for breakfast (or snack) with 2 net carbs via The Little Pine
Watermelon Basil
The perfect keto approved drink of summer via Kelley & Cricket
Strawberry
A MUCH healthier version of you know who's strawberry milkshake from Ruled.Me! If you've been missing this summer treat, this smoothie will curb your urge to visit the drive through!
Raspberry Protein Shake
Keep your post-workout shake low carb with this combination of almond milk, heavy cream, protein powder & raspberries via Appetite For Energy
Blackcurrant Smoothie
Another amazing way to start your day – low carb & dairy-free with 8.7 net carbs!
Avocado Green Smoothie
A super healthy low carb smoothie made with avocado & matcha green tea!
Green Breakfast Smoothie
Consider this a keto power smoothie at only 4 grams of net carbs! This is a fabulous way to get a ton of energy!
Kick any symptoms of the keto flu to the curb with this smoothie from How To This & That! It's just the right combination of kale, strawberries, avocado, cucumber, almond milk, and Pink Himalayan Salt to get you feeling better ASAP!
Chai Infused Pumpkin
Fresh pureed pumpkin, vanilla bean, chai tea and healthy fats round off this festive, refreshing dairy-free treat from Healthful Pursuit
Strawberry Avocado Keto Smoothie with Almond Milk
The best strawberry avocado smoothie recipe needs just 4 INGREDIENTS & 7 net carbs via Wholesome Yum
Raspberry Lemonade Smoothie
Another fabulous summer drink with only 7.42 net carbs via All Day I Dream About Food
Frozen Keto Berry Shake
This recipe blends seasonal berries into a delicious ketogenic treat in minutes using your choice of coconut or almond milk via Keto Diet App
Strawberry Cheesecake
Strawberries, cream cheese, heavy cream, almond milk, vanilla, and coconut milk combined makes a smoothie that will keep you full for hours!
Raspberry Avocado
This raspberry avocado smoothie is not only low in carbs (4 net), but it is also dairy-free & delicious via Low Carb Yum
Blackberry Cheesecake Smoothie
Blackberries, cream cheese, whipping cream, coconut oil, and vanilla combined to make a fabulous tasting smoothie!
Blueberry Galaxy Smoothie
The Blueberry Galaxy Smoothie is perfect for breakfast or as a post workout snack! Coconut milk, blueberries, vanilla essence, MCT oil, and an (optional) scoop of Whey protein come together to make a light & flavorful power drink!
Key Lime Pie Smoothie
Delicious low carb smoothie recipe with avocado, coconut milk, and lime via Cook Eat Paleo
Chocolate Avocado Raspberry Smoothie
Delicious & dairy-free with 4.84 net carbs via All Day I Dream About Food
Minty Green Protein Smoothie
A low carb & dairy free keto smoothie recipe with avocado, spinach & almond milk with 4 net carbs via Sugar-Free Mom
Turmeric Milkshake
Also known as "The Fat Burning Milkshake" the high fat content in this recipe will keep you full for HOURS! If you're looking for the perfect healthy drink-this is it!
Blueberry Coconut Chia Seed Smoothie
Packed with antioxidants and healthy fats, this smoothie made with blueberries, chia seeds & coconut make a perfect easy snack or breakfast. Dairy-free & vegan options!
Chocolate Smoothie
Do you need chocolate? This healthy chocolate smoothie will satisfy your sweet tooth! Using coconut milk, protein powder, chia seeds, vanilla, and dark chocolate this ketogenic smoothie recipe will not disappoint!
Need More Keto Recipes?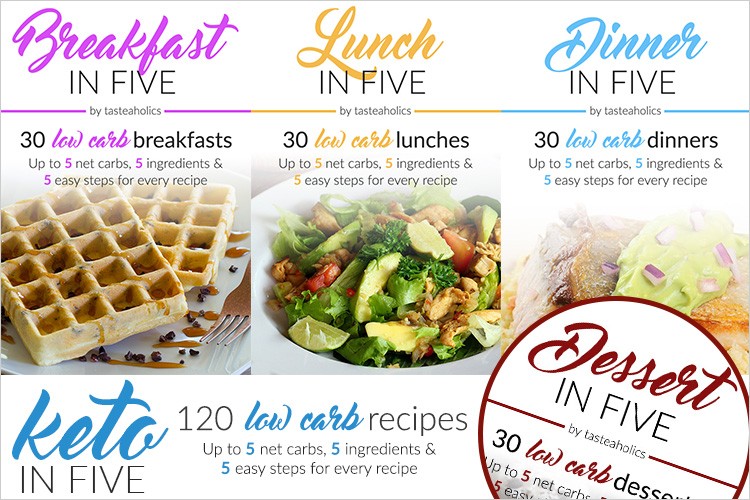 I feel ya! I've lost over 90 pounds on the keto diet & maintained that weight loss for six years (I went from over 200 lbs to right around 135:) – & these meal plans & recipes helped me tremendously! Shout Out To Tastaholics Weekly Meal Plans & Keto In Five cookbooks!
About the weekly meal plans – Tastaholics will send you pre-calculated, low carb meal plans and recipes right into your inbox – no more hunting down recipes on the internet and trying to fit them together perfectly every day. They make the keto diet easy – for real.
And you can try it totally free.
Or – opt for the Keto In Five – These Are Not your Grandmother's Cookbooks-You Can download Them To Any device!: )
Each collection offers 30 breakfasts, 30 lunches, 30 dinners & 30 desserts with only five ingredients & 5 net carbs! They provide all the macro info for you – which makes life so much easier!
Go ahead & grab the Keto In Five Bundle! You've got nothing to lose, but weight. They offer a 365 Day money-back guarantee, but you won't need it:)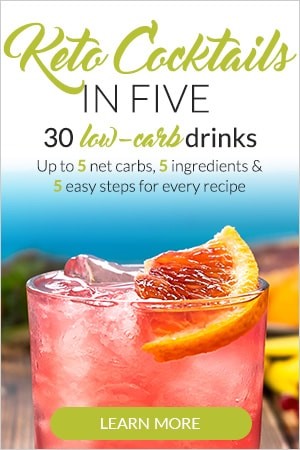 *Update! Tastaholics has launched a new collection of Keto Cocktails in Five! 30 Low Carb Drinks – All with up to 5 Net Carbs, 5 Ingredients & 5 Easy Steps! Oh, & I've tried (almost) all of them & they are LEGIT!
Finally, in case you can't get my Kelis Milkshake reference out of your head – here's the video. And I'm sorry. I can't stop singing it either:))
You May Also Like:
If you enjoyed these keto smoothie recipes, please share them on Pinterest!
For more keto diet recipes, please follow my Keto Recipes Board!