The Ultimate Keto Shopping List – Because navigating the grocery store for the first time on the ketogenic diet can be a little confusing:) This list, infographic & printable PDF will help you through every section – so you'll know what to grab & what to pass on by.
This post may contain affiliate links that help keep this content free. [Full Disclosure]
Here's the deal y'all – I know what it's like to be new to the keto diet & be confused & frustrated at the grocery store. You're busy enough-and you don't have time to research every food group when you have 20 minutes to get in and get out and go home to cook! It takes time to learn to read labels and learn what is & isn't low carb – I'm here to help.
A quick run to the grocery store can escalate into a full-blown nightmare – especially if you're new to the keto diet or you're looking to re-stock your kitchen. I'm hoping this keto shopping list, infographic & printable PDF will make your life a little easier and a lot less stressful.
Keto Shopping List – Tips
Don't Buy Everything!
It's tempting when you start a diet to make a grocery run and end up spending way more than necessary! (Trust me, I've been there!) Check your pantry before you go. You probably have a few of these items in your cabinets right now. And you do not need everything on this list! In fact – if you're new – I'd skip the specialty baking products – it is easier in the beginning to keep things as simple as possible.
Once you have your pantry and fridge stocked you'll have everything you need to make fabulous, healthy low carb recipes for every meal.
Healthy Fats
Make sure you're eating plenty of healthy fats. Here's a quick rundown of the fats to use and the ones to avoid.
Saturated Fats: Butter, coconut oil and ghee are all saturated fats and you do need to include these in your diet.
Monounsaturated Fats: Olive oil, avocado oil – more healthy fats to include!
Trans Fats: Avoid anything hydrogenated like Crisco or margarine – these have been linked to heart disease.
Remember to avoid canola, corn and soy oils.
Avocado Oil Rich with antioxidants and vitamins, use avocado oil to grill, roast, saute and make dressings & marinades
MCT Oil – MCT = Medium Chain Triglycerides – You'll see this oil in all kinds of keto recipes because it contains zero carbs, 14 grams of healthy fats, and research has shown that MCT Oil promotes ketosis & helps with weight loss. Use code WTYM for 15% Off Perfect Keto MCT Oil
Protein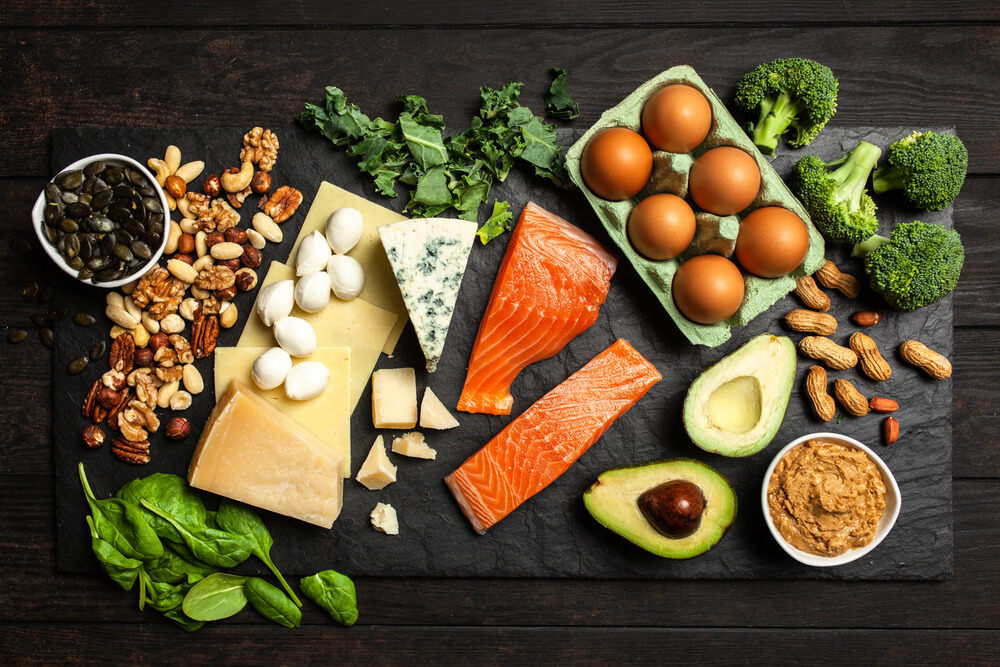 Select grass-fed, organic & pasture-raised meat when you can – grass-fed contains more healthy omega-3's & antioxidants and fewer hormones. Select the highest quality meat you can afford.
Beef: Ribeye, Roast, Ground Beef
Lamb
Pork: Pork Chops, Pork Tenderloin, Ground Pork, Pork Loin, Ham, Bacon
Deli
Chicken
Corned Beef
Pastrami
Prosciutto
Pepperoni
Salami
Roast Beef
Turkey
Poultry
Go for darker meat when selecting poultry. Organic is best if you can swing it! Stock up on eggs-they are loaded with protein & have ZERO carbs.
Chicken
Hen
Quail
Turkey
Duck
Eggs
Fish
Choose the fattier, wild caught fish when selecting fish. It will have less chemicals, hormones and dyes that are added to farm-raised fish.
Anchovies
Bass
Catfish
Cod
Halibut
Flounder
Red Snapper
Sardines
Salmon
Trout
Tuna
Tilapia
Mackerel
Mahi Mahi
Orange Roughy
Shellfish
Abalone
Caviar
Crab (Go for the Real! Not Imitation)
Clams
Lobster
Mussels
Octopus
Oysters
Scallops
Shrimp
Snails
Squid
Vegetables
A good rule of thumb is to go with the vegetables that grow above ground to stay in the low carb zone. Sautéed in coconut or avocado oil to add in healthy fats, low carb veggies make fabulous side dishes that are super easy to prepare.
Stay away from potatoes & sweet potatoes-One baked potato contains 54 Net Carbs & one sweet potato has 20 Net Carbs!
Asparagus
Broccoli
Bell Peppers
Boy Choy
Brussels Sprouts
Cabbage
Cauliflower
Celery
Collard Greens
Cucumbers
Eggplant
Green Beans
Jalapeño Peppers
Lettuce: Boston, Endive, Field Greens, Iceberg, Romaine
Kale
Mushrooms
Mustard Greens
Okra
Onions
Peppers
Radishes
Scallions
Snap Peas
Spaghetti Squash
Spinach
Swiss Chard
Tomatoes
Turnip Greens
Zucchini
Save Money On Keto Food
Save money shopping for low carb foods at Thrive Market! They are on a mission to make the best healthy foods and products affordable & accessible to everyone.
Fruit
Most berries & fruits are high in carbs so they're off limits on the keto diet. (One banana contains 25 grams of carbs!) However, there are a few low carb options you can enjoy & remain in ketosis.
Avocado: 2g Net Carbs per 1/2 Avocado
Raspberries: 3g Carbs per 1/2 Cup
Blackberries: 4g Carbs per 1/2 Cup
Blueberries: 6g Carbs per 1/2 Cup
Lemon: 5g Carbs per Lemon
Lime: 7g Carbs per Lime
Strawberries: 6g Carbs per 1/2 Cup
Baking – Low Carb Flour
You may be surprised to learn that you can make TONS of fabulous baked goods Keto-friendly- We're talking pancakes, muffins, cookies, breads, pizza dough-ALL THE GOOD STUFF! Here are a few of the most widely used flour substitutes & keto baking necessities.
Both are made from ground almonds, so what's the difference? Well, the almond meal contains the skin of the almond, while blanched almond flour is made after the skins are removed. Some folks can tell a significant difference in taste and texture; some say they can't tell the difference. If you're new to low carb baking, my best advice is to stick to what the recipe calls for to see where your preference lies.
Coconut flour is a gluten-free, low carb, high-protein swap for traditional all-purpose flour. Coconut flour can be a little tough to master when you're a beginner – it tends to have a drying effect on baked goods.
Flaxseed (also known as linseed) is another grain-free flour that is becoming more popular every day. Flaxseed contains heart-healthy omega-3 fatty acids as well as a decent amount of dietary fiber (1.9 grams per tablespoon), which will help you improve digestion.
This is one of those must-have special ingredients that you'll wish you had on hand. Psyllium Husk is a gluten-free, grain-free binder and thickener. Use psyllium husk powder in loaves of bread and muffins to get the "tastes like the real thing" style consistency and texture.
Baking Staples
Soup Staples
Sweeteners
Replace sugar with an all natural, sugar-free sweetener. You can choose from liquid, granulated and confectioners (powdered). Here are a few favorites.
Erythritol Powdery sugar alcohol that's found in many foods naturally. Erythritol is low in calories with a glycemic index of zero, It is not as sweet as sugar so you may have to use a little more to get the effect.
Stevia Stevia is a natural sweetener that comes from the leaves of the stevia plant. It has zero calories and zero carbs, is available in both a liquid and a powder – is 200X sweeter than table sugar without raising blood sugar levels. On the glycemic index Stevia comes in at 0.
Swerve This all-natural, no calorie combo of erythritol, citrus flavoring, and oligosaccharides is becoming more popular for baking because you can brown & caramelize it JUST LIKE CANE SUGAR!
Plus, you can sub it for sugar cup for cup-which takes a lot of guesswork & math out of the kitchen. (We love that!) Disadvantage? Contains a small number of carbs
Monk Fruit Made from Monk Fruit this natural sweetener is low calorie with a zero glycemic index score. 300 times more potent than sugar-a little goes a long way-plus there's no bitter aftertaste.
Brown Sugar Swaps
Dairy
If allergies aren't an issue, you can include some dairy – keep in mind raw and organic are the healthiest. Avoid low-fat versions and milk. Milk is high in sugar & the carbs add up fast!
Full-fat, unsweetened Greek Yogurt
Brie
Goat Cheese
Ricotta
Swiss
Spices
Add flavor to your keto meals with spice! Here are a few commonly used spices you'll want to have on hand.
Crushed Red Pepper
Sage
Paprika
Pepper
Nuts & Seeds
Crushed Red Pepper
Sage
Paprika
Pepper
Nuts & Seeds
Nuts and seeds can be enjoyed as a snack especially Brazil Nuts, Macadamia Nuts, & Pecans, but be careful not to eat too many. Avoid the salted, glazed, and spiced varieties that have added sugars.
*Lowest amount of carbs per serving
Nut Butter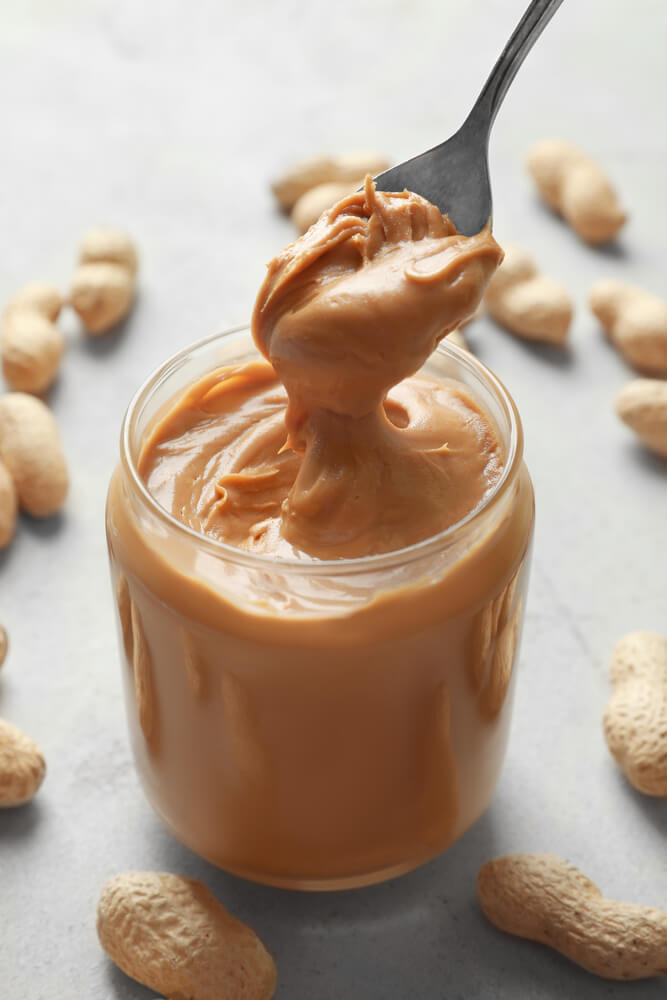 Keto Snacks
If you have the munchies or need a midnight snack there are plenty of low carb snack recipes you can make – with little effort. Keto Fat Bombs kept me from giving up many, many times. Here are a few solid keto snacks to buy.
Sauces
Salad Dressings
Add healthy fats and flavor to your salads: look for Avocado Oil, Olive Oil, Walnut Oil and MCT Oil based dressings with natural herbs and spices – without added sugars.
Drinks
Water
Your #1 go-to is H20! Add lemon, lime, cucumber slices to add flavor or use a sugar-free water enhancer – Try to drink at least 8 8-oz glasses of it per day.
Stur Sugar-free water enhancer – Zero calories – Sweetened with Stevia
Coffee
Yes! But again, no sugar. Heavy cream or Half & Half work as low carb swaps for creamer. Bulletproof Coffee is another fabulous option that's filling & will give you extra energy.
Tea
Most varieties of tea are keto-friendly: Green, Black, Mint, Herbal.
Dairy-Free milk alternative with no added sugar or carbs-0 net carbs per cup!
Sip on nutrient-filled Bone broth to hydrate and to help ward off symptoms of the keto flu. Bone broth is full of healthy nutrients and electrolytes! Kettle & Fire has a fabulous 100% Grass-fed Bone Broth made with all organic ingredients that tastes amazing.
Alcohol
Avoid liquid bread, AKA Beer. Even most low carb brands have too many carbs to be considered. BUT if Beer is your thing & you can't help yourself, Budweiser Select (1.9 Carbs) & Rolling Rock Green Light (2.4 Carbs) are good low carb options
Wine – Dry Red & White Wines range from 4-5 net carbs per glass
Liquor: Vodka, Whiskey, Gin, Tequila, & Rum all come in at 0 Carbs – Beware of the Mixers! Remember juice is off limits so drink it straight or with Sparkling Water
Read More: Keto Cocktails & Low Carb Alcohol: Ultimate Guide To Drinking On The Keto Diet
Kickstart Keto Without Giving Up Your Favorite Foods!
Need more easy low carb recipes? I understand! I've lost 148 pounds on the keto diet and maintained that weight loss for six years!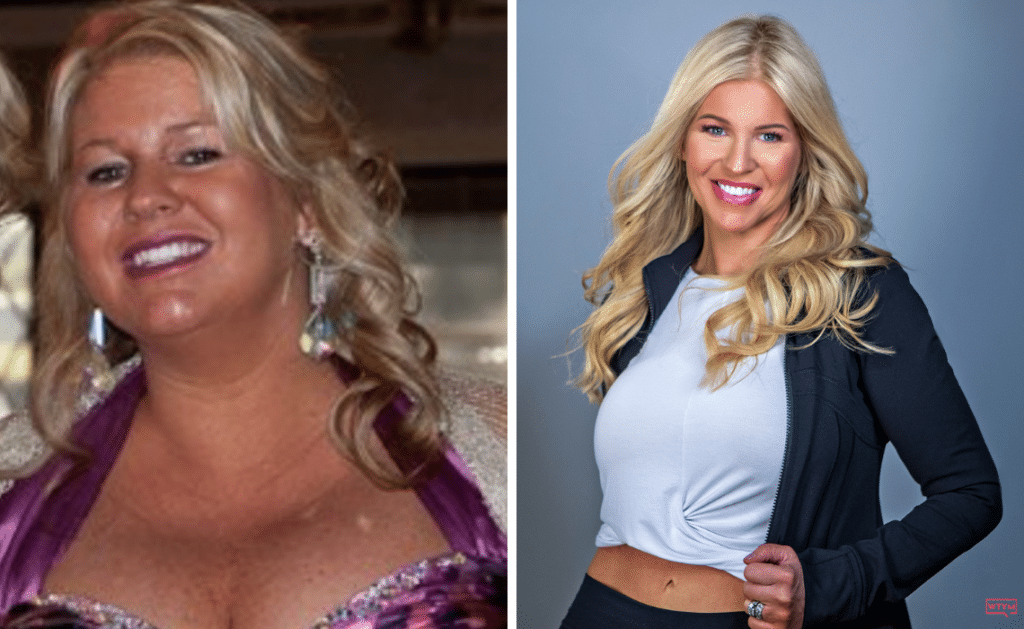 Grab the Black & White version of the List Here!
Click Me to Download the Printable!
Print The Infographic Here
Did I Miss Anything?
Do you have enough information to avoid a keto confusion at the grocery store?
Or do you have more questions?
Either way, please let me know by leaving a comment below!
More Keto Diet Resources & Healthy Tips You Need
Rebel Keto: How I Stopped The Blame Game, Lost the Weight, and Wrote a Book About Keto
The Best Keto Recipes & Easy Meal
Ideas For Breakfast, Lunch, Snacks, Dinner & Dessert
Don't Forget To Save or Share!
Today's Quote: "Start where you are. Use what you have. Do what you can." – Arthur Ashe