Navigating the grocery store for the first time on the keto diet can be a little confusing for beginners! This keto shopping list and free Keto Grocery List Printable PDF will guide you through every department, so you'll know exactly what foods are keto-friendly and what you need to put in your shopping cart! Need a keto snack-ASAP? Don't miss the keto snack section where I'll share all the best ketogenic snacks you can buy right now on Amazon!
This post may contain affiliate links. All content and information on Word to Your Mother Blog is for informational and educational purposes only, and does not constitute professional medical advice of any kind. For our full disclaimer policy please click here.
Trying to figure out if you're buying the right thing or making a keto-friendly decision can turn into a nightmare! So if you're new to the keto diet or you are looking to re-stock your keto kitchen this keto shopping list, and printable PDF will make life a little easier and less stressful!
Keto Shopping List Tips
Don't Buy Everything!
It's tempting when you go on a new diet to make a grocery run and end up spending way more than necessary! (Trust me, I've been there!) Check your pantry before you go. You probably have a few of these items in your cabinets right now. The Keto Shopping List PDF is a condensed version of the shopping list with keto essentials you will need in most low carb recipes for beginners.
A Personal Note: I've tried to fit a lot of information into this guide because I know what it's like to be confused & frustrated at the grocery store. You're busy enough-and you don't have time to research every food group when you have 20 minutes to get in & get out of the supermarket. I've lost over 90 pounds on the keto diet (Before & After Pics Here) & I've learned a few tips along the way. Losing the weight changed my life in more ways than just fitting into skinny jeans & if I can help you do the same, well, that's icing on the keto mug cake!
On a budget?
-Shop what is in season to save money!
-Use your crockpot & double recipes to freeze for later. Here are two fabulous collections of keto crockpot recipes that are easy & use budget-friendly ingredients.
40 Keto Crockpot Recipes Perfect for Meal Planning
25 (More) Keto Crockpot Recipes: Slow Cooker Meals You Can't live Without
Check your local newspapers for ads to see what meats are on sale and stock up on any grass-fed, organic meat and/or wild-caught fish while you can. Yes, they do cost a bit more, but it's a good idea to avoid eating foods with added hormones, chemicals, and dyes if you can!
Need a meal plan? You're covered. Here's a 7 Day plan with recipes for breakfast, lunch, & dinner. When you need more recipes check out the 30 Day Meal Plan with 90 keto recipes for every meal!
The Hungry Girl's Guide to Keto: Ketogenic Diet for Beginners 7 Day Meal Plan
90 Keto Diet Recipes: 30 Day Meal Plan
Keto Shopping List
Grab the Printer-Friendly version of the Keto Shopping List Here!
Click Me to Download the Printable!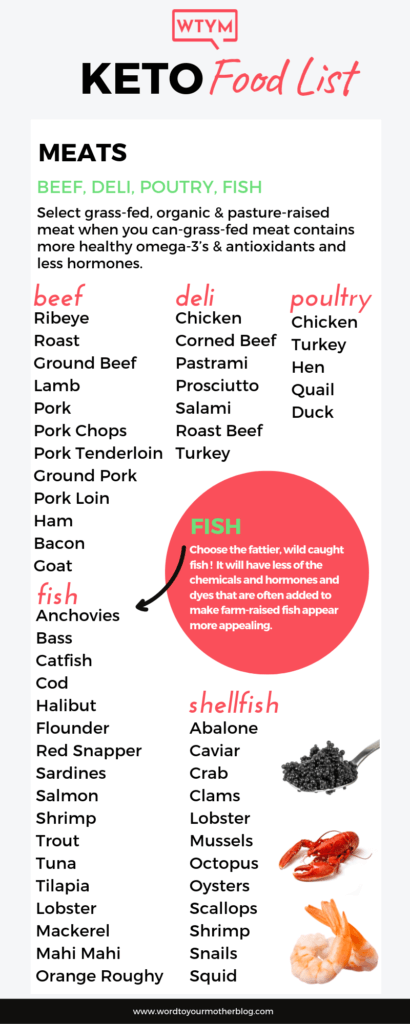 Meat
Select grass-fed, organic & pasture-raised meat when you can-grass-fed meat contains more healthy omega-3's & antioxidants and fewer hormones. Select the highest quality meat you can afford.
Beef: Ribeye, Roast, Ground Beef
Lamb
Pork: Pork Chops, Pork Tenderloin, Ground Pork, Pork Loin, Ham, Bacon
Goat
Deli Section
Avoid any deli meats marinated in a sweet sauce (like honey or honey BBQ). That's a sign extra sugar has been added. Always check the label just in case!
Chicken
Corned Beef
Pastrami
Prosciutto
Pepperoni
Salami
Roast Beef
Turkey
Poultry
Go for darker meat when selecting poultry! Organic is best if you can swing it! Stock up on eggs-they are loaded with protein & have ZERO carbs.
Chicken
Hen
Quail
Turkey
Duck
Eggs
Seafood
Choose the fattier, wild caught fish when selecting fish. It will also have less of the chemicals and hormones and dyes that are often added to make farm-raised fish appear more appealing.
Anchovies
Bass
Catfish
Cod
Halibut
Flounder
Red Snapper
Sardines
Salmon
Shrimp
Trout
Tuna
Tilapia
Lobster
Mackerel
Mahi Mahi
Orange Roughy
Shellfish
Abalone
Caviar
Crab (Go for the Real! Not Imitation)
Clams
Lobster
Mussels
Octopus
Oysters
Scallops
Shrimp
Snails
Squid
Fruit
Most berries & fruits are high in carbs so they're off limits on the keto diet. (One banana contains 25 grams of carbs!) However, there are a few low carb options you can enjoy & remain in ketosis.
Avocado: 2g Net Carbs per 1/2 Avocado
Raspberries: 3g Carbs per 1/2 Cup
Blackberries: 4g Carbs per 1/2 Cup
Blueberries: 6g Carbs per 1/2 Cup
Lemon: 5g Carbs per Lemon
Lime: 7g Carbs per Lime
Strawberries: 6g Carbs per 1/2 Cup
Vegetables
Your body needs the nutrients that come from healthy veggies. A good rule of thumb is to choose the ones that grow above ground to stay in the low carb zone. Sautéed in coconut or avocado oil to add in healthy fats, low carb veggies make fabulous side dishes that are super easy to prepare. Stay away from potatoes & sweet potatoes-One baked potato contains 54 Net Carbs & one sweet potato has 20 Net Carbs!
Asparagus
Broccoli
Bell Peppers
Boy Choy
Brussels Sprouts
Cabbage
Cauliflower
Celery
Collard Greens
Cucumbers
Eggplant
Green Beans
Jalapeño Peppers
Lettuce: Boston, Endive, Field Greens, Iceberg, Romaine
Kale
Mushrooms
Mustard Greens
Okra
Onions
Peppers
Radishes
Scallions
Snap Peas
Spaghetti Squash
Spinach
Swiss Chard
Tomatoes
Turnip Greens
Zucchini
Dairy
If allergies aren't an issue, raw and organic dairy products are a great way to add fat to a meal. Be sure to avoid low-fat versions and milk. Milk is high in sugar & the carbs add up quickly!
Butter
Blue Cheese
Buffalo Mozzarella
Brie
Aged Cheddar
Colby
Cottage Cheese
Cream Cheese
Feta Cheese
Ghee
Greek Yogurt
Goat Cheese
Heavy Cream
Mayonnaise
Mozzarella
Parmesan
Provolone
Ricotta
Swiss
Sour Cream
Nuts & Seeds
Nuts & seeds can be enjoyed as a snack especially Brazil Nuts, Macadamia Nuts, & Pecans, but be careful not to mindlessly snack & overeat-they are high in calories even in their purest form. Also, steer clear of salted, glazed, and spiced varieties that have added sugars and carbs!
Almonds
Brazil Nuts*
Hazelnuts
Macadamia Nuts*
Pecans*
Pine Nuts
Pumpkin Seeds
Sesame Seed
Sunflower Seeds
Walnuts
*Lowest amount of carbs per serving
Baking
You may be surprised to learn that you can make TONS of fabulous baked goods Keto-friendly-we're talking pancakes, muffins, cookies, breads, pizza dough-ALL THE GOOD STUFF! Here are a few of the most widely used flour substitutes & keto baking necessities.
Blanched Almond Flour – Made from almonds that are boiled to remove the skin & ground into a super fine flour Use in keto bread, pancake, muffin, and dessert recipes. High in healthy fats & low in carbs! Bob's Red Mill Super Fine Almond Flour is a trusted brand & is available on Amazon here!
Almond Meal – Low carb, gluten-free flour alternative. Similar to Almond Flour, but not as finely milled. If you use Almond Meal, you may find a consistency & texture difference because it may contain almond skin.
Coconut Flour – Use in low carb dessert & bread recipes. High in fiber & low in carbs. Bob's Red Mill Organic Coconut Flour is recommended-available on Amazon here.
Cacao Powder – Raw powder made from cacao beans. Substitute for over processed cocoa powder. Navitas Organic is available on Thrive
Flax Meal – Use in bread, cookies, & muffins
Oat Fiber – Use in baking recipes. All carbs come from fiber.
Psyllium Husk – Use in keto bread recipes-great source of fiber that helps thicken up recipes. NOW Foods is a fabulous brand that's been around since '68 & makes a great product! Available on Amazon here
Xanthan Gum – Another thickening product for your keto kitchen! Use in baked recipes, stews, and desserts.
Avocado Oil – With zero carbs and 14 grams of heart-healthy fats per serving, Avocado Oil is a staple in most keto kitchens.
Coconut Oil – Coconut Oil also has a zero carb count, but the fact that it's comprised of 90% saturated fats often raises eyebrows. If this concerns you, check out this article that explains how Coconut Oil helps boost HDL-or good cholesterol!
MCT Oil – MCT = Medium Chain Triglycerides – You'll see this oil in all kinds of keto recipes because it contains zero carbs, 14 grams of healthy fats, and research has shown that MCT Oil promotes ketosis & helps with weight loss. Perfect Keto makes a pure 100% C8 MCT Oil available on Amazon here.
Sweeteners
Sugar is now a distant memory. But you've got to have something to sweeten those cream cheese pancakes & other keto recipes. Here are three of my favorites!
Stevia – This liquid (or powder) sweetener with 0 g carbs is 200-300X sweeter than sugar. A little goes a long way! Downside? Some people complain of a bitter aftertaste. Sweatleef Liquid Stevia is available on Thrive & Amazon
Natural Mate All-Purpose Stevia (powder) is available on Amazon | Organic Stevia Packets are available on Thrive
Erythritol – Powdery sugar alcohol that's found in many foods naturally. Low in calories with a glycemic index of zero, Erythritol is not as sweet as sugar so you may have to use a little more to get the effect. Waring: Sugar alcohols may cause bloating or cramping.
Swerve – This all-natural, no calorie combo of erythritol, citrus flavoring, and oligosaccharides is becoming more popular for baking because you can brown & caramelize it JUST LIKE CANE SUGAR! Plus, you can sub it for sugar cup for cup-which takes a lot of guesswork & math out of the kitchen. (We love that!) Disadvantage? Contains a small number of carbs Shopping online? I've found Thrive's prices to be lower in many cases-& this is one! Swerve Granular Sugar Replacement
Monk Fruit – Made from Monk Fruit this natural sweetener is low calorie with a zero glycemic index score. 300 times more potent than sugar-a little goes a long way-plus there's no bitter aftertaste. Downside: May cost more. I've found great deals on Liquid Monk Fruit on Thrive & I love the Lankanto brand packets-they're convenient to keep at work or in your purse!
Pure Vanilla Extract – (Simply Organic Vanilla Extract–Thrive or Rodelle Pure Vanilla Extract–Amazon)
Salad Dressings
A salad is a popular lunch choice, but don't derail your diet with the wrong dressing! Be sure to check the label on your favorite brand!
Oil & Vinegar – 0.8g Carbs per 2 Tablespoons
Ranch – 1.7g Carbs per 2 Tablespoons
Blue Cheese – 1g Carbs per 2 Tablespoons
Caesar – .5g Carbs per 2 Tablespoons
Italian – 3.6g Carbs per 2 Tablespoons
Drinks
Water
Your #1 go-to is H20! Add lemon, lime, or cucumber to flavor it if you must, but make sure you are drinking at least 8 8 oz glasses of it per day!
Tea
As long as you don't add sugar most varieties of tea are keto-friendly: Green, Black, Mint, Herbal.
Coffee
Yes! But again, no sugar! You may add in a little milk or heavy cream. Bulletproof Coffee is another fabulous option that's filling & will give you extra energy.
Unsweetened Almond Milk
Perfect milk alternative without the sugar or carbs-0 net carbs per cup!
Bone Broth
Sip on nutrient-filled Bone broth to hydrate and to help ward off symptoms of the keto flu. Bone broth is full of healthy nutrients and electrolytes! Kettle & Fire has a fabulous 100% Grass-fed Bone Broth made with all organic ingredients that tastes amazing. You can learn more here.
Alcohol
Avoid liquid bread, AKA Beer. Even most low carb brands have too many carbs to be considered. BUT if Beer is your thing & you can't help yourself, Budweiser Select (1.9 Carbs) & Rolling Rock Green Light (2.4 Carbs) are good low carb options
Wine – Dry Red & White Wines range from 4-5 net carbs per glass
Liquor– Vodka, Whiskey, Gin, Tequila, & Rum all come in at 0 Carbs – Beware of the Mixers! Remember juice is off limits so drink it straight or with Sparkling Water
Keto Snacks
If you have the munchies or need a midnight snack, there are plenty of easy options available.
Check out these Keto Fat Bombs that may be the best thing that ever happened to the keto diet.
Here's a longer list of keto snacks & appetizer recipes you'll need.
If you're looking for grab & go-No-Prep-Keto Snacks, I've listed some of the BEST & most of these are available to buy now on Amazon. The Amazon links are my affiliate links-meaning I may make a small commission if you buy. And if you do, let me thank you in advance:)
Whisps Cheese Crisps – Crispy Cheese Snack – 1g Carbs – Available on Amazon
Quest Protein Chips Sour Cream & Onion – 3g Carbs – Available on Amazon
General Nature Low Carb Granola Original – 4g Carbs – Available on Amazon
Dry Roasted Sunflower Seeds
Pumpkin Seeds
ChocZero Almond Bark – 2g Carbs – Available on Amazon
Pork Rinds – 0g Carbs – Available on Amazon
Pickles
Quest Chocolate Chip Cookie – 4g Carbs – Available on Amazon
Fioucci Panino Antipasti – Salami & Mozzarella Wraps – Walmart
Moon Cheese – Low Carb – Available on Amazon
Oloves – Basil & Garlic pitted olives .3 Carbs – Available on Amazon
4505 Chicharrones – 0g Carbs – Available on Amazon
Pearls Olives To Go! – Pre-portioned Olive Snack – Available on Amazon
Tom & Jenny's Sugar Free Soft Caramels – Keto-Friendly – Available on Amazon
Sejoyia Coco Roons Chewy Cookie Bites – 8g Carbs – Available on Amazon
Download the printer-friendly version of the Keto Shopping List & get all the latest from Word to Your Mother!
Save this keto shopping list in a safe place!
For more keto tips & recipes, follow my board on Pinterest!