Keto Mug Cakes are the perfect low carb keto treats – in minutes! Kick dessert cravings to the curb with these fabulous mug cake recipes featuring peanut butter, chocolate, vanilla & cinnamon with cream cheese & almond flour!
When your body has an intense need for dessert – it doesn't care to wait for an oven to pre-heat or 10 step recipe -no, what you need in this type of 911 dessert scenario is a few keto mug cake recipes. Or twenty-one.
This post may contain affiliate links that help keep this content free. [Full Disclosure]
Why Mug Cakes Are A Thing
Besides being the perfect portion sized treats, keto mug cakes have a lot going for them. They're quick-most keto mug cake recipes take minutes from start to finish. There's a lot to be said about instant gratification especially when chocolate is involved.
Keto mug cakes are also easy and sized just right, so you don't overindulge! Raise your hand if you've ever eaten the better half of a sheet cake fresh out of the oven.
Just me? Ok, I'm going to stop embarrassing myself soon. Maybe tomorrow when I stop procrastinating.
Whether you're looking for a quick keto dessert fix or a sweet low carb snack, these keto mug cake recipes will curb your cravings in minutes! With a wide variety of flavors like chocolate, vanilla, red velvet, strawberry, cheesecake, blueberry, lemon, carrot, caramel, snickerdoodle, cinnamon, and pumpkin you'll find a new favorite low carb dessert in this collection of easy mug cake recipes!
Chocolate Mug Cake
Hot Chocolate + Cake = AMAZING!!! I love this 1 Minute Mug Cake Recipe from Arman of The Big Man's World! Grab the dairy free recipe here!
Sugar Free Lemon
Lemon cravings curbed with 4 net carbs via Sugar Free Londoner
S'Mores Mug Cake
If you love traditional S'mores then you'll adore this keto version of the recipe you prep in the microwave with only 5 net grams of carbs! Get the details on Low Carb Inspirations
Reeses Mug Cake
This recipe takes a little bit longer than your typical mug cake, but perfection is worth waiting for – right? Check it out on Keto Connect
6-Ingredient Chocolate
Ok, now it's only going to take 2 minutes from start to finish for this dessert to be ready so be warned. Your family will come find you & beg for more. Sharing is up to you. Get the full recipe on Wholesome Yum
Lava Cake
Does a warm, gooey, sweet, fluffy, molten cool lava cake with only 4 net grams of carbs speak to you? The cake has a fluffy, super moist texture (it's flourless & gluten free) Get all of the details on Tastaholics
1 Minute Chocolate Brownie
This 1 Minute Chocolate Brownie Mug Cake bakes rises to perfection in your microwave in 1 minute. Enjoy as a snack or dessert! Get the full recipe on Low Carb Yum
Cookie
A homemade chocolate chip cookie in a mug with only 3 net grams of carbs! Get the full recipe on Tastaholics
Red Velvet
This 2 minute keto mug cake recipe is moist, and the cream cheese base frosting is what takes it up a notch. Get the full recipe on The Keto Diet Blog
Vanilla
This versatile vanilla keto mug cake recipe is ready in under 5 minutes and weighs in at 5 net carbs per serving! Get more details & instructions on Wholesome Yum
Cheesecake
This keto mug cake is made in the mug and it cooks in the microwave. We're talking ten minutes time from start to finish! Get the full recipe on Kirbie's Cravings
Strawberry Mug Cake
Prepare these sweet strawberry low carb treats in the microwave or oven! Get the full recipe on I Breathe I'm Hungry
Blueberry
It only takes 5 minutes for this blueberry mug cake from Keto Connect to come together using coconut flour, cream cheese, baking powder, butter, egg, Stevia, and blueberries! Get the full recipe here
Lemon
Create a lemon cake in a mug in 4 minutes by combining egg, lemon juice, heavy cream, lemon liquid stevia, coconut flour, baking powder, and a pinch of salt in the microwave! Get the full recipe & instructions on Sugar-Free Mom
Chocolate Chip
Fabulous 1-Minute mug cake with 4 net carbs via Chocolate Covered Katie
Blueberry Poppy Seed
Here's a fabulous keto mug cake recipe that you can use as a breakfast recipe! It has a delicious texture due to the poppy seeds and it comes together fast for busy mornings! Get the recipe on Briana Thomas
Carrot Cake
No gluten, sugar, or grain in this single-serve keto mug cake recipe that tastes just like carrot cake! Get all the details on Sugar-Free Mom
Caramel Apple
The ultimate low carb dessert-from the microwave in a mug! Shredded apples, walnuts, and caramel combined with butter, Only 4 net carbs per mug! Get the full recipe & instructions on I Breathe I'm Hungry
Nutella
If you are into rich keto mug recipes then you'll love this low carb treat from Martina! She'll show you how to make a Nutella Mug Cake in 5 minutes with only 3.9 net grams of carbs! Get the full recipe on the Keto Diet App
This Keto French Toast is a perfect example of why I love keto mug cake recipes. It's simple, fast, and delicious. You'll need an egg, unsalted butter, baking powder, almond flour, salt, cinnamon, vanilla extract, erythritol, and low carb maple syrup. When it's all said & done you've got 3 net carbs per serving! Get the full recipe on Kirby Does Keto
Snickerdoodle
This delightful cinnamon dessert is ready in 5 minutes & is super easy to put together! When it's all said and done you'll have a delicious treat that comes in at under 5 net carbs per serving! Get the full recipe & instructions on All Day I Dream About Food
Cinnamon Roll
Light, fluffy, and moist on the inside this low carb cinnamon roll mug cake is loaded with healthy protein and fiber making it a perfect breakfast or snack! It's also ready in under 1 minute! Get the full recipe on The Big Man's World
Pumpkin
Only 4 minutes from start to finish for this delicious keto treat! Get the details on My PCOS Kitchen
Flourless Chocolate Chai
End your chocolate cravings in minutes with this grain-free, sugar-free recipe that's every bit as decadent and rich as the classic molten style lava cakes you once knew! With two versions of the recipe (one for spongey, one for fudge) you cannot go wrong! Go visit Leanne at Healthful Pursuit to get the details!
Need More Keto Recipes?
I get it! I've lost over 90 pounds on the keto diet & maintained that weight loss for six years & these meal plans & recipes helped me tremendously!
Shout Out To Tastaholics Weekly Meal Plans & Keto In Five cookbooks!

About the weekly meal plans – Tastaholics will send you pre-calculated, low carb meal plans and recipes right into your inbox – no more hunting down recipes on the internet and trying to fit them together perfectly every day.
They make the keto diet easy – for real. And you can try it totally free right here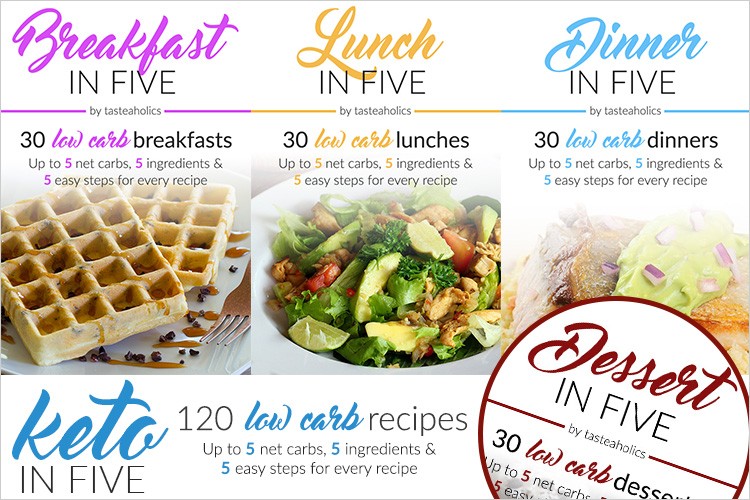 Or – opt for the Keto In Five – (These Are Not your Grandmother's Cookbooks-You Can download Them To Any device!)
Each collection offers 30 breakfasts, 30 lunches, 30 dinners & 30 desserts with only five ingredients & 5 net carbs! They provide all the macro info for you – which makes life so much easier!
Go ahead & try the meal plans or grab the Keto In Five Bundle! You've got nothing to lose, but weight. They offer a 365 Day money-back guarantee, but you won't need it:) Ok – sales pitch over:)
You May Also Like:
If you enjoyed this collection of keto mug cake recipes, please share it on Pinterest!
For even more ketogenic recipes, follow my board, Keto Recipes!