I can't promise these easy, keto muffin recipes will make you a morning person, but I can tell you with 100% certainty that these are the best tasting, keto-friendly muffins that you will put on repeat once you get the whole low carb baking thing down pat.
This post may contain affiliate links that help keep this content free. [Full Disclosure]
I love a good muffin or two-but, not when it turns into a muffin top. That's an entirely different story:)
Wait. I Can Have Muffins On The Keto Diet?
If you thought bread, pastries, and muffins were out of your life for good, I've got good news. Thanks to the magic of low carb flours like blanched almond flour and coconut flour, you can have your cake and eat it too without gaining weight.
The only catch is you'll have to bake it – the store-bought varieties are a no-go.
Best Low Carb Keto-Friendly Flours
But before you run to your kitchen and start baking, here are the keto-friendly flour swaps you need to know.
Blanched Almond Flour or Almond Meal – Both are made from ground almonds, so what's the difference? Well, the almond meal contains the skin of the almond, while blanched almond flour is made after the skins are removed. Some folks can tell a significant difference in taste and texture; some say they can't tell the difference. If you're new to low carb baking, my best advice is to stick to what the recipe calls for to see where your preference lies.
Coconut Flour – Coconut flour is a gluten-free, low carb, high-protein swap for traditional all-purpose flour. Coconut flour can be a little tough to master when you're a beginner – it tends to have a drying effect on baked goods.
Ground Flaxseed – Flaxseed (also known as linseed) is another grain-free flour that is becoming more popular every day. Flaxseed contains heart-healthy omega-3 fatty acids as well as a decent amount of dietary fiber (1.9 grams per tablespoon), which will help you improve digestion.
Psyllium Husk Powder- This is one of those must-have special ingredients that you'll wish you had on hand. Psyllium Husk is a gluten-free, grain-free binder and thickener. Use psyllium husk powder in loaves of bread and muffins to get the "tastes like the real thing" style consistency and texture.
Now, Let's Get To The Best Keto Breakfast Muffins!
Start your day with one of these 25 keto muffin recipes that range from sweet to savory in all of your favorite flavors: Blueberry, Chocolate, Cinnamon, Pumpkin, Peanut Butter, Apple, Strawberry, Lemon & more!
Let's make breakfast a little less boring:)
This recipe starts with a cake-like lemon base layered with a crunchy streusel topping & a sweet & tart lemon glaze. Let me tell you, these keto breakfast muffins taste so similar to cake you will forget they contain only 4.5 net carbs! Treat yourself with these muffins for breakfast, snack, or dessert! Get the recipe here
Packed with protein & Mediterranean flavor these easy egg muffins with ham are a perfectly portable breakfast or mid-day snack with less than 2 net carbs per muffin! Get the recipe here
Delicious, healthy, & low carb Lemon Blueberry muffins made with almond flour & Greek yogurt make a fabulous easy breakfast recipe or snack to grab & go! Get the recipe here
This keto breakfast muffin uses the powers of banana extract to nail the banana flavor-without the carbs! If you miss banana bread-& I know you do-try this recipe & curb your cravings! Get the recipe here
Gluten-free & keto-friendly Apple Muffins are amazing on their own, but the Salted Caramel drizzle makes them absolutely drool-worthy! Serve warm to make an extra special treat! Get the recipe here
Coconut flour & cream cheese are the key ingredients that make these irresistible blueberry muffins low carb! (4 Net Carbs Per Muffin) Get the recipe by Low Carb Maven over on Peace, Love And Low Carb
Make these Double Chocolate Keto muffins in your blender! It's easy & these muffins contain only 4.8 net carbs-making them a perfect breakfast, snack, or dessert treat! Get the recipe here
These low carb muffins come together in 10 minutes & they freeze well-so you can make a double batch & stock up for busy mornings! With less than 2 net carbs per muffin these also make a great breakfast or snack! Get the recipe here
These fluffy keto muffins made with almond flour are loaded with chocolate chips & black walnuts & only have 5.1 net carbs per muffin! Get the recipe here
This savory keto muffin recipe will remind you of Red Lobster's Cheddar Biscuits! Eat these for breakfast or a quick snack OR make a batch to go along with your favorite soup, seafood, or dinner meal! Only 2 net carbs per muffin! Get the recipe here
This light, moist, and fluffy cinnamon swirl muffin comes together in just 2 minutes in the microwave! With only 3 net carbs this makes an excellent low carb breakfast or snack that curbs cravings & is especially tasty topped with whipped cream! Get the recipe here
These Spinach Scramble Egg Muffins make a healthy, protein-packed breakfast you can make ahead! Eggs, spinach, cream cheese, & a little spice make the ultimate scramble on the go with just 1 carb per muffin! Get the recipe here
Pair these buttery, sweet cinnamon muffins with a cup of Bulletproof coffee for breakfast (or snack) & prepare to be amazed! Get the delicious recipe here
These Keto Breakfast Egg Muffins with Sausage are the perfect low carb, high protein breakfast recipe-with under 2 net carbs per muffin! Make them ahead & freeze for super busy mornings! Get the recipe here
These sugar-free keto breakfast muffins come together in 10 minutes, but you can make them ahead & freeze for super busy mornings! Get the recipe here
Packed with toasted pecans & Lilly's chocolate chips, this recipe makes a quick & easy breakfast, snack, or dessert! Get the recipe here
Peanut flavored muffins with a jam-filled center? You jam right! While this recipe was created to provide a healthy, on the go, mess free breakfast for kids it works just as well for the young at heart:) And with 4.3 net carbs you can enjoy peanut butter jelly time-Guilt-Free! Get the recipe here
With a delicious texture & fabulous flavor, these Keto Pumpkin Chia Muffins are a fabulous way to jumpstart your day with all the nutritional benefits of chia seeds! Get the recipe here
Gluten-free & sugar free keto muffins that taste remarkably like a cinnamon donut! Get the recipe here
Egg whites, spinach, sun-dried tomatoes, & Feta cheese create a portable keto breakfast that's almost too pretty to eat! These Frittata Bites would be perfect bite-sized appetizers for brunch or the holidays! But don't wait for a special occasion to enjoy this low carb recipe with just 3.3 net carbs each! Get the details here
When you're craving a dessert-y breakfast full of pumpkin spice flavor this recipe from Kasey will curb your cravings! Bonus: Each 3 carb muffin features a cream cheese swirl that's nothing short of decadent! Get the recipe here
Savory, low carb cheesy cauliflower muffins make an easy to prep, on the go breakfast with under 2 net carbs per serving. Get the recipe here
Do you remember the flavor of homemade pancakes covered in Maple syrup? And how fabulous a side of bacon tastes when it "accidentally" mingles with the syrup? Well, that's how these muffins taste-only better because they're topped with glazed pecans! And yes, they are low carb with 4 net carbs per muffin! Get the recipe here
Made with almond flour, these healthy muffins have all the flavor of the classic Snickerdoodle Cookie with only 3 net carbs! Bonus: These little gems are packed with fiber & protein to keep you full & craving free! Get the recipe here
Technically a muffin, but tastes like a CHEESECAKE WITH 2 NET CARBS! You'll need 7 ingredients & 30 minutes to create this versatile, low carb treat you can enjoy for breakfast or dessert! Get the recipe here
Did I Miss Anything?
Which recipe from today's line-up are you going to try first?
Or maybe I didn't mention one of your favorite keto muffin recipes?
Either way, please let me know by leaving a comment below!
Need More Legit Almost Too Good To Be True Keto Recipes?
I get it! I've lost over 90 pounds on the keto diet & maintained that weight loss for six years & these meal plans & recipes helped me tremendously!
Shout Out To Tastaholics Weekly Meal Plans & Keto In Five cookbooks!

About the weekly meal plans – Tastaholics will send you pre-calculated, low carb meal plans and recipes right into your inbox – no more hunting down recipes on the internet and trying to fit them together perfectly every day.
They make the keto diet easy – for real. And you can try it totally free right here
Or – opt for the Keto In Five – (These Are Not your Grandmother's Cookbooks-You Can download Them To Any device!)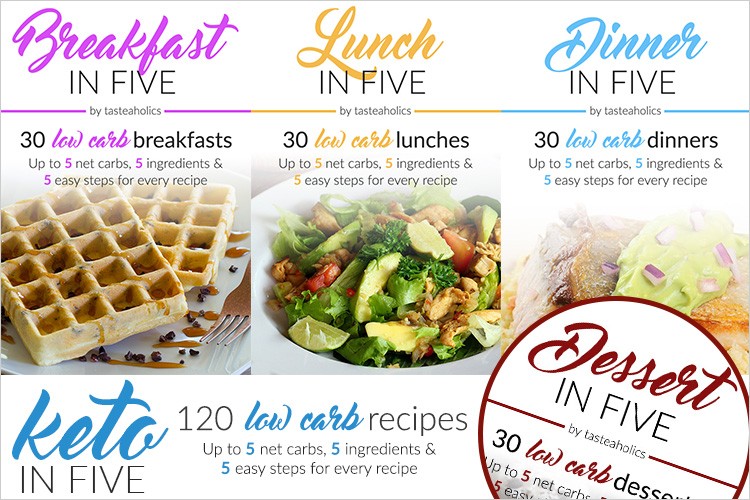 Each collection offers 30 breakfasts, 30 lunches, 30 dinners & 30 desserts with only five ingredients & 5 net carbs! They provide all the macro info for you – which makes life so much easier!
Don't Miss These Keto Recipes
Don't Forget To Save These Keto Muffin Recipes!
For More Low Carb Inspiration, Follow Me On Pinterest or Subscribe below! Leave A Comment, Ask A Question – Tell Me What's On Your Mind!
About Heather
First, thanks for sticking with me – I started this blog to help people like you take control of their health – achieve their fitness goals – lose weight – and gain the confidence they need to go out and live life to the fullest. (Because that's what losing 100 pounds on the keto diet did for me:) If you need help, please reach out. In addition to blogging full-time, I'm a Health Coach, and I'm a mom of three awesome kids – 2 girls & one precious son who happens to have autism.
I'm continually seeking balance to do all of the things – and I'd love to help you do the same.
You Can Find Me On Facebook.
I'm also on Pinterest.
And YouTube.
One day I may participate regularly on Instagram, who knows:)
–Heather