Meal prep your way to weight loss with these 12 clean eating recipes and tips to help you create healthy lunches and dinner ahead so you can save money, time, and sanity all while reaching your fitness goals!
This post may contain affiliate links that help keep this content free. [Full Disclosure]
Nothing will derail your diet faster than being hungry and having absolutely nothing prepared! Arm yourself with these twelve easy recipes and tips to keep your diet on track!
Sometimes it feels like eating healthy and clean takes too much effort and is too expensive, but with a little planning and weekend meal prep, it's not all that difficult or hard on your wallet!
Healthy Meal Prep Tips
Plan Your Meals
Take a few minutes on Sunday or Monday to choose your recipes for the week and get the grocery shopping out the way. Make it easy on yourself by selecting recipes that you can eat more than once, or that you know you can use for multiple meals. Chose recipes with vegetables that are in season. Save them to a Pinterest board or screenshot your favorites-whatever works best for you. Just find a system!
Chop Your Veggies & Buy in Bulk
Often you can buy in bulk and save money. Produce can be costly, but it does go on sale-watch for ads! Wash and chop all of your fruits and vegetables for the week the moment you get home from the store. Don't put it off! If you hate this chore or you'd like to save a little cash frozen fruits and veggies will work just fine! They are picked when fresh and full of vitamins and nutrients!
Want To Save Money On Healthy Foods?
Check out Thrive Market! They are on a mission to make the best healthy foods & products affordable & accessible to everyone – especially if you're on a budget!
Don't Spend All Weekend in the Kitchen
Cook a bunch of brown rice, whole wheat pasta, sweet potatoes, and quinoa on Sunday for the week's lunch and dinner meals. These are healthy starches that will last up to 4-5 days in the fridge. Do this, and you'll be ahead of the game! Plus you'll always have something to eat in case you get hungry and tempted to drive through McDonald's!
Batch cook chicken and vegetables in the oven to save time later. Chicken can be used in all sorts of recipes from salads to soups! This is a huge time-saver!
Related: 30 Healthy Make-Ahead Meals For The Freezer
Stock up on shredded chicken by using this super easy crockpot recipe! Just take 4-6 boneless chicken breasts and add 1/2 cup water or chicken broth for every pound of chicken. Put everything in the slow cooker for 5 hours on low or 3 hours on high. Make sure you shred the chicken while it's warm! Portion it out into 2 cup portions in an airtight container. (Most recipes call for this amount.) It's ok for the fridge for four days or 4 months in the freezer.
Make your snacks ahead of time and portion them out! It's easy to go crazy grazing! Keep a few baggies or containers in your car or at work so you'll be prepared when hunger hits!
RELATED: For more clean eating recipes for breakfast, lunch & dinner, see this popular post: 50 Clean Eating Recipes
Containers Matter
Don't get the cheap ones! You'll be sorry when you have to play the "Where's That Lid" game later! Make it easy on yourself by using perfectly portioned reusable meal prep containers. If you prefer glass I'd go with this Glasslock set. For a great plastic option, these are fab & freezer, microwave, and dishwasher safe meal prep containers!
Use the Crockpot!
Or slow cooker. Whatever name you prefer or model you choose! If you don't have one you do need to get one-ASAP! Nothing beats a healthy meal that the crockpot simmered to perfection!
Need a Clean Eating Shopping List? Click Here!
Ready to cook? Here are twelve healthy meal prep recipes for lunch or dinner!
12 Meal Prep Recipes
Rainbow Roasted Vegetables
Start your weekly meal prep with this recipe for Rainbow Roasted Vegetables that you can chop and store ahead of time!
Spicy Chicken & Sweet Potato
This beautiful well-balanced recipe from Pinch of Yum uses only 5 ingredients and serves 8!
Honey Sriracha Glazed Meatballs
Prepared with lean ground turkey and whole wheat breadcrumbs these meatballs from Eat Yourself Skinny are one of our favorite healthy meal prep recipes! The fact that they only take 30 minutes to make is a bonus!
Lemon Roasted Salmon with Sweet Potatoes
Keep your diet on track by meal prepping this easy lemon roasted salmon with sweet potatoes dish from Little Spice Jar. This healthy meal prep dish is super easy because the salmon, sweet potatoes, and broccolini (AKA: broccoli) all cook at the same temperature so you can pop it in the oven at the same time!
Turkey Taco Bowls
Need a low-carb Mexican dish? Here's a fabulous make-ahead meal prep recipe from Kirbie's Cravings to put in your keto or paleo rotation!
Jerk Chicken Meal Prep Bowls
This is the recipe that makes the other ones jealous! With jerk spiced chicken, black beans, sweet pineapple salsa, and Spanish rice, it will taste like you cooked for hours, but this dish comes together in 30 minutes!
Roasted Chicken & Veggies
Perfect for meal planning beginners this sheet pan chicken and vegetables meal is simple and loaded with flavor!
Maple Ginger Chicken Lunch Bowls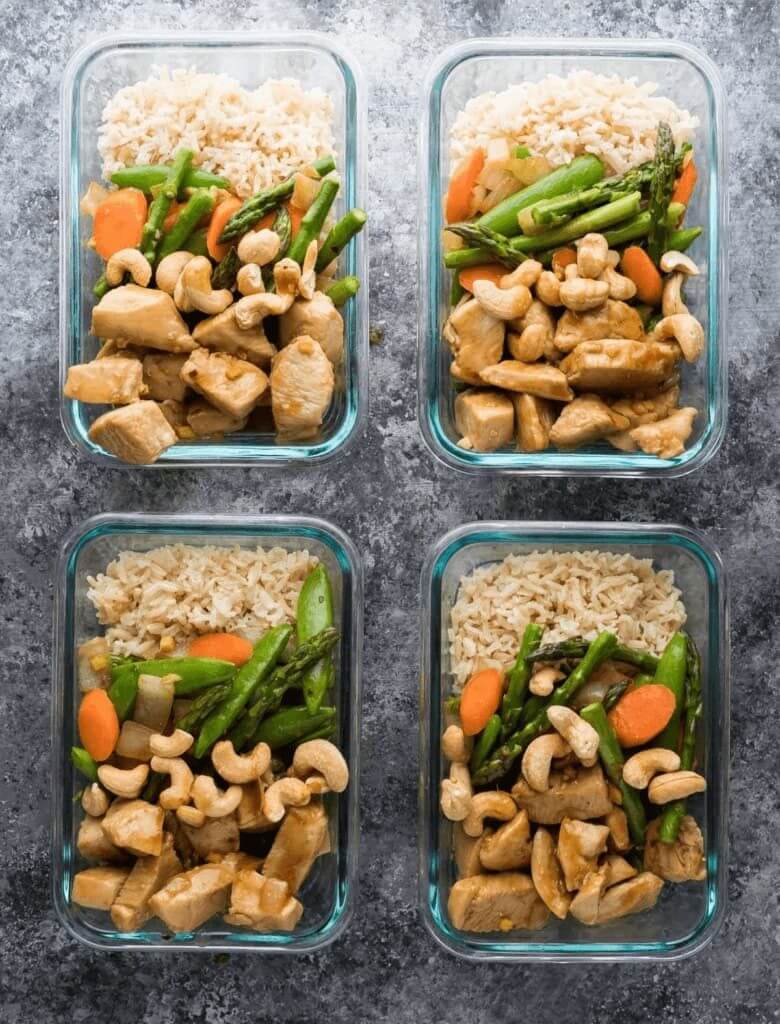 Four delicious lunches are on the other side of this yummy recipe from Sweet Peas & Saffron.
Garlic Parmesan Kale & Pasta
This healthy meal prep recipe from Budget Bytes is bursting with flavor and works well on the grill too! Just in time for summer!
Southwest Chicken Burrito Bowls
Tired of taco night? Here's an alternative with a healthy twist from Jar of Lemons! It takes only 30 minutes to put together this healthy meal using kale, grape tomatoes, corn, black beans, and chicken!
Balsamic Tempeh & Roasted Vegetable Quinoa Bowls
For an easy one pan vegetarian option chose this easy recipe from Simply Quinoa! One pan + 35 minutes = dinner or several tasty lunches!
Spicy Chickpea Quinoa Bowls
If you're looking for gluten and dairy free meal prep recipes here's an easy and delicious one from Eat Yourself Skinny that's full of flavor and filling too!
Don't over think meal planning and give up if you're a beginner! Start small and work your way up! I hope these tips and clean meal prep recipes help!
Before you go – It takes hard work, disciple, dedication & a focused mind to lose weight, stick to a healthy diet & finally feel confident in your body – I know. I've been there! I've lost over 90 pounds & it was not easy, but it was worth it!
One last word of encouragement: If a 40-something mother of three kids can do it – you can too!
You May Also Like:
Don't forget to Save or Share!
SaveSave
SaveSave
SaveSaveSaveSave
SaveSaveSaveSave
SaveSave
SaveSave
SaveSave
SaveSaveSaveSave