15 healthy smoothie bowl recipes that make you look forward to breakfast! Try one of these easy smoothie bowls in the most amazing flavors from strawberry acai to peanut butter chocolate for a delicious, protein packed way to start your day!!
When you know breakfast is the most important meal of the day, but you couldn't be more bored with oatmeal in a jar- these healthy smoothie bowl recipes are at your service.
This post may contain affiliate links that help keep this content free. [Full Disclosure]
Like a smoothie on steroids, these vegan, clean eating breakfast bowls are more gratifying than their counterparts in a cup because they can't be slurped in six seconds or less and they're so gorgeous they have the potential to make your Instagram go viral. If you're into that sort of thing.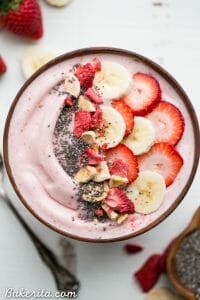 This easy Strawberry Banana Smoothie bowl from Bakerita is an easy recipe that only calls for a few ingredients. Make it for a healthy breakfast or a sweet treat that's vegan and Paleo approved.
Call it a copycat or knockoff Jamba Juice recipe with less calories-this healthier Berry Acai Bowl from Lean Green Nutrition Fiend is amazing! Blueberries, strawberries, banana, and almond milk blended together and topped with fresh fruit, granola, and coconut make a fabulous vegan breakfast that takes 10 minutes from start to finish!
You know how avocado makes everything creamier? Well, it does. And this is no exception! Mixed with cashew cream and topped with pomegranate and coconut this Avocado Smoothie Bowl created by Taylor over at Food Faith Fitness will be the most unique smoothie bowl you will ever taste-and I promise you'll love it!
Frozen bananas, blueberries, coconut water, coconut cream, and maca powder blend together to form a creamy concoction similar to fro-yo-only better and way healthier! Topped with pistachios and fresh blueberries & blackberries! Find the recipe on Will Frolic for Food
Filled with super seeds this healthy vegan breakfast bowl from Choosing Chia is a powerful breakfast you can easily make ahead for busy mornings. And yes, even non-hippies will enjoy!
Get going with this energizing grapefruit breakfast smoothie bowl from Frugal Mom Eh! that's packed with fruit!
Frozen Pitaya, bananas, strawberries, and coconut milk come together to form a delicious and energizing healthy breakfast bowl you can top with your favorite fruit, nuts and seeds to keep you going throughout the day! Get all of the details on What Molly Made
Vegan and dairy-free with no added sugar this Mixed Berry Detox Smoothie Bowl from Life Made Sweeter is an easily customizable healthy way to start your day!
For a gluten-free and vegan breakfast that's light and refreshing try this delicious smoothie bowl from beaming baker. Packed with vitamins and minerals and filled with yummy mangos and kiwi- topped with chia seeds and coconut this one makes a fabulous and filling breakfast bowl!
Using frozen raspberries and bananas, coconut milk, and chia seeds, The Foodie Physician's Raspberry Coconut Smoothie Bowl has just the right amount of natural sweetness.
Frozen strawberries, peaches, and bananas along with fresh ginger, lime juice, and plant-based milk makes a digestion friendly smoothie bowl topped with fresh kiwi, peaches, strawberries, coconut flakes, and buckwheat groats. Find all of the details on Blissful Basil
This vegan and gluten-free recipe from Simple Vegan Blog combines bananas, blueberries, almond milk, dates, rolled oats, and chia seeds to create a healthy breakfast that blends together easily in 10 minutes!
With endless possibilities for toppings you will never get bored with this fabulously delicious not to mention gorgeous smoothie bowl for breakfast from Gringalicious!
Make your morning a little brighter with this happy little Unicorn Smoothie Bowl that's super healthy with super foods from Green Smoothie Gourmet!
For a protein packed plant based breakfast look no further than this Raw Raspberry Buckwheat Porridge from Rise Shine Cook. Frozen raspberries, buckwheat groats, almond milk, almond butter, chia seeds, dates, cinnamon, berries, and seeds come together to give you a powerful energizing breakfast that will keep you feeling full until lunchtime!
Did I Miss Anything?
Which smoothie bowl recipe will you try first?
Or maybe I left out one of your favorites?
Either way, let me know in the comments below!
Don't Miss These Healthy Recipes!
Save or Share These Healthy Smoothie Bowl Recipes!