Want to know how to get a flat stomach? Discover the best flat belly foods, ab workouts & legit tips to achieve your goals! Whether you're toning up after a baby, or want a flat belly for summer this collection of fat burning foods, tips, ab workouts & flat stomach diet plans will help you achieve your goals!
This post may contain affiliate links that help keep this content free. [Full Disclosure]
I'm sure you're familiar with the headlines: How To Get A Flat Stomach in 2 weeks, 2 days, or even overnight. That's because weight loss is big business. Women spend millions of dollars a year on diet pills, supplements, gadgets & diet plans that over promise & under deliver. Leaving them feeling like a failure.
The secret of how to get a flat stomach is simple. Change your eating habits, clean up your diet & get moving. Today we'll cover exactly how you can do it with legitimate tips & workouts that get results!
How To Get A Flat Stomach: 7 Tips That Work
1. Change Your Diet
Thousands of diets claiming to be the holy grail of weight loss are in our faces 24/7. Some are evidence-based & some are downright ridiculous – & a few are outright lies. Truth Bomb: No one diet works for every woman because physically we are not the same.
Great abs are made in the kitchen, not at the gym.
Eating a diet that focuses on lean protein will help you lose weight & belly fat. Try to eliminate junk foods & fried food, cut down or cut out sugar & limit intake of refined carbohydrates. Focus on eating more meals with protein from chicken, fish & turkey & serve with vegetables that are steamed or baked.
2. Eat More Protein
Protein is a powerful weight loss macro! It reduces cravings, boosts metabolism & can help you eat up to 400 fewer calories per day. This study shows that people who eat more high-quality protein have less belly fat.
Good sources of protein include whole eggs, broccoli, salmon, shrimp, chicken breast, almonds, and Greek Yogurt. If you're like me, and you stay on the go 24/7, try a protein-packed drink like Proplant Complete Shake formula.
3. Don't Drink Your Calories
Soda, juice, energy drinks, & blended coffees are all full of empty calories & sugar.
The average 12-ounce can of soda contains 150 calories. Drinking one can per day adds 130,000 calories per year or 15 pounds of fat, for one can per day.
If you've been hitting up the 7-11 or fast food joints it's worse: a small drink at up to McDonald's is 16 ounces. 100% Apple juice may sound healthy, but one cup (8oz) has 120 calories & 28 grams of sugar.
Your body doesn't register liquid calories like food, so you end up consuming more calories & packing on the pounds when you drink sugar-sweetened beverages.
4. Stop Drinking (Alcohol)
Drinking alcoholic beverages – especially beer – is associated with increased belly fat. Beer is also known as liquid bread because it contains an insane about of carbohydrates! And it's not just beer that you need to avoid.
Here's the thing: when you are hardcore working towards a flat stomach drinking any beer, cocktail or spirit is a bad idea.
Your body sees liquor & beer as a toxin. The moment an alcoholic beverage enters your system, your liver will immediately stop burning fat to metabolize the alcohol – which slows down your weight loss!
Drink water! Shoot for 8 – 8 ounce glasses per day! Drink more if you're active.
Staying hydrated keeps energy levels up & drinking a glass of H20 before meals will reduce the number of calories you end up consuming!
5. Cook At Home
The Journal of the Academy of Nutrition and Dietetics showed that nearly all restaurant meals – no matter what style cuisine – packed on significantly more calories than you should be eating in a meal with many containing more than an entire day's worth of calories!
Cooking at home is a nutritious way to control portions & ingredients in your food. Plus, research shows that people who cook at home take in 140 calories less than those who eat out.
6. Eat At The Table
Ever sit down to watch Netflix & the next thing you know you've eaten an entire family size bag of Doritos? It happens. When the focus is on the TV & not what's going into our mouths, we all tend to overeat & miss the signs our body sends when it's full — eating at a table surrounded by loved ones aka people who hold you accountable?
Well, it's called mindful eating & once you get the hang of it you'll not only lose weight & your muffin top, but food will become more enjoyable & even taste better.
7. Get Active
Walk. Run. Bike. Do Yoga. Pilates. Hip Hop Cardio. Get down with a hula-hoop! Get your body moving for at least 25 minutes 5 times a week. (See 3 home workouts below:)
Flat Stomach Foods
Almonds
Swap your carb-loaded chips for the flat stomach superfood: almonds! This study shows eating 1.5 ounces of almonds every day helps burn belly fat.
Almonds are full of fiber, vitamins & minerals making them one of the world's healthiest foods.
Avocados
Eating three tablespoons of avocado reduces belly fat by 1.6% over four weeks. Avocados are a nutrient-dense fruit packed with healthy fats.
Use avocado to dress a sandwich in place of mayo, make Guacamole, use in salads & wraps.
Blueberries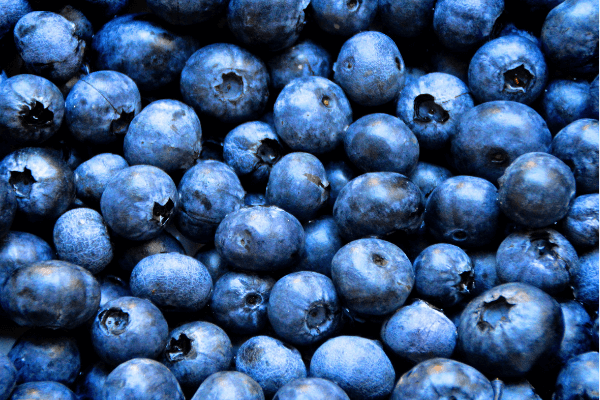 Healthy & antioxidant-rich blueberries have been a superfood for a while, but new research suggests they may influence genes that regulate the way we store & burn fat. Add blueberries to smoothies, salads, use them to flavor water, or eat as a snack.
Eggs
People who start the day with eggs are less likely to overeat later in the day. Eggs contain several power nutrients like B 12 that helps the body break down fat, as well as Vitamin D & Choline which have a positive effect on fat metabolism.
Green Tea
Drinking Green Tea on the regular can speed up metabolism & weight loss-one step closer to a flat stomach! Plus – one cup's worth is filled with antioxidants that prevent fat absorption.
Wild Salmon
The key to getting a flat stomach: eat more Omega 3's! Fill up on healthy fish like salmon, tuna & herring at least twice a week. Omega 3 fatty acids reduce fat mass & shift your body into a fat burning mode.
Cucumbers
Cucumbers are full of water, silica, caffeic acid & Vitamin C that reduces bloat & water retention. Add cucumber to water, salads, or eat slices with avocado as a snack!
Broccoli
Eating plenty of dark-colored veggies like broccoli results in less visceral fat (dangerous fat around organs) Broccoli contains calcium which has also shown to increase fat loss especially in the belly area. Snack on raw broccoli, use in salads, roast it, bake it or steam fresh broccoli as a side dish.
Apple Cider Vinegar
Consuming vinegar will keep you feeling full – which helps you eat less. Bonus: Apple Cider Vinegar lowers blood sugar & insulin levels helping keep cravings at bay.
Mushrooms
Powerful antioxidant mushrooms are a potent weight loss food for women. Use high-fiber crimini mushrooms to cut half the fat in recipes with ground turkey or lean ground beef without sacrificing the flavor.
Cutting carbs to get a flat stomach? Swap your burger bun for a portobello mushroom!
Asparagus
Models often use asparagus to get a flat stomach before photo shoots when they need a natural diuretic. Asparagus also contains asparagine – an alkaloid that affects cells & breaks down fat.
Lemon
Lemon juice can boost your metabolic rate & it's a tasty addition to plain H20 that helps eliminate toxins & improve digestion.
Cinnamon
¼ – 2 teaspoons of cinnamon per day helps your body metabolize sugar & cut cholesterol numbers by up to 25% Add cinnamon to tea, coffee, or sprinkle it on Greek Yogurt.
Garlic
Along with being an energy-boosting appetite suppressant, the compounds in raw garlic are associated with fat-burning. Also, fresh garlic is a powerful detoxifying agent that helps with digestion.
Start the day with raw garlic (& lemon) water. Add it to recipes that are sauteed, roasted or baked.
Turmeric
Known for it's anti-inflammatory & healing properties, the super spice turmeric also helps you shed unwanted pounds. The critical ingredient is Curcumin, an antioxidant that helps insulin resistance, lowers cholesterol & blood pressure.
New evidence suggests it suppresses fat tissue growth. Use turmeric to add spice to marinades, salad dressings, grilled meat or tomatoes based recipes.
Dark Chocolate
The MUFAs in dark chocolate help supercharge metabolism & burn fat. Eat 1 ounce of dark chocolate three times a week.
Ultimate 10-Minute Ab Workout
I LOVE this FitnessBlender 10-minute flat belly workout! It works your entire core with 45 seconds of 10 exercises you can do at home with NO EQUIPMENT other than an exercise mat! They do a fabulous job of mixing Pilates & good old fashioned flutter kicks to tighten & tone in 10!:)
5-Minute Flat Abs Yoga Workout
You'll appreciate this easy step by step 5 minute yoga ab workout hosted by Anna Renderer of POPSUGAR Fitness especially if you're a beginner yogi. It's simple & it works the entire core – both challenging & relaxing.
Sore-y Not Sorry Ab Workout Challenge
Need a fast & fun 5-Minute Ab Challenge? Cassey Ho, the creator of Blogilates, walks you through every upper, middle & lower crunch with a pop of Pilates!
Before you go – It takes hard work, disciple, dedication & a focused mind to lose weight, get the flat stomach of your dreams & finally feel confident in your body – I know. I've been there! I've lost over 148 pounds & it was not easy, but it was worth it!
Did I Miss Anything?
Which tip will you use first?
Or maybe I didn't mention your go-to flat tummy trick?
Either way, let me know in the comment section below!
What To Read Next
If you found these flat stomach tips helpful, please share on Pinterest!