In case you didn't know-the holidays are HERE!!! If you're looking for a few fabulous keto Christmas cookies to get you in the Christmas spirit, I've got you covered with the best low carb holiday cookie recipes!
Nothing says Merry Christmas quite like the aroma of a homemade batch of cookies fresh from the oven.
Some of my fondest holiday memories involve cookies – eating, baking, or giving them as gifts to neighbors, teachers, and friends. Thankfully, I did not have to give up my cookie habit when I decided to go on the keto diet five years ago. Honestly, it probably would have been a deal-breaker!
Now, I've said this before, but I'll say it again: one of the things I love most about the keto diet is the fabulously long dessert menu!
Thanks to clever combinations of almond and coconut flour you'll be surprised what fantastic keto Christmas cookies you can bake in record time! (You can also make breads & donuts!)
No matter what your holiday traditions may be these keto Christmas cookies will help you celebrate without adding to your waistline. These low carb recipes are perfect to serve at holiday parties, give as gifts or cookie exchanges, or to keep on hand in case of a dessert emergency!
This post may contain affiliate links that help keep this content free. [Full Disclosure]
21 Keto Christmas Cookies
Cream Cheese Cookies
If you want to get a head start on the holidays go right ahead and make a double batch of these low carb cream cheese cookies. They freeze beautifully and have less than 1 net carb per cookie!
Macaroons
The standard macaroon recipe has around 40 grams of carbs per serving. Let's take a moment to give thanks for this low carb version that cuts that number to 1.9 net carbs, shall we?
Sugar Cookies with Almond Flour
Crisp and buttery on the outside with a soft center that's not too doughy. All thanks to the combination of almond and coconut flour! Totally worth dusting off your cookie cutters!
Chocolate Peppermint Stars
If these keto Christmas cookies don't get you in the Christmas spirit nothing will! Soft low carb cookies coated in a delicious & festive chocolate peppermint coating.
Chocolate Dipped Cashew Almond Cookies
Garnished with candied sage these flourless cashew almond butter cookies take winter treats to the next level with a chocolate dipped edge.
Peanut Butter Cup Cookies
Curb your chocolate peanut butter cookie cravings with what could be one of the best keto Christmas cookie recipes ever! Tender cookie crust-check. Fabulous chocolate ganache filling-double check.
Gingerbread Cookies
No Christmas celebration is complete without gingerbread cookies! You'll only need 5 ingredients & 25 minutes to put this keto-friendly, gluten-free recipe together!
Walnut Snowball Cookies
Try this guilt-free version of the Christmas classic also known as Russian Tea Cakes or Italian Wedding Cookies. They're perfect for holiday parties or to give as gifts. Bonus: These stunners are easy to make!
No Bake Praline Cookies
The perfect holiday cookie with a spectacular combination of coconut and pecans! Bonus: This keto Christmas cookie is no-bake-which means extra room in the oven for all of your other holiday dishes!
Raspberry Thumbprint Cookies
An easy recipe for raspberry thumbprint cookies-a Christmas must! This cream cheese shortbread cookie brings a little extra to the table with a raspberry swirl cheesecake center.
Frosted Cookies
Grab those cookie cutters! Here's a Christmas classic made keto by swapping a few ingredients to make this version a low carb, gluten-free, and sugar-free treat!
Peanut Butter Cookies
Only 2 grams of net carbs and 3 ingredients in this easy cookie recipe. If you need a quick keto dessert for a party or you've waited until the last minute (because, life) this is a fabulous go-to fix!
Chocolate Frosted Cookies
Everything you're looking for in a holiday treat without the carbs! A soft cookie base, a cream cheese frosting, and sprinkles!
Nutmeg Butter Balls
An old-fashioned holiday cookie recipe adapted for the low carb, keto lifestyle. Sweet and crumbly nutmeg butter ball cookies are full of the flavor of the season.
Chocolate Avocado Truffles
A healthy holiday or any day treat that's good for you and curbs sugar cravings! Yes, chocolate and avocado may seem to be an unlikely pair, but the combination is spectacular! Bonus: This is one of the easiest no-bake keto Christmas "cookie" recipes & they're always a hit at parties & a fab go-to when you need a last minute dessert!
Italian Christmas Cookies
With only 2 net carbs per 2 cookie serving these guilt-free versions of the Italian classic cookie will become a staple sweet in your house this holiday season!
Cut Out Cookies
Here's one of my favorite keto Christmas cookie recipes of all time! Seriously, who wouldn't love a healthy cookie that tastes like heaven and only takes 20 minutes from start to finish?
Chocolate Orange Spritz
These festive cookies come with a subtle orange scent and a buttery soft flavor that will exceed all of your expectations! Only 2 grams of net carbs per 2 cookie serving!
Speculoos
This Netherlands inspired keto cookie recipe is fabulously spiced with cinnamon, ginger, and nutmeg with a touch of cardamon, white pepper, and cloves. If you're craving a crunchy cookie with a low carb count here's your new favorite!
Oatmeal
Sliced almonds sub in for oats in this classic keto Christmas cookies recipe that will not disappoint!
Chocolate Chip
The only low carb chocolate chip cookie recipe you need! These chewy, gooey chocolate chip cookies are perfect for anytime of year!
What is your favorite keto cookie recipe?
Need More Legit Almost Too Good To Be True Keto Recipes?
I get it! I've lost over 90 pounds on the keto diet & maintained that weight loss for six years & these meal plans & recipes helped me tremendously!
Shout Out To Tastaholics Weekly Meal Plans & Keto In Five cookbooks!

About the weekly meal plans – Tastaholics will send you pre-calculated, low carb meal plans and recipes right into your inbox – no more hunting down recipes on the internet and trying to fit them together perfectly every day.
They make the keto diet easy – for real. And you can try it totally free right here
Or – opt for the Keto In Five – (These Are Not your Grandmother's Cookbooks-You Can download Them To Any device!)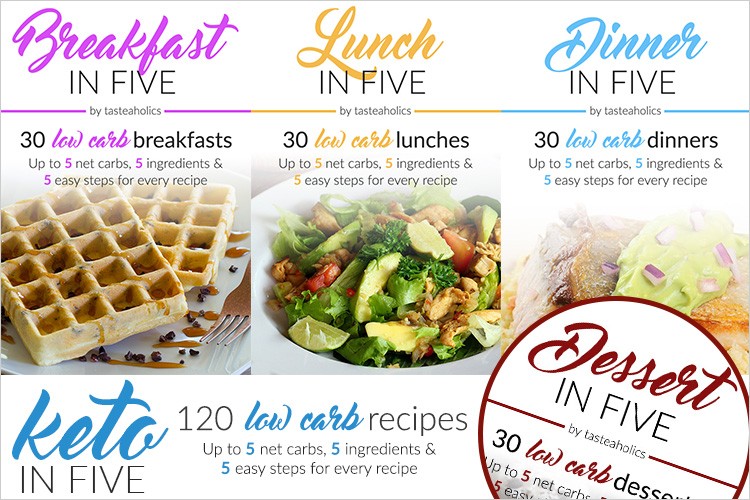 Each collection offers 30 breakfasts, 30 lunches, 30 dinners & 30 desserts with only five ingredients & 5 net carbs! They provide all the macro info for you – which makes life so much easier!
Go ahead & grab the Keto In Five Bundle! You've got nothing to lose, but weight. They offer a 365 Day money-back guarantee, but you won't need it:) Ok – sales pitch over:)
More Keto Christmas Recipes You Must Have!
If you loved these keto Christmas cookies, please share on Pinterest!
>
And for more low carb recipes, please follow my board, Keto Recipes!