Consider your Christmas menu planned! This year we are getting a head start on the holidays, and I'll see to it that everyone stays on Santa's Nice list with these keto Christmas recipes! Whether you're planning a huge holiday party or a small family get together, you'll need these keto Christmas recipes on hand to keep your diet and waistline in check!
This post may contain affiliate links that help keep this content free. [Full Disclosure]
Trust me, I know. I've been doing the keto diet thing for over five years and while I don't want to toot my own horn too much (I'm from the south where tooting one's horn is discouraged)-I have managed to keep the 80 pounds, 95 pounds off. So, toot toot🙂
The first few holidays weren't easy. My family didn't get it – heck, my mom still can't pronounce keto It's KEY-TOE, Mom! Still, I made it through by finding fabulous low carb recipes that tasted like the classics-you know, keto-style Thanksgiving & Christmas recipes that most of my family members don't even recognize as diet! (If you missed the keto Thanksgiving recipes I'll forgive you, but you may want to circle back to that one later! Even if it's just for my friend Kacey's bacon wrapped turkey recipe!)
What I'm saying is that if this is your first year-err-holiday season on the keto diet you need to prepare for a challenge and come to the table with low carb recipes like these keto Christmas recipes I'm sharing today.
And take a look at the killer keto gift guide It's full of fabulous Christmas gift ideas for everyone & anyone on a low carb/keto diet!
Now, back to the keto Christmas recipes! Here's how I've organized this year's Christmas feast: breakfast, appetizers, sides, mains, and then, of course, dessert! To get to any of the recipes super fast just click on the image!
And please, enjoy!
Breakfast Ideas
Make Ahead Easy Keto Breakfast Casserole Make Christmas morning a little easier by making one of my favorite keto casseroles ahead! This delicious breakfast casserole is the perfect combination of Italian sausage, eggs, Parmesan cheese, and roasted red pepper. Get the recipe on Food Faith Fitness
Low Carb Keto Casserole with Sausage & Cheese Make this keto casserole 1-3 days ahead or right now and freeze it for later! Either way, you'll spend 45 minutes tops on creating this fabulous combination of breakfast sausage, eggs, heavy cream, cheddar cheese, and broccoli. Get the details on Wholesome Yum
Keto Slow Cooker Breakfast Casserole Do you always run out of oven space? Me too! That's why I'm including this brilliant breakfast casserole you can make in the crockpot! Get the recipe on the KetoDiet App
Keto Cinnamon Rolls Soft & fluffy cinnamon rolls make a great low carb breakfast for Christmas Day. Only 1.3 net grams of carb per roll! Get the recipe on Sugar Free Londoner
Need More Make Ahead Breakfast Ideas?
Keto Christmas Appetizers
Keto Blinis with Smoked Salmon Light, fluffy, and low carb blinis! In case you're wondering, a blini is a Russian pancake traditionally made from wheat-but these are keto-friendly! Topped with salmon and cream cheese these are the perfect Christmas appetizer! Feel free to impress everyone at your next holiday gathering with your vast knowledge of appetizer trivia. I won't tell! Get the recipe on KetoDiet App
Manchego Cheese, Ham and Olive Bites We love a pick up appetizer. No, not a cheesy one-liner, but the kind of app guests can pick up, eat, and ease on down the road. This is one of those appetizers made for a holiday gathering! Oh, and if you're going for a rustic look on your holiday grazing table I have seen these wood trays at Walmart for around $9 each! Get the recipe on My Kitchen Love
Creamy Keto Baked Brie Everyone will adore this keto-friendly appetizer! Bonus: You can make this one ahead! Get the recipe on gnom-gnom
Antipasto Salad Kabobs There's something for everyone on an Antipasto platter. You can't go wrong. Unless you're hosting a family event in which case, expect some drama. But not over the food! Add all of your (& maybe your sister's) favorite meats, cheeses, olives, peppers-and don't forget lettuce for garnish. It's VIP for the presentation! Get more details on Mantitlement
Easy Bacon Wrapped Scallops It's Christmas so we are upping our appetizer game with seafood & bacon! Make these low carb bacon wrapped scallops in 25 minutes! Get the recipe on Pinch and Swirl
Prosciutto Wrapped Asparagus A 3 ingredient appetizer you can put together fast and disappears even faster at a get together. Double or triple up! Get the recipe on Low Carb Yum
Low-Carb Cucumber Bites If you've got 15 minutes then you have plenty of time to get these cucumber bites assembled & ready to go! All you need is cucumber, avocado, smoked salmon, and a few black or white sesame seeds! Get the recipe on Tastaholics
Bacon & Roasted Garlic Spinach Dip Interested in a dip that tastes like heaven mixed with bacon, garlic, and cheese? Warning: This is addictive! For a seriously amazing Christmas appetizer or anytime snack (Why wait for an occasion?) you must have this spinach dip in your life! Get the recipe on Ruled.Me
Crab Deviled Eggs with Crispy Shallots This clean eating keto recipe is the best of land and sea in an appetizer! Get the fabulous recipe on Our Food Fix
Need More Appetizer Ideas? Check out
Keto Christmas Side Dishes
Italian Roasted Mushrooms & Veggies Mushrooms, cauliflower, tomatoes, and garlic roasted Italian-style! Delicious with a fabulous presentation! Get the recipe on Jo Cooks
Low Carb Sweet Potato Casserole Butternut squash subs in this keto-friendly version of a classic holiday recipe. One of my favorite keto Christmas recipes! Get the full recipe on Wholesome Yum
Easy Fresh Green Beans with Prosciutto This 4 ingredient green bean recipe comes together fast and goes with everything! Get the recipe on Food Faith Fitness
Better Than Potatoes Cheesy Cauliflower Thick, creamy, and delicious this keto cauliflower side dish is so amazing you will never feel tempted by a potato again! Get the recipe on I Breathe I'm Hungry
Balsamic Roasted Broccoli Salad I love a broccoli salad with Christmas dinner! This one has everything you're looking for in a Christmas side: a strong and bold flavor that goes well with any main course along with a fabulous presentation. Bonus: You can make it in under 30 minutes! Get the recipe on Savory Tooth
Cauliflower Rice "Risotto" with Asparagus & Mushrooms If you're looking for a vegan side to serve or want to try something new this year please let me suggest this delicious cauliflower rice dish! It's easy and will only take 30 minutes from start to finish! Get the recipe on Detoxinista
Loaded Cauliflower The ultimate keto comfort food! Loaded with cheddar cheese, sour cream, butter, chives, and bacon! Get the recipe on Low Carb Maven
Need More Side Dish Ideas? You'll love these!
Keto Christmas Main Course
Bacon-Wrapped Balsamic & Rosemary Beef Tenderloin If you're planning on serving (and devouring) a beef tenderloin for Christmas dinner here's the only recipe you need! Wrapped in bacon and seasoned with rosemary, sage, garlic, butter, and balsamic vinegar this beef tenderloin will be the star of the show! Get this fabulous recipe on The Cookie Writer
Garlic Butter Prime Rib This mind-blowing prime rib is melt in your mouth tender with a seared garlic butter herb crust that is nothing short of amazing! Can you sense my enthusiasm for this cut of beef? Get the details on how to prep & cook it on The Recipe Critic
Rosemary & Mustard Crusted Baked Ham I believe ham may be mandatory for Christmas dinner-without the carbs of course! Get this low carb recipe on I Breathe I'm Hungry
Desserts
Creamy & Delicious Keto Eggnog Is it Christmas without eggnog? Get your festive drink on with this must-have rich and creamy keto Christmas recipe! Find it on Ruled.Me
Christmas Cookie Martini Recipe For a dessert beverage that won't kick you out of ketosis! Get the recipe on Lowcarb-ology
Low Carb Chocolate Truffles Satisfy your chocolate cravings & stay in ketosis with this delightful keto Christmas recipe with only 1 net carb per truffle! Get the details on It's Simple by How To This And That
Low Carb Pecan Pie Make this creamy low carb pecan pie cheesecake in the Instant Pot! Get the recipe on All Day I Dream About Food
Low-Carb Chocolate Heaven Cake So decadent and rich you'll have a hard time believing this chocolate masterpiece is keto-friendly! Get the recipe on Ditch The Carbs
Keto Grain-free Rum Balls One of the healthiest keto Christmas recipes ever! Loaded with protein and omega 3's these keto rum balls are more than a guilt-free Christmas dessert! Get the recipe on Healthful Pursuit
Chocolate & Walnut Keto Fudge Homemade candy at Christmas is the best & this keto fudge will not disappoint! Get the recipe on Ditch The Carbs
Looking for More Keto Christmas Desserts?
Need More Legit Almost Too Good To Be True Keto Recipes?
I get it! I've lost over 90 pounds on the keto diet & maintained that weight loss for six years & these meal plans & recipes helped me tremendously!
Shout Out To Tastaholics Weekly Meal Plans & Keto In Five cookbooks!

About the weekly meal plans – Tastaholics will send you pre-calculated, low carb meal plans and recipes right into your inbox – no more hunting down recipes on the internet and trying to fit them together perfectly every day.
They make the keto diet easy – for real. And you can try it free right here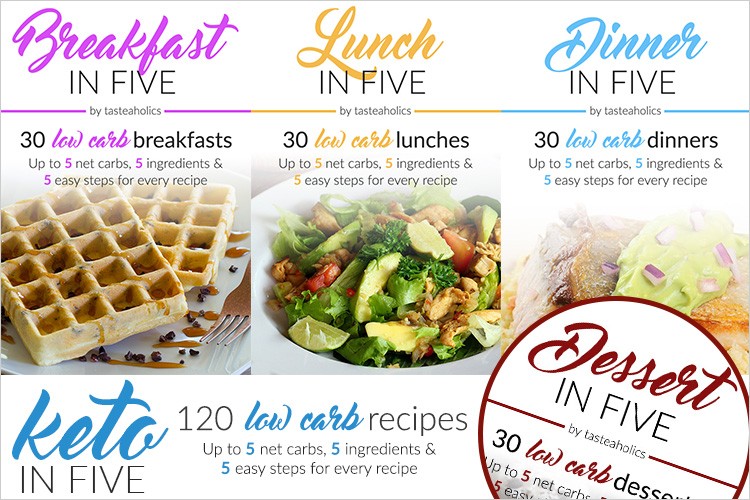 Or – opt for the Keto In Five – These Are Not your Grandmother's Cookbooks-You Can download Them To Any device!
Each collection offers 30 breakfasts, 30 lunches, 30 dinners & 30 desserts with only five ingredients & 5 net carbs! They provide all the macro info for you – which makes life so much easier!
Go ahead & try the meal plans or grab the Keto In Five Bundle! You've got nothing to lose, but weight. They offer a 365 Day money-back guarantee, but you won't need it:) Ok – sales pitch over:)
Don't Miss These Keto Recipes!
Don't forget to share or save these keto Christmas recipes on Pinterest!
For more low carb & ketogenic recipes, follow my Keto Recipes board!