The best playroom ideas encourage kids imaginations to run wild while keeping toys and clutter tamed and cleverly disguised. Here are a few of my favorites along with some great playroom design tips I've picked up throughout the years!
This post may contain affiliate links that help keep this content free. [Full Disclosure]
Choose a fun theme that's both inviting and inspiring like this Woodland Wonderland Playroom by Mollie from Design Loves Detail.
Or this creative St. Petersburg fantasy playroom where white is the dominant color of the room.
I'm in love with this Joyful Beach House Playroom designed by Chango & Co. that I found on HGTV! I can't decide if it's the teepee or the rope swings or the floor mattresses that beg for a Sunday afternoon nap (or pillow fight) that draw me in, but this playroom is one of my favorites!
The painted ceiling and the drop lights set the tone in this super cool and comfortable playroom designed specifically for teenagers by Kropat Interior Designs. When planning your playroom keep seating in mind-these ottomans with custom wood tops can be used as tables or extra "chairs."
J&J Design Group's cottage style entrance is a lovely detail-complete with window boxes!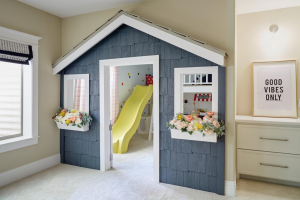 The branches of the tree nestled in the corner of this enchanted fairyland themed playroom features tiny twinkling lights and painted birdhouses.
This space was a bedroom that designer/Mom of four Emily Lex (Jones Design Company) converted to a playroom for her growing family. I love the way she mixed the polka dots, stripes, and chevron!
Make the most out of a small play space by DIY-ing a loft bed like this clever hut I found on Oeuf Le Blog.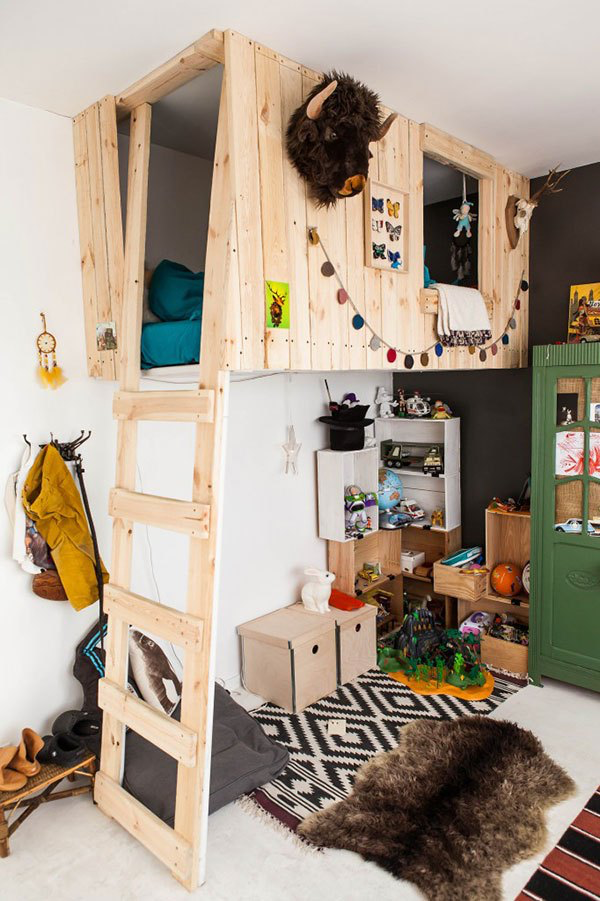 The magic treehouse design is the brainchild of the creative team over at Thinkterior and make no mistake-they thought of everything! A cleverly disguised spacious floor armoire offers extra storage-just in case you need more than the floor to ceiling built-ins allow! A space saving fold down art table gives kids a designated place to doodle when they're not tending to the bucket vegetable garden or burning energy on the swing! (See #19)
Or make a castle loft with a slide like this one from HGTV!
Rachel from Maison de Pax created a cozy reading nook in a spare closet! The map on the slanted wall brings in color & ties into the bean bag chair. I absolutely adore the marquee letters!!!
Worried you don't have enough room? Joni from Lay Baby Lay proves you do not have to be working with an enormous amount of space to get the job done!
The perfect playroom has designated spaces for imaginative play, arts and crafts, reading, and activities. This playroom from Hello, Baby Brown is a fabulous example of a pretend play space with room to store toys!
Savannah over at Classy Clutter created an organized black and white homework/TV space using a budget-friendly statement rug and repurposed play sets!
Kristin created zones in this playroom using a fabulous teepee, activity table, and storage bench with seating and shelving!
I'll admit I've had a bit of a crush on teepees lately. I suppose that happens when you're decorating a playroom and spending every waking moment on Pinterest! Anyway, when I came across this no sew DIY teepee on The Handmade Home there was no doubt I had to include it here!
If you're looking for teepees for your playroom this will help you select the best one for your design & budget!
Ultimate Guide to Teepees for Kids | 23 Teepees Parents Love
You can create a reading nook or mini-space like this by hanging a canopy in a corner of your room.
Interior Designer Jen Talbot spared no detail in this customized Brooklyn Playroom! Imagine the fun of a lemonade stand together with a lofty and whimsical swing! (I always wanted a swing inside-didn't you?) She created the tree by hand and achieved the 3-dimensional effect by attaching lemons with velcro. Just Brilliant!
This wooden swing is part of the fabulous Treehouse collection from thinkterior. If you are looking for custom playhouse design team-they're it. (No, I'm not getting paid to say that-it's just true!) But you don't have to get a creative team to hang a swing! This one is simple and sweet and I promise your kids will love it no matter who was in charge of the design!
This mom took a minimalist approach and used a tire swing attached to a ceiling stud.
This clever idea for a climbing wall under a loft style bed is perfect for small spaces.
Organizing your playroom may not be the most magical part of the process, but it's the most important! In this playroom, Jen cleverly maximizes her space by using Ikea shelves with storage baskets as seating. Now, she went through a very laborious process to chose the right size and style organizers for this design & I suggest you take a look-it will save you some time!
Also, it's worth pointing out that our friends at Ikea no longer carry the ever popular Expedit bookcase that this and countless other designs rely upon. The Kallax storage system is now the go-to! You can find the bookcase for the playroom project here!
Build a stage! This is something you can DIY in a small space that your child will enjoy for years (think: dress up – then photo booth!) Jenna from Rain On A Tin Roof shares an awesome step by step tutorial on how you can do it!
The Land of Nod Playroom from House of Jade Interiors is straight up magical. The chalkboard wall is fabulous, but you need to take a closer look at the Great Plains teepee, shag rug, and cloud corkboards!
This sophisticated black & white playroom may be unexpected, but it has all of the elements necessary for a well-rounded playroom that lasts the tests of time. Comfortable seating, designated play spaces, and toy organization all brought together by the fashion-forward design duo behind Sissy + Marley.
Do you have a favorite playroom idea? I'd love to hear about it!
Don't Miss These Decorating Ideas!
Save or Share these Playroom Ideas on Pinterest!
SaveSave
SaveSave
SaveSave
SaveSave
SaveSave
SaveSave
SaveSave
SaveSave
SaveSave
SaveSave
SaveSave
SaveSave
SaveSave
SaveSave
SaveSave
SaveSave