These easy low carb, keto breakfast muffins make the perfect keto breakfast on the go! Make them ahead for busy mornings or put them together in 10 minutes for a clean eating, ketogenic breakfast that will keep you full until lunchtime!
This post may contain affiliate links. For more information please read my disclosure policy here.
When I decided I was going to commit to a healthy lifestyle to lose weight, I knew my breakfast routine had to change. Coffee and drive through was not the keto breakfast of champions! I knew enough about myself to know that setting up too much of an AM routine would be setting myself up for failure. I'm not a morning person, and at thirty-something, I probably wasn't going to change! My solution for a busy morning? Well, it eventually grew into a full-on meal prep situation, but it started with playing with variations of recipes of my grandmother's carb-loaded muffins she used to make for her Sunday school class.
Yep, that's right. Miss potty mouth over here had a hardcore Southern Baptist grandmother.
And she loved me just the way I am Thank You Very Much.
Anyway, Sybil was a cooking machine! Of course, she was old school Mississippi style. Lots of buttah, sugah, and bread.
Don't get me wrong. Our southern cuisine is delicious, but people are dropping like flies from cardiovascular disease, high blood pressure, & diabetes. We don't want to drop like flies, do we?
For this Super Easy Egg Keto Breakfast Muffins recipe, I only had to make a few adjustments. Take out the milk and the homemade biscuit dough. Oh, and I believe she may have had some sugah in there too. I think she added it to everything just because!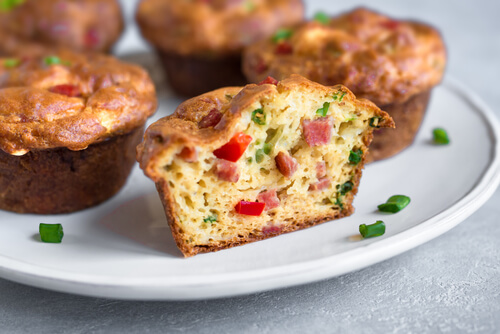 You'll find these Easy Egg keto breakfast muffins are super simple to put together especially if you are meal prepping! The only thing that's at all time consuming is cooking the bacon, and you can do that ahead of time or if you don't think it's too much of a sin-cook it in the microwave!
If you're using frozen spinach make sure you thaw it & let it dry out or your eggs will be all watery & that's no good! You can dry it fast by pressing it with a towel or paper towels to speed up that process if ya need to!
You can store these muffins in the fridge for up to 5 days & reheat individual muffins in the microwave for 15 seconds!
To Freeze: Allow muffins to cool completely, then wrap each muffin with plastic wrap and freeze in ziplock freezer bags for up to 3 months!
Ok! I hope y'all enjoy this recipe! I bet if she were still around my grandmother would approve even though there's no sugar in sight!
Print
Super Easy Egg Keto Breakfast Muffins
---
Author:

Prep Time:

10 Minutes

Cook Time:

20 Minutes

Total Time:

30

Yield:

10

1

x
Description
Colorful, hearty, satisfying and super easy these low carb keto breakfast muffins are just what you need on busy mornings! Crisp bell peppers, onions, spinach, cheddar cheese, bacon, and fluffy eggs come together in minutes to create the perfect on the go breakfast or snack!
---
Scale
Ingredients
10 Eggs
6 Ounces (1/2 Package) Turkey Bacon ~ Cooked
1 Cup Spinach (Fresh or Frozen-Use 1/2 Cup Thawed & Drained Frozen)
1/3 Cup Sharp Grated Cheddar Cheese
1 Green Bell Pepper
1/4 Cup Green Onion
Butter
Salt & Pepper
---
Instructions
Preheat oven to 375
Fry bacon & allow it to cool.
Rinse the spinach & dice bell pepper & onion. Use the butter to grease a 12 cup muffin tin.
If you're using frozen spinach and its still soggy from defrosting, set it in a strainer in the sink & take a towel or (several) paper towels & press down to soak up any water remaining. This will keep your eggs from being runny!
Crack those eggs open & start beating them in a glass bowl. Or a plastic bowl. (Pro Tip: The bowl doesn't really matter! What matters is you avoid a shell situation!!! Try not to chip an egg shell off into that bowl!)
If you're not in too much of a hurry you can beat the eggs for about two minutes. If you are late already, go ahead & start adding your ingredients.
Just toss in the spinach, cheese, bell pepper, and whatever is left of the bacon. I know you ate some of it.
Mix all of that up until you just can't take it anymore & then it's time to fill your muffin cups.
Fill each cup about 1/2 to 2/3 full. If you overfill you will have a oven cleaning project this weekend that you do not want.
Cook for 15 minutes!
---
Category:

Low Carb/Keto

Cuisine:

Breakfast
Liked this recipe? You'll LOVE these keto recipe ebooks!
Hey! If you are thinking about trying the low carb/keto diet I'd love to help! I've lost over 80 pounds on the ketogenic diet and I've kept it off for three years! Take a look at my Hungry Girl's Guide to Keto + 7 Day Meal Plan. Or stroll through my Pinterest boards. Or grab one of these fab in 5 ebooks that make weight loss EASY! See, every delicious keto recipe has only FIVE ingredients & FIVE steps & FIVE net carbs! And y'all, they're legitimately delicious recipes! Each cookbook has 30 recipes! Right now they are on SALE for $9.99 each!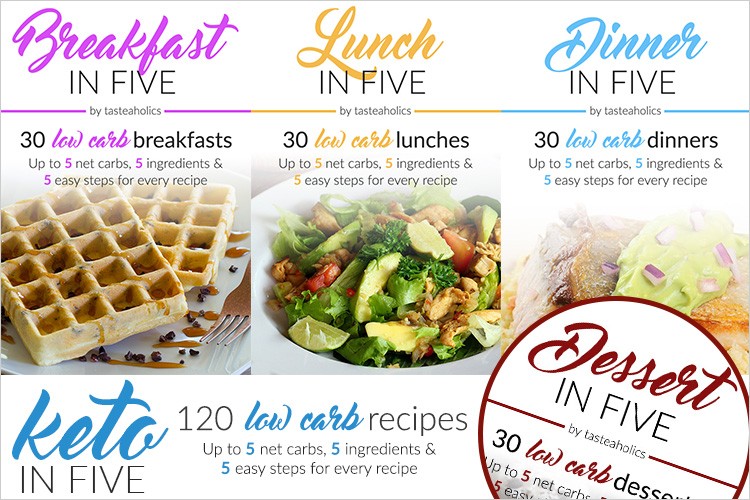 Or you can buy the bundle-which is also marked down 42% right now & priced at $34.97!
Go check it out! And don't forget to let me know what you think of the keto breakfast muffin recipe! Did you add anything? Take something out? Let me know what worked for you!
Hope you have a fabulous week! Don't forget to meal plan & write down your weight loss goals! So VIP!!! Even if you start small-with one meal or two a week-just start! You can do this!!!
Don't Miss These Keto Breakfast Recipes!
16 Make-Ahead Keto Breakfast Recipes That Will Save Your Sanity On Busy Mornings
16 Easy Keto Breakfast Recipes Perfect for Meal Prep
Share or save this recipe on Pinterest!
For more fabulous low carb keto recipes, follow my keto recipes board!