Looking for a few new keto recipes for dinner? You'll love these easy keto chicken dinner recipes that come together fast & make meal prep day a breeze!
So here's the thing. These easy keto chicken dinner recipes are going to change your life. Ok, so maybe that's too much, but seriously, on the keto diet, it's hard to beat a tried and true protein-packed chicken recipe!
This post may contain affiliate links. Please click here to read my full disclosure policy.
Trust me, I know. I've lost over 90 pounds on the keto diet due in large part to the fabulous food (& desserts) I can enjoy with Zero Guilt! Because I love food, y'all.
So in the spirit of Meal Prep Sunday, I've rounded up 26 of my favorite + easy keto chicken dinner recipes to share with you to make your life a little easier. Most of these are quick & easy get it done in thirty-minute meals, but I've thrown in a few slow cooker & casserole recipes for good measure!
ALL of these recipes are fabulous for MEAL PREP!!! If you haven't read my post on Meal Prep, stop everything & READ IT NOW! (Or pin it for later!) I know I'm not supposed to toot my own horn, but it's full of great tips for newbies & pros & it will help you stick to your diet and your budget! (So, Toot, Toot:)
You can read it by clicking the link RIGHT HERE! (It has 21 incredible keto recipes that are perfect for meal prep too!)
Ok! Ready for the life-changing keto chicken dinner recipes? Thought you might!
This healthy, keto-friendly version of the classic Chicken Parm is easy to get together & cooked & served in 35 minutes! Nutrition: 621 Cal, 34g Fat, 67g Protein, 5g Net Carbs Get the recipe on Wholesome Yum
It's cheesy with bacon & ready in 30 minutes! Seriously, this is one of those heavy rotation recipes! Nutrition: 57 grams of protein, 42 grams of fat, and only 4 Net Carbs Find the recipe on That Low Carb Life
Keto Crockpot White Shredded Chicken Chili
Keto Crockpot White Shredded Chicken Chili is keto comfort food at it's best from the crockpot! Healthy chicken, creamy cheese, and a hint of spice combine to create a low carb slow-cooking chili that is sure to become a favorite. Nutrition: 266 Cal, 16.4g Fat, 6.1g Carbs) Get the details here
This one pan meal recipe makes a perfect weeknight meal! Make it from start to finish in 35 minutes! Nutrition: 276 Cal, 10g Fat, 25g Protein, 4g Net Carbs Get the recipe on diethood
Creamy, delicious, low carb casserole is ready in 35 minutes! Get the recipe Mince Republic
Low carb, gluten-free, and keto-friendly these stuffed chicken breasts are full of flavor! And they're ready to eat in 30 minutes! Nutrition: 288 Cal, 17g Fat, 28g Protein, 2g Carbs Get the recipe on Evolving Table
Only 45 minutes from start to finish! This low carb version of Chicken Cordon Blue consists of layers of ham, chicken, and Swiss cheese in a delicious creamy dijon sauce. Nutrition Info: 452 Cal, 35g Protein, 2g Carbs) Get the recipe on Joy Filled Eats
Oven baked chicken with low carb vegetables is seasoned lightly with olive oil & Balsamic & ready to eat in 30 minutes! Nutrition Info: 375 Cal, 32g Fat, 22g Protein, 2 Net Carbs) Get the recipe on Tastaholics
QUICK DINNER IN 30 MINUTES
Do you have ZERO time? No problem. These are ready in less than 30 minutes!
Need more keto recipes?
I've got to tell you about where I get my recipes now! Tastaholics! They have downloadable cookbooks. You can access them from your laptop or phone. It's the Betty Crocker Cookbook for the modern keto woman. Or man!
And it's beyond fabulous!!!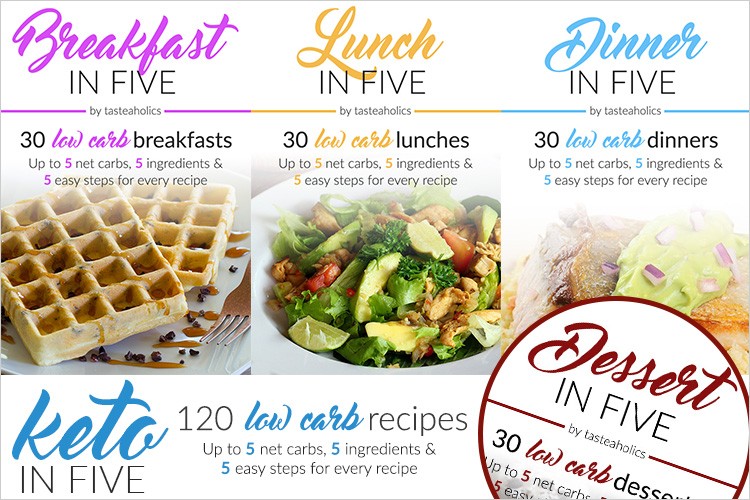 It's all about the 5. Every recipe has only 5 ingredients, 5 steps, and ONLY 5 NET CARBS!!!! It makes life easy & I'm all about that!
You can buy them separately: Breakfast–Lunch–Dinner–Dessert
OR
You can buy the bundle & get all 120 Recipes for $59.96! $34.97!!!
IT'S ON SALE!!!
Oh, and if for some odd reason you hate it they offer a money back guarantee. But I doubt anyone has ever used it:))
I hope you found a new favorite (or 10) in this collection. I was going to try & keep it short, but as usual I got a little excited & went on forever! If there's a recipe you'd like to see please let me know! You can contact me at heather@wordtoyourmotherblog.com
You May Also Like:
If you enjoyed these life changing keto chicken recipes please share them on Pinterest!
For more low carb food inspiration, follow my board Keto Recipes!