This easy crockpot Keto Tuscan Garlic chicken recipe makes a delicious low-carb dinner the family will love. Bonus: There is only 15 minutes of prep work for this healthy, low-carb chicken recipe!
This post may contain affiliate links that help keep this content free. [Full Disclosure]
Does it get any better than a low-carb crockpot meal? Well, technically speaking, yes. A million dollars overnight, a Mary Poppins-style nanny who works for free, and a couple of new cars that come with free gas for life would be better. But since we are keeping it real today, let's stick to effortless dinners – which translates to using your good old slow cooker. Are you too tired after working all day to make dinner? Use the slow cooker. Is it too hot to turn on the oven? Whip out the crockpot. Want to feel accomplished after a day of shopping or Netflix? It's slow cooker time. This easy Tuscan Garlic keto crockpot chicken recipe is one of my favorite go-to recipes to make in mine.
I started making this Tuscan Garlic Keto Crock Pot Chicken recipe regularly a few months into starting the keto diet. I loved it because it was simple to put together and nobody in my family of five complained about having it for dinner – even two nights in a row! Score!
How To Make Easy Tuscan Garlic Chicken Step By Step
The steps for how to make Tuscan Garlic Keto chicken in the crockpot are pretty straightforward. That's the beauty of this recipe – your slow cooker does most of the work for you! Here are the essential steps:
Making The Tuscan Garlic Chicken Sauce
Remember how I told you this recipe was almost effortless? Well, the only real hands-on work is making the sauce.
Saute the garlic in a bit of oil, then add the cream and the chicken broth. Simmer for a few minutes to thicken the sauce. (Don't expect it to be thick-thick. Expect it to be a little on the thin side, yet thick enough to coat the back of a spoon.)
Next, reduce the heat to low, and whisk in the parmesan cheese a ¼ cup at a time. Keep stirring it in until your sauce is smooth.
Cooking Tuscan Chicken In The Crockpot
While the sauce simmers, you can prepare the rest of the recipe.
Go ahead and throw, or carefully place, the raw chicken in your slow cooker and season it with salt, pepper, and Italian seasoning.
Then top it off with sun-dried tomatoes.
By now, your sauce should be thick, so you can go ahead pour it over the chicken.
Now all you have to do is turn on your crockpot. If you're in a hurry, go for 3-4 hours on high. If you've got plenty of time, go with 6-8 hours on low.
Wait, When Do I Add The Spinach?
In case you just got angry that you purchased spinach for nothing, let me assure you it's all good. The spinach comes in last. Once the chicken is cooked, take it out of the slow cooker and place it on a plate. You may want to cover it to keep it warm. FYI: We are adding this step to make it easier to mix the spinach with the crockpot's liquid.
Crank up the heat on the crockpot to high and add the spinach. Stir it for a few minutes until the spinach wilts.
Serving The Tuscan Garlic Keto Crock Pot Chicken
Once the spinach wilts, you can move the chicken back into the Crock-Pot to keep warm if you're not serving it immediately.
When you're ready to serve, transfer the chicken to plates and top it with spinach, sun-dried tomatoes, and as much liquid from the slow cooker as you like.
Tips To Make This Tuscan Garlic Keto Crock Pot Chicken Fabulous Every Time
If you are into over-achieving or you need to make a statement with this recipe, because, say, your mother-in-law is coming over, or you are feeling extra, here are a few tips.
Save time. Make the sauce ahead. Crock-Pot Tuscan chicken is already a time-saver, but if you want to make it faster, you can make the sauce ahead of time. Just store it in the fridge, and heat it before pouring it over the chicken.
To Make Sure The Sauce Is Perfectly Thick. Remember, your sauce will be thick enough to coat the back of a spoon yet easily pourable. If you are having a "my sauce is too thick" moment of crisis, add some heavy cream or whisk in ¼ cup of parmesan cheese.
Substitutes. Feel free to use frozen spinach instead of fresh. Just make sure you thaw it and dry it to remove excess moisture first.
Keep an eye on the spinach. Spinach wilts fast! Do not throw caution to the wind and throw it in with the chicken. Trust me, I have made this mistake, and it will end up a mushy dinner disaster. Hold the spinach until the end!
Don't Miss These Reader Favorites!
How To Make Crack Chicken Into Crockpot or Baked Keto Crack Chicken Without Offending Anyone
This Keto Chicken Jalapeno Popper Casserole with Bacon Recipe Makes Family Dinner Easy
Print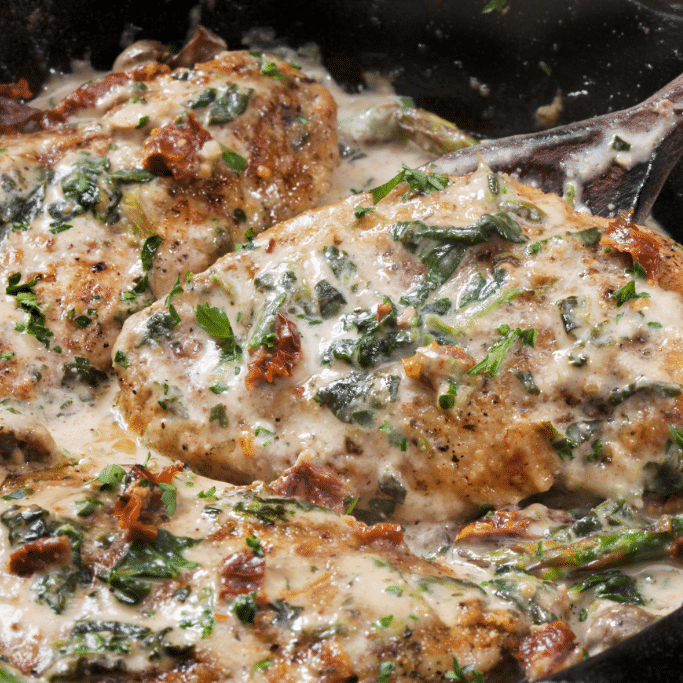 This Easy Keto Tuscan Garlic Chicken Crock Pot Recipe Makes Low Carb Dinner Super Simple
---
Author:

Total Time:

3 hours, 15 minutes

Yield:

4

1

x

Diet:

Gluten Free
Description
This easy keto Tuscan Garlic chicken crock pot recipe makes a delicious low-carb dinner the family will love. Bonus: There is only 15 minutes of prep work for this healthy, low-carb chicken recipe!
---
---
Instructions
Heat oil in a medium saucepan over medium heat. Add garlic and saute for about a minute.
Add the cream and chicken broth. Bring to a gentle simmer, then set heat to low and simmer for 8-10 minutes. The sauce will be thin enough to coat the back of a spoon on the thin side.
Place the chicken at the bottom of your crockpot—season with Italian seasoning, sea salt, and black pepper.
Top with sun-dried tomatoes.
When the sauce is ready, turn the heat down to low.
Whisk in the Parmesan cheese, 1/4 cup at a time, until smooth.
Pour the sauce as evenly as possible over the chicken.
Cook for 3-4 hours on High or 6-8 hours on low.
Remove the chicken from the slow cooker and set it aside.
Turn the slow cooker on High, add the chopped spinach and stir for a few minutes until the spinach wilts.
Return the chicken to the slow cooker, spoon the liquid, spinach, and sun-dried tomatoes on top, or pour them over the chicken when you are ready to serve.
Notes
Serving size: 1 large chicken breast with sauce and 1/4 of total tomatoes & spinach (1/4 of entire recipe)
Prep Time:

15

Cook Time:

3 hours

Category:

dinner

Method:

crockpot, slow cooker

Cuisine:

American
Nutrition
Calories:

542

Sugar:

1g

Fat:

35g

Carbohydrates:

9g

Fiber:

1g

Protein:

45g
Keywords: keto dinner, low carb dinner, slow cooker dinner, gluten-free dinner, healthy dinner,
Stock Your Keto Pantry!
Get the go-to keto pantry staples, meal plans and exclusive Word To Your Mother reader discounts on my Shop Page here. Need a shopping list? Click here!
And for more than 500 Low Carb Keto Meal ideas and easy recipes, check out my Keto Recipes Index!
If you enjoyed this post, please save or share it!