50 Ketogenic Diet recipes for breakfast, lunch, dinner & snacks! If you're looking for a keto diet meal plan for beginners or you're trying to meal prep ahead – these easy recipes are what you need to get started – now.
This post may contain affiliate links that help keep this content free. [Full Disclosure]
Whether you're just starting the keto diet or you're looking for new low carb recipes to meal prep & plan – it can be easy to get off track searching for meals that fit your macros, keep you at under 30 net carbs per day & fit into your budget.
That is enough to overwhelm anyone – especially those of you who are new to keto!
This collection of ketogenic diet recipes – for breakfast, lunch, snacks & dinner is here to help simplify your life & make the keto diet & meal prep for the week – easier!
Just Starting The Ketogenic Diet?
You may want to check out these tips & guides! I've been on the keto diet for six years & I remember what it was like to be a beginner!
Ketogenic Diet Recipes: Breakfast
About these breakfasts: they aren't ALL eggs, but most of them are & I'll tell you why: Eggs are filled with protein & have next to zero carbs. A breakfast with eggs is more likely to keep you full until lunch plus study after study shows us that people who eat eggs for breakfast are more likely to eat less throughout the day & lose weight faster than their eggless breakfast eating friends.:)
Egg Muffins with Sausage
Perfect for meal prep these portable keto egg muffins with sausage have 1.2 net carbs per muffin – plus they freeze beautifully for up to 6 months!
Sausage Egg Muffin
Prep a batch of these portable breakfast sandwiches ahead for busy mornings when you need to grab & go via Tastaholics
Mediterranean Muffins
These egg, ham, feta & spinach muffins are fabulous – looking & tasting.
5-Ingredient Cereal
If you were waiting for an eggless breakfast you can make ahead – here ya go! We're talking about 5 minutes of prep time for 10 servings of this low carb cereal with coconut flakes, almonds & dark chocolate chips via Keto Diet App
Cream Cheese Pancakes
Make a few batches of these delicious pancakes ahead & keep on hand for busy mornings.
Pumpkin Oatmeal Bars
Make a batch or two of these bars for an easy grab & go breakfast on busy mornings.
Blueberry Muffins
Make a batch of blueberry muffins in 30 minutes (total). Enjoy throughout the week.
Snacks
Keto Recipes: Lunch
Ranch Chicken
These jar salads keep in the fridge for up to 4 days – perfect for meal prep!
Cobb Salad
You can prep every ingredient in this salad ahead on meal prep day or use leftover chicken to put it together via Tastaholics
Steak Taco Bowl
Whether you use left over steak or prep the bowl while you sear, these lunch bowls make fab low carb lunches!
Chicken Club
Swap a tortilla with lettuce & save up to 20 carbs! Recipe via skinnytaste
Chicken Fajitas
Cook once – eat all week! Via Fit Foodie Finds
Greek Mason Jar Salad
Only 10 minutes of prep time required for these easy to assemble, portable Mason Jar lunches!
Mediterranean Meatball
Use your slow cooker or Instant Pot to make these delicious meatballs on meal prep day!
Chicken Philly Cheesesteak
Prep & cook the chicken & veggies on meal prep day – then assemble the bowls for a fabulous low carb lunch!
Taco Salad
You'll never get tired of this perfect for kept meal prep salad – especially if you use Kalyn's recipe for slow cooker taco meat – details here!
Keto Recipes: Dinner
Egg Roll In A Bowl
Seasoned ground pork + veggies make the ultimate "crack" slaw & keto meal prep idea!
Taco Skillet
Prep the ground turkey & the cauliflower rice ahead to save time on dinner via skinnytaste
Crockpot or Oven Crack Chicken
Whether you make & freeze, use in wraps for lunch or eat it for dinner this fabulous keto meal prep recipe for chicken with cream cheese, cheddar, bacon and green onions is always a family favorite.
Enchilada Casserole
Cook & shred the chicken on meal prep day & this Mexican-inspired casserole with 7 net carbs will be a breeze for dinner!
Chipotle Beef Barbacoa
Mexican-inspired, slow cooked beef with incredible, rich flavors & 1 net carb per serving.
Jalapeno Shrimp & Veggie Bake
This one is ready in under an hour – less if you prep the veggies ahead!
Big Mac Salad
Prep the ground beef & rinse & chop the veggies ahead via Wholesome Yum
Easy Keto Recipes For Meal Prep
Chicken Recipes
Staple Crockpot Chicken: Simple – no fuss – 6-ingredient shredded slow cooker chicken via Keto Summit
Easy "Crack" Shredded Chicken: Simple slow cooker recipe that takes less than 10 minutes to prep & almost always yields leftovers
How To Cook A Whole Chicken In The Instant Pot – Easy & Simple – & Ready in 30 Minutes
Instant Pot Sweet & Smokey Chicken: Fabulously seasoned pulled chicken via Keto Diet App to use in lettuce wraps, over cauliflower-rice & on keto bread (when you get to that level of baking:)
White Shredded Chicken Chili: My recipe. No beans. Just legit good (& low carb) shredded chicken chili!
Beef Recipes
Instant Pot: 4-ingredient, basic shredded beef you can use in all kinds of recipes via What Great Grandma Ate
Mexican Shredded Beef: Slow cooker or Instant Pot recipe with any kind of beef roast via All Day I Dream About Food
Asian Style Shredded Beef: Yields 5 pounds of shredded beef flavored with a low carb Hoisin sauce. A little advanced side, but still easy enough for beginners
Pork Recipes
Crockpot Recipe: Boneless Pork Shoulder with a few spices + 1/2 a can of beer – you can swap that with broth if you want:) Via That Low Carb Life
Pulled Pork with BBQ Sauce: Another slow cooker recipe – but this one includes a homemade low carb BBQ sauce. The only "special" ingredient is xanthan gum via I Breathe I'm Hungry
Ok! Do you feel like an expert now? It takes time to get used to meal planning & prepping – but if you stick to it you will get there! I'm going to link a few of my other related articles below that will help!
Is There An Easier Way To Meal Plan On Keto?
If searching for keto recipes, counting macros, planning your meals, and creating shopping lists stresses you out (or is keeping you from getting started in the first place, take a look at how Tastaholics can help you with their weekly meal plans and cookbooks!

Here's the low down on the weekly meal plans – Tastaholics will send you pre-calculated, low carb meal plans and recipes right into your inbox – no more hunting down recipes on the internet and trying to fit them together perfectly every day.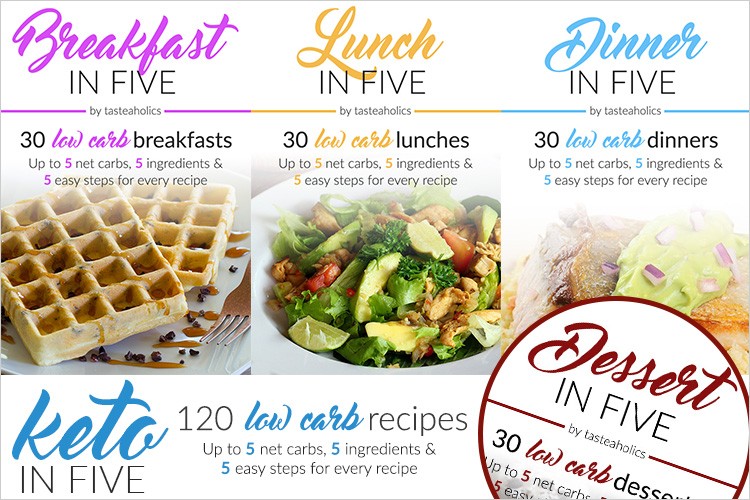 And their cookbooks? Well, their Keto In Five – Not your Grandmother's Cookbooks style e-books are downloadable on any device.
Each collection offers 30 breakfasts, 30 lunches, 30 dinners, & 30 desserts with only 5 ingredients & 5 net carbs! They provide all the macro info for you – which makes life so much easier!
Don't Miss These Tips & Recipes!
Save or Share These Easy Ketogenic Diet Recipes!
For More Low Carb Inspiration, Follow Me On Pinterest or Subscribe below! Leave A Comment, Ask A Question – Tell Me What's On Your Mind!
Still Here?
First, thanks for sticking with me – I started this blog to help people like you take control of their health – achieve their fitness goals – lose weight – and gain the confidence they need to go out and live life to the fullest. (Because that's what losing 90 pounds on the keto diet did for me:) If you need help, please reach out. In addition to blogging full-time, I'm a Health Coach, and I'm a mom of three awesome kids – 2 girls & one precious son who happens to have autism. (Oh, and I have a husband too: )
I'm continually seeking balance to do all of the things – and I'd love to help you do the same. *Update: I'm back on Facebook! Let's chat!
Here are the people that inspire me – AKA – My family. Who inspires you?