If you're on the ketogenic diet prepare to be amazed. These low carb, keto Starbucks copycat recipes are nothing short of amazing! You may be surprised to learn how easy it is to make your all-time favorite Starbucks drinks, breakfasts, snacks, & desserts keto-friendly!
This post may contain affiliate links that help keep this content free. [Full Disclosure]
Whether you've just realized your Starbucks habit is costing your budget & your diet big-time or you're a homemade coffee aficionado you'll be pleased to know that all of your Starbucks favorites are represented in today's line-up.
*If you're looking for how to keep your Starbucks order keto-friendly head over to this post where I share everything you need to know to order 30 fabulous Keto Starbucks drinks step by step!
26 Keto Starbucks Copycat Recipes
Coffee Frappuccino
A non-fat Starbucks Coffee Frappuccino has 38 grams of carbs. Go with this guilt-free spin on the classic with .5 net carbs via Simply So Healthy
Pink Drink
One Grande Pink Drink from Starbucks comes with too many – (27) – carbs. Try this Keto Starbucks copycat recipe with only 7.2 net carbs via Keto Diet App
Vanilla Caramel Frappuccino
Opt out of the 48 carbs in an original Starbucks Caramel Frappuccino & enjoy this sugar-free & low carb version in 4 minutes via Hip2Keto
Caramel Frappuccino
A Tall Caramel Frappuccino from Starbucks has 47 grams of carbs. Thankfully, this creamy sugar-free Keto Starbucks copycat recipe contains only 2.4 net carbs via All Day I Dream About Food
Iced Bulletproof Coffee
This creamy iced coffee has hints of vanilla & cinnamon & helps you burn fat & curb cravings all while tasting like a Starbucks treat! See the recipe on Healthful Pursuit
Matcha Green Tea Latte
Since a Grande Matcha Latte from Starbucks has more carbs than some of us eat all day (34 grams) – try this low carb version with less than 1 net carb via Low Carb Yum
Iced Latte
This quick & easy 3-ingredient iced coffee is dairy free with 0 carbs via Texas Granola Girl
Iced Mocha
The Venti Starbucks Iced Mocha packs on 52 grams of carbs. Opt for this low carb iced coffee with anti-aging benefits via The Mermaid with Muscles
Vanilla Bean Frappuccino
Skip the traditional Starbucks Vanilla Frappuccino & it's 41 grams of carbs & opt for this keto Starbucks copycat recipe via Sugar-Free Mom with 2 net carbs & zero sugar!
Pumpkin Spice Frappuccino
A Tall non-fat, no whip Pumpkin Spice Frappuccino has 26 net carbs. Abbey's Kitchen puts a sugar-free, vegan spin on this keto Starbucks copycat recipe that's a Fall favorite.
Iced Caramel Macchiato
The magic of sugar-free Torani syrups is at work in this fabulous iced macchiato – topped with caramel flavored whipped cream via Two Sleevers
Pink Drink
What if I told you that you can make a pitcher full of this delicious keto Starbucks copycat recipe for less money than 1 Venti-sized OG Pink drink? Now that I have your attention, please direct it to the recipe here
Mango Dragonfruit Refresher
Starbucks Refreshers – all of them – are loaded with carbs from sugar. A Grande comes with 33! Make this sugar-free free version with water or coconut milk via Darling Tomboy
White Drink
Peach White Tea blended with coconut cream, vanilla & ice makes this Starbucks favorite Keto-friendly via Paleo Hacks
Purple Drink
OMG Keto Yum created a fabulous keto Starbucks copycat recipe with 1 net carb + MCT Oil for an afternoon or morning pick-me-up & it's so much better for you than the OG Violet Drink which contains 22 grams of carbs! See the recipe here
Keto Copycat Recipes – Hot Drinks
Pumpkin Spice Latte
Did you realize a non-fat Starbucks Pumpkin Latte without whipped cream has 51 grams of carbs? I know, right? Check out this Keto Starbucks copycat recipe: It's Pumpkin Spice Latte meets Bulletproof Coffee with less than 1 net carb via Peace, Love and Low Carb
Vanilla Bean Latte
One Grande Starbucks Vanilla Latte will cost you 36 carbs…Instead, why don't you opt for this easy Keto-friendly version with Cardamom seeds & 3.3 net carbs via A Sweet Life
Bulletproof Tea
Don't blow your macros on a cup of anything! Get the benefits of bulletproof coffee in a cup of tea with this healthy recipe via Low Carb Yum
Peppermint Mocha
A Starbucks holiday favorite without the carbs via Forget Sugar Friday
White Hot Chocolate
The Keto-Friendly spin on a winter classic via Keto Adapted
White Chocolate Mocha
A Grande White Chocolate Mocha from Starbucks contains 55 grams of carbs & 54 grams of sugar. Thankfully, there is a better option from All Day I Dream About Food! Her Keto Starbucks copycat recipe is like a fat bomb in a glass with 0.9 net carbs!
Eggnog Latte
This Keto Starbucks Recipe is dairy-free with benefits: the added MCT Oil boosts energy, focus & metabolism! Find the recipe on Healthful Pursuit
Keto Starbucks Copycat Recipes – Food
Copycat Sous Vide Egg Bites
Check out this low carb, high protein version of the popular Starbucks order you can make in the instant pot via Stay Snatched
Caramel Cake Pops
Satisfy your sweet tooth with this Starbucks copycat recipe via All Day I Dream About Food Each cake pop contains 6 net carbs – compared to the original Starbucks version which has 25!
Lemon Bread
One slice of Starbucks Lemon bread has 68 grams of carbs – this version via Kasey Trenum comes in way better with only 3!
Chonga Bagel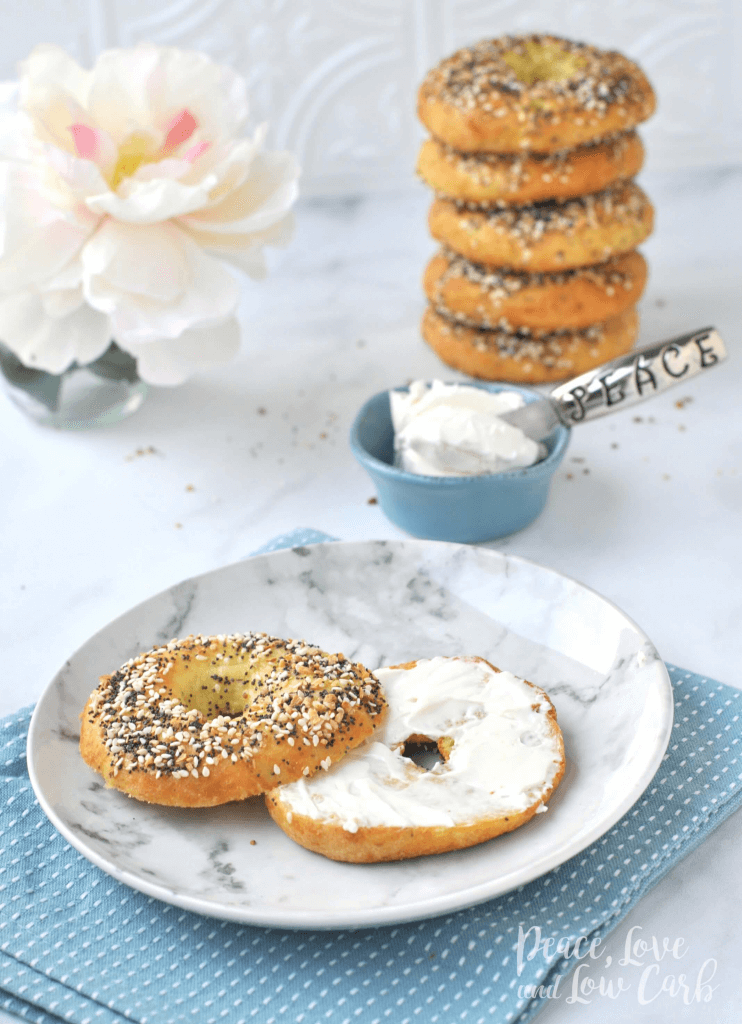 Perfectly Everything Bagel Seasoning + an almond flour recipe makes this keto Starbucks copycat recipe with 6 net carbs so much better for you than the original – which contains 50 carbs! Via Peace, Love and Low Carb
Do You Have A Favorite Keto Starbucks Copycat Recipe? I'd love to hear all about it!
Don't Miss These Keto Recipes!
Please Save or Share These Keto Starbucks Copycat Recipes!
And For More Keto Recipes, Follow My Board On Pinterest!