Organization ideas for your kitchen, spices, crafts, closet, bedroom, bath & beyond! These dollar store hacks organize & declutter every room – on a budget!
You don't have to be a Dollar Tree diva to appreciate these Dollar Store Hacks!
Did you know that you can organize every room of your house: kitchen, bedroom, bathroom, laundry, closet, garage – and all of your kid's stuff (that is so out of control you're on the fast track to crazy town???)
With one trip to the Dollar Store!
We're taking dollar store storage bins, buckets, baskets, ice cube trays, command hooks, mason jars, tension rods, shoe organizers & curtain rings -to a new level!
This post may contain affiliate links that help keep this content free. [Full Disclosure]
Today you will finally get organized – Pinterest style – with the best organization ideas & Dollar Store hacks that will declutter every room faster than you can say – what's the coupon code.
We're starting in the kitchen – my original idea was to focus on kitchen organization, but I found so many ideas a roundup of 10 turned into 75.) So, after we cover the kitchen we are moving on to your bathroom, bedroom, closets & kid's stuff:)
Don't skip the videos – they're under 5 minutes & fabulous! Let's go!
Junk Drawer Organization
Let's start with the junk drawer – the catch all where batteries go to die. This DIY shows you what you need to keep on hand & how to organize it – on the cheap:)
Or try using a muffin tin as seen on This Is Our Bliss
Command Hack For Kitchen Cabinets
Use command hooks to use every inch of your cabinet space like this DIY from Two Twenty One
Clever Cup Idea
Convenient cup hack brought to you by A Thousand Words!
Handy Glove Hanger
Or hang rubber gloves with a command strip – binder clip combo!
Small Space Solution
Give your cabinets a little more room by hanging strainers with hooks like this clever organizing idea on The Shabby Creek Cottage.
Shower Caddy Kitchen Storage
Use a shower caddy + 3M Heavy Duty Command hooks to store veggies – as seen in this idea from Domestic Diva Domain
Magnetic Spice Cabinet DIY
Regain control of your spice cabinet – if you ever had it in the first place – with this idea that uses magnetic containers from Dollar Tree affixed to a cookie sheet. The whole project will take you about an hour & will cost you around $8!
Clever Coffee Station
Organize all of your junk drawers with clear plastic storage – the ones used in this project were from Dollar Tree!
Kitchen Drawer DIY
Use Dollar Store baskets to organize the cutlery drawer – for less than $5!
Amazing Dollar Tree Kitchen Cabinet Makeover!
Kathryn from Do It On A Dime shares all her best Dollar Tree tips & tricks in this 5 minute video that will show you exactly what to buy & how to finish the job!
Snack Organization
Label Dollar Tree storage baskets by the day to organize snacks for kids!
Under The Kitchen Sink
Hang spray bottles & cleaning supplies under the sink with a Dollar Store tension rod.
Or use plastic drawers!
Command Hook Storage
Keep your sponges organized with this clever command hook – basket combo!
Get Your Lids Together
The easiest & cheapest way to keep up with lids!
Small Space Storage Solution
Two kitchen organization problems solved! If you're looking for a nail-free way to store pots & pans – use these these heavy duty adhesive hooks & hang cups & spoons & such with Command Hooks. See more ideas on Tara Dennis
Napkin Holder Lid Organization
Have you ever thought of using napkin holders for your lids?
Smart Use of Space
Mount wire baskets inside cabinet doors & have place for everything!
Plastic Wrap Pinterest Hack
Store foil & plastic wrap with self-adhesive hooks! Get the 411 on Ask Anna
Brilliant Baskets
Another fabulous way to use Dollar Store baskets & hooks in the kitchen or bathroom from Organizing Made Fun
Cutting Board Idea
Keep up with cutting boards & cookie sheets with this Dollar Store hack from That's What Che Said
How To Make Dollar Store Bins Look Cute
Dress up storage bins with custom metal tags via Little House of Four – she has tons of cute dollar store hacks!
Vintage Style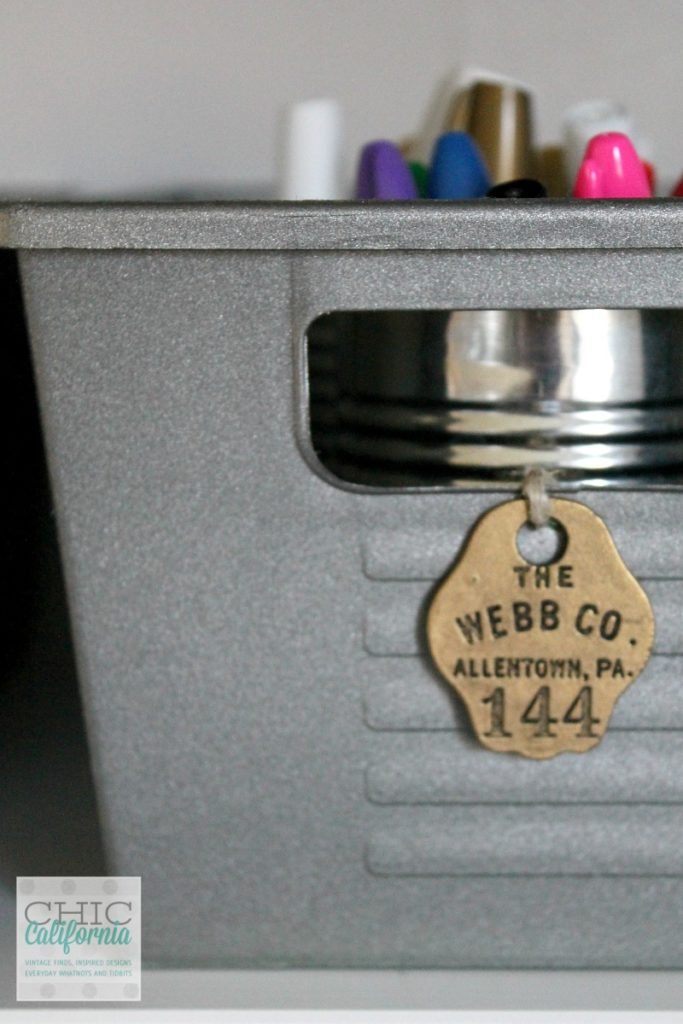 You may also adore these dollar store DIY vintage locker bins from Adrienne Elizabeth
The Pantry
A $48 pantry makeover? Sign me up! Get the details on i heart organizing
DIY Pantry Before & After
Organize every inch of your pantry with Dollar Store bins like this makeover on Dibble Dabbles
Small Space Ideas
Make a small space work with these clever tips for DIY-ing it from Pretty Providence Starting with an over the door shoe organizer from – you guessed it – the dollar store!
Dollar Store Pantry Organization
Love this Dollar Store pantry overhaul from How To Nest For Less
Drawer Storage
And if you don't have a "pantry" – use labeled storage bins to organize a drawer!
Cheap Dollar Tree Fridge Organization!
Another quick video from Kathryn – with refrigerator organizing tips!
Organize The Fridge On The Cheap
Refrigerator organization with Dollar Store bins via The Domestic Geek Blog
Dollar Store Hacks: Bathroom
Fabulous money saving dollar store Pottery Barn dupe via Jay Munee DIY – for $11!
Spice Rack Storage
Repurpose a dollar store spice rack & mount it with command strips like this idea from i heart organizing
Bathroom Cabinet Organization
How many times has your morning been derailed by disorganization? I love this idea from Offbeat Home & Life that puts all the essentials in one convenient place!
Hanging Basket Storage
I love this space saving idea via Be Different Act Normal – you can do something similar by grabbing a few dollar store baskets (ignore the color – you can fix that with spray paint:) – If you're looking for nail-free options- use Command Hooks (make sure the basket weave is loose enough to fit a hook through it) or depending on the weight of the baskets + towels – you can use Command strip – these hold up to 16 pounds!
Genius space saving idea! Buy a couple of baskets & use command strips to hang!
Dollar Tree Basket Makeover
Give a wire dollar store basket an industrial style makeover
Fabulous bathroom drawer inspiration via Organization & Relocation!
How can YOU do it on a budget?
You can buy a set of blocks & arrange them according to your drawers…
Like these clear plastic containers – available in 8 sizes
Or these with stackable options to use every last bit of space
DIY Bathroom Drawer Dollar Store Hack
Inspiration from LZ Cathcart's Dollar Store Bathroom makeover
More Makeup Storage
Jen's dollar store drawer overhaul was $6
Or use a silverware tray from the dollar store!
Glam Dollar Store Vase
Use a dollar store vase + a bag of floral stones to keep your brushes organized & pretty – via Ayse Styles
3-Tiered Tray
Or use a DIY 3-tiered tray as seen on Picklee I'm slightly obsessed with the 3-tiered trays on Pinterest – I've been trying to create one with old trays & glass candlesticks – the key is using something sturdy between the trays for balance- this idea using cans is beyond brilliant!
Psst: You can spray paint the cans or cover them with fabric if you're feeling crafty!
Over The Door Hack
Organize all of your makeup & brushes in one easy to grab it space – the back of the door! I found this best-selling 2-pack on Amazon – one for the kitchen & one for the bathroom!
OR – use it to organize brushes & hairspray – via Cosmopolitan
Farmhouse Chic Mason Jars
Chalk painted mason jars are super cute & easy to DIY following this step-by-step project via Mason Jar Crafts
And More Mason Jars
Speaking of mason jars – check out this space saving idea!
Small Space Shower Solution
Grab a couple Command Strips & a few Dollar Tree baskets & organize shower supplies – find more on Homemade Ginger!
Seriously Easy Dollar Store Shower Hack
Or try this dollar store hack for under $2 via Dollar Store Crafts
Dollar Store Drawer Idea with Cute Gold Labels
Take a look at all the fabulous ideas from this master bathroom cabinet project – with cute labels!
DIY Apothecary Jars
Apothecary Jars work in every room – for pretty much whatever you need to store – or decorate.
Just for fun – & – because I am also a bit obsessed with this style – I shopped around for these & I found a 3-piece set on Amazon for under $40 – on Pottery Barn they start at around $34 each – so in case you're wondering – this hack from The Steen Style is your best bet on a budget:)
Ponytails – Hacked!
This post will make you rethink dollar store binder rings – & – help you save a ton of time finding a hair tie!
Dollar Store Hacks: Closet
Hang necklaces with Command hooks &/or glam up your closet with a painted thrift store mirror as seen on View Along The Way
Closet Makeover A La Dollar Tree
See the $20 Dollar Tree closet makeover on Homemade Ginger
Custom Closet Inspiration
The customized closet makeover on Polished Habitat is a must-see – even if only for inspiration – you can make it happen for less with acrilyic dividers & floating shelves.
Shower Curtain Dollar Store Hacks
One of the easiest & cheapest dollar store hacks ever – keep up with scarves, belts, jewelry – if you can hang it – you can organize it with this idea via From The Desk
Kids Closet Overhaul
Get your kids clothes organized – at least for a minute or two – with these dollar store hacks from So Much Better With Age
Dollar Store Hacks: Laundry Room
Small Laundry Room Dollar Store Hacks
Hey Tonya's small space Dollar Tree laundry room ideas will inspire you to run to the dollar store ASAP:)
Linen Closet Organization
Clean, chic, simple & budget-friendly! See the makeover on Dear Lillie Studio
Laundry Sorting Dollar Store Hacks
Sort it out with this dollar store hack from Woman By Design
A most inspiring use of dollar store bins in the laundry room – via Garrison Street Studio
Dollar Store Bin Makeover
Industrial style – with labels via The Kim Six Fix
Dollar Store Bin Re-Do
Give a dollar store bin a makeover – see how to do it on Polished Habitat
The Easy Way Organize Your Brooms (& Mops)
Hang your mop, broom, Swiffer – whatever you prefer – for $1! See the dollar store transformation on Yellow Bliss Road
Other Awesome Dollar Store Hacks
Cords!
Cords are the worst offenders in your drawers & cabinets! Keep all of them + your phone chargers & more organized with this clever dollar store hack from blue i style
Garage Organization Hack
Organize kids toys – in the garage – with this dollar store hack via i heart organizing
For The Crafty Ladies
A DIY craft room with a bright & cheerful color scheme & of course, a few dollar store hacks via 36th Avenue
Ending with another Seriously, That's From The Dollar Store??? – style hack via Little House of Four. Can you believe these industrial style farmhouse drawers started out as plastic storage drawers?
Dollar Store Hacks: Back To School
From morning routines to command centers, homework stations, lunch hacks and more – these organization tips, checklists, and free printables will make getting prepared to go back to school easy!
Turn A Remote Control Organizer Into A Kids Car Caddy
Or Use A Toiletries Organizer
Use An Art Caddy To Organize Supplies
Another fabulous portable organization idea for supplies that can be taken on the go – in case someone forgets to do their homework!
Get Back Into The Routine
The first rule of re-establishing a morning routine: start a week or two before school starts! This will help you & your kids get out of the habit of staying up late & getting up early. Laura from Sunny Day Family created a Kid's Routine Free Printable that's incredibly helpful.
The idea of labeling outfits by day via Shelterness is a great morning time saver!
Learn how to make days of the week clothing dividers with unfinished door hangers, chipboard letters & chalkboard paint with this how-to from Uncommon Designs
Create A Lunch Box Station With Command Hooks
Command hooks make fab organizers – cleverly disguised on pantry doors via hi Sugarplum
Hanging Snacks With An Over The Door Shoe Organizer Is An Idea I Wish I Had Thought Of Via Mom Always Finds Out
Save space & keep up with ALL the school supplies on the cheap via A Bowl Full of Lemons
Use Dollar Store Fishbowls For Snacks
Put school snacks in a $1 fishbowl to make them easy for kids to grab on the go. In other words – so you don't have to do it:)
Organize With Dollar Store Drawers
Organize crayons, colored pencils, paper clips & more in plastic boxes & drawers finished with chalkboard spray paint like this idea on The House of Smiths
Keep Up With School Paperwork
End the war on school paperwork with this clever idea via I Heart Planners. Because we both know you'll miss fun sock day or be THAT Mom who is late turning in paperwork if you don't take action!:)
Get A Head Start On The Holidays & Get Parent Of The Year
Get the 411 on your child's teachers favorite things (& some super cool teacher's gift ideas) with this free printable available here
Take Command – 15 Family Command Centers To Help You Organize Like A Pro
If there is a time and a place for everything, the time to finally get organized is now. No more excuses! A family command center is a perfect place to start – take a look at the 15 most inspiring ideas ever.
Are you still looking?
Perhaps procrastinating a little?
Just do it! You will feel so much better if you take one step towards organizing today.
Hopefully, these dollar store hacks have been enough inspiration to point you in the right direction!
Don't Miss These Tips & Tricks!
Don't Forget To Save These Ideas! (Or Share Them:)