If you're looking for a weight loss strategy that will give you serious results, you can count on a low carb diet meal plan. Low carb diets are especially effective for women, even when other programs have failed.
But sometimes creating a low carb menu can be tricky, especially if you're a beginner.
Since most low carb plans recommend a range of 50-150 carbs per day, the following low carb recipes for breakfast, lunch, and dinner will help you create a low carb meal plan to help you lose weight fast and improve your overall health.
This post may contain affiliate links that help keep this content free. [Full Disclosure]
For decades studies have shown low carb diets are effective healthy, budget-friendly ways of losing weight and improving overall health.
Today, I'm going to share a little low carb 101 with you, and then we'll move on to the best and easiest low carb recipes. In case you're wondering who I am or why I'm so enthusiastic about the low carb lifestyle, I'll give you a little Heather 101 too.
Just over seven years ago, I was around 145 pounds OVER weight, miserable, and depressed. I started a low carb diet as a last-ditch effort to get myself off the couch and back into my children's lives.
Well, it worked, and it worked fast enough for me to gain enough confidence to start (slowly) exercising and (slowly) reclaiming myself.
You can read more about that here if you'd like.
How Many Carbs Should You Eat In A Day To Lose Weight On Low Carb Diet?
That's a fabulous question that doesn't have a one-size-fits-all answer. You see, there are several different varieties of low carb diets, and they all come with a different set of guidelines.
A standard low carb diet cuts carbs back to 50-100 grams per day.
More moderate low carb eating plans allow for more carbs per day (100-150 grams), these are usually for more the more active and lean after they have experienced weight loss.
Strict low carb diets like the ketogenic diet (keto) require keeping carbs under 20 grams.
If you're a beginner, it's best to check with your doctor before taking on any new diet-especially if you have health issues.
Why Low Carb Diets Work
Less Hunger
Low carb diets have appetite-suppressing effects meaning you won't feel hungry all the time on a low carb diet. If you've ever experienced the, I just started my diet & now I'm starving effect you'll appreciate this benefit! Source
Another fab feature? Low carb diets decrease cravings for carb-heavy foods like pasta and sugary treats-especially in women.
Better Heart Health
Heart disease is the leading cause of death in women. Low-carb diets help improve lipid (cholesterol) profiles by increasing the HDL or "good cholesterol" and decreasing triglycerides, which are a known risk factor for cardiovascular disease.
Migraine Relief
If you suffer from headaches, as I did-before I started the keto diet-then you'll be pleased to know that low carb diets like the ketogenic diet reduce the occurrence of chronic migraines.
How is this possible?
When you're on the keto diet, your body uses ketones as fuel instead of glucose. Ketones are water-soluble and less demanding and inflammatory than glucose.
Increased Weight Loss
Low carb dieters lose weight faster. Up to 2-3 times more weight loss, to be exact. In the first two weeks of a low carb diet, you can expect to lose a significant amount of weight.
Skeptics love to point out this initial weight loss is water weight – my guess is these folks have never been bloated:)
What Can You Eat On A Low Carb Diet?
While every low carb diet has its own set of rules, these are a few traditional low carb diet staples.
Protein
Chicken
Beef
Turkey
Pork
Fish
Eggs
Vegetables [Non-Starchy, Green Leafy Veggies are the Best]
Broccoli
Brussels Sprouts
Cauliflower
Cabbage
Cucumbers
Lettuce
Mushrooms
Peppers
Spinach
Tomatoes
Zucchini
Healthy Fats
Butter
Coconut Oil
Olive Oil
Ghee
MCT Oil
Dairy (Always Use Full-Fat Versions)
Real Butter
Sour Cream
Heavy Cream
Cheese
Nuts & Seeds
Foods to Avoid On A Low Carb Diet
Sugar & Sweets
Sugar
Fruit juice
Candy
Pastries
Cakes
Cereal
Starches
Pasta
Rice
Bread
Potatoes
Beans
Starchy Vegetables
Beets
Parsnips
Potatoes
Peas
Sweet Corn
Winter Squash
Need A Shopping List?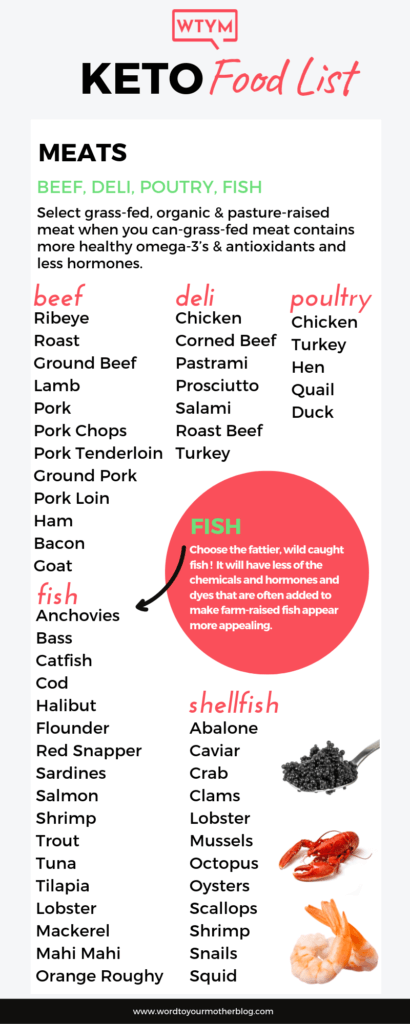 Grab your copy of the shopping list, and get the 411 on all of the best low carb foods, swaps, and more here
If all of this sounds do-able and you're ready to start losing weight yesterday, you've got options.
Option One: Order my book, Rebel Keto: The Totally Awesome Girl's Guide To Losing Weight, Breaking the Rules & Having A Life Outside the Kitchen with 110 Low Carb Recipes.
Option Two: Hire me as your Health Coach. I'm serious. This is your life and your health determines how long you have it. You can find out more about my health coaching services here.
Or – choose from the recipes I have selected for breakfast, lunch, and dinner for you.
Below you'll find healthy, low carb recipes organized by meal. Click on the image or the link to see the full recipe!
Enjoy!
Breakfast
Easy Baked Eggs
Meal prep these low carb, high protein egg muffins in less than 15 minutes & you'll have breakfast for an entire week! Get the recipe on Word To Your Mother Blog
Low Carb Burritos
"…as close to low-carb breakfast heaven as you can get." Amen to that! Get the recipe on Living Chirpy
Chaffles (AKA: Low Carb Waffles)
A chaffle is the easiest 2-ingredient breakfast to make and customize on a low carb diet! Get the details on the basic recipe, plus 6 ways to make it more interesting here
Easy Breakfast Muffins with Sausage
The perfect low carb, high protein breakfast recipe-with under 2 net carbs per muffin! Get the recipe here!
Blueberry Muffins
Sub almond flour for all-purpose to make these low carb blueberry muffins with only 3.3 grams of carbs each! Grab the recipe here
Chia Pudding
Start your day low-carb style with a refreshing & fruity breakfast with benefits! Get the details on how to make this healthy breakfast here
Avocado Baked Eggs
An easy breakfast (or snack) packed with heart-healthy fats, fiber and protein that will keep you full for hours! Get the recipe here
Veggie Frittata
A very healthy spin on a classic egg breakfast with less than 10 grams of carbs per serving. Get the recipe on Two Purple Figs
Sausage & Egg Casserole
Make life and busy mornings easier with this low carb breakfast recipe made in the slow cooker. (Only 5 grams of carbs) Get the recipe on All Day I Dream About Food
Cauliflower Hash Brown Egg Cups
A most delightful & delicious low carb breakfast with less than 1 carb per serving. Get the details on Cafe Delites
Everything Bagels
Sounds too good to be true, but this Starbucks Chonga Bagel copycat recipe is most definitely real & low carb with only 6 grams of net carbs! Find the recipe on Peace, Love and Low Carb
Cream Cheese Pancakes
Easy low carb breakfast that you can make ahead & freeze or put together in minutes! Get the recipe here
Bacon Frittata
Packed with healthy fats & filling protein these hunger busters make a fabulous low carb breakfast or mid-morning snack! Get the recipe on Ruled.Me
Egg Muffins
Make these easy low carb, high protein egg muffins ahead or put them together in 10 minutes on busy mornings. Details on Word To Your Mother Blog
Lunch
Cobb Salad
Here's an easy and versatile salad that's anything but boring-with less than 2 net carbs per serving! Find the recipe on That's Low Carb?!
Chicken Enchilada Bowl
This low carb twist on a Mexican favorite is not just easy to make-it's incredibly delicious with only 6 net carbs per serving! See it now on Hey Keto Mama
Cauliflower Pizza
Yes, you can eat pizza & lose weight! Just swap out the carb filled crust with this healthy version from One Little Project
Garlic Chicken Wraps
This healthy, low carb lunch idea is packed with veggies & perfect for meal prep! Get the recipe on The Girl on Bloor
Tuna Stuffed Tomatoes
A low carb tuna melt without the bun-or the carbs! Only 2.5 net carbs in these gems! Get the recipe on Beauty and the Foodie
Taco Salad
Loaded with Southwestern flavor, this low carb lunch is easy to prep & is ready to eat in less than 30 minutes! Grab the recipe on Salt & Lavender
Mason Jar Zucchini Lasagna
Packed with protein these perfectly portable mason jar lasagnas make it easy to stay low carb during your lunch break! Only 10 net carbs per serving! Get the recipe on Food Faith Fitness
Shrimp & Cauliflower Salad
Try combining healthy cauliflower with shrimp to make an ordinary salad extraordinary! Only 5 net carbs! Get the recipe on I Breathe I'm Hungry
Italian Beef Roll Up
You won't miss the bread or the prep work! Only 3 grams of carbs! From Organize Yourself Skinny
Avocado Tuna Salad
You'll love this low carb version even more than the original! Get the recipe on The Honour System
Pizza Muffin In A Mug
Need a low carb lunch-ASAP? Try this fabulous recipe that manages to mingle all of the savory flavors of pizza into a 2 minute microwavable muffin! Get the recipe on My Montana Kitchen
Healthy Homemade Tortillas
You may be surprised at how easy it is to make healthy, gluten-free tortillas with almond flour and coconut flour! These tortillas are grain free with 2.8 net carbs each.
Dinner
Flank Steak With Chimichurri
Prepare to become a flank steak fan. Get this low carb dinner recipe on How Sweet Eats
One Pan Chicken Thighs with Mozzarella
An easy low carb one-skillet style dinner that you can make in 40 minutes with 1.9 net carbs per serving. Get the recipe on Word To Your Mother Blog
"Crack" Chicken
You can slow cook this cream cheese, cheddar and bacon ranch shredded crack chicken in the crockpot, or bake it in the oven and make low carb crack chicken – perfect for meal prep. Get the recipe right here.
Skinny Eggplant Rollatini
Sliced eggplants stuffed with spinach & cheese rolled up to create a guilt-free, low carb dinner with only 8 grams of carbs per serving! Get the recipe on Not Enough Cinnamon
Slow Cooker Balsamic Chicken
An easy, low carb chicken dinner with chicken, balsamic vinegar, garlic, broth, and a couple of spices with 3.5 net carbs per serving. Get the recipe on Word To Your Mother Blog
Buffalo Chicken Meatballs
Low-carb doesn't mean low flavor & this recipe proves it with only 2 net carbs! Grab the recipe on Buns in My Oven
Beef & Broccoli
Skip the sugar and the carbs the next time your cravings for Chinese stir fry kick in and make this crazy delicious and super simple Keto Beef and Broccoli stir-fry dinner. Seriously, this dinner couldn't be easier and is a way healthier alternative to takeout that's low carb, gluten-free, paleo and Whole30 approved.
Garlic Butter Salmon
Bring on the healthy omega-3's with this amazing salmon baked in foil! See the recipe on LittleSpiceJar
Mississippi Pot Roast
The Original Mississippi Pot Roast recipe that makes a fabulous slow cooker dinner with less than one carb!
Crockpot Chicken Taco Soup
This soup recipe covers all the bases: family and freezer-friendly, low carb (6 net carbs per serving) it's easy to throw and go – or set it and forget it in the crockpot, and it tastes way better than it looks in the picture:)
Crustless Pizza
Let's be real. Everybody wants pizza on the weekends. It's facts. This low carb recipe has you covered with only 2 carbs & a 10 minute prep time. Get the recipe on 730 Sage Street
Shrimp & Grits
The ultimate comfort food – without the carbs! Loaded cauliflower rice subs in for the grits in this fabulous dinner recipe – that you can get right here
Buttered Cod
Seriously, this one skillet recipe is a total game changer! Healthy & ready to go in 10 minutes with no carbs! Get the recipe on Valentina's Corner
Jalapeno Shrimp Bake
This may be the ultimate low carb comfort food casserole! Dinner in under an hour? Yes, please! Get all the details on Cotter Crunch
Cauliflower Pot Pies
Looking for a little comfort food? These pot pies will not disappoint! Grab the details on It's Cheatday Everyday
Easy Ground Beef Casserole
An easy low carb miracle dinner (with 3.6 net carbs per serving) that's 100% family-friendly, ready in 30 minutes, and tastes like everything you ever wanted in a bacon cheeseburger. Get the recipe on Word To Your Mother Blog
Tuscan Garlic Chicken
This easy crockpot Tuscan Garlic chicken recipe makes a delicious low-carb dinner the family will love. Bonus: There is only 15 minutes of prep work for this healthy, low-carb chicken recipe! Get the details here.
Lemon Garlic Chicken
Need an easy, healthy crockpot chicken recipe for dinner tonight? Check out this slow cooker lemon garlic chicken that you can cook in your crockpot, Instant Pot or oven! Get the details here!
Caprese Hasselback Chicken
This quick & easy low carb recipe is a lifesaver on busy weeknights: you can have dinner served within 30 minutes! Get the recipe on Low Carb Maven
Crockpot Shredded Chicken Chili
Healthy chicken, creamy cheese, and a hint of spice combine to create a low carb slow-cooking chili that's a dinner favorite!
Broccoli Cheese Soup
Here's a 5-ingredient low carb comfort food you can have on the dinner table in less than 30 minutes with only 4 net carbs per serving! Get the recipe on Wholesome Yum
Low Carb Snacks
Peanut Butter Protein Balls
Keep these no-bake protein balls on hand in case of a snack attack! Get the recipe on Word To Your Mother Blog
Blueberry Smoothie
For an amazing snack-breakfast-or even a dessert! This blueberry vanilla smoothie will give you energy and curb cravings with only 3 carbs! Get the recipe on Fat For Weight Loss
5 Ways To Make Cream Cheese Fat Bombs
These Cream Cheese Fat Bombs may be the easiest low carb dessert of all time – with less than 1 carb each. Plus – 4 variations of fat bombs with cream cheese – one with Macadamia nuts, one with Strawberries, one with Blueberries, and of course, one with chocolate:) Get the 411 on these cream cheese fat bombs here.
Chocolate Peanut Butter Fat Bombs
If you love chocolate and peanut butter candy this easy fat bomb recipe is what you need to kick your cravings to the curb – dairy-free:) Natural peanut butter + coconut oil + cocoa powder + stevia. Get the full recipe here
Chocolate Chip Cookie Dough Fat Bombs
Cream cheese, peanut butter, butter, and sugar-free chocolate chips create the ultimate keto sweet treat! Get the details here
Shortbread Cookies with Almond Flour
I am obsessed with this shortbread cookies recipe. It's easy, low carb, gluten-free, and it tastes like legit old school classic buttery shortbread.
Need a few more details or recipes before you make a commitment?
I get it:) Here are some of my favorite books with resources and recipes.
Easy Keto in 30 Minutes: More than 100 Ketogenic Recipes from Around the World
My friend, Urvashi Pitre, author of the best-selling The Keto Instant Pot Cookbook, who lost an incredible 80 pounds following a low-carb, keto diet just released this amazing low carb cookbook with over 100 easy dinners. (So far, the skillet lasagna is my favorite:)
I know that was a lot of information and quite a few recipes, but the way I see it – if you're starting a new eating plan, I'm not crazy about the word "diet" you need variety!
If you need more info or recipes – take a look around my site – and sign up here to get updates every time I publish a post! (No B.S. Guaranteed:)
Don't Miss These Tips, Recipes & Meal Plans
Save these low carb recipes so you can find them later!
Today's Quote: "A great attitude becomes a great day which becomes a great month which becomes a great year which becomes a great life."