Keto Crockpot White Shredded Chicken Chili is keto comfort food at it's finest! Healthy chicken, creamy cheese, and a hint of spice combine to create a low carb slow-cooking chili that is sure to become a favorite.
This post may contain affiliate links that help keep this content free. [Full Disclosure]
I may have found the perfect match. A creamy shredded chicken chili recipe that cooks to perfection in the crockpot! Inspired by The Cookie Rookie's fabulous recipe for White Chicken Chili I created this combination – omitting the off-limit keto ingredients (beans) and adding a little more healthy fat. The result? Slow cooker perfection at 5.5 net carbs per serving!
Why Beware of Beans?
Yeah, I know I'm setting myself up for the perfect joke here, but all kidding aside – beans are not keto-friendly. Most traditional chicken chili recipes contain Northern Beans, and while they are an excellent source of fiber, they weigh in at 24.9 Net Carbs per cup. That's way too many for anyone trying to reach or maintain ketosis!
In case I've got you curious about other types beans, here's a little Bean 411:
Black Beans – 26 Net Carbs per Cup
Pinto Beans – 30 Net Carbs per Cup
Kidney Beans – 27 Net Carbs per Cup
The good news is that you won't miss the beans in this keto crockpot white shredded chicken chili! Here's the low down on the macros per serving:
Total Fat – 16.4 – Protein – 23.3 – Net Carbs – 5.5
More Must-Have Keto Dinner Recipes
If you like this crockpot chicken chili, then you need to check out these easy dinner recipes!
Keto Crockpot Crack Chicken – Slow cooker cream cheese shredded chicken dinner recipe that is addictively awesome!
Mississippi Pot Roast – Another slow cooker dinner that's easy and low carb!
Crockpot Carnitas (Mexican Style Pulled Pork) – You can make this dinner in the crockpot or the oven – perfect meal prep day recipe!
Need More Easy Keto Recipes?
I get it! I've lost over 90 pounds on the keto diet and maintained that weight loss for six years – these meal plans and cookbooks helped me a TON.
Check out the Keto In Five e-cookbooks! These Are Not your Grandmother's Cookbooks -You can download them to any device!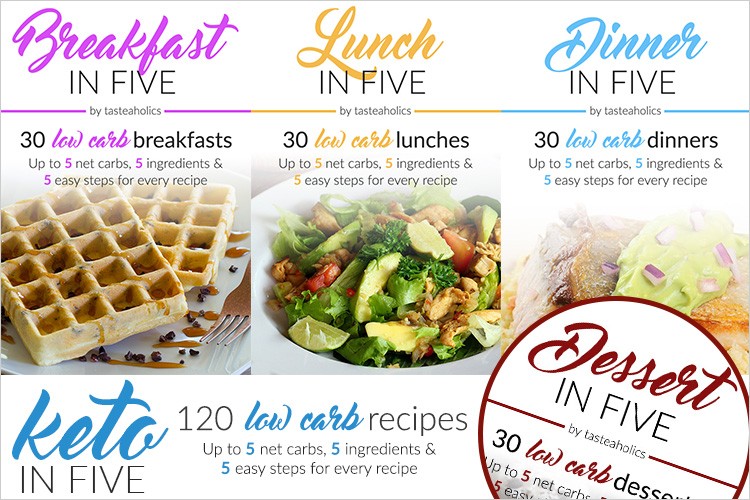 Each collection offers 30 breakfasts, 30 lunches, 30 dinners & 30 desserts with only 5 ingredients & 5 net carbs! They provide all the macro info for you – which makes life so much easier!
Print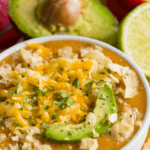 Keto Crockpot White Shredded Chicken Chili-Easy Low Carb Slow Cooking Dinner
---
Author:

Prep Time:

10 Minutes

Cook Time:

6 Hours

Total Time:

6 Hours + 10 Minutes

Yield:

10

1

x
Description
Keto Crockpot White Shredded Chicken Chili is keto comfort food at it's best from the crockpot! Healthy chicken, creamy cheese, and a hint of spice combine to create a low carb slow-cooking chili that is sure to become a favorite.
---
---
Instructions
Heat olive oil, lime, and garlic on medium heat in a non-stick skillet and saute onions for 2-3 minutes until clear.
Set Aside.
Add chicken, broth, green chiles & all dry seasonings to your crockpot.
Add in onions & garlic.
Set the crockpot for 6 hours on low. Or 4 on high.
Walk away & move on with your life for the next few hours.
After 4-6 hours it's time to return to the kitchen to shred the chicken. All you have to do is stir it with a fork inside the crockpot. No need for any extra dishes or work! That's it. Chicken shredded.
Last Step-You're almost done! Add cream cheese followed by heavy cream & cook for another 45 minutes-1 hour.
---
Notes
Cayenne Pepper-Optional-My kids find it too spicy. If you're not into spice you may want to skip it! Toppings: Top with Full Fat Sour Cream Shredded Cheese Avocado Serve with Tortilla Chips (for members of the family who don't follow the keto diet!)
Category:

Dinner

Method:

Crockpot-Slow Cooker

Cuisine:

Keto Low Carb
Keywords: Keto, Low Carb, Crockpot, Slow Cooker, Easy Dinner
Stock Your Keto Pantry!
Get the go-to keto pantry staples, meal plans and exclusive Word To Your Mother reader discounts on my Shop Page here. Need a shopping list? Click here!
And for more than 500 Low Carb Keto Meal ideas and easy recipes, check out my Keto Recipes Index!
Don't Miss These Keto Recipes
Pin this Keto Crockpot White Shredded Chicken Chili Recipe!
And for more keto recipes follow my board on Pinterest!
About Heather
First, thanks for sticking with me – I started this blog to help people like you take control of their health – achieve their fitness goals – lose weight – and gain the confidence they need to go out and live life to the fullest. (Because that's what losing 90 pounds on the keto diet did for me:) If you need help, please reach out. In addition to blogging full-time, I'm a Health Coach, and I'm a mom of three awesome kids – 2 girls & one precious son who happens to have autism.
I'm continually seeking balance to do all of the things – and I'd love to help you do the same.
You Can Find Me On Facebook.
I'm also on Pinterest.
And YouTube.
One day I may participate regularly on Instagram, who knows:)
–Heather