There's no substitute for a healthy bowl of soup when you're feeling drained and down. Immunity boosting soup recipes can work miracles when it comes to stopping a cold. These immunity building soup recipes are full of vitamins and nutrients that will get you back on your feet again and even prevent you from getting sick in the first place!
This post may contain affiliate links that help keep this content free. [Full Disclosure]
A robust immune system keeps your body healthy and protects you from viruses, germs, and chronic illness. Thankfully, there are ways to keep your immune system healthy, like making sleep a priority, exercising regularly, eating a diet rich with fruits and vegetables, minimizing stress, and maintaining healthy habits like washing your hands.
But sometimes, despite your best efforts, life happens and you end up getting a cold, or worse the flu. If you're finding yourself or your family in one of those life-happened moments, try one of these healthy, immunity-boosting soup recipes.
They may not be a cure-all, but they will help supply your body with vitamins and minerals; you need to feel better fast.
12 Immunity Boosting Soups
Filled with antioxidants and nutrients, this delicious chicken soup also happens to be easy to prepare. Celery, carrots, mushrooms, chickpeas, and kale combined with the convenience of a rotisserie chicken seasoned with turmeric, sea salt, bay leaves, and red pepper. Yummy and healthy! Get the recipe on Eat Yourself Skinny
This immunity-boosting turmeric soup has kale, carrots, zucchini, onion, and chicken stock with lentils and quick cook Farro! Try this recipe if you've been feeling run down or tired! Get the details on Life Is But A Dish
Slow Cooker Moroccan Sweet Potato Soup
This healthy vegetarian detox soup combines turmeric, cinnamon, and spice with flavorful sweet potatoes to create a fabulous feel-better-fast soup that slow cooks to perfection.
This plant-based Asian soup recipe will relieve cold symptoms & requires very little prep! Get the recipe on The Kitchen Girl
The beta-carotene, vitamin A, and vitamin C content is high in orange veggies like carrots and sweet potatoes. This soup is loaded with these nutrients to help you fight off a cold in the most delicious and comforting way! Get the recipe on Choosing Chia
Here's a dairy and gluten free soup that's both healthy and easy. The warming spices of turmeric, curry, and cumin add flavor while velvety coconut milk brings the creamy taste and texture that creates a hearty and filling soup. Get the recipe on The Honour System
Healthy, warm, and delightfully vegan Ginger Bok Choy Soup will boost your immune system and give you a healthy amount of protein! Get the recipe on Veg Annie
Lentils paired with healthy carrots, broccoli, kale, and cabbage seasoned with ginger, garlic, cayenne, soy sauce, and bit of apple cider vinegar. Get the recipe on Half Baked Harvest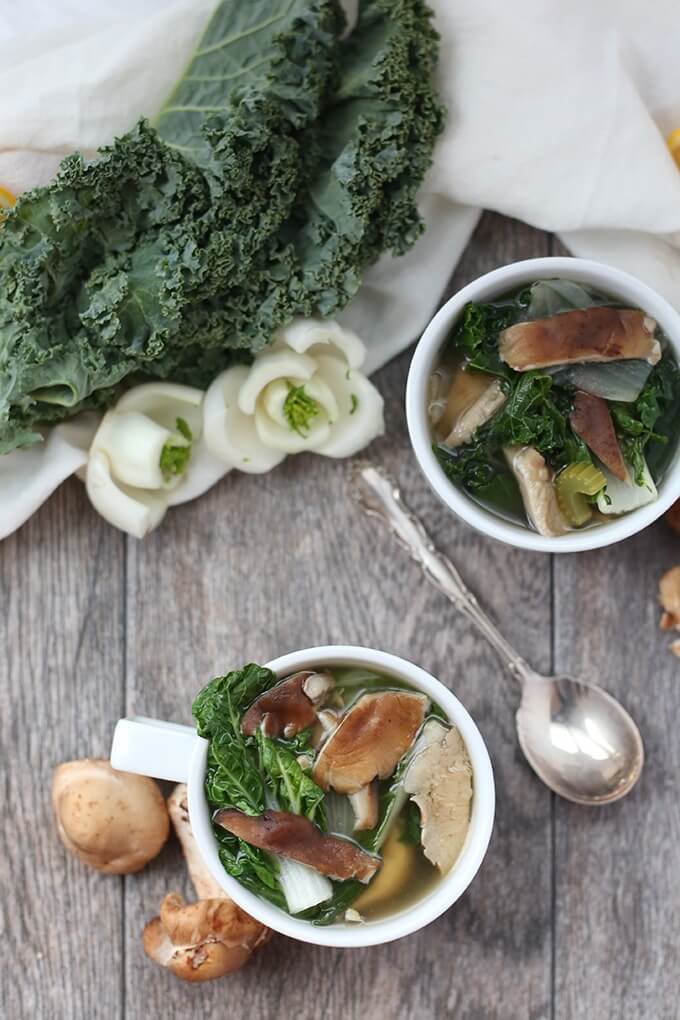 This vegetarian health building soup recipe is full of vitamins and minerals from ingredients like turmeric, kale and bok choy combined in a delicious mushroom broth. Get the recipe on The Healthy Maven
Chicken stock, lemon juice, broccoli, spinach, garlic, ginger, turmeric, cayenne, wasabi, pumpkin seeds, and yogurt make up this powerful Green Goddess Soup that takes immune-boosting to the next level! Get the recipe on The View From Great Island
So much better than takeout and only 17 minutes to prepare! This Spicy Thai Red Curry Soup will clear your sinuses and boost overall health! Get the recipe on Marla Meridith
From Dr. Oz this healthy chicken stock based soup is full of immune boosting ingredients like ginger, garlic, lemon, tofu, carrots, and shiitakes. Get the recipe on Dr. Oz
This easy soup is packed with healthy immune boosting ingredients as well as fiber and healthy fats. Get the delicious recipe on Liz Moody
More Healthy Recipes & Tips You'll Love
If you enjoyed this collection of Immunity-Boosting soup recipes, please share them on Pinterest!
Stay healthy & have a fabulous day!