These keto cookies are no joke – 100% legit, fabulously easy keto dessert recipes – bake & no-bake – almond &/or coconut flour in all kinds of delicious combinations of chocolate chips, peanut butter, peanut butter-chocolate & cream cheese. Low carb treats that are Slap Ya Mama good!
For the record, I have never slapped my mom. But I have enjoyed cookies over the past six years on the keto diet & I can tell you these are the recipes you need if you're an I need a dessert now kind of person:)
This post may contain affiliate links that help keep this content free. [Full Disclosure]
But before we get started I feel like we need to run down a few facts about baking or no-baking cookies, cakes, muffins & what have you on a low carb diet.
The 411 On Baking Keto Cookies
Low carb baking is slightly totally different from traditional Betty Crocker baking. All-Purpose Flour & sugar are OUT – almond flour, coconut flour, (sometimes) psyllium husk & sugar substitutes are IN.
Almond Flour – Is super popular & very versatile flour swap that works well in cookies, cakes & bread recipes. Blanched Almond Flour is what you want to use. If you're shopping in your PJ's – Anthony's Blanched is a good one & it's available on Amazon:)
Coconut Flour – Coconut Flour also works well in keto baking recipes like muffins & cookies. And of course, if you have a nut allergy coconut flour is the obvious way to go. It's also a little cheaper than almond flour, but many people find it a challenge to work with because it soaks up liquid like a sponge. I'm not here to weigh-in on the almond flour vs. coconut flour debate – I like both – & if you're looking for a good coconut flour – I recommend this one – also available on Amazon:)
Sugar Swaps
Erythritol – Erythritol has zero effect on blood sugar & it's easy on the stomach. It's probably the best for baking keto cookies – especially crispy ones. Be warned it does take a few hours so your cookies may be crispier the next day. Here's a good powdered version & here's a good granular sugar sub.
Swerve – Swerve is another popular choice for baking. It is a combination of erythritol and oligosaccharides (plus a few natural flavors). With no calories and zero impact on blood sugar levels, Swerve is a fabulous choice for baking keto cookies. *Here is a bakers bundle I found on Amazon with both the granular version & the confectioners version for less than $15:)
Monk Fruit – You'll also see Monk Fruit listed as a common ingredient – Monk Fruit is an all natural sugar swap (as well as an antioxidant) But be warned: it can be up to 400X as sweet as sugar! Here's a good one you can buy now on Amazon
Ok, lesson over. Ready to get to the keto cookies? Thought so!
P.S. I'm trying something new & listing the macros beneath each recipe. I hope it's helpful to know on the front end:)
P.S.S. Don't leave before you check out all of the fabulous keto desserts on this site – including my chocolate chip cookie dough fat bombs!:))
Peanut Butter
Almost too good to be true – 3-ingredient peanut butter cookies via Tastaholics – ready in 10 minutes!
105 Calories
9g of Fat
4g of Protein
2g of Net Carbs
Chocolate Chip
One-bowl chocolate chip cookies from Word To Your Mother Blog – ready in 22 minutes.
94 Calories
6.9g of Fat
1.5g of Protein
3.4g of Net Carbs
Flour Free Keto Cookies
Amazing double chocolate chip cookie recipe from Peace, Love and Low Carb that's chewy, chocolate-y & delicious!
115 Calories
10g of Fat
4g of Protein
1.4 Net Carbs
Shortbread Cookies
Cream cheese shortbread cookies that come together in 20 minutes from start to finish from Word To Your Mother Blog
91 Calories
5.6g of Fat
1.5g of Protein
2.3g of Net Carbs
No-Bake Cookies
My chocolate peanut butter no bake keto cookie recipe is super simple and delicious
151 Calories
7.4 Grams Saturated Fat
4.1 Grams Protein
3 Net Carbs
No Bake Cookie Dough Bars
No-guilt cookie dough bars that are ready in 20 minutes – no oven required! Via Sweet As Honey
198 Calories
16.5g of Fat
7.2g of Protein
6 Net Carbs
Lemon Cookies
This 5-ingredient keto cookie recipe from The Keto Diet Blog is fabulous with lemon zest – but equally as delicious with cinnamon or pumpkin spice!
162 Calories
15.2g of Fat
3.6g of Protein
2.4 Net Carbs
Snowballs
A fabulous keto cookie for a crowd – or a Saturday night at home via Tastaholics!
115 Calories
7.5g of Fat
2.5g of Protein
4 Net Carbs
Pecan Sandies
Perfect for the holidays – or any day you're feeling like a shortbread cookie recipe courtesy of Keto Connect
55 Calories
5g of Fat
1.3g of Protein
1.6g Net Carbs
Lemon Sugar
Chocolate is usually my go-to, but sometimes a lemon craving sneaks up! If you can relate, meet your new favorite low carb lemon "sugar" cut-out cookie by Carolyn of All Day I Dream About Food via A Sweet Life!
96 Calories
8g of Fat
3g of Protein
2 Net Carbs
Ginger Molasses
Here's a Starbucks dupe from I Hacked Diabetes that will get you through the holidays without cheating on your diet!
156 Calories
14.6g of Fat
3g of Protein
2.9 Net Carbs
Snickerdoodles
A soft center with crispy edges – every time! If you enjoy a buttery-cinnamon treat you'll love this recipe from Butter Together Kitchen!
139.3 Calories
12.6g of Fat
3.6g of Protein
1.8 Net Carbs
Chocolate Brownie Cookies
With or without pecans – these fudgy cookies from Sweet As Honey are amazing – & ready in 22 minutes!
201 Calories
18.8g of Fat
3.8g of Protein
1.3 Net Carbs
Oatmeal
Flaked almonds sub for oats in this recipe from Low Carb Maven that has just the right texture & taste to curb your Oatmeal cookie cravings!
119 Calories
11.3g of Fat
3.2g of Protein
1.14 Net Carbs
Shortbread
Fabulously simple low carb shortbread cookies – perfect for the holidays or any day you need a treat via Hungry for Inspiration
83 Calories
6.1 Grams Fat
5.3 Protein
0.8 Net Carbs
No Bake Sugar Cookie Bars
Soft & chewy with a protein-packed frosting! Even better – this low carb treat from The Big Man's World is ready to enjoy in 30 minutes – no oven necessary!
149 Calories
5g of Fat
10g of Protein
4 Net Carbs
Toasted Almond
Grain-free, buttery keto cookies with a dark chocolate glaze via gnom-gnom
59 Calories
2g of Fat
1g of Protein
1 Net Carb
Coconut Macaroons
Keto – Friendly macaroons – in 25 minutes! Love this one-bowl recipe from Wholesome Yum
135 Calories
11g of Fat
1g of Protein
2 Net Carbs
Crisp Oreo Cookies
Gluten and grain-free cookies via gnom-gnom – ready in 35 minutes!
86 Calories
8 Grams of Fat
1 Gram Protein
1 Net Carb
Chocolate Fudge
Cake-y soft chocolate cookies from Keto Connect – ready in 25 minutes!
132 Calories
11.6g of Fat
4.4g of Protein
2 Net Carbs
Peanut Butter Whoopie Pies
Delicious keto cookies sandwiched with peanut buttercream frosting – low carb & sugar-free via Joy Filled Eats
319 Calories
28g of Fat
7g of Protein
4 Net Carbs
Chocolate Clouds
Chocolate chip meringue cookies – the perfect party food for low carb-ers – via All Day I Dream About Food
36 Calories
2.23g of Fat
1.63g of Protein
1.82 Net Carbs
Need More Legit Almost Too Good To Be True Keto Desserts?
I feel ya! I've lost over 90 pounds on the keto diet & maintained that weight loss for six years (I went from over 200 lbs to right around 135:) – & these meal plans & recipes helped me tremendously!
Shout Out To Tastaholics Weekly Meal Plans & Keto In Five cookbooks!
About the weekly meal plans – Tastaholics will send you pre-calculated, low carb meal plans and recipes right into your inbox – no more hunting down recipes on the internet and trying to fit them together perfectly every day.
They make the keto diet easy – for real. And you can try it totally free.
Or – opt for the Keto In Five – These Are Not your Grandmother's Cookbooks-You Can download Them To Any device!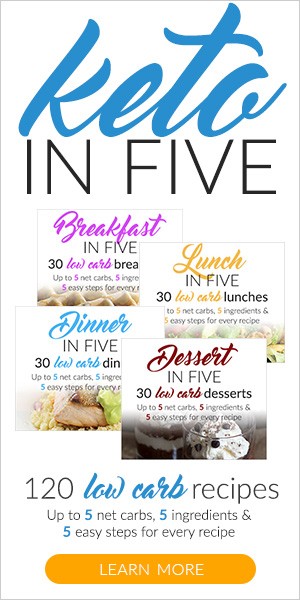 Each collection offers 30 breakfasts, 30 lunches, 30 dinners & 30 desserts with only five ingredients & 5 net carbs! They provide all the macro info for you – which makes life so much easier!
Go ahead & grab one now! You've got nothing to lose, but weight. They offer a 365 Day money-back guarantee, but you won't need it:)
Ok, sales pitch over:)
Don't Miss These Keto Recipes & Tips
Don't Forget To Save (Or Share) These Recipes!