These budget-friendly keto recipes for dinner make sticking to the ketogenic diet & feeding your family dinner on the cheap easy!
Do you struggle to find keto family dinner recipes? Well, If you answer to Mom or Dad, my bet is on yes!! The good news? Your family will love these keto family meals even if they have no idea what a carb is!
This post may contain affiliate links at no additional cost to you. For more information please visit my disclosure page here.
Finding a delicious dinner recipe everyone in the family can agree on is often a challenge impossible. I get it-I'm a Mom of three kids ranging from ages 7-18…I feel your pain!

If you've been searching to find keto family dinner recipes everyone can enjoy I can help! These are the keto family dinner recipes we've been loving at our house & bonus: they're all simple recipes using budget-friendly ingredients!
While I can't guarantee you every member of your crew will fall in love with all of these keto dinner recipes – much like I can't promise world peace, I feel confident you'll find at least a few new keto family dinners to add to your regular rotation. Which is a total win, am I right?
You're already winning with a recipe that mentions anything from the golden arches, but this meal is much more than a name! This easy casserole has all the flavors of its famous namesake with none of the carbs! And it calls for simple & cheap ingredients like ground beef, lettuce, pickles, and cheese! Net Carbs: 5.8 per serving! Get the recipe on Peace, Love And Low Carb
One of the fastest & easiest weeknight recipes from Savory Tooth shows up regularly at our table! We always take the shortcut & use packaged cabbage mix which makes it come together even faster! All that's left to do is brown the ground beef & add the scallions! Find all the details on Savory Tooth
Quick & easy Keto Chicken Parmesan takes under 30 minutes! Chicken breasts crusted in parmesan cheese are pan fried & topped with marina and Mozzarella cheese! With only 4 net carbs per serving! Get the recipe on Low Carb with Jennifer
This creamy shredded chicken chili cooks to perfection in your crockpot or slow cooker! All you need is around 10 minutes & a few essential ingredients like chicken, heavy cream, cream cheese, & onion-along with a few herbs if you have them! The result is a keto family dinner that allows for leftovers! Get the recipe here
Burgers with toppings stuffed inside instead of on top! Think ground beef seasoned with garlic, salt, & pepper full of delicious mushrooms, cheese, and bacon with ranch & BBQ sauce! Get the recipe on Family Fresh Meals
If you're looking for ways to use budget-friendly ground beef (or turkey) OR you want a super easy & delicious chili recipe this one will not disappoint the fam! This easy keto family dinner recipe come together in 15 minutes with only 2 net carbs per serving! Find all the details on I Breathe I'm Hungry
A low carb one-pan meal with a delicious garlic butter sauce that uses budget-friendly chicken thighs that's ready to eat in 25 minutes! Only 6 net carbs & 25 grams of protein! Get the recipe on Sweet C's
An easy keto stir fry meal with beef & broccoli that's ready to serve in 25 minutes! Serve with cauliflower rice. Get the details on The Health Creative
Taco Night Keto Style! This recipe is perfect for a busy weeknight family meal. Ground beef, onions, peppers, jalapeños, avocados, and cilantro create a cheesy Taco Skillet that's ready to eat in 30 minutes! Get the recipe on Cast Iron Keto
Like all the best casserole recipes, this one may be even better the next night-& trust me, your kids will not complain about having leftovers! One of my favorite things about this particular recipe is that you can use frozen broccoli (which is almost always cheaper) & the top layer of crushed pork rinds that adds a homemade style & amazing crunch! Grab the recipe on Tastaholic's
Make it a (low carb) pizza night! This easy recipe only requires 5 ingredients & you can put it together in less than 10 minutes (50 minutes total)-meaning you can have this family meal on the table faster than delivery-for A LOT less carbs & money! Get the recipe on Wholesome Yum
Does it feel more like a chicken night? Take a look at this simple one pan, low carb Garlic Butter Chicken recipe that brings a 5-Star flavor to family dinner using 5 ingredients: chicken breasts, butter, minced garlic, rosemary, and shredded Italian cheese! Get the details on Diethood Low Carb Fried Cabbage with Kielbasa
Fresh veggies, ginger, coconut milk, Greek yogurt, and shrimp create a delicious one pan family dinner in 30 minutes! This recipe contains 8 net carbs-if you want to lower that number you can leave out the snow peas & carrots. Get the details on Plating Pixels
Starting with budget-friendly & easy shredded chicken (you can use a rotisserie chicken if you're punched for time) this easy keto recipe brings the Mexican flavor with a cream cheese-based creamy white sauce with green chiles & Monterey Jack cheese. From start to finish you are looking at 40 minutes total time & only 2.5 net carbs per enchilada! Get the details on Low Carb Maven
Your new family favorite! This Keto Chicken Pizza Casserole captures all the pizza night flavors & leaves the crust behind! And with a quick 10 minute prep time followed by 30 minutes in the oven this is a fabulous busy weeknight meal! Get the recipe on Cast Iron Keto
This family friendly meal is a low carb version of the traditional recipe kids adore. Swapping noodles for cabbage combined with ground beef seasoned with paprika, onion, garlic, salt, pepper, and tomato paste & topped with a delicious cheese sauce this recipe contains only 3.8 net carbs (vs. 26 in the original!) Ready to serve in 45 minutes! Get the recipe on Hey Keto Mama
Chicken breasts, turnips, red bell pepper, buffalo sauce & seasonings create an easy sheet pan dinner everyone will love! Ready in 45 minutes from start to finish with 6.6 net carbs per serving. Get the details on Keto Diet App
No, I'm not kidding-this is a REAL RECIPE that hits the ball out of the park every time! Now this keto comfort food casserole does take a bit of prep time (make stovetop chili & a batch of low carb cheddar biscuit dough) but it is SO worth the effort! Get the details on Peace, Love And Low Carb
Boneless chicken breasts, taco seasoning, red, green, & yellow bell peppers, red onion, olive oil & shredded cheese create a flavorful recipe that's ready in 45 minutes. Get the details on The Pinning Mama
Sweet, salty, crunch & chewy! This quick stir fry covers all the bases & is ready to serve in 18 minutes! Get the recipe on I Breathe I'm Hungry
Everyone loves this quick & easy recipe with 1 net carb that uses only 7 simple ingredients & is ready in 20 minutes! Get the recipe on Wholesome Yum
Need More Easy Keto Recipes? Check out the Keto In Five Cookbooks!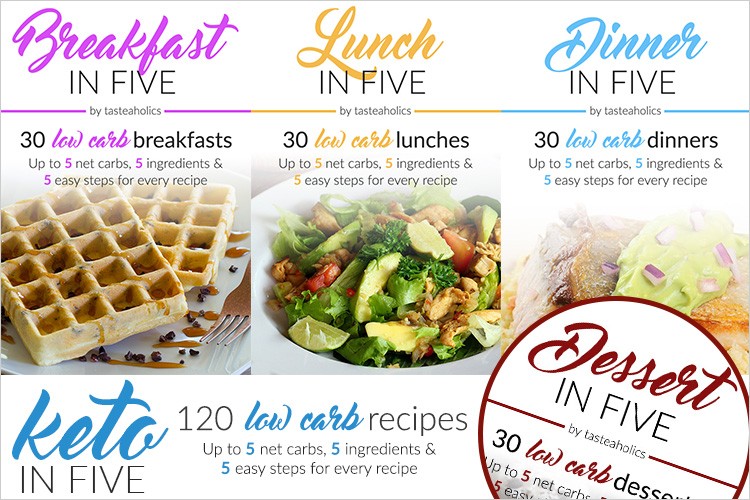 120 Low Carb Recipes! Each using 5 ingredients, in 5 easy steps with Only 5 Carbs (or less:) Check it out here!
You May Also Like:
Don't Forget To Save These Recipes!
And For More Low Carb Inspiration, Follow My Keto Recipes Board!