When it comes to keto chaffle recipes, the possibilities are endless.
Find out how to make the best basic keto chaffles recipe, sweet chaffles with Cinnamon, and savory chaffles with garlic and parmesan. These Keto Chaffle recipes are simple, easy to customize sweet and savory low carb bread alternatives that you can make in minutes with 2 ingredients.
This post may contain affiliate links that help keep this content free. [Full Disclosure]
Keto Chaffle recipes rocked the internet and everyone on a ketogenic diet last summer with two sweet and savory 2-ingredient keto chaffle recipes that make simple low carb bread alternatives.
Obviously, the moment I read about chaffles, I dove right in and started asking the hard-hitting questions like Where on Earth did Keto Chaffles Come From? And Why Didn't I Think of That?
What Is a Chaffle? What Does Chaffle Mean?
So chaffles have been a thing for years – the first chaffle was served in a South California taco shop – Seabirds Kitchen back in 2015. It was the vegan restaurants take on a churro – waffle combination. In case you're wondering, they are nowhere near low carb.
Cut to May 16, 2019, when Utah keto enthusiast Kiana Fonua Williams posted a photo captioned "Easy Cheesy Waffle Omelets" on Instagram – with the cheddar cheese recipe and simple directions. How she only got 977 likes for her discovery? Beyond me.
I suppose we need to give Ketomadman – another Utah resident – mad props as he appears to be the guy that started the #chaffle madness we have today. (He added the hashtag – genius:)
What Is A Keto Chaffle & How Do You Make One?
Simply put, Keto Chaffles are mini waffles made with your choice of cheese + egg. There are two ways to make the basic chaffle – and both are fabulous without doing anything extra. Add a few herbs, spices, or swap cheeses, maybe add a little almond flour – and it's ON.
2 Sweet Chaffles: 1 Egg + 1/2 Cup Mozzarella Cheese
2 Savory Chaffles: 1 Egg + 1/2 Cup Cheddar
It is seriously as easy as mixing an egg and your choice of cheese into a waffle iron. Some people are adding almond flour for texture, but I don't see that as a necessary step – until you go chaffle crazy and feel like getting creative. (I got a little creative with the Strawberry one:)
I almost didn't weigh in on the chaffle-craze much less post a "recipe" because I'm kind of behind the curve here, but then I figured why not?
What Do You Use To Make Chaffles?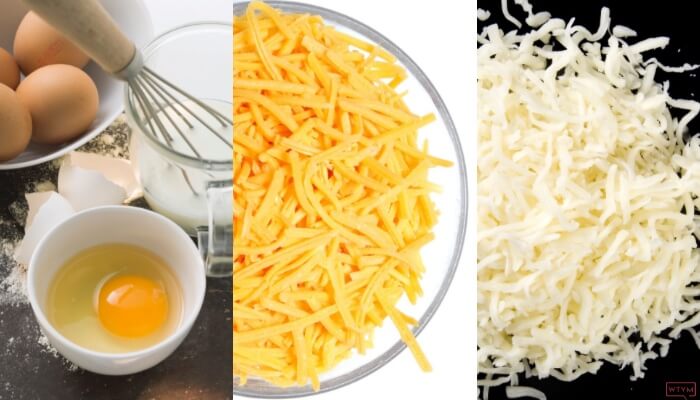 The original keto chaffle recipe – which again is one egg plus 1/2 cup cheddar or mozzarella – makes 2 4-inch chaffles – in a mini waffle maker. Dash is getting a lot of action from this recipe – and word is they're selling out quickly.
Why Would You Use A Mini Waffle Maker?
You can make a 4-inch chaffle in 4 minutes in a Dash Mini Waffle Maker, which is the perfect size for making chaffles into "buns."
Another selling point for going mini is you can reheat them in the toaster like an Eggo – which isn't a possibility with a full-sized chaffle. But there are other options for reheating – the oven, a toaster oven, microwave, or air fryer.
How Do You Make Regular Sized Chaffles?
I made chaffles happen in my standard-size waffle maker with 2 eggs + 1 cup cheese.
Why? Because in an effort to "get organized" I donated our mini – which is a great reminder to self to continue to hoard unused kitchen appliances.
Are Chaffles Freezer Friendly?
Yes! I'm not sure how long these will last due to popularity – seriously, everyone loves these – including kids and husbands, not on the keto diet. Freeze in an airtight container or ziplock bag for up to 3 months.
Sweet? Savory? How Do Chaffles Taste?
Chaffles made with mozzarella topped with butter and sugar-free syrup taste like a waffle. No, really. I gave one to my husband (the picky eater who is not on any diet), and he looked at me like I was a magical unicorn kitchen fairy. Which is a good thing – in case you're wondering.
The original chaffle recipe uses cheddar – which we think gives it a more savory flavor – making it our bun swap of choice. See the Parmesan Garlic recipe below.
But here's the thing – they are so easy to make it wouldn't hurt to try both – I swear you can't mess this up – unless you're me. But I have a gift.
My Chaffle Fail
Yes, my first attempt at blueberry chaffles was an epic fail. And a mess. Live, learn, and chaffle on, right? Look the take-home point is if you're trying blueberry chaffles smash the berries first if you're mixing them into the "batter" OR carefully place them on top before you close the iron. And don't overfill:)
6 Chaffle Recipes + Macros
Instead of spreading each recipe out over multiple posts I put them all together in one mega-guide which would have been pretty smart if I hadn't screwed up the original post, but hey -I'm human.
Mozzarella Base Chaffle
Here's the chaffle made with mozzarella made in my standard size waffle maker in 4 minutes.
Calories – 76
Net Carbs – 0.7
Total Fat – 2.4
Protein – 12.1
Cheddar Base Chaffle
And the cheddar chaffle. Some folks are recommending sprinkling the waffle maker with cheese first to make these crispier. Full disclosure: I did not try that, but I may in the future (I see a lot of chaffles happening in my life – and I'll let you know the verdict:)
Calories – 150
Net Carbs – 1.1
Total Fat – 11.8
Protein – 9.6
Blueberry Chaffle
The easiest way to make a blueberry chaffle aside from smashing the berries (or throwing them in a food processor) is just adding blueberries to the mozzarella base. You could also add a tablespoon of cream cheese, a bit of vanilla or a tablespoon or two of blanched almond flour for more of a cake-style dessert chaffle. Remember to use sugar-free maple syrup, or you'll blow your macros!
Calories – 79
Net Carbs – 1.4
Total Fat – 2.4
Protein – 12.1
Parmesan Garlic Chaffle
Here's my favorite savory take on the chaffle. You can add bacon, top with chives or green onions, and a dollop of cream cheese instead of butter. Use these for sandwiches or snacks or eat for breakfast.
Calories – 192
Net Carbs – 1.5
Total Fat – 14.5
Protein – 13.4
Strawberry Cake Chaffle
The Strawberry Chaffle is more of a dessert using the mozzarella base and the addition of cream cheese and almond flour. Top it off with a few more strawberries and a little 2-ingredient low carb whipped cream to make it extra fabulous!
Calories – 184
Net Carbs – 3.1
Total Fat – 6.2
Protein – 22.6
Cinnamon Chaffles
Add a little cinnamon and vanilla for a sweeter chaffle to serve for breakfast or dessert!
Calories – 80
Net Carbs – 1.1
Total Fat – 2.4
Protein – 12.1
What You May Need To Make Chaffles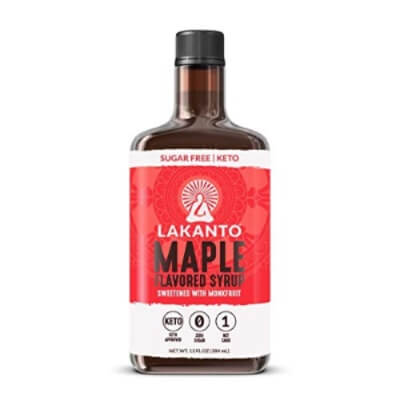 More Easy Keto Recipes You'll Love
Easy Keto Cream Cheese Pancakes Recipe – Keto pancakes with cream cheese and almond flour that are delicious and freezer-friendly
2-Ingredient Keto Whipped Cream – Make the best low carb whipped cream with 2 ingredients in less than 10 minutes!
Easy Keto Breakfast Muffins With Sausage – Another easy make-ahead or make last minute breakfast recipe
Print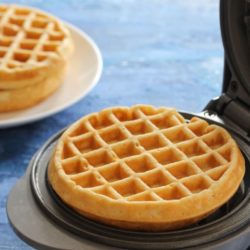 6 Easy Keto Chaffle Recipes [Sweet & Savory]
---
Author:

Prep Time:

2 Minutes

Cook Time:

4 Minutes

Total Time:

6 Minutes

Yield:

2

1

x
Description
6 ways to make Keto Chaffles! Master the two essential chaffle recipes by combining egg and cheddar or mozzarella cheeses then get creative with sweet Cinnamon, Blueberry, and Strawberry Chaffles and savory Garlic Parmesan Chaffles.
---
Scale
Ingredients
Mozzarella Chaffles
1

Egg

1/2 Cup

Mozzarella Cheese
Savory Cheddar Chaffle Recipe
1

Egg

1/2 Cup

Cheddar Cheese
Blueberry Chaffles
1

Egg

1/2 Cup

Mozzarella Cheese

1 Tablespoon

Smashed Blueberries
Parmesan Garlic Chaffles
1

Egg

1/2 Cup

Shredded Cheddar or Mozzarella

1/4 Cup

Parmesan Cheese

1/4 Teaspoon

Minced Garlic

1/8 Teaspoon

Italian Seasoning
Strawberry Chaffle
1

Egg

1/2 Cup

Mozzarella Cheese

1 Tablespoon

Cream Cheese

2 Tablespoon

s Almond Flour

3

Sliced Strawberries
Cinnamon Chaffles
1 Egg

½ Cup Mozzarella

½ Teaspoon Cinnamon

½ Teaspoon Vanilla
---
Instructions
Heat Waffle Maker
Whisk Egg
Add Cheese and other ingredients
Cook 4 minutes
Remove
Cool 2-3 minutes
Repeat (This recipe makes 2 chaffles)
---
Category:

Breakfast

Cuisine:

American
Keywords: chaffle, keto chaffle, mozzarella chaffle recipe, cheddar chaffle recipe, garlic chaffle recipe, strawberry chaffles, low carb
Stock Your Keto Pantry!
Get the go-to keto pantry staples, meal plans and exclusive Word To Your Mother reader discounts on my Shop Page here. Need a shopping list? Click here!
And for more than 500 Low Carb Keto Meal ideas and easy recipes, check out my Keto Recipes Index!
Need More Keto Chaffle Recipes? Let me know what you're favorite chaffle is (so far) and if you have a recipe you'd love to see – Let me know! I'll give it a try.
And I promise not to burn down my kitchen in the process:)
Don't Miss These Keto Favorites
Please Save or Share!
About Heather
Hey! Thanks for sticking around. I started this blog to help people like you take control of their health – achieve their fitness goals – lose weight – and gain the confidence they need to go out and live life to the fullest. (Because that's what losing 100 pounds did for me:) If you need help, please reach out. In addition to blogging full-time, I'm an Integrative Nutrition Health Coach, and I'm a mom of three awesome kids. You can find all of my keto meal plans and recipes here.
And You Can Find Me On Facebook, Pinterest. and YouTube.
–Heather