Keto Sausage Balls with Cream Cheese – The must-have low carb, keto sausage ball appetizer, breakfast or snack recipe that takes sausage, almond flour, cream cheese & egg to another level with 1.4 net carbs!
Sausage balls are a southern staple food- for tailgating, for Christmas parties, for breakfast, for lunch for…well, you get the picture. Thing is: my favorite sausage & cheese recipe was not keto – not by a long shot. So I made it low carb!
This recipe for keto sausage balls is a fabulous dupe for the original & it's almost effortless to put together. P.S. My picky eating – used to the Bisquick recipe kids love it too!
This post may contain affiliate links that help keep this content free. [Full Disclosure]
If you're new to the sausage ball game – here's the 411: Keto sausage balls make a fab make-ahead breakfast, snack & of course, a crowd-pleasing appetizer for game day or the holidays!
Bonus: You can freeze 'em!
Making Keto Sausage Balls The Easy Way
No need to brown the sausage…
Mix By Hand. You're going to need to get your hands dirty – but wash them first. I have this weird phobia of salmonella, so I usually scrub in like a surgeon before & after handling any raw meat. Of course, you can always use disposable gloves, but I never have those on hand. Ever. Pro Tip: Take off your rings before doing a deep dive into sausage – I learned the hard way:)
You can use a cookie scoop to form the balls into uniform shape – but that's not how I roll – & you don't have to use one. You can create the balls by rolling them in the palms of your hand about 1-inch each – you don't need to whip out the measuring tape – just make sure they are not too big, or you will end up with an unevenly cooked batch.
Oh, and even though I've made probably 1,000 batches of these, sometimes I forget to grease the baking sheet – which results in quite a situation when half the sausage ball sticks to the pan. Not that I don't still eat it – but well, it's hard to look cool at a party eating directly from a baking sheet.
So remember to line your pan with foil & grease it! If you're trying to make picture perfect appetizers &/or have a deep desire to prevent sticking, you can flip them about 10 minutes into cooking.
Keto Sausage Balls – Ingredients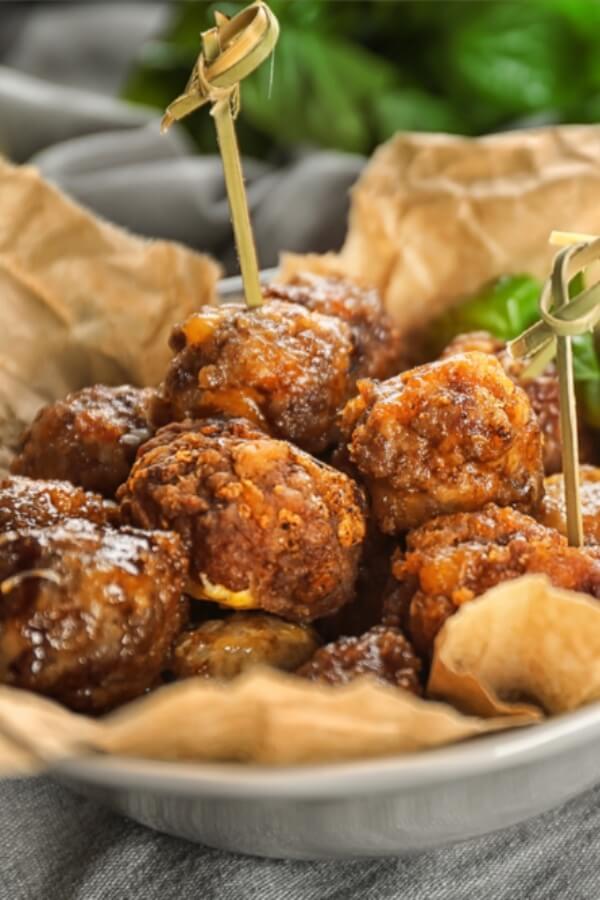 Ground Breakfast Sausage – I use Jimmy Dean – but feel free to use your favorite – hot or mild. When I'm making these for a crowd, I double the recipe & use one pound of hot & 1 pound of mild & it's perfect – just the right amount of heat.
Blanched Almond Flour – It's our sub for Bisquick (which is where the carbs come in @ 78 Net Carbs per cup:(( – I use Blanched Almond Flour – it works for everything!
Cream Cheese – I know cream cheese is often a subject of debate on keto. Here's the thing: if you want your sausage balls to be moist & bind – cream cheese is VIP.
Cheddar Cheese – You need to shred your cheese – I know it's an extra step & it is not mandatory – but pre-shredded cheeses do contain a few more carbs because of the starches & preservatives that get added in to increase shelf-life.
Egg – Best practice is to go for the Certified Organic eggs to avoid added antibiotics – but nobody's coming for you if you use the value pack:)

Heavy Cream – We are adding the heavy cream to keep the balls from getting too dried out plus it makes mixing easier. Also not mandatory. My grandmother always added a "splash" of milk to her recipe – which translated into whatever she felt like using – but to spare you from confusion – I'm listing it as 2 tablespoons worth:)
Print
Keto Sausage Balls With Cream Cheese: The Best Low Carb Sausage Balls With Almond Flour
---
Author:

Prep Time:

10 Minutes

Total Time:

10 Minutes
Description
Keto Sausage Balls with Cream Cheese – A must-have low carb, keto sausage ball recipe combining sausage, almond flour, cream cheese, egg & a secret ingredient that holds this epic keto breakfast, appetizer & snack together!
---
Scale
Ingredients
1

Pound Ground Breakfast Sausage

2 Cup

s Blanched Almond Flour

2.5 Cup

s Shredded Cheddar Cheese

8 Ounce

s Full-Fat Cream Cheese

1

Egg

2 Teaspoon

s Baking Powder

2

Garlic Cloves

2 Tablespoon

s Heavy Cream
---
Instructions
Preheat Oven to 350 degrees
Set Cream Cheese out to soften
Shred Cheese
Mix (raw) sausage + almond flour + cheddar cheese + cream cheese + egg + baking powder + minced garlic together in a bowl. Add in 2 tablespoons heavy cream if needed to mix.
Use your hands to form each ball – shoot for 1 inch each + place on a (greased foil lined) baking sheet.
Bake for 20 – 25 minutes or until sausage is thoroughly cooked.
---
Don't Miss These Keto Recipes!
Save or Share This Low Carb Recipe!
For More Low Carb Inspiration, Follow My Keto Recipes Board!