These keto chicken recipes come together fast on busy weeknights when you need a quick keto dinner. Whether you're looking for low carb crockpot meals or easy meal prep ideas you'll find a new favorite keto chicken recipe here.
This post may contain affiliate links that help keep this content free. [Full Disclosure]
Chicken is a staple around here for weeknight dinners.
It's one of those rare, everyone can agree on style ingredients that you can stock up on when you find a sale and freeze for months.
Chicken is also a solid high-protein choice for meal prep day – you can bake it, boil it, or slow cook it to perfection and make all kinds of fabulous meals.
These keto chicken recipes for dinner work for both meal prepping and last minute weeknight dinners.
Most of these are quick & easy get it done in thirty-minute meals, but I've thrown in a few slow cooker & casserole recipes for good measure.
If you're looking for recipes for the grill, you're covered here.
Now, are you ready for the life-changing keto chicken dinner recipes? Thought so:)
26 Keto Chicken Recipes
Broccoli Bacon Cheddar
A one-pan, easy dinner ready in 30 minutes via Julia's Album
Cashew Chicken
An easy & yummy 15 minute meal via Keto Connect
Oven Baked Chicken Breasts
This simple recipe via Savory Tooth tastes like stuffed chicken breasts & is ready to eat in 20 minutes.
Chipotle Chicken Skillet
This quick & easy keto dinner is family-friendly & perfect for meal prep – & ready in 20 minutes via Whole Kitchen Sink
Chicken Thighs with Mushroom Garlic Sauce
Ready in 15 minutes! (But it tastes like you cooked for hours!:)) See the recipe on Cafe Delites
Zucchini Pasta with Chicken
Super quick & delicious zucchini pasta with chicken & pistachios via Happy Body Formula
Chicken Parmesan
This healthy, keto-friendly version of the classic Chicken Parm is easy to prep together and ready from start to finish in 35 minutes with 5g Net Carbs Get the recipe on Wholesome Yum
Jalapeno Popper Chicken
Layered chicken breasts with cream cheese, jalapeños & cheese – ready from start to finish in 40 minutes via Eating On A Dime
Instant Pot Lemon Garlic
Easy low carb dinner – ready in 30 minutes via Life Made Keto
Chicken Tenders
Family-friendly, easy chicken tenders with only 2 net carbs per serving via How To This & That
Cheddar Bacon & Ranch Chicken
Dinner in 30 minutes! Seriously, this is one of those heavy rotation recipes with 4 Net Carbs Find the recipe on That Low Carb Life
Crockpot White Shredded Chicken Chili
Keto comfort food at it's best from the crockpot! Healthy chicken, creamy cheese, and a hint of spice combine to create a low carb slow-cooking chili that is sure to become a favorite with 6.1g Carbs Get the details here
Skillet Chicken
This one pan meal recipe makes a perfect weeknight meal! Make it from start to finish in 35 minutes with 4g Net Carbs. Get the recipe on diethood
3 Cheese Chicken & Asparagus
Kalyn's Kitchen's chicken & asparagus casserole is a low carb, family favorite!
Chicken Breasts with Jalapeño Cheese Sauce
This creamy keto dinner is ready in 35 minutes with 6 net carbs via Family Food on The Table
Buffalo Chicken Casserole
Creamy, delicious, low carb casserole is ready in 35 minutes! Get the recipe Mince Republic
Crockpot or Oven Crack Chicken
A tasty slow cooker or oven meal with chicken, cream cheese, ranch seasonings, bacon, and cheddar cheese that requires minimal effort and is always a hit via Word To Your Mother Blog
Cheesy Stuffed Chicken Breast
Low carb, gluten-free, and keto-friendly these stuffed chicken breasts are full of flavor! And they're ready to eat in 30 minutes with 2 net carbs Get the recipe on Evolving Table
Oven Baked Southern Fried Chicken
Perfect for a family get-together or when you're craving comfort food via Keto Diet App
Chicken Cordon Bleu Casserole
Only 45 minutes from start to finish! This low carb version of Chicken Cordon Blue consists of layers of ham, chicken, and Swiss cheese in a delicious creamy dijon sauce with 2 net carbs Get the recipe on Joy Filled Eats
One Pan Chicken & Veggies
Oven baked chicken with low carb vegetables is seasoned lightly with olive oil & Balsamic & ready to eat in 30 minutes with 2 Net Carbs. Get the recipe on Tastaholics
Thai Lettuce Wraps
Ready in 15 minutes from start to finish via Jo Cooks
Slow Cooker Bacon Chicken Chowder
Comfort food in a bowl with chicken breasts, cream cheese, bacon, heavy cream & plenty of low carb veggies via Peace, Love & Low Carb
Chicken Casserole with Spinach & Cream Cheese
Your family will love this spinach chicken casserole with cream cheese via Eatwell101
Chicken Cacciatore
A low carb version of the classic dish that's ready to eat in 20 minutes via Low Carb Maven
Crockpot Chicken Stew
Warm & comforting chicken stew – with only 5 minutes of prep via Gal On A Mission
Did I Miss Anything?
Which recipe from today's line-up are you going to try first?
Or maybe I didn't mention one of your favorite keto chicken recipes?
Either way, please let me know by leaving a comment below!
Need more keto recipes?
Check out the Keto in Five cookbooks from Tastaholics!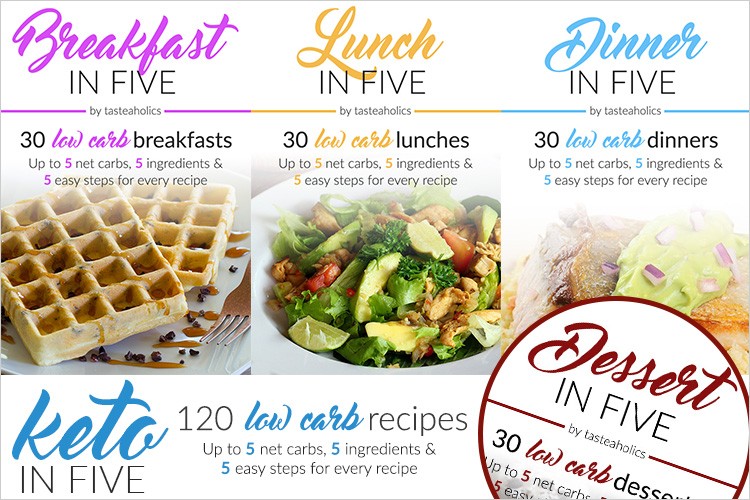 It's all about the 5. Every recipe has only 5 ingredients, 5 steps, and ONLY 5 NET CARBS!!!! It makes life easy & I'm all about that!
Don't Miss These Keto Recipes
Save or Share These Keto Chicken Recipes!
For More Low Carb Inspiration, Follow Me On Pinterest or Subscribe below! Leave A Comment, Ask A Question – Tell Me What's On Your Mind!
About Heather
First, thanks for sticking with me – I started this blog to help people like you take control of their health – achieve their fitness goals – lose weight – and gain the confidence they need to go out and live life to the fullest. (Because that's what losing 90 pounds on the keto diet did for me:) If you need help, please reach out. In addition to blogging full-time, I'm a Health Coach, and I'm a mom of three awesome kids – 2 girls & one precious son who happens to have autism.
I'm continually seeking balance to do all of the things – and I'd love to help you do the same.
You Can Find Me On Facebook.
I'm also on Pinterest.
And YouTube.
One day I may participate regularly on Instagram, who knows:)
–Heather