If you're on the ketogenic diet & you need an easy low carb treat or a simple snack, then you'll adore these keto fat bomb recipes! From energizing bulletproof coffee to peanut butter, chocolate, chocolate chip cookie dough & cheesecake, this collection has over 40 delicious fat bomb recipes you seriously need to try.
This post may contain affiliate links. For more information please read my disclosure policy here.
So eating anything bombed with fat seems wrong.
But on the keto diet, healthy fats are your friend!
Bottom Line: Fat bombs can save you from making poor choices on the keto diet.
I've lost over 90 pounds on keto & I like to give credit where credit is due.
So let me take a moment and thank all of the fat bomb recipes for saving me from late night trips to Taco Bell & other moments of weakness!
Y'all, having the right food on standby makes a difference in sticking to your diet!
Have a craving or just need to snack?
Grab a fat bomb.
Does your sweet tooth get you into trouble?
Grab a fat bomb!
Fat bombs are portable small snack sized miracle workers. I'm about to break it down for you so you'll know everything & then some & then I'm going to give you 31 of the best fat bomb recipes known to man.
Sweet and savory!
Fat Bomb 101
Fat bombs come in all flavors & textures. It's all up to you. The most popular fat bomb recipes seem to be dessert which is fine by me since I consider it to be one the most important meals of the day!
The most popular bases for fat bombs are butter, cream cheese, and coconut oil. Other bases include ghee, coconut cream, cocoa butter, and cashew cheese. Some people prefer to use a silicone mold like this one,but you don't have to go out and buy anything special.
Most of the time you can use an ice tray or nothing at all!
Keto Fat Bomb Common Ingredients
Cacao Powder
Cinnamon
Coconut Cream
Coconut Flakes
Blueberries
Cheese
Vanilla
Nuts
Bacon
Eggs
Peanut Butter
Meat
Sour Cream
Heavy Cream
Herbs
Looking for a way to simplify weight loss?
Recipes!
Healthy oils and fat combined with a strongly brewed coffee (& an optional teaspoon of rum extract) create a delicious Bulletproof fat bomb that tastes like a creamy mocha smoothie. Get the recipe on KetoDiet App
Cream cheese, peanut butter, butter, and sugar-free chocolate chips create the ultimate keto sweet treat! This easy recipe for edible, homemade cookie dough is super low carb, sugar-free, and simple! Get the recipe here
Here's a perfect recipe to start with-because what's better than chocolate + peanut butter? All you need is unsweetened baker's chocolate, peanut butter, liquid stevia, and pink salt. Oh, and a tiny bit of patience because it takes a little over an hour for them to "set"-but it is worth it! Get the recipe on Keto Connect
Missing cheesecake? This recipe is fabulous! These taste like Strawberry Cheesecake ice cream & the texture is perfect! Get the recipe on Low Carb, So Simple
3 ingredients + 5 Minutes = Perfection! Get the recipe on The Big Man's World
Lightly sweetened with a hint of vanilla, these keto fat bombs are easy to put together & work as a snack or a dessert! Get the recipe on I Breathe I'm Hungry
This no-bake, vegan fat bomb recipe is full of filling healthy fats and it's easy to make! Check out the details on Bakerita
All of the flavors of a Gingerbread cookie without the carbs! Perfect snack or dessert for the holidays-or any day! Get the recipe on Low Carb with Jennifer
Full of healthy fats and plant-based proteins these Pumpkin Pie Fat Bombs are the perfect energy boosting snack! Get the recipe on Root + Revel
Sugar-free fat bombs that taste just like Danish butter cookies! No joke! Only 2 net grams of carbs per buttery, sweet & salty serving! Get the details on Low Carb with Jennifer
Quick, easy, & delicious! The ultimate sugar-free ketogenic low carb dessert! Get the recipe on The Big Man's World
This layered fat bomb is the ultimate ketogenic delicacy and may be the most popular recipe EVER! Starting with a vanilla cheesecake layer base topped with a semi-crunchy chocolate cocoa top this one covers all of the bases- with only 1 net gram of carbs per delicious serving! Get the recipe on Fat for Weight Loss
Ok. So Keto Fat Bombs are fab. Now what?
If you haven't read my Meal Prep Tips, go ahead & take a look at it now! I swear meal prepping will help you!
My Not So Secret Weight Loss Weapon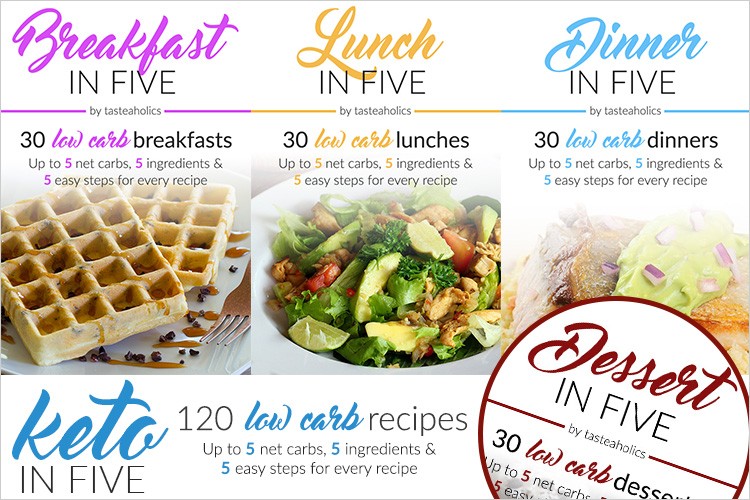 The key to success on the Keto Diet? Simplicity & Satisfaction! I've lost over 90 pounds on the keto diet & maintained my weight loss for over six years. Thanks in large part to Tasteaholics Keto in 5 Cookbooks!
Each collection offers 30 breakfasts, 30 lunches, 30 dinners & 30 desserts with only 5 ingredients & 5 net carbs! All the calorie & macronutrient info is provided for you – plus – helpful cooking tips & images – so you'll know what you're cooking!
Grab the Keto In Five Bundle!It's legit.
You May Also Enjoy:
40 Best-Ever Keto Appetizer Recipes! Low Carb Snacks for Game Day
40 Mouth Watering Keto Snacks You'll Wish You Knew About Sooner
12 Quick Keto Dinner Recipes For Those Nights You Have Zero Time
If you enjoyed this collection of keto fat bomb recipes, save it on Pinterest!
SaveSave
SaveSaveSaveSave
SaveSave
SaveSave
SaveSave
SaveSave
SaveSave
SaveSave
SaveSaveSaveSave
SaveSave
SaveSave
SaveSave
SaveSave
More Keto Recipes Here!