If you love chocolate and peanut butter candy, but you're following a low carb ketogenic diet, then this easy fat bomb recipe is what you need to kick your cravings to the curb! No baking required.
This post may contain affiliate links that help keep this content free. [Full Disclosure]
Want to know who loves fat bombs? Everybody! Especially those of us who are watching our carbs and avoiding extra sugar. But let me back up a little first, in case you're new here!
Eating a low carb ketogenic diet means getting plenty of healthy fats and lean protein into every meal while avoiding foods with extra sugar and carbohydrates. It doesn't mean depriving yourself or feeling guilty if you lose your way now and then. Trust me, I know this because I've lost 90 pounds on the keto diet, and if I hadn't learned how to forgive myself and move on after I went off track or completely off the rails, I would still weigh over 275 pounds and feel like garbage.
How Fat Bombs Helped Me Lose Weight
I've always been a dessert person, and that did not change before, during, or after keto. One of the best things I did for myself and my sweet tooth was learning how to make fat bombs.
Fat bombs come in all shapes and sizes and flavors from sweet to savory. If sweet is your jam, you may love these chocolate chip cookie dough fat bombs too.
Fat bombs are easy to put together quickly, and they typically require a few simple ingredients. The only thing special you may need is a silicone mold, but if you don't have one, its not a deal-breaker. I make my cookie dough fat bombs on a regular cookie sheet covered with wax paper, and I have used ice cube trays instead of molds on more than one occasion!
4 Ingredients You May Need To Make This Recipe
You'll need sugar-free cocoa powder or cacao powder, coconut oil, sugar-free natural peanut butter or almond butter and a few drops of liquid Stevia or Sweet Drops. There's no dairy in this recipe.
Tips To Make The Best Fat Bombs
Melt the coconut oil before trying to combine cocoa powder. You can do this in the microwave or on the stove.
Use a silicone mold for portion control and shape.
Store in the freezer – otherwise they will melt!
More Must-Have Low Carb No Bake Recipes
If you like this fat bomb recipe, check out these low carb treats!
Chocolate Chip Cookie Dough Fat Bombs – Another simple recipe that requires no baking – for edible chocolate chip cookie dough!
Keto Chocolate Peanut Butter No Bake Cookies – The ultimate no-bake keto cookie!
Print
Keto Chocolate Peanut Butter Fat Bombs Dairy Free Low Carb No Bake
---
Author:

Prep Time:

5

Cook Time:

15

Total Time:

20

Yield:

12

1

x
Description
Seriously, these keto peanut butter chocolate fat bombs are ketogenic diet game-changers! Create these simple, no-bake 4 ingredient low carb treats in less than 30 minutes with 1.6 net carbs each!
---
---
Instructions
Combine cocoa and coconut oil together with a whisk (You may want to microwave the coconut oil for a few seconds to soften)
After cocoa and coconut oil is blended, add the peanut butter and liquid Stevia. Blend until smooth
Spoon mixture into silicone mold and freeze for 30 minutes – 1 hour.
Enjoy!
---
Notes
Store in the freezer!
Keywords: Keto Fat Bombs, Ketogenic Diet Treats, Keto Snacks, Low Carb, Fat Bombs, Sugar-Free
Stock Your Keto Pantry!
Get the go-to keto pantry staples, meal plans and exclusive Word To Your Mother reader discounts on my Shop Page here. Need a shopping list? Click here!
And for more than 500 Low Carb Keto Meal ideas and easy recipes, check out my Keto Recipes Index!
You May Also Like:
Need More Legit Almost Too Good To Be True Keto Recipes?
I get it! I've lost over 90 pounds on the keto diet and maintained that weight loss for six years – these meal plans and recipes helped me tremendously!
Shout Out To Tastaholics Weekly Meal Plans & Keto In Five cookbooks!

Here's the low down on the weekly meal plans – Tastaholics will send you pre-calculated, low carb meal plans and recipes right into your inbox – no more hunting down recipes on the internet and trying to fit them together perfectly every day.
Doesn't that sound easy? It is. And you can try it totally free right here
Or – opt for the Keto In Five – These Are Not your Grandmother's Cookbooks -You can download them to any device!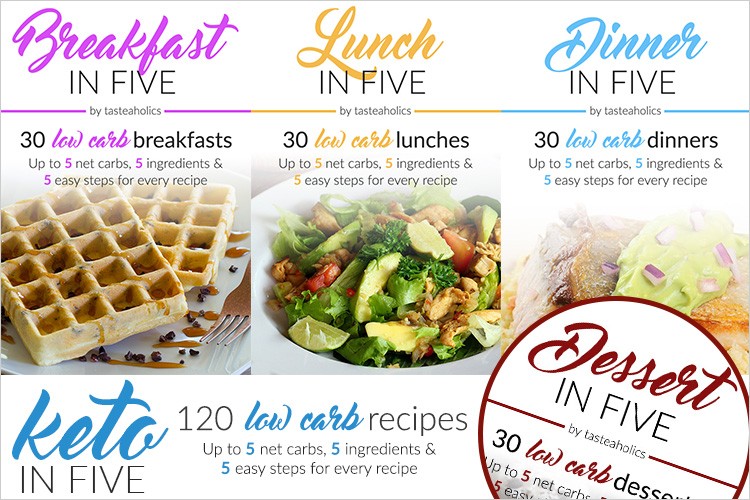 Each collection offers 30 breakfasts, 30 lunches, 30 dinners & 30 desserts with only 5 ingredients & 5 net carbs! They provide all the macro info for you – which makes life so much easier!
Go ahead & try the meal plans or grab the Keto In Five Bundle! You've got nothing to lose – They offer a 365 Day money-back guarantee, but you won't need it:) Ok – sales pitch over:)
Save or Share This Recipe!
For More Low Carb Inspiration, Follow Me On Pinterest or Subscribe below! Leave A Comment, Ask A Question – Tell Me What's On Your Mind!
About Heather
First, thanks for sticking with me – I started this blog to help people like you take control of their health – achieve their fitness goals – lose weight – and gain the confidence they need to go out and live life to the fullest. (Because that's what losing 100 pounds on the keto diet did for me:) If you need help, please reach out. In addition to blogging full-time, I'm a Health Coach, and I'm a mom of three awesome kids – 2 girls & one precious son who happens to have autism.
I'm continually seeking balance to do all of the things – and I'd love to help you do the same.
You Can Find Me On Facebook.
I'm also on Pinterest.
And YouTube.
One day I may participate regularly on Instagram, who knows:)
-Heather