These are the weight loss motivational quotes you need to get inspired to keep going! No matter what.
We all have bad days. It's OK. Losing weight isn't easy, and it's more of a mental game than a physical one.
Get your mindset right & you can conquer the world. Visualize where you want to be instead of staring at a scale or mirror or those skinny jeans that taunt you from the back of your closet.
Please-stop hating yourself &/or your body and start making changes to move in a positive direction.
It is the ONLY WAY!
It took me almost a year & a million motivational quotes to lose 148 pounds. But I did it.
You can too!
If you need a little (or a lot) of inspiration or a little nudge to keep you going when you want to quit-these are some of my favorite motivational quotes!
***I got a bit creative with Adobe Spark for the images & since I know these will cost a fortune for you to print I also made a downloadable version you can print off & put wherever you please!:)
You can find it at the bottom of this post!
12 Weight Loss Motivational Quotes
Your strongest muscle and your worst enemy is your mind. Train it well.
The only person you should be better than is the person you were yesterday.
Take the first step in faith. You don't have to see the whole staircase, just take the first step. -Martin Luther King, Jr.
When you feel like quitting, think about why you started.
A comfort zone is a beautiful place, but nothing ever grows there.
If it doesn't challenge you, it doesn't change you.
If you have discipline, drive, and determination – nothing is impossible.
Weight loss doesn't begin in the gym with a dumb bell. It starts in your head with a decision. – Toni Sorenson
Whatever the mind can conceive and believe, it can achieve. – Napoleon Hill (From Think & Grow Rich – a must-read book!)
I already know what giving up feels like. I want to see what happens if I don't. – Neila Ray
The question isn't who is going to let me; it's who's going to stop me.
Yesterday you said tomorrow. – Nike
Ok, so those are my personal favorites. I have them printed out on a vision board that I see every day. They keep me going – even on the worst days when all I want to do is veg out and eat tacos. Feel free to take these images and share them and print your favorites. You can also download them below.
Do you have a favorite weight loss motivational quote? I'd love to hear about it! Please share in the comments below.
Download These Weight Loss Motivational Quotes Here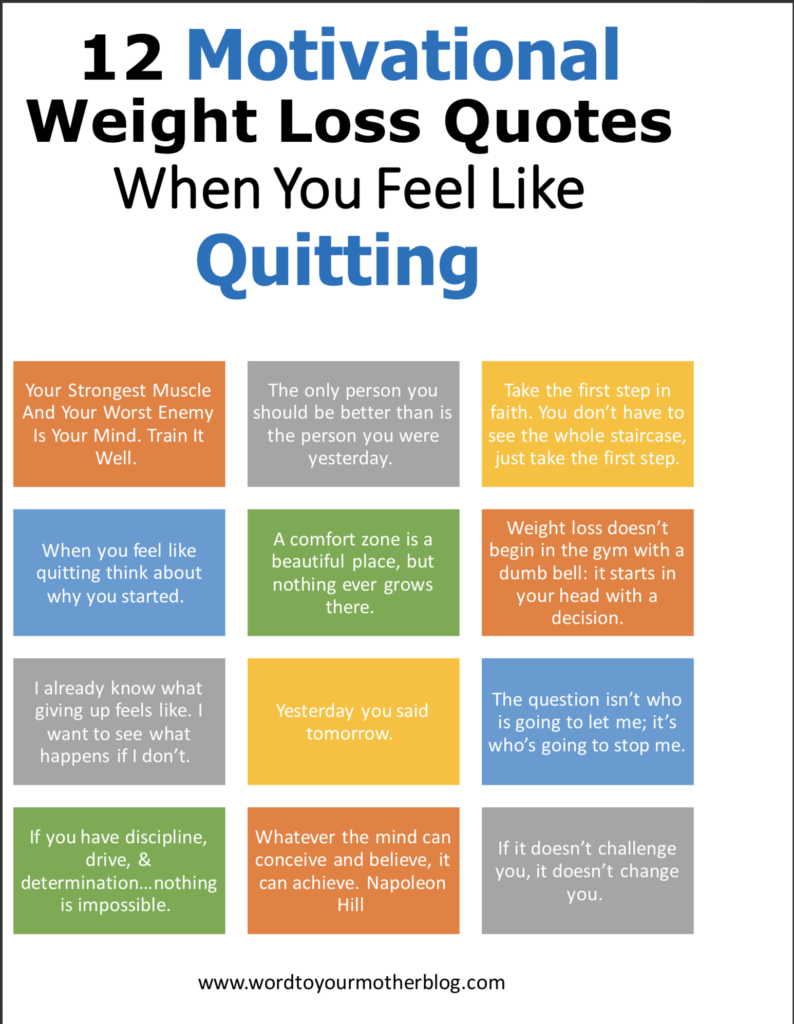 Click Me to Download the Printable!
Don't Miss These Tips & Recipes!
Rebel Keto: The Girl's Guide To Losing The Weight, Breaking The Rules & Having A Life Outside The Kitchen
Weight Loss After 40 Dieting Is Different for Women, How To Drop It Like Its Hot
7 Fabulously Free Fitness Marshall Home Workouts That Will Be The Highlight Of Your Day
Save or Share these motivational quotes!