If losing weight and getting healthy is a challenge, weight loss after 40 is, well, it's more like trying to juggle naked while walking on a tightrope across a Thunderdome of obstacles. In other words, it's not easy, but you can do it. I'm living proof – with a very determined mind, as well as three kids, I lost 148 pounds after age 40, and I have kept it off. Ladies, there is light at the end of the tunnel, but you need to empower yourself with the information you need to navigate yourself to it for you to reach it.
This post may contain affiliate links that help keep this content free. [Full Disclosure]
The truth is, as women age, our bodies change, our hormones rage, and our metabolism slows down. It's a nonstop thrill ride that takes us into menopause and makes it difficult to drop that weight like it's hot.
So yeah, in this stage of life, losing weight is more challenging, but not impossible. As a woman, you know that life brings all kinds of unexpected twists and turns and responsibilities.
Like most women, you're working both in and outside of the home, managing a family, taking care of your kids, or grandkids, and your parents – all while trying to maintain your sanity.
When you hit 40, your estrogen levels begin to fall, and this dip can cause insulin sensitivity which makes your blood sugar levels spike and crash like a roller coaster. And this blood sugar roller coaster is no thrill ride – it's a scary one as it causes you to crave more sugar and carb-filled foods.
If this is starting to sound like a doomsday-style recipe for weight gain, don't panic, there is hope.
Today I'm going to share a couple of my best tips and tricks and share a few workouts and recipes.
Weight Loss Tips for Women Over 40
As a Health Coach, I believe in the concept of bio-individuality, which is a way of saying that there is no one size fits all diet that works for every person. But, we can apply these weight loss tips universally. If you're wondering how to lose weight in your 40s, here are 3 of the best weight loss tips to help you get to a healthy, happy weight!
Reduce Refined Carbs
I recommend my clients reduce the number of refined carbs for many health reasons, but this tip goes to the top of the list when it comes to weight loss. Refined carbs are foods like cakes, cookies, pastries, candies, fast foods, fried, breaded or battered foods, sugary cereals, pasta, bagels, pizza, and sugar-sweetened beverages. These foods cause spikes in blood sugar and insulin levels, leading to mood swings and intense cravings. Cut back on refined carbs as much as possible.
Increase Your Intake of Fiber
Consuming adequate fiber is a great way to manage your weight in your 40s. Aim to eat at least 25 grams of fiber a day to reap these benefits. Fiber helps with your digestive health, disease prevention, weight control, and foods high in fiber help you feel full for longer. While you can go with a supplement, The best way to increase your fiber is to eat foods like lentils, black beans, peas, broccoli, raspberries, pears, and oatmeal.
Portion Control
The portion sizes in today's meals are out of control. I'm looking at you, super-sized menus. Seriously, our portions in the US continue to get bigger and bigger and do not even get me started on buffets. But you know what? You have to know what the right portion size is before you can make this happen!
If we aren't mindful of the correct portion sizes, we will overeat. This is double dangerous for a woman over 40 since your metabolism is slowing down, and your body uses fewer calories to get through daily activities.
Some of the best ways to avoid overeating?
Meal prep and use portion control containers to stick to suggested servings
Share meals at restaurants
Eat slowly and stop when you feel satisfied – not stuffed
Don't eat when you're bored – eat when you're hungry
Weight Loss After 40: Workout Plan
Here's a sample workout plan featuring three essential exercises every woman in her 40s should do every week!
Cardiovascular Exercise, 3 Times per Week
In your 40s, cardiovascular workouts are VIP as they decrease your risk of heart disease. So what counts as cardio? Cardiovascular workouts include everything from spin class to running, walking, dancing (These Fitness Marshall workouts are my favorites), and swimming, so choose your favorite(s) and get moving! Wondering how much cardio is needed to get the maximum benefits? Start with 30 minutes three times per week.
Yoga, One Time Per Week
You may know Yoga is beneficial for your mental health, but did you realize Yoga is a low-impact strength training exercise? As women reach 40 and beyond, there's an increased risk of depression and anxiety, stress, and mood swings. Yoga helps with all of the above, and it can help you get your weight back on track.
Strength Training, 2 to 3 Times per Week
I know more than a few women who shy away from strength training, fearing they will cause them to build too much muscle, bulk them up like the Hulk, and cause weight gain. Y'all, this is not the case. The truth is, adding in strength training exercises is just as essential as cardio to optimize health and shape your body. Strength training exercises, like bodyweight exercises, are one of the best things you can do to lose weight in your 40s.
Along with weight loss, it will increase your energy levels, muscle mass, increase your metabolism, and improve your sleep quality. Bonus: If the gym is not your jam, you can do strength training from the comfort of your home! If you're new to strength training, below are two strength training workouts for beginners!
30-Minute Full-Body Strength-Training Workout With Weights | Pop Sugar
Total Body Strength Training Without Weights for Women | Home Workout (No Jumping) | Joanna Soh
7 Day Meal Plan
Here's a sample weekly meal plan you can try to help you lose weight over 40 without starving or depriving yourself of flavorful food.
Monday
Breakfast: Berry Quinoa Smoothie Bowls
Snack: 1 cup Greek Yogurt and Handful of Berries
Lunch: Moroccan Lentil Sweet Potato Soup
Snack: Apple Slices with Peanut Butter or Almond butter
Dinner: Chicken Thighs with Mozzarella Cheese
Tuesday
Breakfast: Avocado Baked Eggs
Snack: Celery or carrot sticks with hummus
Lunch: Chicken Salad Recipe With Blue Cheese & Walnuts
Snack: Handful of Almonds
Dinner: Slow Cooker Balsamic Chicken
Wednesday
Breakfast: Blueberry Oatmeal Breakfast Bars
Snack: Cottage Cheese topped with Flaxseed and Cinnamon
Lunch: Quinoa Salad Jars with Lemon Dill Dressing | Pinch of Yum
Snack: Bell Pepper with Guacamole
Dinner: Low Carb Shrimp & Grits
Thursday
Breakfast: Low Carb Sausage Egg Breakfast Muffins
Snack: Apple Slices with Peanut Butter or Almond Butter
Lunch: Shredded Chicken Chili
Snack: Cucumber Slices with Hummus
Dinner: 30 Minute Beef and Broccoli
Friday
Breakfast: Healthy Strawberry Smoothie
Snack: Hard-Boiled Egg
Lunch: Ready To Serve Roasted Chicken Soup
Snack: Pumpkin seeds
Dinner: Slow Cooker Cilantro Lime Chicken
Saturday
Breakfast: Healthy Chia Pudding
Snack: Cottage Cheese with berries or nuts
Lunch: Ready To Serve Vegetable Curry Cauliflower Quick Meal
Snack: Mixed Nuts
Dinner: Crockpot Chicken Taco Soup
Sunday
Breakfast: Healthy Blueberry Muffins
Snack: Hard-Boiled Egg
Lunch: Loaded Cauliflower Soup
Snack: Canned salmon with chopped veggies
Dinner: Crack Chicken
We covered a lot of ground today, so let's recap the key takeaways!
Weight Loss After 40 Take-Home Points
Losing weight after 40 can be tricky but not impossible. Here's a recap.
Cut back refined cards
Increase your daily fiber intake
Practice portion control
Get Moving! Aim for cardiovascular exercise three times per week for 30 minutes, strength train, and practice yoga for added stress relief.
I hope these weight loss tips, workouts, and recipes help empower you to prioritize yourself and your health so you can reach your goals to look and feel your best!
Kickstart Keto Without Giving Up Your Favorite Foods!
Need more easy low carb recipes? I understand! I've lost 148 pounds on the keto diet and maintained that weight loss for six years!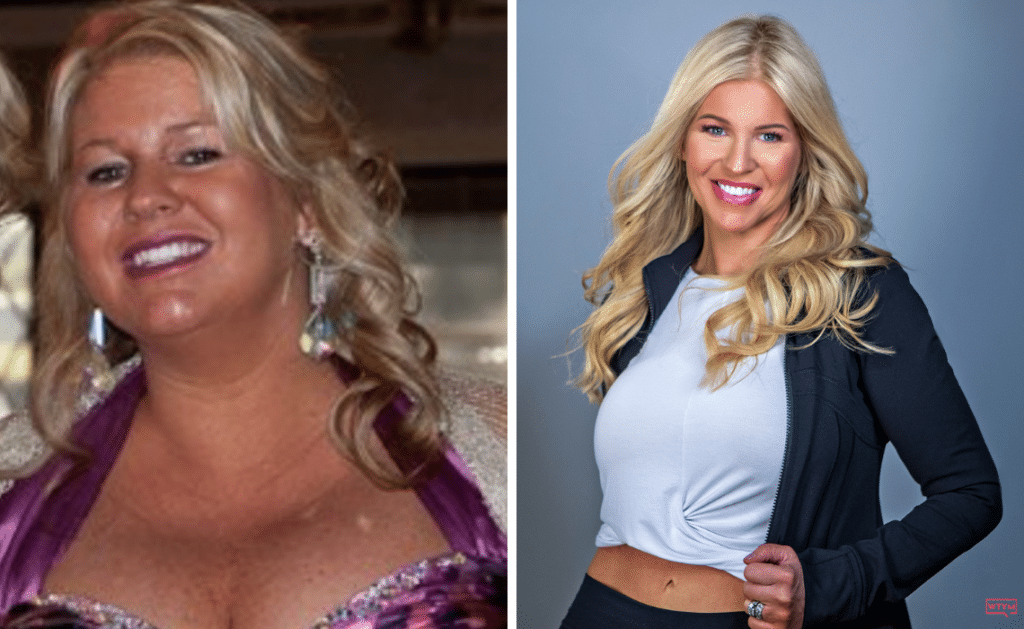 What To Read Next:
If you enjoyed this post, please save or share it!