So today I'm sharing 25 fast and fabulous weight watchers meals for dinner with points. We're talking a few ingredients, two or three steps, and you're done! If only losing the weight was that easy...
See, there's nothing easy or fast when it comes to losing weight. I know-I lost around 100 pounds without surgery. It took motivation, dedication, and a lot of adjustments to my diet. I tried many different weight loss programs before I found one that clicked. Meal replacement shakes, supplements, and one long week of cabbage soup. I either felt deprived or gassy or both.
Then I saw a Weight Watchers commercial featuring Oprah Winfrey and figured, well, if it's good enough for Oprah…I might as well try it. That woman loves to eat as much as I do. Perhaps this was meant to be.
Weight Watchers is one of the most popular and effective diets because unlike the other trendy weight loss programs, no food is strictly off limits. On top of that, there are thousands of delicious Weight Watchers recipes available for breakfast, lunch, dinner, and snacks, so you never feel deprived.
Weight Watchers works by assigning foods a point value. Nutritious, healthy foods that are more filling have fewer points than junk food that's full of empty calories. With the new WW Freestyle program, points can be carried over to the next day, and there are over 200 "zero points" food choices. The goal is to point you toward making healthier food choices for the long term. Weight Watchers is more of a lifestyle than a trendy diet.
And it works.
So if you're looking for Weight Watchers meals for dinner that are delicious and easy to make this collection of 25 easy Weight Watchers recipes with points is precisely what you need!
And if you need motivation (& don't we all?) Read this story about how Weight Watchers got started – it's so inspiring!:)
25 Easy & Fast Weight Watchers Meals for Dinner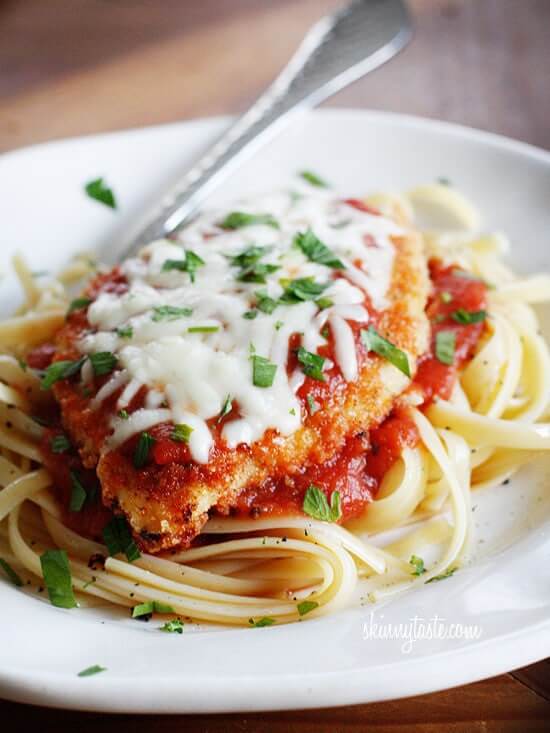 Mushroom Pork Chops | 5 Points | Renee's Kitchen Adventures
You May Also Like…
55 Weight Watchers Recipes to Melt Away the Pounds! With SmartPoints
28 Weight Watchers Crockpot Recipes With SmartPoints
Thanks for stopping by! I hope these recipes help you-no matter what goal you have in mind! Remember, when it comes to weight loss, you must be patient. I know that stinks, but you didn't gain the weight overnight so it's impossible to lose it overnight. Don't beat yourself about it. Just keep going! If you ever need help-I'm here!
Heather
If you enjoyed this collection of recipes, please share it on Pinterest!
And for more healthy recipes & tips, please follow my board, Healthy Recipes!
SaveSave
SaveSave
SaveSaveSaveSave
SaveSave
SaveSave
SaveSave
SaveSave
SaveSave
SaveSave
SaveSave