What kind of bread is low carb & keto diet friendly? Take your pick from these 21 keto bread recipes! Make magic happen with almond flour, coconut flour, Fathead dough & cream cheese to create low carb versions of your favorite must-have bread!
From keto bread for sandwiches to low carb hamburger buns, dinner rolls, microwave cloud bread and keto bagels this collection of keto bread recipes has all your cravings covered!
This post may contain affiliate links that help keep this content free. [Full Disclosure]
Bread. Whether it's in the form of sandwich, biscuit, bun, or cornbread bread has been an American diet staple for centuries and a huge NO on the keto diet. Until now.
Here's the thing, as the popularity of the ketogenic diet increases so does the number of amazing low carb recipes, and bread is included.
Just look at why we avoid bread on a low carb diet:
Carb Content In Your Favorite Breads
One Slice Sandwich Bread – 15 to 22 carbs
Hamburger Buns – 21 carbs
Rolls – 27 carbs
Cheesy Bread – 31 carbs
Blueberry Bread – 25 carbs per slice
Bagels – 48 carbs
Is anyone else horrified? One bagel-a plain Jane bagel-has an entire day's worth of carbs plus a few!
If the thought of making homemade bread intimidates you, you are not alone, but don't let that stop you from giving it a try.
There are tons of super simple ways to DIY-it – even if you're a keto or kitchen beginner!
We're talking make it in the microwave simple, folks.
I've experimented with several recipes over the years– from Fathead dough to keto bagels and biscuits. Here are 21 of my all-time favorites – so far.
Keto Bread Recipes
Keto Connect's recipe takes around 10 minutes to prep & 40 minutes start to finish. They use almond flour, eggs, butter, baking powder, salt, liquid stevia, and a little cream of tartar to create a loaf of bread that bakes in the oven (no special equipment)! Only 1.25 net carbs per slice! Get the details on Keto Connect
The low carb version of the famous Red Lobster Cheddar Biscuits that you can put together in 20 minutes with only 2 net carbs! Get the details on Step Away From The Carbs
Perfect for breakfast sandwiches, lunch, grilled cheese, or as a stand alone snack, this easy recipe takes 90 seconds in the microwave & has 2 net carbs per serving. Get the details on Jennifer Banz
This recipe from Fat for Weight Loss also includes almond flour as well as butter, coconut oil, eggs, baking powder, xanthan gum, and salt. It makes 16 slices of freezer-friendly bread in 40 minutes with only 1.5 net carbs per slice. Get the recipe on Fat For Weight Loss
Here's a creative low carb flat bread recipe that takes around 30 minutes to put together with cream cheese, mozzarella cheese, eggs, parmesan cheese, pork rinds, and baking powder. You don't need any special equipment to make this one that comes in with 1 net carb! Get the details on Low Carb Yum
Tasty, buttery rolls come together in 27 minutes with only 4 net carbs per roll! Get the recipe on Beauty And The Foodie
Paleo Hacks' low carb bread is perfect if you've been missing that loaf of Wonder bread you used to turn to at lunch time! You'll need eggs, ghee, almond flour, baking powder, and sea salt to make this bread in 55 minutes! 3 grams of carbs per slice! Get the details on Paleo Hacks
Make this low carb bread the easy way-use your blender! You'll need almond & coconut flour, baking soda, salt, eggs, avocado oil, and apple cider vinegar. 4 net carbs per serving! Get the recipe on A Clean Bake
You won't miss the carbs with these muffins that taste just like your favorite garlic bread! This recipe takes 45 minutes & contains 4 net carbs! Get the details on All Day I Dream About Food
Low carb biscuits in 30 minutes with 3.5 net carbs! You'll need almond flour, cream cheese, egg, cheddar cheese, heavy cream, bacon, jalapeños, minced garlic, and a little onion & garlic powder. See how it's done on Peace, Love And Low Carb
Slightly sweet, low carb cornbread comes together in under 30 minutes with almond flour, swerve, eggs, butter, baking powder, and vanilla! 1.5 net carbs per serving! Get the recipe on Savory Tooth
Low carb rolls in 15 minutes! Mozzarella cheese, cream cheese, almond flour, flax seed, egg, and baking soda create a dinner roll with only 2.3 net carbs! Get the recipe on Hey Keto Mama
Missing French bread? Here's the keto alternative! This one takes a little more effort & time (75 minutes total), but it is worth it for a delicious sourdough bread with only 4.5 net carbs per baguette! Get the recipe on Keto Diet App
Fabulous low carb sweet bread! Perfect for a side or for sliders! Each roll contains 3.8 net carbs! Get the recipe on i Save A 2 Z
Fathead dough to the rescue! Each hamburger bun contains just 4 net carbs! Get the recipe on Low Carb Maven
Mozzarella, parmesan cheese, egg, garlic powder, and salt make this easy cheesy bread a favorite snack or side with almost no carbs! Get the recipe on Crafty Morning
Just 5-ingredients & 27 minutes stand between you & these delicious bagels with just 5 net carbs! Get the Fathead dough recipe on Wholesome Yum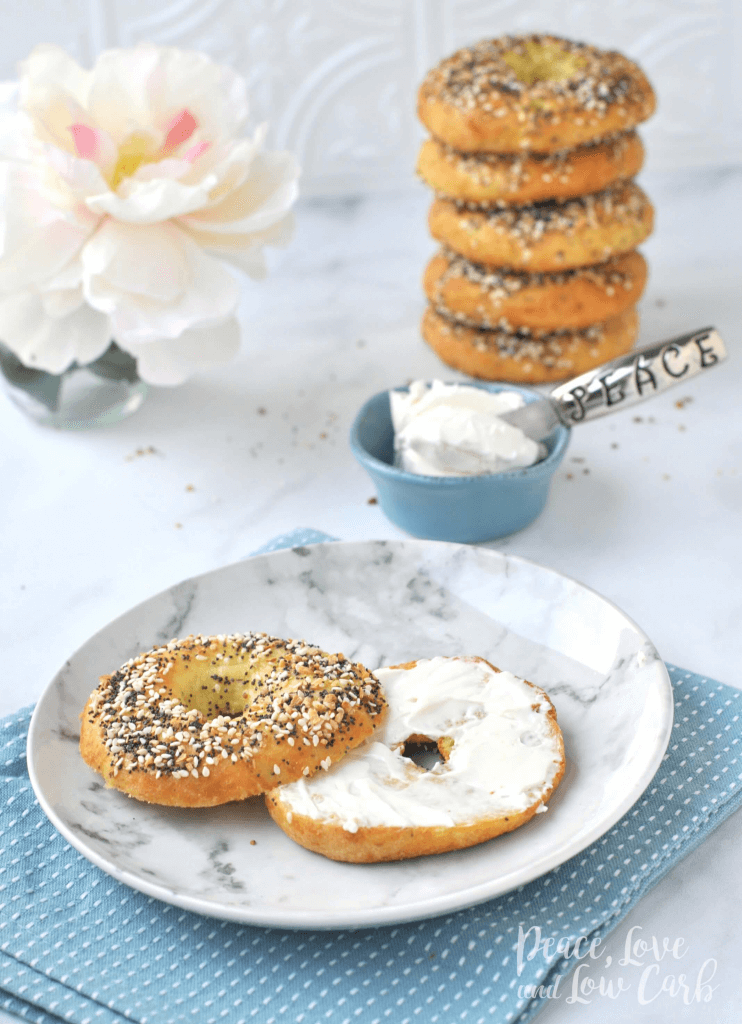 This copycat Starbucks Chonga Bagel has everything you crave without the carbs! Make these in less than 30 minutes! Only 6 net carbs! Get the recipe on Peace, Love And Low Carb
This grain-free, gluten-free low carb bread is perfect for breakfast or dessert! It will take around 50 minutes from start to finish using a combination of almond & coconut flour, eggs, blueberries, baking powder, heavy cream, Erythritol, and vanilla. Only 3 net carbs per serving! Get the recipe on Low Carb Spark
Make this sweet & spicy pumpkin bread in under an hour! This almond & coconut flour combination only has 2 net carbs per serving! Get the recipe on Green and Keto
Save this low carb bread for the holidays or any day you need a sweet treat with only 3 net carbs per serving! Get the details on Kasey Trenum
Did I Miss Anything?
Which recipe from today's line-up are you going to try first?
Or maybe I didn't mention one of your favorite keto bread recipes?
Either way, let me know by leaving a comment below right now.
Don't Miss These Keto Recipes + Tips!
Save Or Share!
For even more Low Carb Food Inspiration follow my Keto Recipes Board!
About Heather
First, thanks for sticking with me – I started this blog to help people like you take control of their health – achieve their fitness goals – lose weight – and gain the confidence they need to go out and live life to the fullest. (Because that's what losing 100 pounds on the keto diet did for me:) If you need help, please reach out. In addition to blogging full-time, I'm a Health Coach, and I'm a mom of three awesome kids – 2 girls & one precious son who happens to have autism.
I'm continually seeking balance to do all of the things – and I'd love to help you do the same.
You Can Find Me On Facebook.
I'm also on Pinterest.
And YouTube.
One day I may participate regularly on Instagram, who knows:)
–Heather