Make this fabulously low carb, Keto Chocolate Chip Cookie Dough Fat Bombs recipe fast! Cream cheese, peanut butter, butter, and sugar-free chocolate chips create the ultimate keto sweet treat! This easy recipe for edible, homemade cookie dough is super low carb, sugar-free, and simple!
This post may contain affiliate links that help keep this content free. [Full Disclosure]
Is there anything better than an easy keto dessert recipe featuring chocolate & peanut butter?
Nope!
Full disclosure: I'm not solely responsible for this amazing fat bomb recipe, but I will take partial credit since my daughter is! Hang on- Let me back up a little!
The past two weeks have been crazy at our house with not one, but two significant milestones happening at once:
1) My 18-year-old daughter is officially on keto!
&
2) We brought home a new family member, Posey!
Since puppies aren't allowed any chocolate (how are they still so happy?) + Posey is grain-free ThankYouVeryMuch, I'll focus on Savannah whose recipe for keto fat bombs is the reason I'm here writing right now & not chasing a Golden Retriever!
Peanut Butter & Keto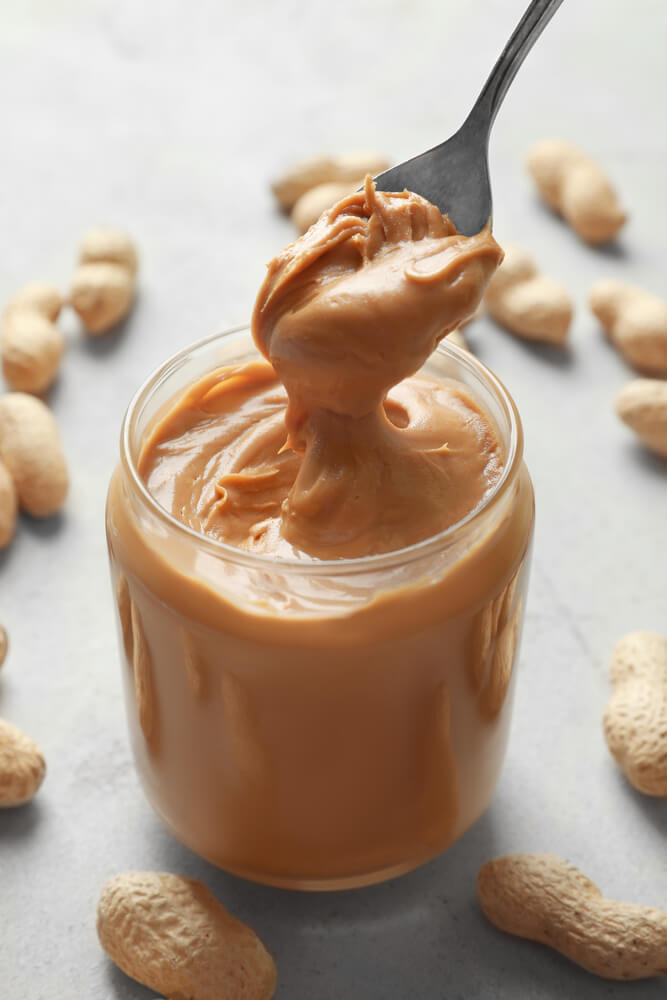 Before we get to the fat bombs, let's address the elephant in the room: peanut butter & the keto diet. A quick google search will turn up many vastly different opinions on this ranging from a hard No! to a definite Maybe…It's confusing.
Here's the deal: peanut butter can be a healthy part of your low carb and yes, keto diet, as long as it's the RIGHT KIND. And no, I'm not about to weigh in on the highly controversial Jiffy vs. Peter Pan issue here.
I'm talking about added sugar! What does most kinds of peanut butter in is the amount of sugar-not the carbs!
So, you want to choose a natural peanut butter – the fewer the ingredients, the better! Natural peanut butter typically contains around 2-4 net carbs per tablespoon. (The total carbs after you subtract dietary fiber.)
Brands like Crazy Richard's All Natural & Perfect Keto Nut Butter (with MCT Oil) are two I'm comfortable recommending. You can get Crazy Richard's on Amazon & if you go with the Perfect Keto – use the WTYM15 discount code for 15% off!
Keto Chocolate Chip Cookie Dough Fat Bombs
Sav's easy recipe requires only a few simple ingredients: full-fat cream cheese, two-ingredient peanut butter, Swerve, butter, and Lilly's Chocolate Chips! The hardest part of the process is waiting two hours for the bombs to set up in the freezer!
More Must-Have Keto Dessert Recipes
If you like these Keto Cookie Dough fat bombs, then you need to check out these low carb treats!
Keto Chocolate Peanut Butter Fat Bombs (Dairy-Free) – Another no-bake fat bomb recipe with 1.6 net carbs each.
Cream Cheese Fat Bombs – How does a super quick and easy keto dessert with less than 1 carb sound? Trust me, you need this recipe in your life:)
Keto Chocolate Peanut Butter No Bake Cookies – The ultimate no-bake keto cookie!
Keto Peanut Butter Balls – Super easy 3-ingredient no-bake peanut butter balls with 1.8 net carbs each! (paleo and vegan-friendly)
14 Favorite Keto Fat Bomb Recipes – A collection of my favorite fat bombs! I've followed a low carb, keto diet for 8 years now and, in my opinion, these are the best!
Keto Hot Chocolate – Fabulous and easy low carb, sugar-free hot chocolate recipe
THE Keto Dessert Cookbook
you need this cookbook with 60+ guilt-free recipes for those of us on keto or anyone who is looking for healthy desserts that are sugar-free and delicious!
Print
Keto Chocolate Chip Cookie Dough Fat Bombs! Easy Low Carb Keto Treats | Word To Your Mother Blog
---
Author:

Total Time:

70 Minutes

Yield:

14
Description
Make these fabulously low carb, Keto Chocolate Chip Cookie Dough Fat Bombs fast! Cream cheese, peanut butter, butter, and sugar-free chocolate chips create the ultimate keto sweet treat!
---
---
Instructions
Start by combining room-temperature butter, softened cream cheese and peanut butter. Stir until smooth.
Add Swerve, salt, and vanilla.
Fold in chocolate chips.
Using a cookie scoop, scoop 14 balls onto a baking pan.
Freeze for two hours until set!
Store in refrigerator or freezer.
Freezes well for up to 3 months in an airtight container.
Enjoy!
Prep Time:

10 Minutes

Cook Time:

60 Minutes

Category:

Desserts

Method:

No-Bake

Cuisine:

American
Keywords: edible chocolate chip cookie dough, keto fat bombs, low carb fat bombs, keto snacks, keto desserts, keto diet fat bombs, low carb treats
Stock Your Keto Pantry!
Get the go-to keto pantry staples, meal plans and exclusive Word To Your Mother reader discounts on my Shop Page here. Need a shopping list? Click here!
And for more than 500 Low Carb Keto Meal ideas and easy recipes, check out my Keto Recipes Index!
Don't Miss These Keto Recipes
Don't Forget To Save!
Looking For Ways To Make Sticking To Keto Easier?
I get it! I've lost 100 pounds on the keto diet and maintained that weight loss for six years – these meal plans and recipes helped me a TON.
Here's the low-down on the weekly meal plans – Tastaholics will send you pre-calculated, low carb meal plans and recipes right into your inbox – no more hunting down recipes on the internet and trying to fit them together perfectly every day.
Doesn't that sound easy? It is. And you can try it totally free right here
Or – opt for the Keto In Five– These Are Not your Grandmother's Cookbooks -You can download them to any device!
Each collection offers 30 breakfast recipes, 30 lunch recipes, 30 dinner recipes & 30 dessert recipes with only 5 ingredients & 5 net carbs! They provide all the macro info for you – which makes life so much easier!
Go ahead & try the meal plans or grab the Keto In Five Bundle!You've got nothing to lose – They offer a 365 Day money-back guarantee, but you won't need it:) Ok – sales pitch over:)
Thanks for reading! Have a fabulous day!
Today's Quote: "Seize the moment. Remember all those women on the Titanic who waved off the dessert cart." – Erma Bombeck