No time to cook? No problem! These quick & easy keto dinner recipes are ready to serve in 30 minutes or less!
You know, I once thought for a meal to be swoon-worthy one must slave for hours over a hot stove out of love for their family.
Thankfully, I was wrong!
The truth is, you can cook amazingly flavorful, nutrient-dense dinners faster than you can get take out. Cooking at home is the healthiest thing you can do for yourself, your family and your budget! The following collection of low carb dinner recipes will prove it!
Whether you're looking for a better for you version of your favorite Chinese stir-fry takeout meal, or low carb recipes with chicken, beef, pork or fish that are ready to serve in 30 minutes or less you'll find a new time and sanity-saving meal today!
This post may contain affiliate links. For more information please see my disclosure policy here.
Make this one-pot low carb, keto-friendly stir fry faster than you can get takeout! This Low Carb Kung Pao Chicken recipe has all the sweet & spicy flavors of the traditional Chinese recipe-without the carbs! Get the recipe on Life Made Keto
Everyone in the family will love this low carb, gluten-free casserole recipe that's ready to serve in 30 minutes with only 3.5 net carbs per serving! Get the recipe on Wholesome Yum
Another fabulous one-pan meal! This easy creamy lemon chicken with cauliflower has hints of lemon & thyme & tastes like you cooked all day, but it's ready in 30 minutes! Get the recipe on Delicious Little Bites
With all the flavor of Dirty Rice without the carbs, this easy keto & Atkins-friendly meal needs to be filed in your Easy Go-To weeknight dinner collection. Get the recipe on Kalyn's Kitchen
Seasoned with a blend of cajun spices & topped with an out of this world delicious cool & creamy avocado salsa this heart-healthy dinner is ready to serve in 15 minutes! Get the recipe on Closet Cooking
One of my favorite low carb dinners! Not only are these healthy meatballs easy & fast, but you can also make them ahead on meal prep day & freeze for those nights you have zero time! Get the recipe on Wholesome Yum
Just like Mom used to make-except much healthier! This recipe features juicy hamburger along with a brown gravy with onions & mushrooms! Get the recipe on Low Carb Maven
Put your spiralizer to work and create a made from scratch stir-fry full of flavor in 30 minutes! Get the recipe on Just A Taste
If you're a fan of comfort foods-and who isn't??? You'll love this savory low carb soup recipe with just the right amount of kick! Double up on this on & freeze for later! Get the recipe on Hey Keto Mama
This healthy, low carb balsamic chicken and vegetables is full of flavor, nutrients and protein! Bonus: You can make it ahead & freeze! Get the recipe on Life Made Sweeter
You need only 5 simple ingredients to create this flavor-filled healthy chicken dinner! Ready to serve in 30 minutes! Get the recipe on Peace, Love and Low Carb
Delicious pan seared pork chops with apple butter, a splash of balsamic, sage and a bit of browned butter come together to create a comforting hearty dinner meal. Get the recipe on Half Baked Harvest
Need More Quick & Easy Dinner Recipes?
Check out the Keto In Five Cookbooks! Over 120 Low Carb Recipes that use 5 ingredients, 5 steps & contain 5 carbs or less!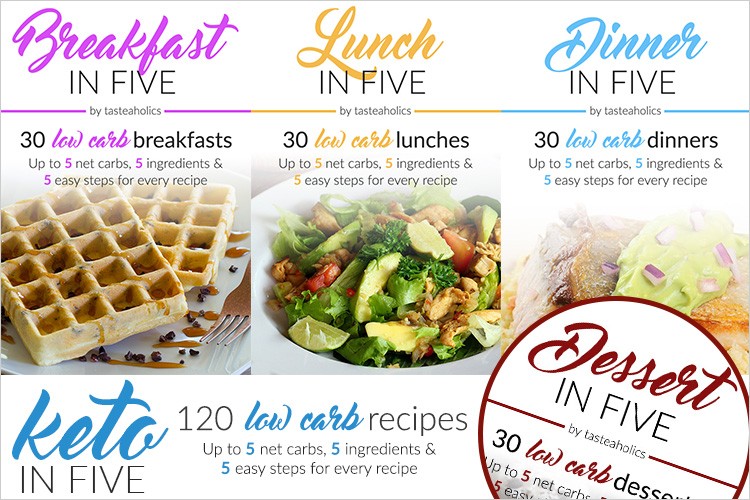 12 Last Minute Low Carb & Fast Dinner Recipes
12 More Quick Keto Dinner Recipes For Nights When You Have Zero Time
40 Easy Low Carb Instant Pot Recipes
Don't forget to save these Quick & Easy Keto Dinner Recipes!
And for more low carb food inspiration, follow my Keto Recipes Board!