If you're looking for healthy snacks for weight loss then you are in the right place – I've lost over 90 100 pounds, and these snack ideas and recipes helped me do it!
This post may contain affiliate links that help keep this content free. [Full Disclosure]
Trying to find healthy snacks can be like looking for a needle in a haystack. You have to weed through the sugar-filled, over-processed, and carbohydrate rich foods before you get to the ones that are are actually good for you.
Then you have to search for the recipes you may enjoy.
Then you have to find the ones you have time to prepare. Who has time for that?
Nobody.
The good news is you don't have to spend a lot of time prepping healthy snacks – & – there are a ton of fabulous snacks you can buy – you just have to know where to look! Today I'm sharing my best healthy snack ideas & recipes – that helped me lose weight!
Healthy Snacks – Almonds
Swap your carb-loaded chips for the flat stomach superfood: almonds! This study shows eating 1.5 ounces of almonds every day helps burn belly fat. Almonds are full of fiber, vitamins & minerals making them one of the world's healthiest foods.
Keep your snack size at around 23 almonds which is 1/4 cup or a handful – these portioned snack packs will help you do that:)
Tired of plain almonds?
Here's a gluten-free & low-carbohydrate recipe for Spiced Spanish Almonds from Eating Well.
Or you can try this Clean Eating Almond Butter & Jelly combo that you can make ahead & take to work!
Avocados
Eating three tablespoons of avocado reduces belly fat by 1.6% over four weeks. Avocados are a nutrient-dense fruit packed with healthy fats.
Easy Healthy Snacks – Homemade Guacamole Recipe
Hands down the best easy homemade guacamole recipe! This healthy homemade dip is easy to put together tastes amazing & is low carb, and keto-friendly, and gluten-free! Get the recipe here
Avocado Toast with Egg, Spinach, & Tomatoes is another great avocado snack recipe -from Two Peas & Their Pod
Brazil Nuts
I feel sorry for these overlooked nuts-they always seem to be picked over in the nut bowl. Brazil Nuts are one of the best ones for fat burning! They boost your metabolism by converting the thyroid hormone to it's active form.
Broccoli
Eating plenty of dark-colored veggies like broccoli results in less visceral fat (dangerous fat around organs) Broccoli contains calcium which has also shown to increase fat loss especially in the belly area. Snack on raw broccoli, use in salads, roast it, bake it or steam fresh broccoli as a side dish. Broccoli Rabe stimulates an enzyme that tells your body to burn fat.
Here's a recipe for Broccoli Chips from Sprouting Zen that takes 15 minutes to prepare! Here's one for Broccoli Rabe with Roasted Peppers you may want to try for dinner.
Healthy Snacks – Blueberries
Healthy & antioxidant-rich blueberries have been a superfood for a while, but new research suggests they may influence genes that regulate the way we store & burn fat. P.S. Blueberries are also a lower carb fruit:)
Blueberry Bars – Delicious blueberry bars with an almond & coconut flour crust from All Day I Dream About Food
Blueberry Oatmeal Breakfast Bars – Easy, gluten-free, vegan and freezer-friendly clean eating blueberry oat bars.
Low Carb Blueberry Smoothie – Packed with antioxidants & vitamin C – a perfect post-workout snack if you're on a low carb diet from Fat for Weight Loss
Atkins Blueberry Greek Yogurt Bar
Almonds, blueberries & greek yogurt with 14 grams of protein & 4 net carbs – awesome healthy snack that you can buy on amazon!
Fat Burning Blueberry Smoothie
1 Cup Unsweetened Vanilla Almond Milk
1/2 cup ice
1 cup blueberries*
1 Banana
1 Scoop Whey Protein Powder
1 Tablespoon Flaxseed
1 Teaspoon Chia Seeds
You can substitute the blueberries with frozen berries, but if you do – use 1/2 cup water instead of ice. You can also throw in some leftover (uncooked) Kale or Spinach if you have it, but if you do, add in about a teaspoon of honey.
Blueberry Avocado Protein Shake | Dr. Oz
Metabolism Boosting Blueberry Smoothie | Suburban Simplicity
Chia Seeds
You remember the Ch-Ch-Ch-Chia Pets? Well, turns out – these seeds are fabulous for more than creating "home decor" – They suppress appetite, fire up metabolism, AND amp up your body's fat burning hormones! 2 tablespoons of chia seeds contains 10 grams of fiber – which will keep you full & help prevent overeating.
Sprinkle chia seeds on salads, cereals, sauces, vegetables, rice, or yogurt. You can find them at health food stores and some grocery food chains, or you can purchase them here on amazon.
3-Ingredient Chia Pudding – Loaded with protein, fiber & healthy fats from Feel Good Foodie
Strawberry Apple Chia Kind Whole Fruit Bars – No sugar added, gluten-free snack bars
Coffee
Coffee can increase the metabolic rate & a new study (June 2019) shows evidence that it stimulates the body's brown adipose tissue or "brown fat" – which is a game changer! Just remember to keep what you use to flavor your coffee sugar-free or drink it black:)
Or
Try One of These Fat Burning Coffee Recipes
Cottage Cheese
High-protein, low carb cottage cheese is a weight loss staple. You can eat it plain or – in case of boredom – top it with cinnamon, ginger, nutmeg or fresh blueberries!
Or try adding chocolate protein powder, peanut butter & a little Stevia – if you need it!:)
Dark Chocolate
The MUFAs (monounsaturated fatty acids) in dark chocolate help supercharge metabolism & burn fat. Eat 1 ounce of dark chocolate three times a week for maximum benefits:)
Atkins Endulge Bars
Fabulous grab on the go – keto-friendly snack when you need a brownie, but not the carbs! Get them on amazon here
Lindt Excellence Bars
Perfect when you need a sweet snack – with 85% cocoa dark chocolate & you can get them on Amazon here
Greek Yogurt
Greek Yogurt has twice the protein and half the amount of sugar as regular yogurt making it the obvious choice for snacking. I like old school style greek yogurt with blueberries, but after eating the same thing for three months I had to find some ways to switch it up.
4 Ways To Make Greek Yogurt – A Beautiful Mess gives 4 brilliant ways to mix up your greek yogurt bananas, chocolate, cookie dough & lemon
Blackberry Sugar Free Frozen Yogurt – Easy & healthy frozen greek yogurt with only 5 ingredients from Wholesome Yum is a solid favorite sweet snack!
Healthy Snacks – Eggs
Did you know that if you eat eggs for breakfast you're less likely to overeat later in the day? I know we aren't talking breakfast for weight loss here – but hard-boiled eggs are fabulous high-protein, low carb snacks!
Eggs contain several power nutrients like B 12 that helps the body break down fat, as well as Vitamin D & Choline which have a positive effect on fat metabolism.
How To Bake Eggs In The Oven – Have you tried baked eggs? It couldn't be easier to do – all you need is eggs! Oh, and did I mention you can freeze them for those mornings when you have zero time? Yep. It's a thing:)
Easy Egg Breakfast Muffins – These low carb muffins make the perfect breakfast on the go. Make them ahead for busy mornings or put them together in 10 minutes for a healthy breakfast that will keep you full until lunchtime.
Egg Muffins with Sausage – Here's another protein-packed breakfast with sausage, eggs, cream cheese, cheddar, crisp bell peppers, and green onions.
Low Carb Guacamole Stuffed Eggs
Deviled Eggs with Avocado are the perfect clean eating low carb snack! This recipe combines two major low carb players to create one superstar recipe that's easy, delicious & has only 1.6 net carbs! Get the details here
Deviled Eggs with Bacon – This classic deviled egg recipe is keto, low carb, paleo, and Whole30, but what makes it a stand out is the one of a kind rich and creamy texture that will not disappoint:)
Healthy Snacks – Nut Butter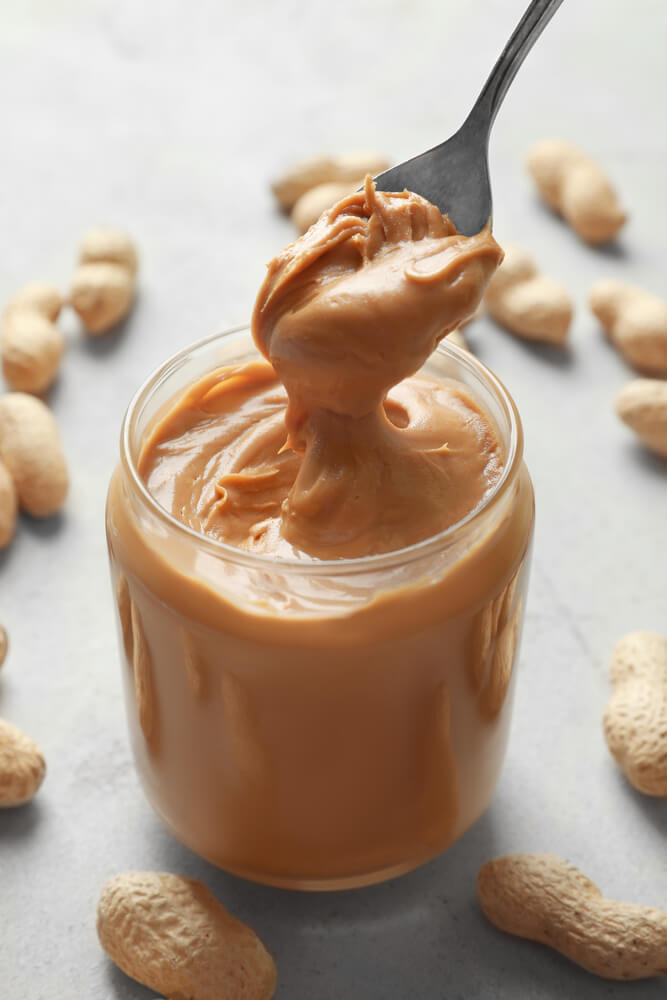 It may not make the traditional fat burning lists, but research has shown that eating peanut butter in the morning results in consuming less calories throughout the day. And it worked for me!
One of my favorite "lazy girl" snacks when I set out to lose weight was peanut butter on apple slices. The monounsaturated fat and protein from the peanut butter plus the fiber from the apple filled me up for hours.
After I lost a few pounds – I switched to the keto diet – where I discovered the world of fat bombs:)
Chocolate Chip Peanut Butter Fat Bombs
Cream cheese, peanut butter, butter, and sugar-free chocolate chips create the ultimate keto sweet treat! This easy recipe for edible, homemade cookie dough is super low carb, sugar-free, and simple! Get the recipe here
Clean Low Carb Nut Butter
If you're looking for a healthy peanut butter option – Perfect Keto makes this fabulous nut butter with raw macadamias, cashews & coconut – without peanuts, hydrogenated oils or added sugar!
Healthy Chocolate Peanut Butter Smoothie – This 5 ingredient low carb smoothie makes a filling & delicious healthy snack for weight loss from Wholesome Yum
5 Ingredient Peanut Butter Energy Bites – Oats, flaxseeds, peanut butter & honey make another filling & easy snack via Chef Savvy
3-Ingredient Peanut Butter Balls – Super easy 3-ingredient no-bake peanut butter balls with 1.8 net carbs each! (paleo and vegan-friendly)
Dairy-Free Sugar-Free Chocolate Peanut Butter Cups – Here's my no baking required, better for you style, low carb peanut butter cup recipe:)
Loaded Apple Nachos – Apples, nut butter, raisins & coconut make a fabulous healthy sweet snacking alternative from Begin With Nutrition
Healthy Peanut Butter Cups – A healthy version of the classic candy using natural peanut butter, cocoa powder & maple syrup from Fit Foodie Finds
Did I Miss Anything?
Which recipe from today's line-up are you going to try first?
Or maybe I didn't mention one of your favorite healthy snacks?
Either way, please let me know by leaving a comment below!
Don't Miss These Recipes & Tips!
Don't forget to save and share these healthy snacks for weight loss!
Today's Quote: "I believe that the greatest gift you can give your family and the world is a healthy you." ~ Joyce Meyer