Need a little low carb inspiration for your next meal? I've got your back with 46 keto side dish recipes for every occasion!
This post may contain affiliate links that help keep this content free. [Full Disclosure]
Whether you're planning a BBQ for two or Christmas dinner for fifteen, these are the keto side dish recipes you need in your life! Save these fabulous low carb sides so you can- as my husband says-make dinner a REAL meal tonight!
Here's the line-up: I've organized these by vegetable to make it easier to digest:))
Spinach
Cauliflower
Spaghetti Squash
Green Beans
Broccoli
Asparagus
Zucchini
Brussels Sprouts
Hungry? Me too! Let's get started!
Creamed Spinach
The best keto creamed spinach recipe! Find out how to make this epic low carb side with fresh or frozen spinach, cream cheese, butter, and garlic topped with a layer of Parmesan cheese & pork rinds! Get the recipe here!
Cauliflower Mac & Cheese
Healthy, low carb cauliflower mac & cheese is a perfect keto side dish recipe for busy nights from Wholesome Yum! Only 5 ingredients and 5 minutes of prep! Get the recipe here
Green Chile Cauliflower Casserole
Cauliflower rice baked in a creamy cheese sauce topped with green chiles and cheese! Ready in 20 minutes! Find the recipe on Joy Filled Eats
Cauliflower with Cheese & Bacon
Easy & loaded with bacon & cheese via Savory Tooth
Mexican Cauliflower Rice
Mashed Cauliflower with Cream Cheese & Asiago
Cauliflower Potato Salad
Perfect for holiday gatherings or everyday meals! Get the full recipe here
Parmesan Roasted Cauliflower
This recipe from Primavera Kitchen is an easy side dish for any occasion! Find the full recipe here
Memphis Style Coleslaw
Perfect for summer! Recipe here
Side Dishes – Spaghetti Squash
Bacon Au Gratin Spaghetti Squash
A delicious and cheesy Spaghetti Squash Au Gratin from Crafty Morning! Get the recipe here
Spaghetti Squash Au Gratin
Perfect for the holidays or any day via Cast Iron Keto
Side Dishes – Green Beans
Green Beans With Bacon
Southern style low carb side dish with 3.4 net carbs. Recipe here
Sauteed Green Beans
This one's ready in 20 minutes from start to finish! Get the recipe here
Green Bean Casserole
If you're looking for a keto-friendly version of this holiday favorite this is a fantastic version by Briana Thomas! The full recipe is here
Garlic & Bacon Green Beans
Sweet & Sour German Green Beans with Bacon & Onions – Low Carb Maven
Crockpot Green Beans with Bacon
Green Bean Fries
Easy keto side dish from Tastaholic's! These green bean fries are ready in 20 minutes & have only 2.5 net grams of carbs per serving! Get the recipe here
Side Dishes – Broccoli
Lemon Roasted Spicy Broccoli
Only 5 net carbs per serving! Get all the details here
Broccoli & Cheese Casserole
Here's a keto side dish recipe that everyone will eat and it's ready in 20 minutes! Get the details right here
Broccoli Gratin with Swiss & Parmesan
This Broccoli Gratin with Swiss & Parmesan would be a great keto side dish for Thanksgiving, Christmas, or any holiday meal. Get the details here
Low Carb Broccoli Salad with Bacon & Cheese – Low Carb Yum
Ranch Roasted Broccoli
Broccoli Fritters
If you've never tried fritters this recipe from Low Carb Maven is where to start! These easy low carb broccoli fritters are a great side dish or snack!
Side Dishes – Asparagus
Asparagus With Hollandaise
The easiest low carb asparagus with Hollandaise Sauce-ever! Get the recipe from Tastaholics
Baked Asparagus With Lemon Butter & Parmesan
The perfect side for any occasion! Get the recipe details here
Cheesy Baked Asparagus with Bacon
Roasted Garlic Asparagus & Mushrooms – Ahead of Thyme
Bacon Wrapped Asparagus
Bake this keto side dish in the oven & it's ready in 30 minutes! Easy & delicious low carb recipe from Wholesome Yum
Grilled Asparagus With Parmesan
This keto side dish recipe for the grill pairs healthy asparagus with parmesan cheese to make a flavorful side that's low carb, gluten-free, and South Beach friendly. Get the details here
Side Dishes – Zucchini
Zucchini Casserole
Delicious zucchini casserole from All Day I Dream About Food's Carolyn is cheesy and easy! Get the full recipe here
Zucchini Noodles With Tomatoes
Fresh Italian cheese with garlic and zucchini spirals is a fun keto side dish that will pop on your dinner plate Find the full recipe here
Baked Zucchini Fries
Oven baked zucchini fries that everyone loves! Made with only 5 ingredients, this low carb keto side dish recipe may become one of your family favorites! Get the recipe details here
Zucchini Bake with Tomatoes, Garlic and Parmesan – iFoodreal
Garlic Parmesan Zucchini
Tender slices of zucchini topped with a creamy, garlic & cheese topping that is divine! With only 5 ingredients and a 5 minute prep time this one from Joy Filled Eats is perfect for busy weeknights!
Gluten Free Low Carb Zucchini Fritters – Low Carb Yum
Side Dishes – Brussels Sprouts
Sweet & Spicy Brussels Sprouts
Sweet and spicy Brussels Sprouts recipe from Tastaholics! Get all the details here
Cheesy Brussels Sprouts Gratin – Sugar-Free Mom
Parmesan Crusted Brussels Sprouts – Ketogasm
One-Pan Pepper Jack Brussels Sprouts
Up your sprout game with this easy keto side dish recipe that comes together in minutes from Ruled.Me
Baked Brussels Sprouts Casserole – i Save A to Z
Balsamic Roasted Brussels Sprouts
This is not your average Brussels Sprouts recipe! Get the full recipe here
Cheesy Brussels Sprouts Gratin
One of the easiest and kid-friendly keto side dish recipes! Get the full recipe here
Are these 46 keto side dish recipes enough to end your struggle with the side?
Need More Legit Almost Too Good To Be True Keto Recipes?

I get it! I've lost over 90 pounds on the keto diet & maintained that weight loss for six years (I went from over 200 lbs to right around 135:) – & these meal plans & recipes helped me tremendously!
Shout Out To Tastaholics Weekly Meal Plans & Keto In Five cookbooks!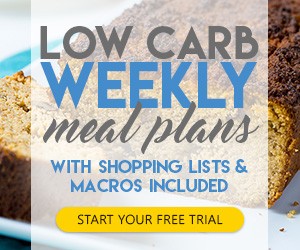 About the weekly meal plans – Tastaholics will send you pre-calculated, low carb meal plans and recipes right into your inbox – no more hunting down recipes on the internet and trying to fit them together perfectly every day.
They make the keto diet easy – for real. And you can try it totally free – HERE!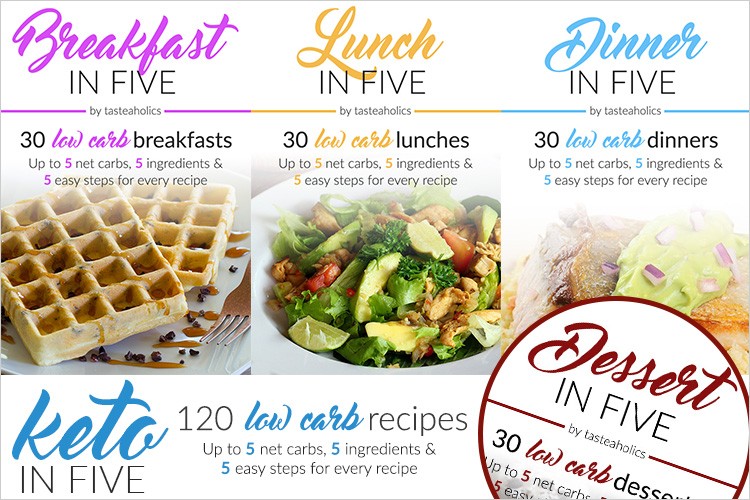 Or – opt for the Keto In Five – (These Are Not your Grandmother's Cookbooks-You Can download Them To Any device!)
Each collection offers 30 breakfasts, 30 lunches, 30 dinners & 30 desserts with only five ingredients & 5 net carbs! They provide all the macro info for you – which makes life so much easier!
Go ahead & grab the Keto In Five Bundle! You've got nothing to lose, but weight. They offer a 365 Day money-back guarantee, but you won't need it:)
And that concludes my sales pitch for today:))
Alrighty! Do you have a favorite keto side dish I missed, or you'd like to share? Link it up in the comments!
Don't Miss These Keto Recipes!
Don't forget to save these recipes!
For more low carb & keto food inspiration, follow my Keto Recipes Board!