If you're looking for a weight loss strategy that will give you serious results you can count on a low carb diet. Low carb diet plans have been shown to be especially effective for women even when other plans have failed. But sometimes creating a low carb menu can be tricky, especially if you're a beginner. Since most low carb plans for weight loss recommend a range of 50-150 carbs per day these low carb recipes for breakfast, lunch, and dinner will help you create a low carb meal plan to help you lose weight fast and improve your overall health.
This post may contain affiliate links that help keep this content free. [Full Disclosure]
For decades studies have shown low carb diets are effective healthy, budget-friendly ways of losing weight and improving overall health. Today, I'm going to share a little low carb 101 with you and then we'll move on to the best and easiest low carb recipes for weight loss! In case you're wondering who I am or why I'm so enthusiastic about the low carb lifestyle I'll give you a little Heather 101 too. Just over seven years ago I was around 120 pounds OVER weight, miserable, and depressed. I started a low carb diet as a last ditch effort to get myself off the couch & back into my children's lives. Well, it worked, and it worked fast enough for me to gain enough confidence to start (slowly) exercising & (slowly) reclaiming myself. You can read more about that here if you'd like.
How Many Carbs In A Low Carb Diet?
That's a fabulous question that just doesn't have a one-size-fits-all answer. You see, there are several different varieties of low carb diets, and they all come with a different set of guidelines.
A standard low carb diet cuts carbs back to 50-100 grams per day.
More moderate low carb eating plans allow for more carbs per day (100-150 grams), these are usually for more the more active and lean after they have experienced weight loss.
Strict low carb diets like the ketogenic diet (keto) require keeping carbs under 20 grams.
If you're a beginner, it's best to check with your doctor before taking on any new diet-especially if you have health issues or you are expecting.
Why Low Carb Diets Work
Less Hunger
Low carb diets have appetite suppressing effects meaning you won't feel hungry all the time on a low carb diet. If you've ever experienced the I just started my diet & now I'm starving effect you'll appreciate this benefit! Source
Another fab feature? Low carb diets decrease cravings for carb-heavy foods like pasta and sugary treats-especially in women.
Better Heart Health
Heart disease is the leading cause of death in women. Low-carb diets help improve lipid (cholesterol) profiles by increasing the HDL or "good cholesterol" and decreasing triglycerides which are a known risk factor for cardiovascular disease.
Migraine Relief
If you suffer from headaches, as I did-before I started the keto diet-then you'll be pleased to know that low carb diets like the ketogenic diet have been shown to reduce the occurrence of chronic migraines. How is this possible? When you're on the keto diet, your body uses ketones as fuel instead of glucose. Ketones are water soluble and less demanding and inflammatory than glucose.
Increased Weight Loss
Low carb dieters lose weight faster. Up to 2-3 times more weight loss to be exact. In the first two weeks of a low carb diet, you can expect to lose a significant amount of weight. Skeptics love to point out this initial weight loss is water weight – my guess is these folks have never been bloated:)
If all of this sounds do-able and you're ready to start losing weight yesterday I have selected the best low carb recipes for breakfast, lunch, and dinner for you to begin your weight loss journey. Below you'll find healthy, low carb recipes organized by meal. Click on the image or the link to see the full recipe! Enjoy!
Lunch
Dinner
Low Carb Snacks
Ok, so are you up for taking on a low carb diet? I know that was a lot of information and quite a few recipes, but the way I see it – if you're starting a new eating plan I'm not crazy about the word "diet" you need variety! If you need more info or recipes – take a look around my site – and consider subscribing below. I share healthy recipes and tips every week!
Don't Miss These Recipes!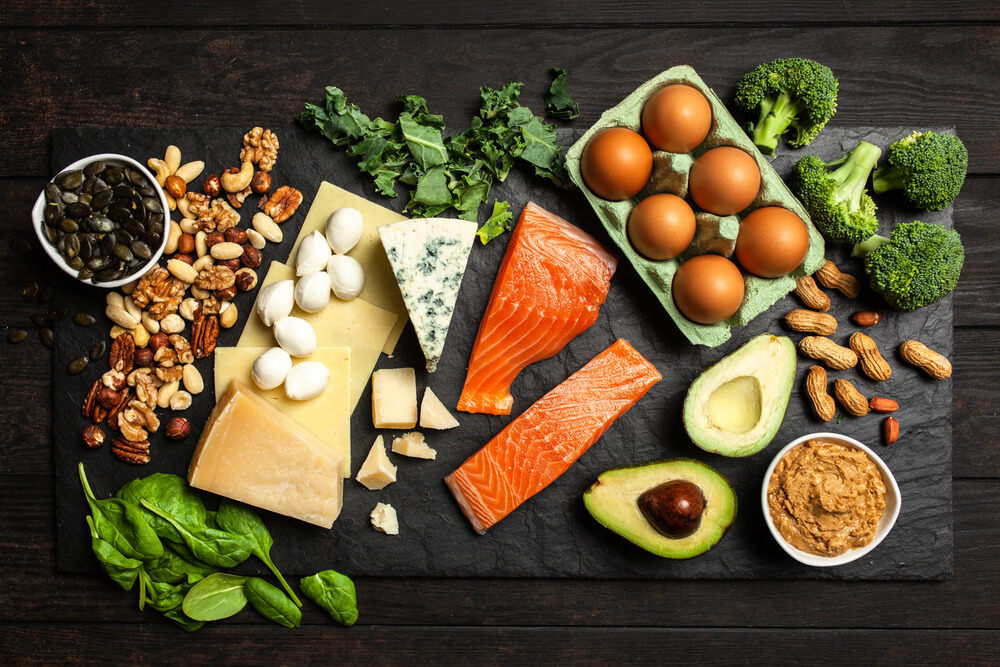 Save these low carb recipes so you can find them later!
For more low carb meal inspiration, follow me on Pinterest or Subscribe Below!