Keto Sausage Balls with Cream Cheese – The must-have low carb, keto sausage ball appetizer, breakfast or snack recipe that takes sausage, almond flour, cream cheese & egg to another level with 1.4 net carbs and 5 WW SmartPoints.
Sausage balls are a southern staple food- for tailgating, for Christmas parties, for breakfast, for lunch for…well, you get the picture. Thing is: my favorite sausage & cheese recipe was not keto – not by a long shot. So I made it low carb!
This recipe for keto sausage balls is a fabulous dupe for the original & it's almost effortless to put together. P.S. My picky eating – used to the Bisquick recipe kids love it too!
This post may contain affiliate links that help keep this content free. [Full Disclosure]
If you're new to the sausage ball game – here's the 411: Keto sausage balls make a fab make-ahead breakfast, snack & of course, a crowd-pleasing appetizer for game day or the holidays!
Bonus: You can freeze 'em!
Making Keto Sausage Balls The Easy Way
No need to brown the sausage…
But you're going to need to get your hands dirty – as in, we're mixing the ingredients with our hands.
But please – puh-lease, wash them first. I have this weird phobia of salmonella, so I usually scrub in like a surgeon before & after handling any raw meat. Of course, you can always use disposable gloves, but I never have those on hand. Ever.
Pro Tip: Take off your rings before doing a deep dive into sausage – I learned the hard way:)
You can use a cookie scoop to form the balls into uniform shape – but that's not how I roll – and you don't have to use one. I'm not a fan of special equipment – I'd rather spend that money on clothes or makeup or well, you get where I'm going with this, right? Anyway…
You can create the balls by rolling them in the palms of your hand about 1-inch each and you don't need to whip out the measuring tape – just make sure they are not too big, or you will end up with an unevenly cooked batch.
Oh, and even though I've made probably 1,000 batches of these, sometimes I forget to grease the baking sheet – which results in quite a situation when half the sausage ball sticks to the pan. Not that I don't still eat it – but well, it's hard to look cool at a party eating directly from a baking sheet.
So remember to line your pan with foil & grease it! If you're trying to make picture perfect appetizers &/or have a deep desire to prevent sticking, you can flip them about 10 minutes into cooking.
Keto Sausage Balls – Ingredients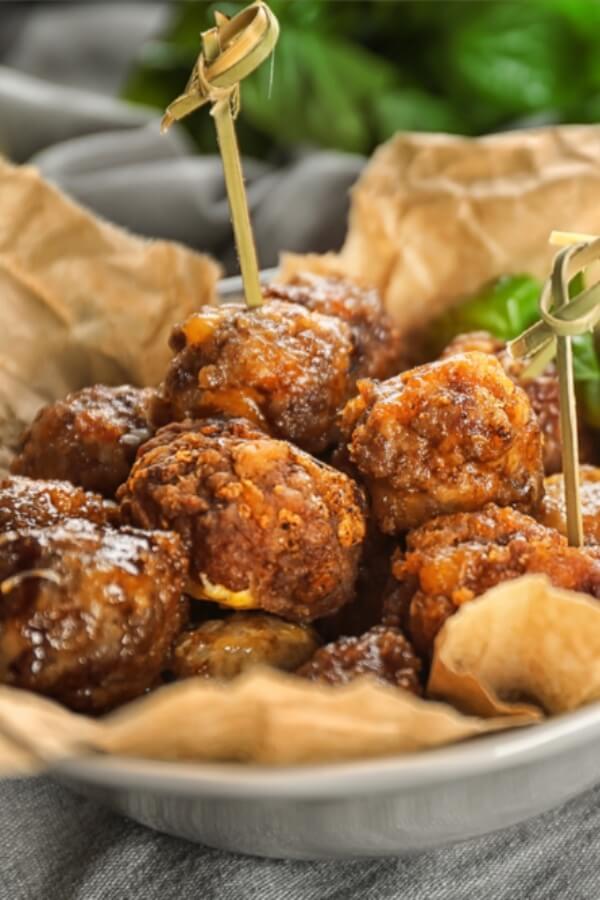 Ground Breakfast Sausage – I use Jimmy Dean – but feel free to use your favorite – hot or mild. When I'm making these for a crowd, I double the recipe & use one pound of hot & 1 pound of mild & it's perfect – just the right amount of heat.
Blanched Almond Flour – It's our sub for Bisquick (which is where the carbs come in @ 78 Net Carbs per cup:(( – I use Blanched Almond Flour – it works for everything!
Cream Cheese – I know cream cheese is often a subject of debate on keto. Here's the thing: if you want your sausage balls to be moist & bind – cream cheese is VIP.
Cheddar Cheese – You need to shred your cheese – I know it's an extra step & it is not mandatory – but pre-shredded cheeses do contain a few more carbs because of the starches & preservatives that get added in to increase shelf-life.
Egg – Best practice is to go for the Certified Organic eggs to avoid added antibiotics – but nobody's coming for you if you use the value pack:)

Heavy Cream – We are adding the heavy cream to keep the balls from getting too dried out plus it makes mixing easier. Also not mandatory. My grandmother always added a "splash" of milk to her recipe – which translated into whatever she felt like using – but to spare you from confusion – I'm listing it as 2 tablespoons worth:)
More Must-Have Keto Appetizers
If you like these sausage balls with almond flour, you'll love these low carb appetizer recipes, too.
Keto Stuffed Mushrooms – You need these stuffed mushrooms in your life & at your next party! Each bacon-wrapped mushroom is perfectly portioned to pack a ton of flavor without the carbs! (Bake or Grill)
Keto Deviled Eggs with Bacon – Deviled Eggs are a mandatory Southern staple, and these are divine with mayo, bacon, and a little hot sauce.
Buffalo Chicken Dip – Make this 4-cheese low carb dip in your slow cooker or the oven. Either way, it is guaranteed to be a game day or party hit with 2.6 net carbs per serving.
Keto Bread – Even if you don't consider yourself a baking expert you can make this keto bread recipe – even if you don't have a bread machine or a loaf tin! If I can bake this gluten-free, low carb, and homemade bread with almond flour, you can too.
Print
Keto Sausage Balls With Cream Cheese: The Best Low Carb Sausage Balls With Almond Flour
---
Author:

Total Time:

30 Minutes

Yield:

2

4

1

x

Diet:

Gluten Free
Description
Keto Sausage Balls with Cream Cheese – A must-have low carb, keto sausage ball recipe combining sausage, almond flour, cream cheese, egg & a secret ingredient that holds this epic keto breakfast, appetizer & snack together!
---
1

Pound Ground Breakfast Sausage

2 Cups

Blanched Almond Flour

2.5 Cups

Shredded Cheddar Cheese

8 Ounces

Full-Fat Cream Cheese

1

Egg

2 Teaspoons

Baking Powder

2

Garlic Cloves

2 Tablespoons

Heavy Cream
---
Instructions
Preheat Oven to 350 degrees
Set Cream Cheese out to soften
Shred Cheese
Mix (raw) sausage + almond flour + cheddar cheese + cream cheese + egg + baking powder + minced garlic together in a bowl. Add in 2 tablespoons heavy cream if needed to mix.
Use your hands to form each ball – shoot for 1 inch each + place on a (greased foil lined) baking sheet.
Bake for 20 – 25 minutes or until sausage is thoroughly cooked.
Prep Time:

10 Minutes

Cook Time:

20 Minutes

Category:

Appetizer

Cuisine:

American
Keywords: keto appetizer recipes, keto snacks, keto breakfast, low carb appetizer, low carb snack, almond flour recipes, Weight Watchers
Kickstart Keto Without Giving Up Your Favorite Foods!
Need more easy low carb recipes? I understand! I've lost 148 pounds on the keto diet and maintained that weight loss for six years!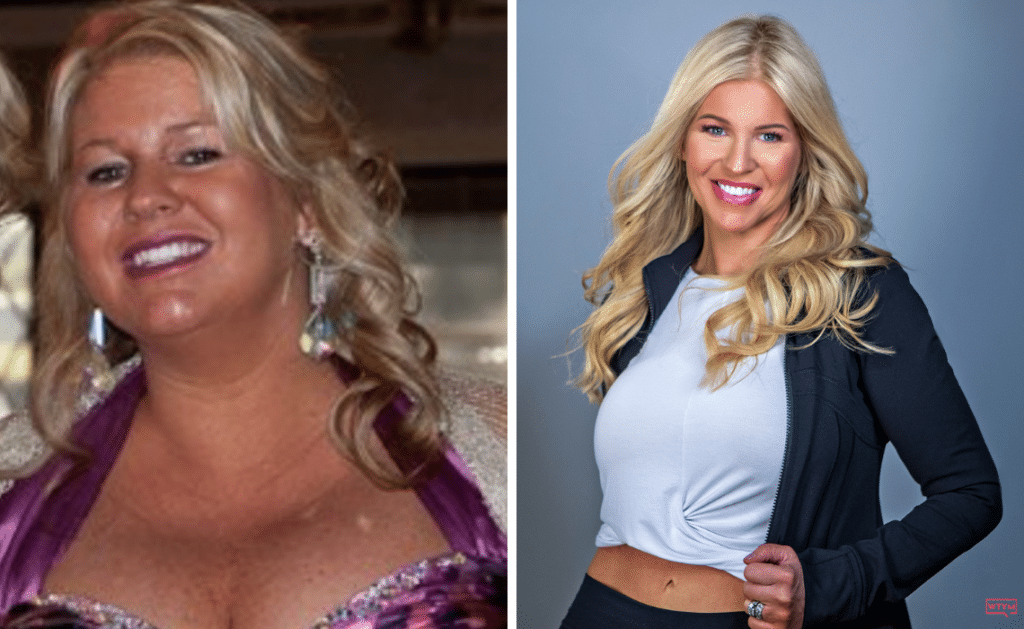 In my new book, Rebel Keto, I walk you through every detail of how I lost the weight on keto – without doing macro math at every meal. If you are a woman who is tired of trendy diet B.S. and you need a real-world roadmap to help you navigate the keto diet and drop the weight like a bad habit, get your copy of Rebel Keto today – right here.
Stock Your Keto Pantry!
Get the go-to keto pantry staples, meal plans and exclusive Word To Your Mother reader discounts on my Shop Page here. Need a shopping list? Click here!
And for more than 500 Low Carb Keto Meal ideas and easy recipes, check out my Keto Recipes Index!
Don't Miss These Keto Recipes & Tips
Save or Share This Low Carb Recipe!
Stay healthy & have a fabulous day!