If you're looking for the best ketogenic diet recipes & meal planning ideas – in one place – this page is for you! Find simple low carb meal ideas for dinner, lunch, breakfast, snacks & desserts – organized by meal – in one spot!
Bookmark this page or save it for later – It's updated every time I post a new low carb recipe!
This post may contain affiliate links that help keep this content free. [Full Disclosure]
Beginner's Resources
New to the ketogenic diet? These articles will come in handy as you begin to learn more about a low carb lifestyle!
Meal Plans
I offer several keto meal plans for you to choose from & they are all free!
Low Carb Meal Ideas – Breakfast
Meal Prep & Lunch
Meal Ideas – Dinner
Crockpot & Instant Pot Recipes
Make Ahead & Freezer Friendly
Sides
Snacks & Appetizers
Desserts
Drinks
Holiday Meal Ideas
Need More Recipes?
I've lost over 90 pounds on the ketogenic diet & maintained that weight loss for six years (I went from over 200 lbs to right around 135:) – & these meal plans & recipes helped me tremendously!
Shout Out To Tastaholics Weekly Meal Plans & Keto In Five cookbooks!

About the weekly meal plans – Tastaholics will send you pre-calculated, low carb meal plans and recipes right into your inbox – no more hunting down recipes on the internet and trying to fit them together perfectly every day.
They make the keto diet easy – for real. And you can try it totally free – here
Or – opt for the Keto In Five – (These Are Not your Grandmother's Cookbooks-You Can download Them To Any device!)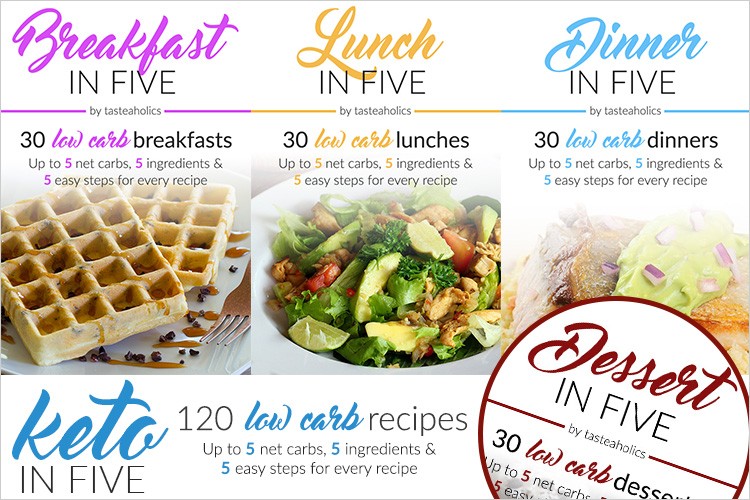 Each collection offers 30 breakfasts, 30 lunches, 30 dinners & 30 desserts with only five ingredients & 5 net carbs! They provide all the macro info for you – which makes life so much easier! Check them out here!
Don't Forget To Bookmark This Page!
Don't Miss A Thing!
Stay in the loop by subscribing for updates! I'm always happy to help! You can do both right here!
Follow my Board On Pinterest for all the latest!