Keto Summer Side Dishes that scream take me to your BBQ! These easy low carb side dish recipes are equally suited to accompany all of your summer grill favorites: steak, fish, burgers, chicken & barbeque! With keto summer side dishes made with zucchini, broccoli, cauliflower, mushrooms, asparagus, eggplant, cabbage, green beans, and Brussels Sprouts there's something for everyone in this collection!
This post may contain affiliate links that help keep this content free. [Full Disclosure]
Finding something 'keto" to throw on the grill isn't much of a challenge, but finding equally fabulous keto summer side dishes – well, that can seem impossible! Especially if you're planning a family BBQ, cookout or picnic – because we all know there's going to be at least one picky eater or ten!
With that in mind, I've rounded up my favorite keto summer side dishes made with the best in season, low carb veggies! From delicious side dishes grilled to perfection to cold salads that come together in minutes all of the low carb versions of your favorite summer side dishes are here!
Stuffed Mushrooms
Cheddar, Parmesan & cream cheese wrapped in bacon with 2.5 net carbs via Word To Your Mother Blog
German Potato Salad
Amazing "potato" salad with no mayo & 5.1 net carbs via Cast Iron Keto
Lemon Garlic Zucchini
The lemon garlic sauce will blow you away – with 4.1 net carbs via Damn Delicious
Creamy Broccoli Salad
With bacon & a sesame seed oil dressing – kid-approved with 2.4 net carbs via Low Carb Maven
"Potato" Salad
A Cauliflower sub for potatoes that you'll swear is the real thing the real thing has 28 carbs – this version has 5.5 net via skinnytaste
Strawberry Spinach Salad
A 15-Minute keto summer side dish with 5 net carbs via gnom-gnom
Guacamole Stuffed Deviled Eggs
Avocado stuffed with bacon & 1.6 net carbs via Word To Your Mother Blog
Roasted Sprouts
Quick & easy with Bacon! – & 4 net carbs via Tastaholics
Memphis Style Coleslaw
Bold & Creamy with 3.4 net carbs via Word To Your Mother Blog
Broccoli Cauliflower Salad
Quick 10-minute cookout favorite with 6 net carbs via Wholesome Yum
Cabbage With Bacon
Comes together in 25 Minutes via Kalyn's Kitchen
Curry Roasted Cauliflower
Cauliflower Power via Healthy Seasonal Recipes
Air Fryer Pickles
A Must-Have for family cookouts via Noble Pig
Sweet & Spicy Coleslaw
2 ways to make this side: with or without mayo & 2.4 net carbs via Word To Your Mother Blog
Broccoli Salad
Whip up this family-friendly keto summer side dish in 10 Minutes with 2.7 net carbs via The Low Carb Diet
Cheesy Brussels Sprouts
Kid-Friendly – Cheesy Sprouts with 6 net carbs via Sugar-Free Mom
Bacon-Wrapped Asparagus
An easy bacon-wrapped side with 2 net carbs? Count me in! Via Spend With Pennies
Deviled Egg Salad
Let your Instant Pot do the work on this low-carb version of the classic Southern recipe with 1.3 net carbs via Ruled.Me
Grilled Portobello Mushrooms
Mediterranean Style grilled mushrooms with 2 net carbs via Tastaholics
Kale & Avocado Salad
With lemon garlic vinaigrette & parmesan with 4 net carbs via Wholesome Yum
Zucchini
Grilled to perfection with garlic & oregano via Kalyn's Kitchen
Onion Rings
Sweet Onions & Bacon – baked to perfection with 1.4 net carbs via Keto Adapted
Collard Greens
With pork belly, garlic & jalapeños – 2 net carbs via Cast Iron Keto
Green Bean Fries
Baked "fries" with 2.5 net carbs via Tastaholics
Buffalo Coleslaw
Spicy – Tangy & Creamy with 5.4 net carbs via Ruled.Me
Asian Roasted Broccoli
Tasty & easy side dish with 6.4 net carbs via Keto Diet App
Wedge Salad
Grilled & served with Blue Cheese dressing with 1.2 net carbs via My Life Cookbook
Roasted Asparagus
With garlic & parmesan via Bobbi's Kozy Kitchen
Creamed Spinach
Yummy & easy creamed spinach with 2.6 net carbs via Word To Your Mother Blog
Amish Broccoli Cauliflower Salad
A cauliflower recipe with creativity in less than 10 minutes with 2 net carbs via Low Carb Yum
Caprese Zucchini "Pasta" Salad
Perfect for summer BBQs via Gal On A Mission
Brussels Sprouts
Quick an easy side for any occasion with 6 net carbs via Life Made Sweeter
Broccoli Fritters
Kid-Friendly with cheddar cheese with 2.8 net carbs via Low Carb Maven
Roasted Cauliflower
Don't miss the garlic & herb sauce – 2 net carbs via Evolving Table
Spicy Cabbage Salad
Crunch, spicy & loaded with flavor via Kalyn's Kitchen
Hasselback Zucchini
Grilled or baked with 1.2 net carbs via Sugar-Free Mom
Grilled Eggplant
The combination of teriyaki & sesame seeds makes this one of my favorite vegan keto summer side dishes with 0 net carbs via Ruled.Me
Zucchini Fries
Baked zucchini fries with 3 net carbs via Wholesome Yum
Summer Time Cauliflower Salad
Made-For-Summer cauliflower crunch with 2.5 net carbs via Keto Connect
Did I Miss Anything?
Which recipe from today's line-up are you going to try first?
Or maybe I didn't mention one of your favorite keto recipes?
Either way, let me know by leaving a comment below.
Need More Easy Keto Recipes?
I get it! I've lost over 90 pounds on the keto diet and maintained that weight loss for six years – these meal plans and recipes helped me a TON.
Shout Out To Tastaholics Weekly Meal Plans & Keto In Five cookbooks!

Here's the low down on the weekly meal plans – Tastaholics will send you pre-calculated, low carb meal plans and recipes right into your inbox – no more hunting down recipes on the internet and trying to fit them together perfectly every day.
Doesn't that sound easy? It is. And you can try it totally free right here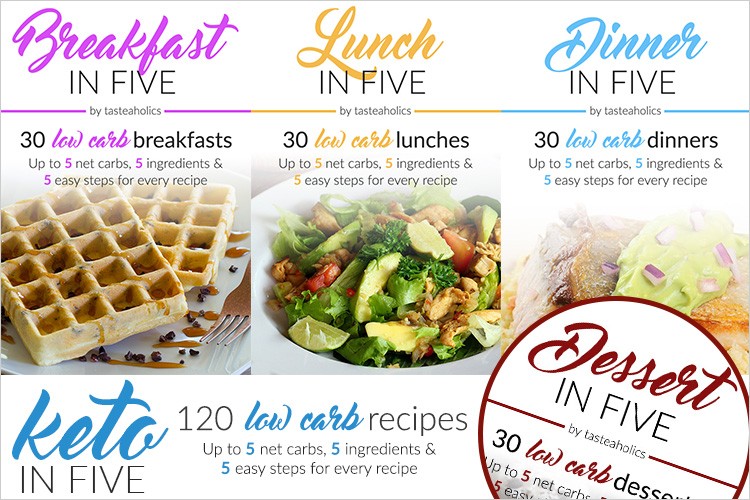 Or – opt for the Keto In Five – These Are Not your Grandmother's Cookbooks -You can download them to any device!
Each collection offers 30 breakfasts, 30 lunches, 30 dinners & 30 desserts with only 5 ingredients & 5 net carbs! They provide all the macro info for you – which makes life so much easier!
Go ahead & try the meal plans or grab the Keto In Five Bundle! You've got nothing to lose – They offer a 365 Day money-back guarantee, but you won't need it:) Ok – sales pitch over:)
You May Also Like:
Don't Forget To Save!
For More Low Carb Inspiration, Follow Me On Pinterest or Subscribe below! Leave A Comment, Ask A Question – Tell Me What's On Your Mind!
About Heather
First, thanks for sticking with me – I started this blog to help people like you take control of their health – achieve their fitness goals – lose weight – and gain the confidence they need to go out and live life to the fullest. (Because that's what losing 100 pounds on the keto diet did for me:) If you need help, please reach out. In addition to blogging full-time, I'm a Health Coach, and I'm a mom of three awesome kids – 2 girls & one precious son who happens to have autism.
I'm continually seeking balance to do all of the things – and I'd love to help you do the same.
You Can Find Me On Facebook.
I'm also on Pinterest.
And YouTube.
One day I may participate regularly on Instagram, who knows:)
-Heather