50 Clean Eating recipes to add to your meal plan for weight loss! Find out the do's and don'ts of eating clean if you're a beginner and enjoy delicious healthy meals for breakfast, lunch and dinner!
This post may contain affiliate links that help keep this content free. [Full Disclosure]
Every year millions of people resolve to lose weight starting on January 1. And every year most of those folks feel like failures around February 1 because they couldn't stick to their new diet routine.
I totally get it.
Clean Eating
A clean eating diet helps you lose fat and weight while increasing your energy and overall well-being. Other benefits include skin clarity, hair strength, and sleep quality. As a thirty something year old with three kids I needed help with all of those! Especially sleep!
Clean eating is more of a lifestyle than a diet. Nothing is strictly off limits, which is probably one of the reasons the clean eating diet is so popular. Simply put, clean eating means choosing to eat more natural foods and less processed ones.
Clean Eating Basics
Eat 6 Small Meals Per Day
Always Eat Breakfast
Eat Lean Protein & Complex Carbs in Every Meal
Eat 2-3 Servings of Healthy Fats Every Day
Drink 2-3 Liters of Water Every Day
Need a Clean Eating Shopping List?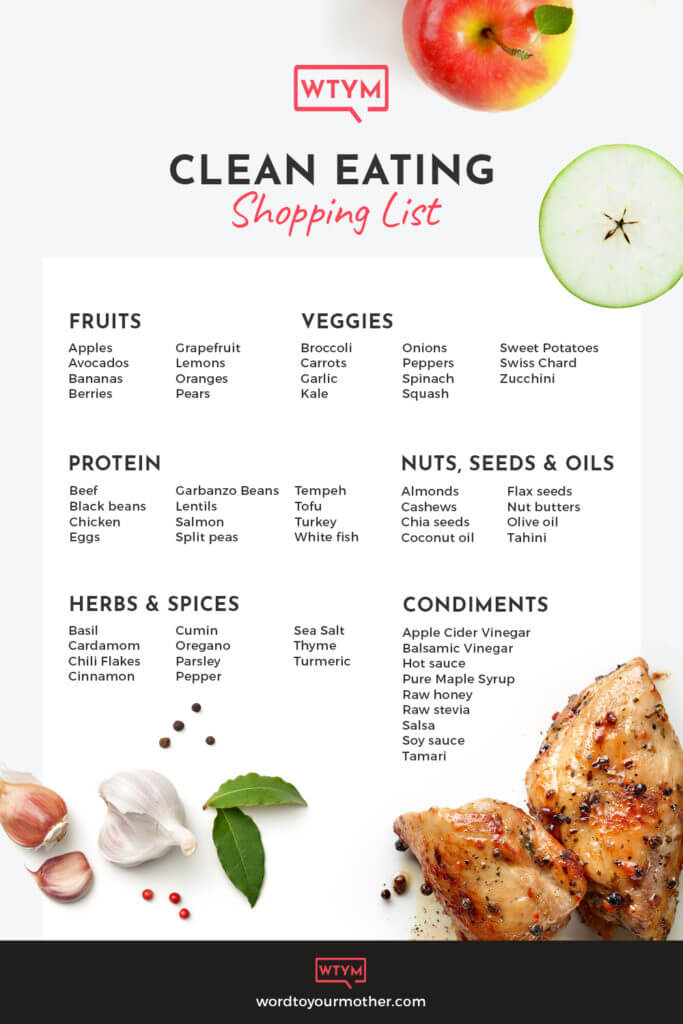 For The Ultimate Clean Eating Shopping List – Click Here!
Can You Lose Weight By Eating Clean?
By eliminating unhealthy processed foods, fast food, and other junk foods and replacing them with nutrient-dense foods like fresh fruits and vegetables, lean protein, and healthy fats will result in better overall health and well-being as well as weight loss.
By committing to a clean eating lifestyle, you can lose an average of 3 pounds or more per week – depending on how much weight you have to lose.
Ready to start living clean eating style? Here are a few of my favorite healthy recipes to help you start.
Most of these are easy to prepare with ingredients that can be found in any local store. (Since I'm living it up in a small town I don't even consider recipes that call for specialty items. My apologies to the foodies. My three-kid lifestyle prevents me from traveling for groceries!)
You'll find 50 easy, healthy meals here for breakfast, lunch, dinner, and snacks-all perfect if you're just starting a clean eating diet!
12 Clean Eating Recipes – Breakfast

Healthy Blueberry Breakfast Bars
Healthy + freezer-friendly Blueberry Oatmeal Breakfast Bars via Word To Your Mother Blog
Healthy Chia Seed Pudding (4 Ways)
Delicious, clean eating – no sugar added – chia pudding via Word To Your Mother Blog
Honey Lime Quinoa Fruit Salad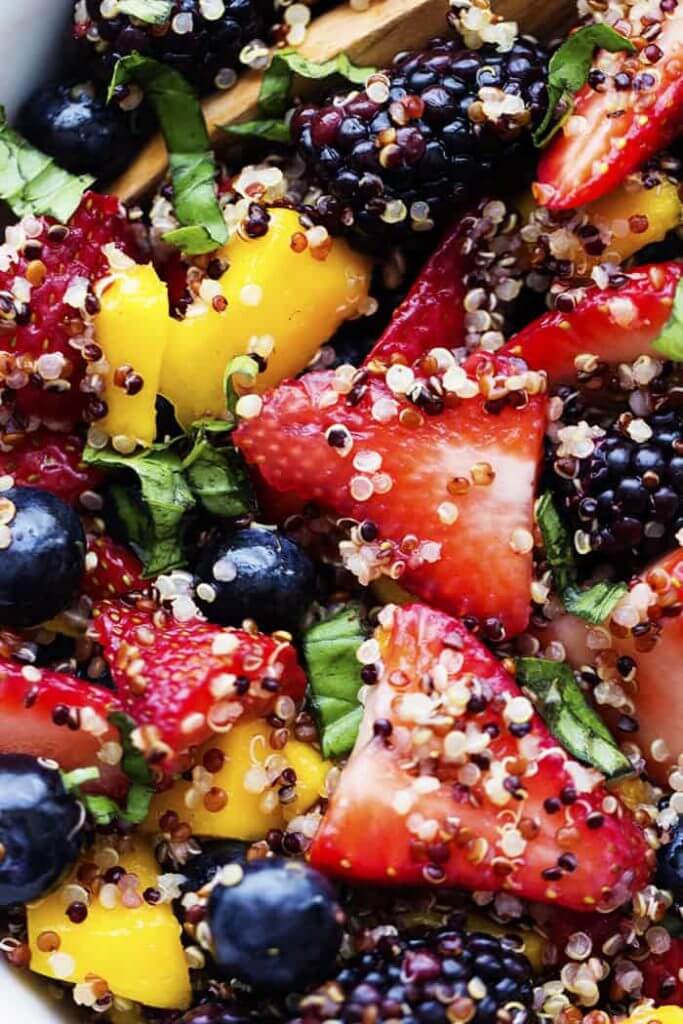 Easy, healthy fruit salad with quinoa via The Recipe Critic
Peanut Butter Overnight Oats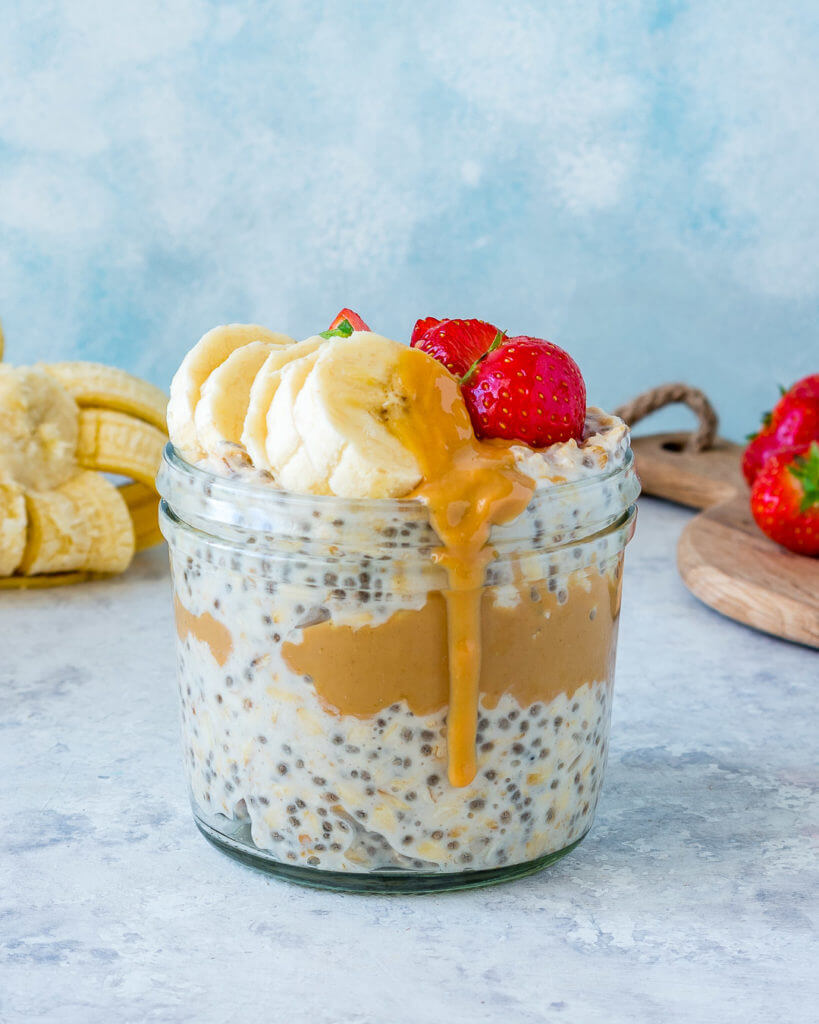 Perfect for meal prep via Clean Food Crush
Berry Quinoa Breakfast Smoothie Bowls
7 ingredients – ready in 30 minute breakfast via Word To Your Mother Blog
Avocado Baked Eggs
A fabulously heart-healthy, high protein breakfast that comes together in minutes via Word To Your Mother Blog
"I Don't Have Time For Breakfast" Make Ahead Oatmeal | May I Have That Recipe?
Strawberry Smoothie
Clean eating strawberry smoothie via Word To Your Mother Blog
Easy Baked Eggs
Blueberry Quinoa Breakfast Bars
Easy – on the go – clean eating breakfast full of whole-grain fiber, fruit & protein via Simply Quinoa
Quinoa Granola Bars
Homemade Granola Bars via Honestly Yum
12 Clean Eating Recipes – Lunch
Make-Ahead Mason Jar Salads
Apples, cranberries & almonds with a Greek Yogurt dressing via Iowa Girl Eats
Asian Turkey Lettuce Wraps | Popculture
Easy Ginger Garlic Noodles | fooduzzi
Roasted Rainbow Vegetable Bowl | Minimalist Baker
Avocado Salad Sandwich
Healthy avocado steps in for mayo via Ambitious Kitchen Fiesta Bowl Salad | Fitness Magazine
Berry Smoothie Bowl with Coconut | Popculture
Greek Power Bowls
Mediterranean-inspired in 30 minutes via Damn Delicious
20-Minute Creamy Lemony Vegetable Pasta Salad | Bowl of Delicious
Healthy Homemade Tortillas
Opt out of the added sugars and make your tortillas healthy with this almond flour tortilla recipe
16 Healthy Recipes – Dinner
One Pan Chicken Thighs with Mozzarella
An easy low carb one-skillet dinner that you can make in 40 minutes.
Beef & Broccoli
Skip the sugar and the carbs the next time your cravings for Chinese stir fry kick in and make this crazy delicious and super simple Beef and Broccoli stir-fry dinner. Seriously, this copycat for PF Changs couldn't be easier and is a way healthier alternative to takeout that's low carb, gluten-free, paleo and Whole30 approved.
Lemon Garlic Salmon
Fabulous go-to baked salmon via My Natural Family
Asparagus Stuffed Chicken
4-ingredient, healthy stuffed chicken via Primavera Kitchen
Spring Pea & Carrot Salad
Definitely not another boring salad via Half Baked Harvest
Slow Cooker Moroccan Sweet Potato Soup
Super healthy and clean crockpot dinner recipe that takes 10 minutes to put together:)
Grilled Herb Chicken & Potato Foil Packs
Perfect for the grill via Creme De La Crumb
5 Ingredient Lemon Chicken with Asparagus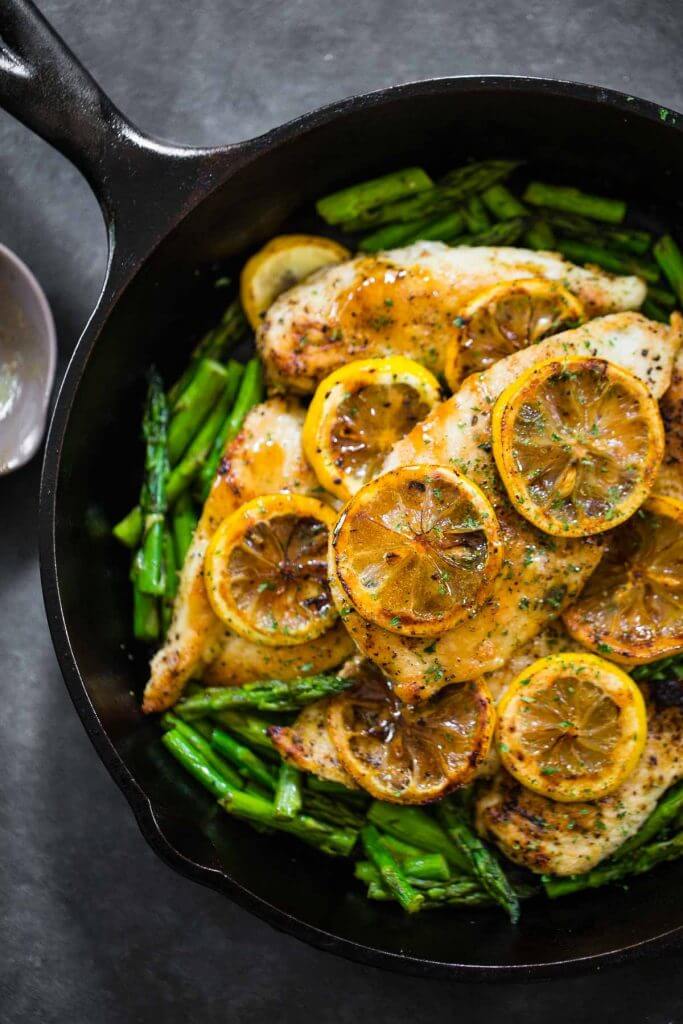 Clean eating dinner in 20 minutes via Pinch of Yum
One-Pan Pesto Chicken & Veggies | Julia's Album
Sheet Pan Steak & Veggies
Marinated sheet pan steak & vegetables via Lexi's Clean Kitchen
Creamy Sun-Dried Tomato Paleo Baked Chicken | My Natural Family
Mushroom Ravioli With Spinach
6-ingredient pasta meal for meatless Monday via Julia's Album
Slow Cooker Balsamic Chicken
Fabulous slow cooked chicken dinner recipe that takes less than 10 minutes to prep via Word To Your Mother Blog
Clean Eating Skillet Meatloaf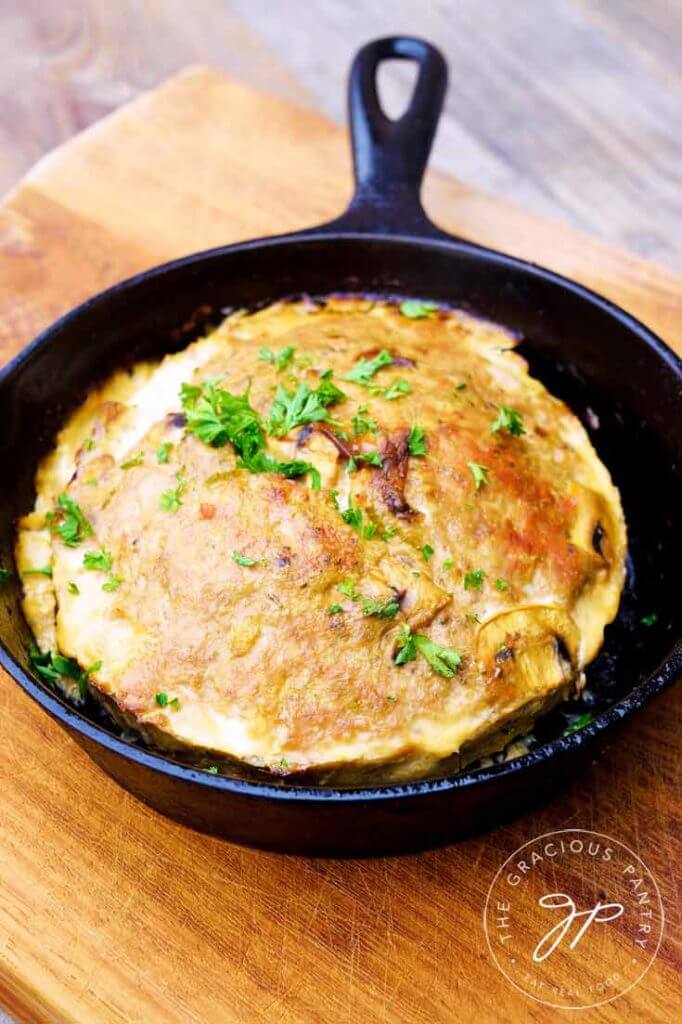 Meatloaf for two – in a skillet viaThe Gracious Pantry
Clean Eating Slow Cooker Mexican Casserole | The Gracious Pantry
One Pan Healthy Italian Sausage & Veggies | Chelsea's Messy Apron
Thai Salmon
With a sweet chili sauce via iFoodreal
Spinach Stuffed Chicken Breasts | Basil & Bubbly
Healthy Snacks
No Bake Oatmeal Cookie Energy Bites | Cotter Crunch
Quick & Easy Brown Sugar Herb Pecans | fooduzzi
Chewy Vegan Cookie Dough Cookies | fooduzzi
Peanut Butter Energy Bites | Chef Savvy
It takes hard work, disciple, dedication & a focused mind to lose weight, stick to a clean eating diet & finally feel confident in your body – I know.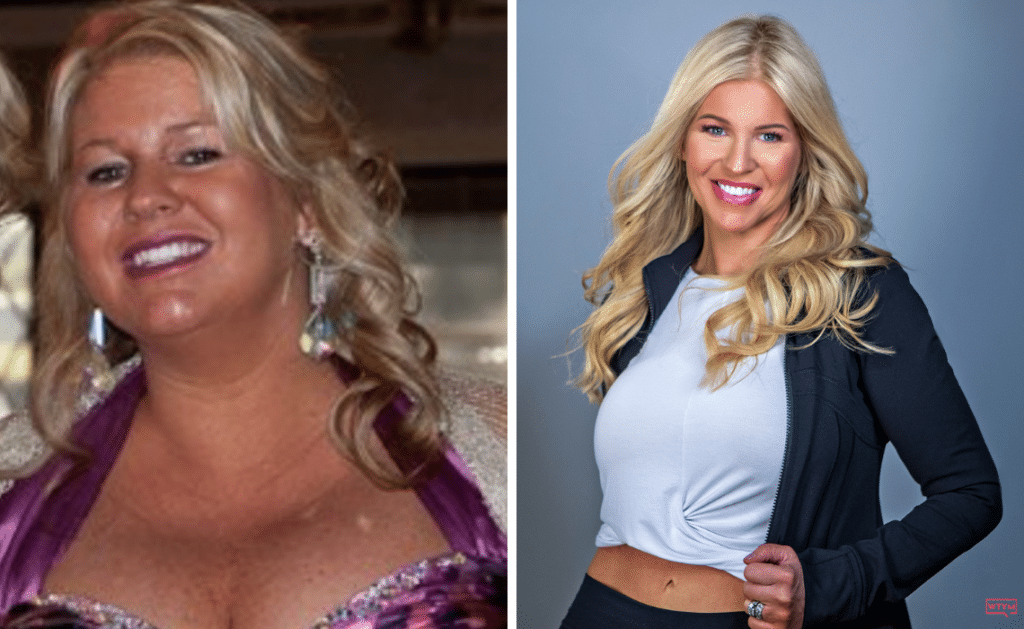 I've been there! I've lost 145 pounds & it was not easy, but it was worth it! My new book, Rebel Keto, explains every detail of how I lost the weight on keto – without doing macro math at every meal. If you are a woman who is tired of trendy diet B.S. and you need a real-world roadmap to help you get healthy (low-carb style), Rebel Keto will be your new best friend. Check it out HERE.
One last word of encouragement: If a 40-something mother of three kids can do it – you can too! For more tips, recipes, and inspiration click here to join me.
More Healthy Recipes & Tips You Need
If you enjoyed this collection of healthy recipes, please share it on Pinterest!
Today's Quote: "Believe you can and you're halfway there." – Theodore Roosevelt